Tipping in Victoria Falls Zimbabwe
Gratuities or tipping in Victoria Falls, which is also applicable to the whole of Zimbabwe, is at your discretion and for good service only
Tipping, by definition, is voluntary and "at the discretion of the customer", it will not be added to a service bill.
Tipping customs vary throughout the world. In the United States, it is a practiced social custom and it can be used to top-up an employee's minimum wage. That is not the case in Zimbabwe. Employers are required to pay a minimum wage, so tips earned are extra income. One thing to consider though is that the minimum wages are often quite low so any additional income is greatly appreciated.
These days tipping has become a standard thing to do around the world, to show appreciation for a service provided. Many service industry workers rely on tips to supplement their income and it is still one of the best methods to encourage, motivate and inspire really great service.
How Much to Tip in Victoria Falls Restaurants
In Zimbabwe for restaurants offering traditional table service, tips of 10% of the total bill are customary, when good to excellent service is provided. You may find some establishments have a "Tip Jar" whereby tips are shared equally with everyone so that the chefs and cleaners etc. also benefit from the tip.
Victoria Falls Hotel restaurant
How Much to Tip in Victoria Falls Hotels and Lodges
In guest houses, lodges and hotels the tips are once again discretionary and are not a percentage of the total bill but just an amount that you feel comfortable with and is fair. They are generally shared amongst the reception staff and the many back-of-house staff who are all responsible for your enjoyable and memorable experience but are often overlooked when it comes to tipping.
How Much to Tip Other Staff and Guides in Victoria Falls
In Victoria Falls you will come across many other situations that may require tipping. These could be tipping the drivers of your transfers, boat captains and their crew, your activity guides and their assistants, concierges & porters who either take you and your luggage to your room, carry or take care of your personal belongings during an activity or even haul your large white-water rafting inflatable boats out of a steep gorge.
Rafting guide assisting in Victoria Falls
You will need to use your discretion when deciding who and how much to tip, depending on the service provided. A US$1 tip would be welcomed and appreciated by a porter but he/she would also not be surprised at a $5 tip if he/she was particularly polite or helpful.
The duration of time spent with a member of staff will also determine how much to tip. For example, a driver who is transferring you a short distance from a hotel to an activity generally wouldn't expect a tip, but if you are staying in a safari camp and have the same safari guide, every day for 3 days then tipping them would be recommended, if they have been good to you. As a guideline only in this situation, US$5 to $10 per person per game drive would be acceptable, but of course there is no limit. Walking or professional guides may appreciate a bit more than the suggested baseline.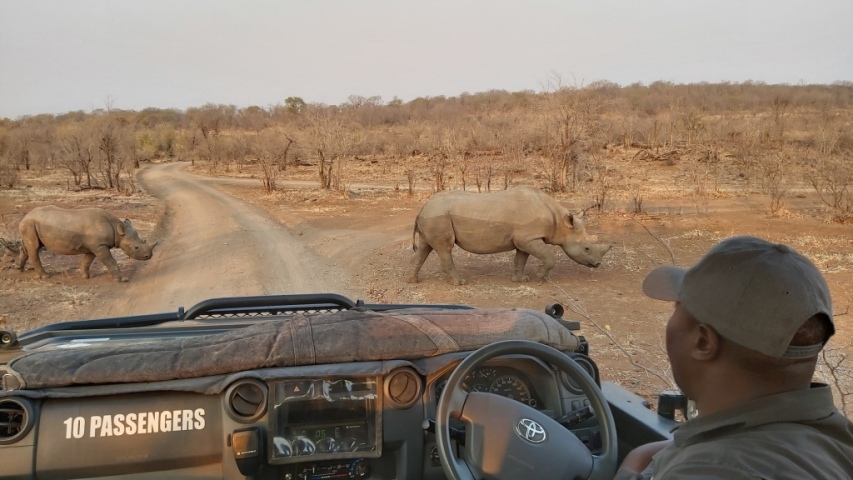 Safari guide in Victoria Falls
Conclusion
So there you have it. It's not an exact science and it's not mandatory but at your discretion. What is not acceptable in Zimbabwe though is when members of staff solicit tips. This is highly frowned upon by management and should be reported if encountered.
Zimbabweans are generally very happy and friendly people who will go out of their way to help you.
If you have any more questions or need any assistance in planning your holiday, then please don't hesitate to contact us. That's what we do.
We hope you enjoy your stay!




THE VIC FALLS BUSH TELEGRAPH
our Bi-Monthly E-Newsletter

Each issue has a destination update, loads of information about conservation and wildlife, specials offers, traveller tips, community projects, website highlights and tons more...

Find out more about our Bush Telegraph

"Your newsletter keeps me informed about new and old and is the best I've seen in a long while - informative, not commercial, just plain perfect!" - I.Skliros

Don't worry. Your e-mail address is totally secure. I promise to use it only to send you The Vic Falls Bush Telegraph.




Return from Tipping in Victoria Falls Zimbabwe to our home page


Zimbabwe