Victoria Falls White Water Rafting
Considered to be The Best One Day White Water Rafting Trip in the World.....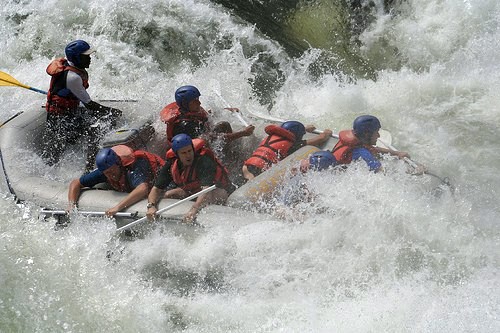 A Day you will remember for the rest of your life...
I guarantee this will be one of those days that you will remember for the rest of your life and whatever time of year you go you are going to get wet.. very wet.
Names of rapids like Stairway to Heaven, The Terminator, The Washing Machine, Judgement Day, Devils Toilet Bowl and Oblivion, give you a small insight of what to expect.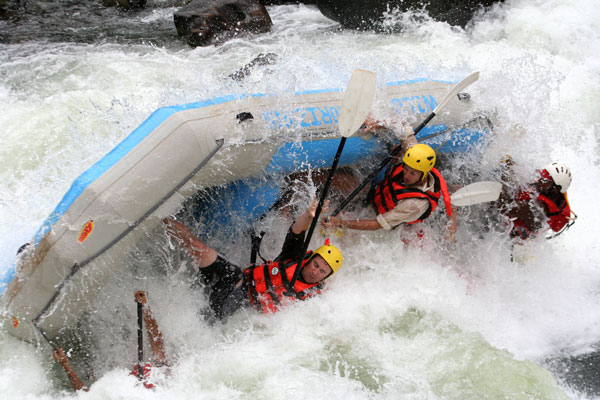 Victoria Falls White Water Rafting was really the first of the adrenaline activities to start in Victoria Falls in the early 1980's. It was through this sport that adrenaline addicts travelled from all over the world to have a go on what is rated as the best one day rafting trip in the world.
Rafting trips run from both the Zimbabwean and Zambian sides and operators on both sides are highly professional.
The water level of the Zambezi River is completely dictated by rainfall, and this has a huge impact on the white water rafting season.
As every years rainfall is different so is every years rafting. So the dates given below are guide lines only.
In Zimbabwe the low water trips (approx August through to late December) start at Rapid number one which is just below the boiling pot of the Victoria Falls and finish after rapid 19.
These trips start early with pick up from your hotel between 7h00 and 7h30. After a short drive to the edge of the gorge a thorough safety talk is given explaining in detail what you are likely to expect during the day and how to deal with any situation.
You will then be issued with a life jacket and helmet and a paddle if you are going in a paddle boat and start your descent into the gorge, which is a very steep gradient and can prove difficult for some less fit clients.
The rafts are waiting for you on the water and once aboard, more safety measures and instruction take place before heading into rapid number one.
After rapid 19 you then have to walk out the gorge which is a very steep climb of about 250m and should not be underestimated if you have any fitness issues.
At the top of the gorge lunch is served and there are plenty of cold drinks and beers after which you are then transported back into town, arriving in town by around 2.30pm, allowing enough time to do another afternoon activity, if you're up for it.
High water runs (May, June, July and Jan, Feb, March) miss out the first 10 rapids as they are just not safe to raft at the high water level. So on this trip you will only do rapids 11 to 23. It is a shorter day even though it is still sold as a full day's rafting.
The high water run is not nearly as exciting as the low water run, so please be aware that if rafting is your main focus plan on coming between August and late December.
The intensity of rafting varies due to the fluctuating levels of water plunging through the gorges. On the whole, lower water levels means higher thrill levels. This is because when the water levels are very high, they flood the rocks and outcrops which are the formation of the rapids. As water levels drop, rocks get closer to the surface and the white water starts to really boil and crash through the gorge.
However when the water level is very high the sheer volume of water makes some rapids unsafe, hence the need for the high water run where the first 10 rapids are left out. As water levels get increasingly higher around about March, the whole river becomes unsafe so the Victoria Falls White Water Rafting is closed until the water levels start to drop again in around June.
Contrary to what some people think, it's not one long rapid there are calm stretches of water in between these monster grade 5 rapids.
This gives you plenty of time to chat and laugh with your fellow rafters, take in the breathtaking scenery, view birds and other wildlife.
There are two types of rafts; oar boats and paddle boats. Oar boats have an aluminium frame mounted either in the middle of the raft or at the back. From here your oarsman controls the raft and guides you through the rapids all you have to do is hang on and high side into the big waves as you hit them.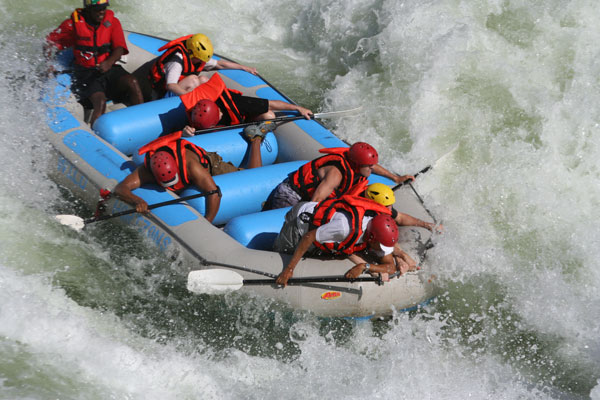 In a paddle boat there is no frame and you are each given a paddle with which you have to paddle the raft listening to the instructions from your guide who will tell you exactly when to paddle forwards or backwards and when to not paddle at all. In the paddle boat you are more involved but it is definitely more strenuous. On the whole these days mostly paddle boats are run but if there is enough of you in a group who would prefer to go in an oar boat you can request this.
Your safety is of high importance...
Safety is of paramount importance to these operators and they are extremely experienced in judging the safety of water levels.
Appropriate clothing would be swimming shorts and a T shirt a base ball style cap and some old footwear. Don't forget your suntan cream. You will be supplied with safety gear such as life jackets and helmets.
It's like spending the day in the dishwasher so don't think of taking any valuables, including cameras and spectacles, unless they are absolutely vital.

Read Experiences and Reviews from other travellers - or why not share your own Experience with us. Find out more...
THE VIC FALLS BUSH TELEGRAPH
our Bi-Monthly E-Newsletter

Each issue has a destination update, loads of information about conservation and wildlife, specials offers, traveller tips, community projects, website highlights and tons more...

Find out more about our Bush Telegraph

"Your newsletter keeps me informed about new and old and is the best I've seen in a long while - informative, not commercial, just plain perfect!" - I.Skliros

Don't worry. Your e-mail address is totally secure. I promise to use it only to send you The Vic Falls Bush Telegraph.
Return from Victoria Falls White Water Rafting to our homepage