Zimbabwe Music
A mesh of traditional and modern music which is a strong part of Zimbabwe's identity
In many cultures, music has always had an uncanny way of bringing people closer together. For the Zimbabwean music scene it is what links the people to their culture as well as their individual identities. The language of Zimbabwean music and the instruments used will tell a tale of the land where the music comes from. There are two distinct Zimbabwean music scenes, one is the more traditional African style and the other is the very popular modern music scene with some European influence, which boasts some amazingly talented performers.
Most countries around the world have their own folk music, but Zimbabwean folklore music will differ from town to town or village to village depending on the language of the area and the instruments used in that area. For example, villages in Matabeleland will sing their songs in the Ndebele language native to the area with the common use of rattles, clapping and ngoma drums, whereas villagers from Mashonaland will sing in Shona with the common use of mbiras and djembe drums.
Traditional Zimbabwe Music Instruments
The drum has to be the centre of traditional Zimbabwe music. Drums are not only used in cultural settings but also in religious, and in entertainment.
Young men playing drums
Another important instrument is the mbira - the thumb piano. You can hear some mbira sounds here. Mbira mounted inside a calabash amplifies the sound. More about the mbira in Zimbabwe traditions.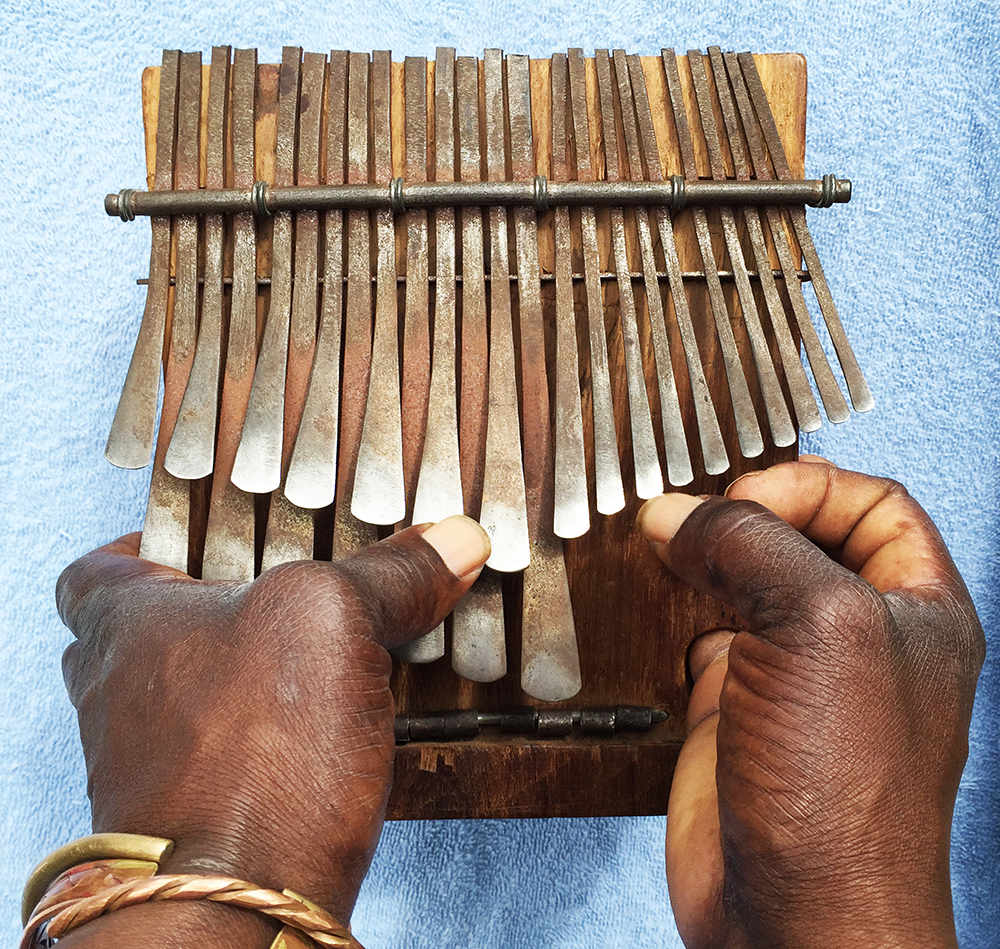 The Mbira
Rattles, like the drum are also common in both traditional and religious music. When mbira is being played, it is almost always accompanied by rattles or hosho, what Zimbabweans in Shona call "kutamba mbira nehosho", literally translating to playing mbira with rattles. Hosho are dried gourds with seeds inside them, and are typically played in pairs - one in each hand. While you can get one made from plastic or wood, rattles made from gourds are unique and add a bit of character.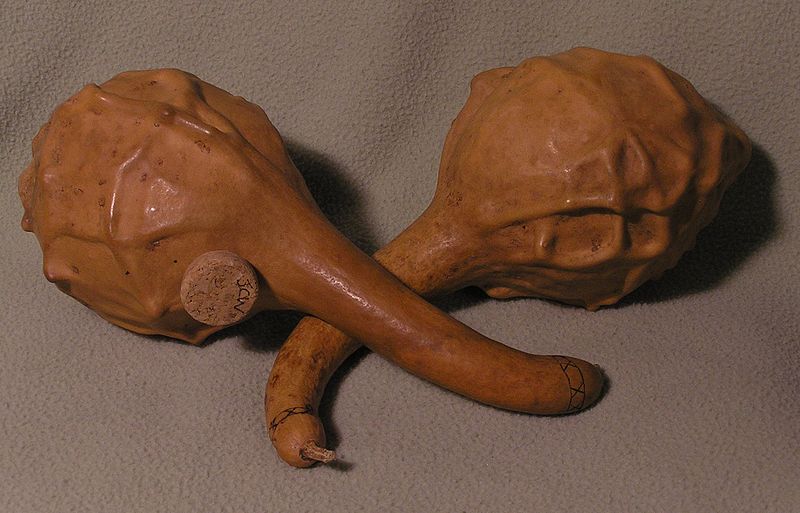 A pair of hosho - rattle made from gourds
By Alex Weeks at the English-language Wikipedia, CC BY-SA 3.0
Other rattles you may see in traditional music performances are the leg rattles called magavhu. These are tied to the ankles or the whole lower leg (depending on the size) and the rhythm from the dancer produces the sound which goes with the rest of the percussion.
Magavhu - leg rattles worn by performers in Victoria Falls, Zimbabwe
Marimba - xylophone, although invented on another continent, have worked their way into traditional Zimbabwe music, being played on their own or with other instruments like the rattle and drums. Marimba Clubs are popular in Zimbabwean schools as part of their music programs, with competitions amongst the local schools as well as schools in the region.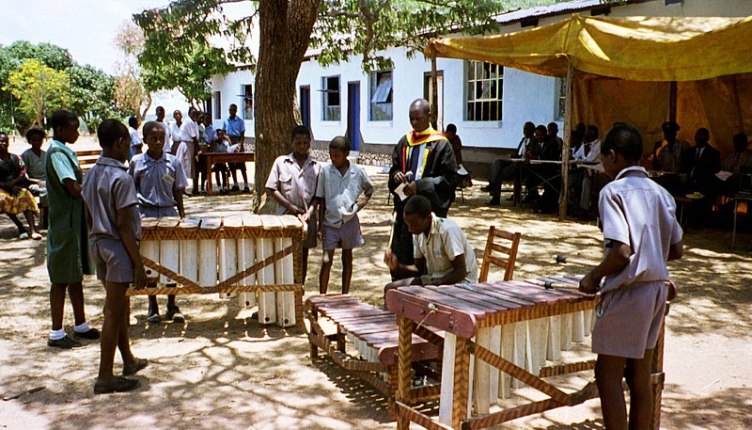 Marimba played in schools in Zimbabwe
IGTaylor, CC BY-SA 4.0, via Wikimedia Commons

The use of Djembe drums for entertainment is popular in establishments wanting to replicate an authentic African experience for tourists. The Boma – Place of Eating in Victoria Falls uses these drums in a drum circle with their patrons, the public participation creates an air of togetherness and unity and the deep sounds from the drum reminds us of the sounds of deepest darkest Africa, as it is portrayed in books and movies.
Djembe drums played at The Boma in Victoria Falls
What Music Means to Zimbabweans
When a large colonial movement swept through Zimbabwe in the late nineteenth and early twentieth century, many native people were displaced from their sacred ancestral lands and the hearts of their culture. Music is a way many of them can keep connected with their cultures and traditions.
Music has the power to influence how people behave. It can evoke certain moods, feelings, and states of mind in people. It is a universal language that can connect people to their past and spread messages. Zimbabwean people are very happy people by nature, their smiles and friendliness are commented on by many travellers - music plays a big part in forming these happy and friendly characters.
The lyrics of Zimbabwean musicians mostly contains encouragement of upholding good social values in the family and society as a whole, some lyrics are about love. Given Zimbabwe's volatile political history, many of the lyrics over the more recent years are mainly political and encourage good leadership and rising against bad governance.
Popularity of Zimbabwe Music
Most of the albums of this kind of music are named after a word meaning Uprising or War of Liberation. This is called "Chimurenga" music which has been banned from most state-owned radio and television stations. Artists famous for performing and recording this style of music are Thomas Mapfumo and Mbuya Stella Chiweshe. They are also known as being the pioneers of the modern music scene in Zimbabwe.
Popular artist Oliver Mtukudzi, affectionately known as "Tuku" was a prolific Zimbabwean recorder who performed all over the world. He was known for playing a plethora of styles with penetrating lyrics and hard-hitting messages. For example, his song about HIV & AIDS helped many people better understand the disease and break the stigma for those suffering with it.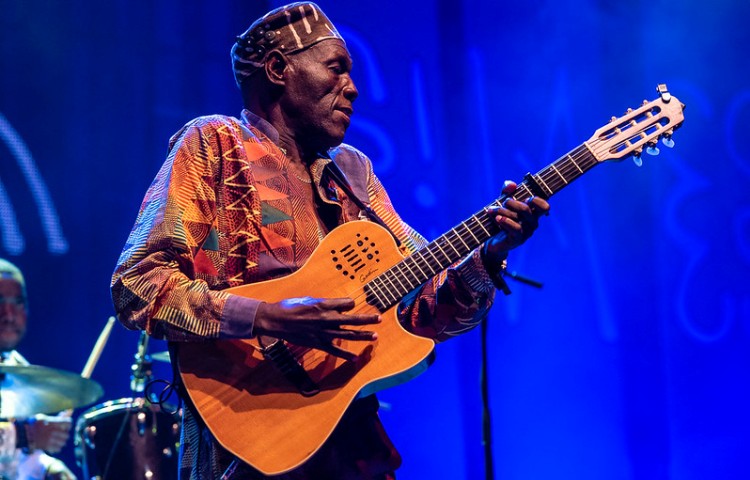 Oliver "Tuku" Mtukudzi (photo by Mario Pires)
Modern Zimbabwe Music
The modern music scene has taken Zimbabwe by a storm. Zimbabwe boasts internationally recognised artists and bands, singing and performing in English and native languages with modern electric guitars and steel drums, or modern twists on traditional instruments. They have taken centre stage in many local establishments around the country as well as at festivals and venues around the world.
Two of the most popular young artists today are Jah Prayzah and Winky D. Jah Prayzah's style of music is a fusion of traditional Shona mbira with contemporary instruments, and his songs are mostly in Shona. He is a vibrant stage performer as well, with the nickname "Soja" (meaning soldier) because of his attire. Winky D falls into the reggae-dancehall music genre (known as Zim Dancehall), a music style which incorporates the Jamaican dancehall beats with primarily Shona lyrics. One of his more popular songs is Panorwadza Moyo which he did with Oliver Mtukudzi - a song of heartbreak from losing loved ones. Also a great stage performer, Winky D has earned the nickname "Big Man" for his popularity among the Zimbabwean youth as well as youngsters.
In the rock, acoustic and afro-fusion genre of music in Zimbabwe, bands and artists that have been popular are the likes of Flying Bantu, the Chain Gang, Amy & the Calamities, So Kindly, Mackay Brothers, Ryan Koriya, Mann Friday and Evicted amongst others. These modern and up and coming artists and musicians sing of love, hope, sunshine, triumph, bravery and resilience. They are the epitome of faith in humanity and the faith the youth of today has in itself and the future, a message warmly welcomed through all walks of life anywhere in the world.
While we cannot list all of the artists on this page, and they are a vast lot, it is important to note that Zimbabwe music is diverse, with many talented groups from all walks of life, and quite a few from small towns like Victoria Falls and Hwange, and remote far off villages like Uzumba. Major types include Mbira, Gospel, Sungura, Chimurenga, Afro jazz, Zim Dancehall, Rumba, Urban grooves and Afro fusion.
THE VIC FALLS BUSH TELEGRAPH
our Bi-Monthly E-Newsletter

Each issue has a destination update, loads of information about conservation and wildlife, specials offers, traveller tips, community projects, website highlights and tons more...

Find out more about our Bush Telegraph

"Your newsletter keeps me informed about new and old and is the best I've seen in a long while - informative, not commercial, just plain perfect!" - I.Skliros

Don't worry. Your e-mail address is totally secure. I promise to use it only to send you The Vic Falls Bush Telegraph.