What are the Big Five Animals In Africa
Africa's Big Five Animals are the Lion, Leopard, Buffalo, Elephant and Rhino. They are the iconic animals of an African Safari.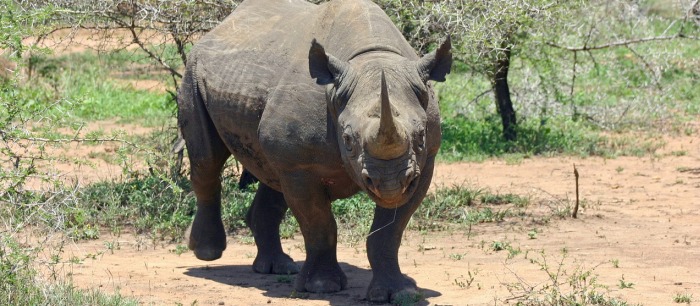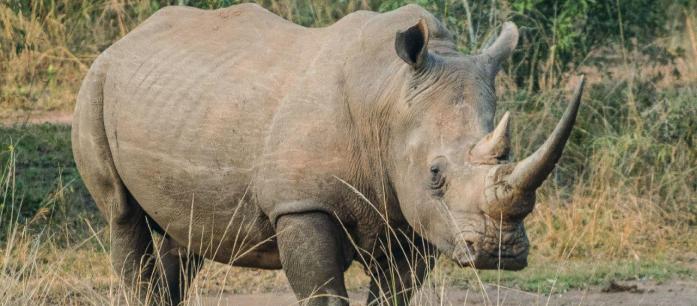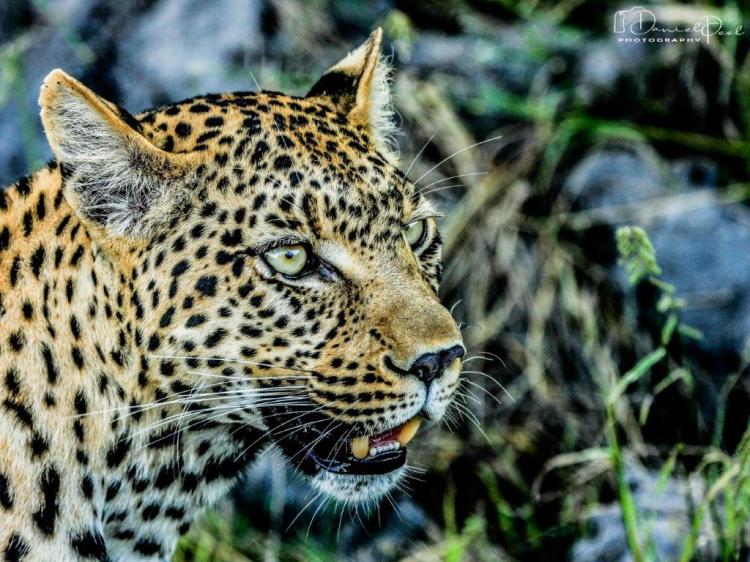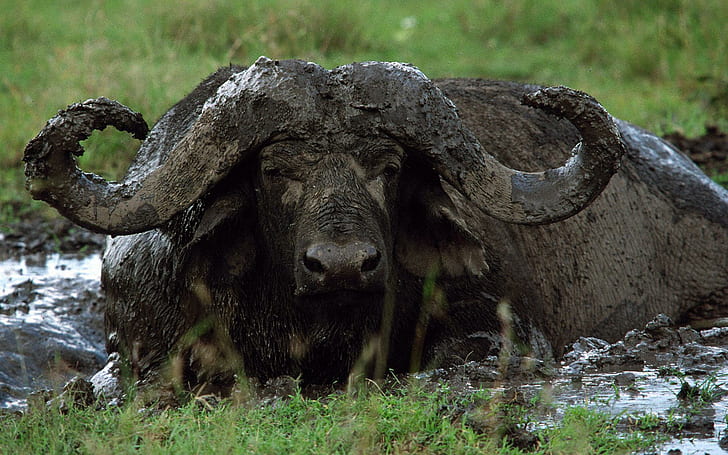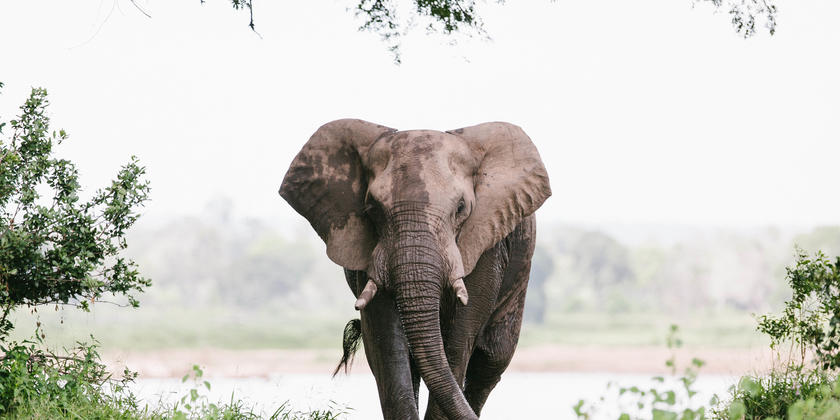 Quick Facts about the Big Five
Running Speed
Leopard: 90km/h (56mph) or 25m/s (82ft/s)
Lion: 80km/h (50mph) or 22m/s (72ft/s)
Buffalo: 60km/h (38mph) or 16m/s (52ft/s)
Rhino:50km/h (31mph) or 14m/s (46ft/s)
Elephant: 40km/h (25mph) or 11m/s (36ft/s)

The Big Five
Lion, Leopard, Cape Buffalo, African Elephant and both the Black and the White Rhino are classified as Africa's Big Five animals. These magnificent animals, along with a few others are the keystone species, drawing people from all around the globe to Africa, on safari.
Why Are These Animals Called The Big Five?
The term Big Five was coined by early hunters, who used it to refer to the five most dangerous animals to hunt in Africa. Each one in its individual capacity is a cunning and vicious adversary and many hunters have come off second best against them. Buffalo and Leopard are especially dangerous when wounded and often lie in wait for the hunter who is tracking them down.
It is now widely used in photographic safari terms, to describe these five beautiful and impressive animals. For the most part they are peaceful creatures, finding their specific niche in the African bush. However, as with any wild animal if you do not treat them with respect the encounter can often be deadly.
Photographic river safari in Victoria Falls on the Zambezi River
Which Countries Can You See The Big Five?
Countries that you can find all five members include Angola, Botswana, Zambia, Zimbabwe, Namibia, South Africa, Uganda, Kenya, Tanzania, Democratic Republic of Congo, Rwanda and Malawi.
Although each of these countries have different populations and densities of each of these animals most members have become conservationist's major concern in recent years, with lion, leopard and elephant being classed as 'Vulnerable' by the International Union for Conservation of Nature (IUCN).
The Southern White Rhino is listed as 'Near Threatened' while the Black Rhino is 'Critically Endangered'. The Cape Buffalo has the greatest numbers and is of 'Least Concern'.
As such trade in these species is greatly controlled. But their biggest conservation issue is poaching and the loss of habitat in these developing countries.
What Are Africa's Little Five?
Safari Guides in recent years have coined the term "Little Five" as a fun way to showcase lesser-known creatures, that also occur in the African savannah but are often overlooked.
They are the Leopard tortoise, Elephant shrew, Rhino beetle, Buffalo weaver and Ant lion. When on your next African safari, ask your guide to point these out to you.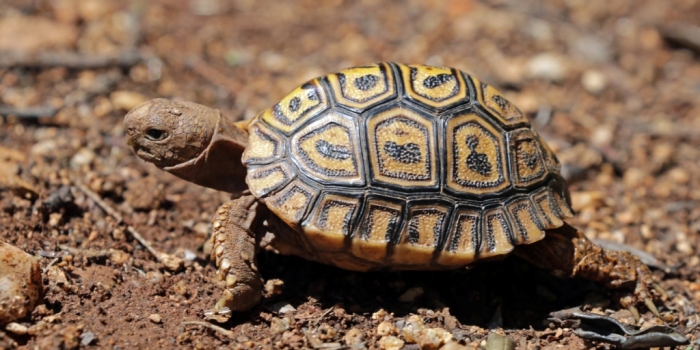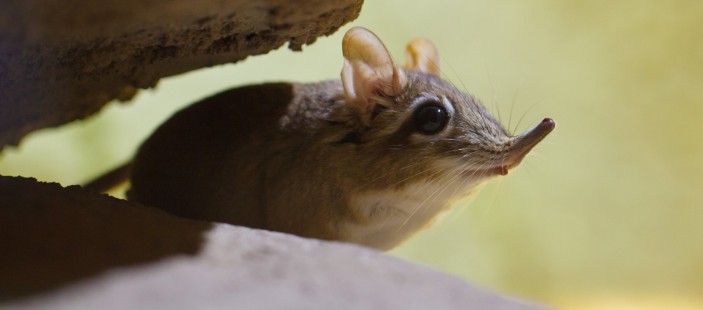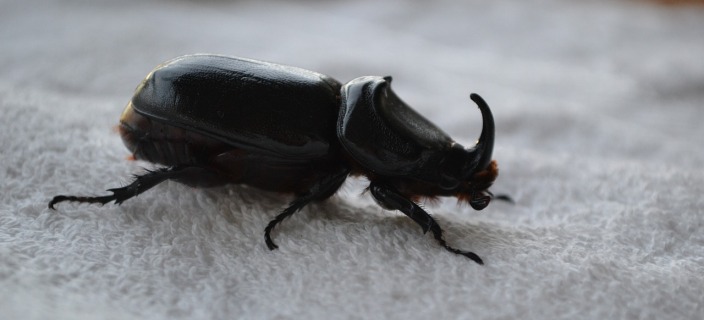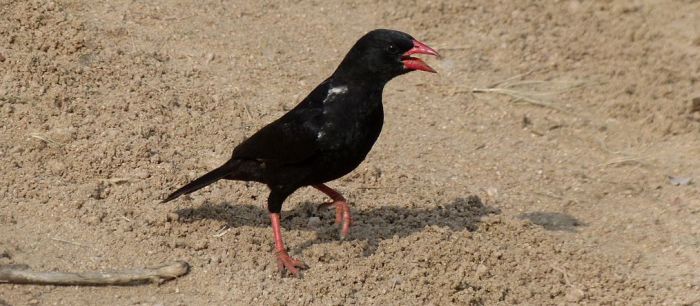 Can You See The Big Five in Victoria Falls?
The town of Victoria Falls, Zimbabwe is surrounded by Game Parks and it is possible to see all of the Big Five, within a very small radius of the town.
Elephant and Buffalo are common in the Zambezi National Park, only 6 kms from the centre of town, but they are even seen around the town. Lions are also often spotted in Zambezi National Park. However, more certain sightings would be in either Chobe National Park or Hwange National Park, both within a short drive of Victoria Falls.
Rhino have been decimated from the National Parks but they do occur on a protected and Private Reserve just 20 minutes from the town centre. Sightings are not guaranteed but are quite usual.
Leopards occur in all the wild areas around the town but are elusive and hard to find but not impossible. Both Chobe and Hwange National Parks have a good population of leopard and sightings are more likely in either of these parks.
If you are staying on the Zambian side of Victoria Falls, you are likely to see Elephant and Buffalo, and if you go on a specially guided tour, the White Rhino. Lions and leopards would be more of a challenge though and you would need to cross over to Zimbabwe or Botswana to see either of these.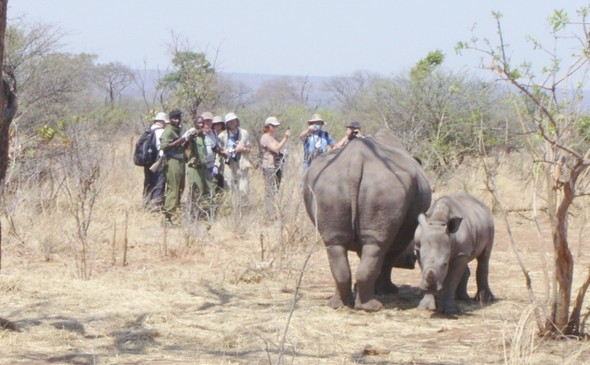 Rhino walking safari
If a Big Five Safari is on your bucket list, then please contact us to help plan and arrange your trip. We can tailor-make a safari to your individual requirements, according to your budget and expectations, ensuring you have the best possible chance to see all five of these wonderful animals.
Please follow the link for more information on the Big Five.
If you are thinking about an African safari please contact us to help your plan your perfect holiday. With our intimate local knowledge we can ensure that you get exactly what you are looking for.

THE VIC FALLS BUSH TELEGRAPH
our Bi-Monthly E-Newsletter

Each issue has a destination update, loads of information about conservation and wildlife, specials offers, traveller tips, community projects, website highlights and tons more...

Find out more about our Bush Telegraph

"Your newsletter keeps me informed about new and old and is the best I've seen in a long while - informative, not commercial, just plain perfect!" - I.Skliros

Don't worry. Your e-mail address is totally secure. I promise to use it only to send you The Vic Falls Bush Telegraph.