What Needs To Be Done To Combat Plastic Pollution While On Vacation
by Allen Brown
13 May 2022
As summer vacation nears, many people are starting to plan their trips. But while most people are focused on the fun things they will do on their journey, few are thinking about the negative impact their holiday could have on the environment. One of the biggest threats to our planet is plastic pollution, and it's something that we all can help to tackle. By making simple changes in our habits, we can all do our part to combat this growing problem.


Image source: https://unsplash.com/photos/SIg-qmg9NHw
Damage of Plastic to the Environment
Plastic is one of the biggest environmental threats, and it's a growing problem worldwide. In South Africa for instance, this threat has become particularly severe in some areas. Plastic can harm wildlife by blocking their digestive tracts or suffocating them. It also poses a significant risk to human health. Studies have shown that plastic pollution can increase cancer rates, congenital disabilities, and other serious health issues.
Here is a table showing the amount of waste produced in South Africa.
From the statistics, in South Africa, the per capita plastic waste (per kg/person/day) is 58,558,270. Equating this figure with the national population size, the total waste per day is 14,053,984.80 kgs. The graphic by Compare the Market Electricity Comparison shows the data on plastic pollution in the country. When it comes to the 1-liter bottles going to waste daily, the figure is 439,187,025. Knowing the numbers makes it easier to lay down a plan to reverse the impact.
While it may seem daunting, there are many simple steps that we can all take to help reduce our plastic footprint. Some of the most effective measures include:
• Making an effort to use less plastic during trips.
• Avoiding buying bottled water, and bringing a reusable bottle with you instead.
• Saying no to plastic straws, shopping bags, and other single-use items when possible.
• Getting reusable bags or containers for souvenirs to help cut down on packaging waste.
How Can the Government Mitigate Plastic Pollution in South Africa?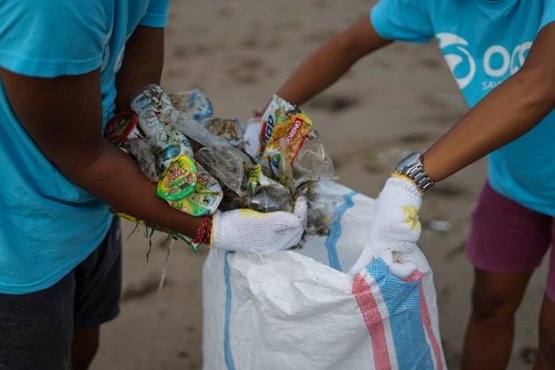 Image source: https://unsplash.com/photos/EPPS6W5LdXs
As the problem of plastic pollution continues to grow, governments and policymakers need to implement measures that can help mitigate its effects. One practical approach is to increase public education and awareness around the issue, as this can encourage individuals and businesses to take action.
Another strategy is to invest in new infrastructure that promotes recycling or reduces the use of plastic altogether. It's also important to hold companies accountable for their role in producing and disposing of plastic products. We can all help make a difference in the fight against plastic pollution by working together.
Another critical step in the fight against plastic pollution is to invest in plastic recycling infrastructure. This can help reduce the amount of plastic that ends up in landfills and waterways, and it also has the potential to create jobs and support economic growth.
As people head on vacations, it's crucial to be aware of their actions' impact on the environment. One major threat is plastic pollution, which can cause serious harm to wildlife and human health. However, there are many simple steps that we can all take to reduce our plastic footprint. These include using less plastic during trips and opting for reusable items.

Victoria Falls is not immune to the problem of plastic pollution and as we live in a wildlife area it is even more significant. There have been many cases of elephant dying, due to ingesting plastic, when foraging for food in the dumpsites.


Plastic bottles an bags littering streets of Victoria Falls
However, the city as a whole is working hard to reduce the consumption of plastic, especially plastic supermarket bags and water bottles used by tourists. Most of the major tour operators now offer their clients re-useable water bottles and we encourage tourists visiting Victoria Falls to use these.
The city plans to ban the use of plastic bags by the year 2023 and its goal is to be the Greenest and Cleanest city in Africa. A lofty target, but one that the community and authorities believe is totally attainable with a combined effort.

THE VIC FALLS BUSH TELEGRAPH
our Bi-Monthly E-Newsletter

Each issue has a destination update, loads of information about conservation and wildlife, specials offers, traveller tips, community projects, website highlights and tons more...

Find out more about our Bush Telegraph

"Your newsletter keeps me informed about new and old and is the best I've seen in a long while - informative, not commercial, just plain perfect!" - I.Skliros

Don't worry. Your e-mail address is totally secure. I promise to use it only to send you The Vic Falls Bush Telegraph.
Return from What Needs To Be Done To Combat Plastic Pollution While On Vacation to our home page