A visit to Livingstone Island and Devils Pool, Victoria Falls
"The Island in the Thunder"
David Livingstone who was a Scottish explorer, made his way down the Zambezi River for the first time in 1855 to see what the local people called "Mosi ua Tunya" or "The Smoke that Thunders".
His first sighting of the magnificent Falls was from an island (later named after him) in the very heart of the falling water, which the indigenous Makolo people transported him to by canoe.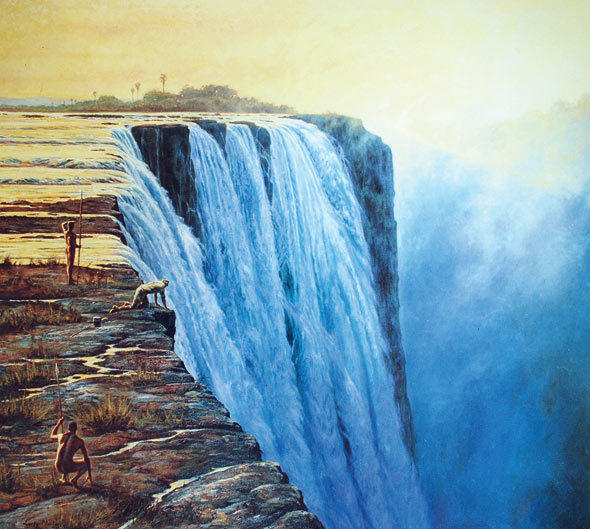 David Livingstone first set eyes on the Victoria Falls from the present-day Livingstone Island
Livingstone was completely mesmerized by the waterfall, which he went on to name after his British Queen, Victoria. He wrote in his notes - "It has never been seen before by European eyes, but scenes so lovely must have been gazed upon by angels in their flight".
Visiting Livingstone Island
Livingstone Island was open to the public in 1992 when they began holding unique and exclusive picnics on the edge of the Victoria Falls.
Today, there are 5 trips to choose from daily that take visitors out to the island to experience swimming in Devils Pool Victoria Falls, a meal and a tour!
You can choose to go over breakfast, lunch or afternoon high tea. Each trip lasts a few hours but the longest tour stretches over lunchtime and lasts 2,5 hours.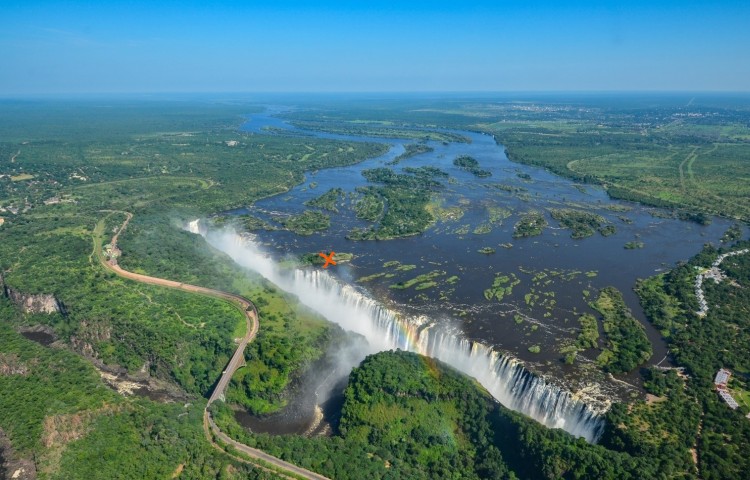 Livingstone Island on the edge of the Victoria Falls
What To Expect On A Devils Pool Victoria Falls Visit
Swimming in Devils Pool Victoria Falls is the main reason people go to Livingstone Island, but not the ONLY reason as a visit to the island and viewing the Falls from this unique location is an amazing experience in itself!
Guests are collected from the Livingstone Island Launch Site (which sits between the Royal Livingstone Hotel and Livingstone Town) and transported by boat to the Island.
A guide will lead guests by foot through the bush while he talks them through the incredible history of both the island and Victoria Falls. Devils Pool is positioned at the edge of the island right by the waterfall, so once guests have arrived here, they may take a daring dip (if they are able) and even hang over the edge to really get the most out of the experience!
At the edge of Livingstone Island
Swimming in Devils Pool Victoria Falls and being amidst "The Smoke that Thunders" is certainly one of the most exhilarating things to do in Victoria Falls, and we highly recommend it. (Note that this activity is extremely safe and guided tours to Livingstone Island have a 100% safety record).
After the optional swim, and to end off the tour, guests are treated to a 5-star gourmet meal prepared on the island.
Swimming in the Devils Pool at the edge of the Victoria Falls
Important Points to Note
It's important to note that Devils Pool Victoria Falls and Angels Pool, are only open during the drier months (usually between mid August and late December), so be sure to ask us whether or not swimming is available in order to avoid disappointment.
Children must be 12 and above to swim, and 8 and above to visit the island. We recommend wearing comfortable clothes on your visit to the island, swimming gear if you wish to swim and closed walking shoes.
Livingstone Island plays a great part in the history of Victoria Falls, and visiting it is a truly magnificent experience that we highly recommend!
Can't find what you are looking for? Use Google Search to search this website for any term you are looking for.


Share with others!

The Vic Falls Bush Telegraph
our Free Quarterly E-Newsletter

Each quarter there's loads of information about conservation and wildlife, a destination update, specials offers and discount packages, traveller tips and stories, book reviews, African folktales, environmental reports, bush recipes, best photo competitions and tons more....

"Your newsletter keeps me informed about new and old and is the best I've seen in a long while - informative, not commercial, just plain perfect!" I.Skliros

This Quarter we are also giving away a Free Screensaver to Every New Subscriber.
Return from A Visit to Livingstone Island & Devil's Pool Victoria Falls to our home page