Adventures With the Children in Victoria Falls
Suitcases and Sippy Cups
by Jess White
(Victoria Falls)
Family friendly tours
6 March 2018
Travelling with children can be a bit like taking a flock of wild guinea fowl on holiday with you. They dart about in every direction, emit loud squawks, and move in a muddled and excitable pack.
Victoria Falls is an adventure destination, existing in the vibrant heart of Africa, and parents are sometimes concerned that their children will not be able to do many of the activities on offer. But Victoria Falls has been my home since the day I was born, and to date, I can't remember ever being bored there. During my younger years, when every question was simply "But why?", my parents sent me to the crocodile farm, where the guides seemed to have all the answers (and all the patience). When I was an angst-ridden teenager living on the verge of a meltdown, they sent me to the rainforest where I would be immediately soothed by the sheer beauty and magic of nature. And when I reached my surly back chatting stage (apparently this happened, I don't have any recollection) I have no doubt they would have injected some life (and a touch of terror) into me by sending me rafting or on a bungee jump. Since I have begun adulting, I still take immense pleasure in all the activities that taught me valuable life lessons and painted my childhood with such vibrant colours.
Victoria Falls is a child's playground, filled with such immense adventure that it is sure to lure teenagers away from their phones, and toddlers away from their toys. Travelling with children is undoubtedly tricky, but hopefully this post will help make the process smoother and the memories brighter.
What to do
The greatest thing you can bring to Victoria Falls is extra time. Travellers are constantly blown away by how much there is to do here, and if you have to leave with one family member's activity not checked off the list, it will feel like a very long journey home. You also need to make time for the well-documented faffing phenomenon. Toddlers in particular have no appreciation for the time pressures of travel, and you are more likely to keep your cool if you factor in the gawping, stalling, and inexplicable need to inspect every cloud/rock/trace of animal poop. Below is a list of the activities open for various age groups, and its important to be aware of the restrictions so that you don't make promises that you cannot keep. Unfortunately, tourism operators will not be held responsible for any sulking that may ensue.
Open for all ages
Helicopter ride - It doesn't feel right calling this an activity, because in reality it is an absolutely breath taking experience. The "Flight of Angels" sweeps over the rain-forest and surrounding National Park, and will enchant and excite the entire family. The helicopter flight is the first thing I take visiting friends and family to do, and it never fails to blow them away. It is fairly short, but those fifteen minutes are truly remarkable.
The sunset cruise - this is open to all ages, but if you have rowdy children with you, it might not be the best option because there isn't a lot of room for running around (the unlimited fizzy drinks included in the fare do not help matters). However, the hippo, crocodile and elephant sightings are fun for everyone, and there are few things more calming and serene than watching an African sunset on the Zambezi River.
Family friendly sunset cruise on the Zambezi River
Falls Tour - I recently read a quote by Walt Streightiff that said, "There are no seven wonders of the world in the eyes of a child. There are seven million." I think it beautifully epitomizes the curious and creative way that children experience the world. The Victoria Falls is one of the seven natural wonders of the world, and it is something that will remain with them long after the holiday has ended. The rain-forest resembles a picture out of a fairy-tale book. Bucks wander happily about, drops of water glisten like strings of diamonds along spider webs, and the tree branches reach towards one another forming a natural archway to walk under. Vines hang like swings, and the constant roar of the waterfall makes the rain-forest even more magical. However, it is very important to know that the railings are mainly made from bramble and thorns, and after a certain point, there are no railings at all. The paths can also get very slippery during high water seasons. Your children will love the experience, but you will need to be on high alert.
Crocodile farm - this is an educational and captivating activity. There is a museum that begs exploration, bridges leading over crocodile enclosures, cheeky ostrich's and awe-inspiring lions. One of my favourite childhood photographs was taken at the crocodile farm, where I am proudly posing with a recently hatched croc clasped between my hands, a gap toothed smile on my face and a look of joyous bewilderment in my eyes. During feeding time at the crocodile farm enormous crocodiles leap out the water, snapping at the rods of meat dangling above them. In December and January, the crocodile eggs hatch, and this is a truly mesmerizing spectacle to witness. A crocodile handler will make the sounds that mother crocs do when it is time for the babies to come out of their shell, and within seconds the eggs start quivering a cracking. Slimy reptiles slide out snapping their little jaws (apparently furious about been born). The crocodile farm is also home to a small pride of lions, and their enclosure is opposite a picnic site on the premise.
The snake park is a recent addition to Victoria Falls, and while I haven't brought myself around to actually going inside (because, snakes), the facility gives children a glimpse at the amazing world of snakes. It is currently home to 107 snakes, and the enclosures have been designed to mimic their natural habitat.
The canopy tour - the canopy tour is the only high wire activity I have been able to convince my height fearing father to accompany me on, and he loved every minute of it! It is an adrenaline inducing way to explore the Batoka gorge, as you sail between the treetops and over the churning rapids below. There are twelve mini zip lines that zigzag between the lips of the gorge. It is a great bonding experience, and is open to all ages, but younger children will be asked to share a harness with a guide or parent.
Vulture Culture restaurant - every afternoon at 1pm, Safari Lodge opens their Vulture Restaurant. Guests are guided along a short walk to a clearing in front of the lodge, and within minutes hundreds of vultures descend on the scraps of meat tossed into the air by the guide. It is a remarkable thing to watch, and the talk that follows the frenzy is both interesting and educational.
Art with the Elephant - this is a spectacular way to interact and observe Africa's gentle giants! An easel and paint palette are set up under the shade of a large tree, facing a watering hole where elephants frolic in the mud and graze from the trees. No previous art experience (or in my case, skill) is required and the paintings you create are a wonderful personalized souvenir to take home and remember this special experience by. Children need to be five and above to take part in the activity.
Bridge tour - touring the impressive bridge that connects Zambia to Zimbabwe is a thrilling educational experience. The minimum age requirement is ten years old. After a brief presentation of history building of the bridge, your group will explore the intricate architecture while securely attached to harnesses. If you are scared of heights, this unfortunately is not the activity for you, as the bridge does hang in the chasm of the gorge and the tour can elicit that unsavoury "jelly leg" feeling.
14-15+ years olds
Rafting - if there is an adrenaline junkie in your midst, this is the ideal activity to send them off on! White water rafting is one of the most exhilarating adventures on offer. I caught the "rafting bug" after my very first trip, and I been back dozens of times. The water can get very rough during certain times of the year, but the trips very safe and are conducted by experienced guides who know the river better than they know their own homes. I find that flipping the raft makes it all the more exciting (and impressive when I retell the story later). Be sure to purchase a video of your adventure, so that your children can show their friends back home, and you can score some 'cool' parent points.
The bungee jump and the gorge swing are terrifying and electrifying in equal measures. For the bungee, your a harness is secured around your ankles and you dive head first off the bridge toward the river below. For the gorge swing, you jump off a platform that peers over the side of the gorge, free falling before an almighty swing at the bottom. The best advice I could give to anyone doing either jump, is just remember that the scariest part of the whole experience is the moment leading up to the free fall. The drop itself is absolutely incredible, so you just need to get over the pre-leap jitters and take the plunge. I have done the gorge swing 14 times and there has never been a day when the fear overrode the fun.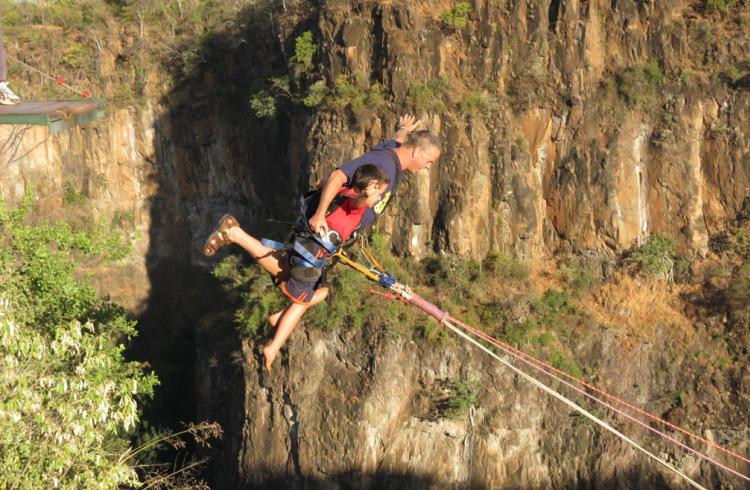 Tandem gorge swing
A more comprehensive list of the age requirements for all the activities can be found here. I strongly recommend a small disposable camera for your kids' holiday, as it encourages them to observe their surroundings and focus on things that interest them. Chances are there will be a lot of photos of people knees from the toddlers, but you might be surprised by what else they manage to capture through their lens. Your trip to Victoria Falls could be the best holiday you ever go on, and it is definitely a holiday that your children will remember forever.
THE VIC FALLS BUSH TELEGRAPH
our Bi-Monthly E-Newsletter

Each issue has a destination update, loads of information about conservation and wildlife, specials offers, traveller tips, community projects, website highlights and tons more...

Find out more about our Bush Telegraph

"Your newsletter keeps me informed about new and old and is the best I've seen in a long while - informative, not commercial, just plain perfect!" - I.Skliros

Don't worry. Your e-mail address is totally secure. I promise to use it only to send you The Vic Falls Bush Telegraph.
Return from Adventures With the Children in Victoria Falls to our home page