From Australia to Victoria Falls, Zimbabwe: A Travel Guide
So, you have decided on - or are contemplating - a trip to Victoria Falls, Zimbabwe from Australia. You have chosen one of the best destinations to travel to and witness one of the seven natural wonders of the world! Known for its captivating natural landscapes and the renowned charm of Zimbabweans, you will be welcomed into their culture, and country, with open arms. Before you start your journey, there are a few things you should know to make the most out of your holiday.
1. Travel in the months of June - September
Travelling in the months of June - September will bring you the best climates, with highs ranging from 80-84°F and lows of 45-50°F. If you do travel in the month of June, July, or August, be sure to pack warm clothes as you will experience some of the country's cooler months, especially in July, where you can expect an average temperature of 58°F, and even lower in the mornings (43°F), when you will likely go on your early-morning game drives.
Speaking of game drives, travelling to Zimbabwe in these months will present you with the best opportunity at seeing an abundance of wildlife, as it is dry season, meaning the animals are out frequenting water holes and relaxing alongside rivers. Visiting Hwange National Park and Matobo Hills are crucial during these peak months, and don't forget to try white water rafting in Victoria Falls, especially if you travel in late August or early September.
Travelling to the country after September will present you with the African heat you have probably heard about. Temperatures will start to peak at 90°F and above come October. Don't say you weren't warned!
2. Book your Flights 2 Months in Advance
Travelling from Australia to Zimbabwe is a long-haul, but it is well worth the flight. Depending on the airline you fly with, your flight will take anywhere from 12 - 50 hours (low-cost airlines & budget-booking sites have longer-layovers for cheaper flights). You will want to book your flights at least 2 months in advance to get the most affordable rates and reasonable flight duration.
Take a look below to view costs for some of the most popular routes for those flying from Perth, Australia into Victoria Falls, Zimbabwe, during some of the best months to travel to the region.
Flight costs from Perth Intl Airport → Victoria Falls Airport
| | | | |
| --- | --- | --- | --- |
| | June to July | July to August | August to September |
| Ethiopian Airlines | A $2,503 | A $2,677 | A $2,522 |
| Jettzy (Booking provider) | A $2,503 | A $2,660 | A $2,487 |
| Kiss & Fly (Booking provider) | A $2,503 | A $2,677 | A $2,522 |
| E dreams (Booking provider) | N/A | N/A | A $2,480 |
The costs detailed above were made for round trips of 2 weeks, booked a month to two months in advance.
Perth Airport Parking
If you are flying from Perth Airport, and plan to drive your car to the airport, and keep it there whilst away, consider booking Airport Parking Perth with Flyparks. Flyparks is a budget-conscious comparison and booking platform for airport car parks across Australia and New Zealand. With them, you don't have to worry whether your car will be in good hands whilst away as every car park is vetted and reviews from customers are readily available on their site. Whether you are travelling from Perth Airport, Brisbane Airport, or Auckland Airport, you can find a car park available by using their simple search engine to type in your selected travel dates and be presented with available car parks in seconds. No booking fees or hidden costs!
3. Prepare your Visa
If you are an Australian citizen or permanent resident, you will need a visa to enter Zimbabwe. The great news is you can acquire your visa at the airport upon your arrival. All you need is a passport that is valid 6 months upon your entry with an empty visa page, proof of sufficient funds in your bank account, proof of a return ticket, proof of your customs form indicating your purpose of travel, and verbal confirmation with the airline you are travelling with that you will be permitted travel in the case that any conditions change.
As an Australian citizen, you are classified as a category B national, and therefore applying for an e-visa online is not recommended as the verification process for your online application is extensive compared to what will be asked of you upon getting your visa on arrival. Be sure to have a copy of your passport printed and kept safe in the event that your official one is stolen or lost.
4. Get Your Vaccinations
There are limited vaccination requirements for Australian citizen entering Zimbabwe. You will only need a yellow fever vaccination, if you have been in or are coming from a country that is considered a high risk yellow fever zone. Those countries can be seen here - Yellow fever zones.
If you have had at least two Covid-19 vaccinations, then you do not need to have PCR test certificate. If you are unvaccinated, then at this stage you will require a PCR test. This regulation should be dropped very soon.
Other vaccinations that you may choose to have, but are not a requirement are:
● Hepatitis A
● Hepatitis B
● Typhoid
● Cholera
● Rabies
● Tetanus
Most Australians likely already have these vaccines, especially if they have travelled overseas before.
5. Choose your Accommodation
Depending on what your budget is, your style of accommodation will vary! Victoria Falls offers a plethora of luxurious and affordable accommodation for every kind of traveller. You can view a full range of accommodation on offer, in every category, on this page - Victoria Falls accommodation.
Once you have chosen your accommodation, it's time to fill your itinerary with activities and experiences that you will find nowhere else in the world.
6. Plan Your Activities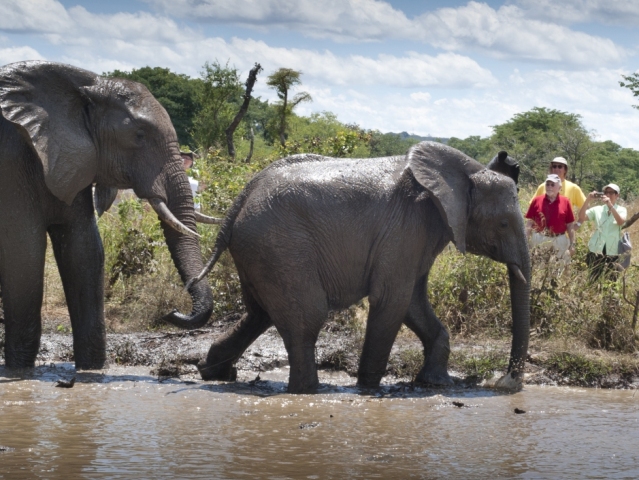 With so much to do in Victoria Falls, you will not have a shortage of what to check off your itinerary. It can be daunting to choose a few select activities, especially when you only have a week or two in the region. We have compiled a list of must-do experiences when in Victoria Falls for every type of traveller - from the nature-loving hiker, to the wine connoisseur. Here are the top activities to immerse yourself in whilst in Victoria Falls:
Visit Mosi-oa-Tunya / Victoria Falls National Park
Perhaps you knew I was going to put this destination on the list as it's what brings everyone to Victoria Falls, but it truly is an experience of a lifetime. You can take a guided walking tour with an experienced guide, or go all by yourself. I definitely recommend going with a guide though, as you will learn about the history, culture, and wildlife of Zimbabwe through the eyes of a local. Pack a rain poncho or coat as you will likely be sprayed with water when surrounded by the falls.
The Comesa Market or Art & Curio Market
As some of the best flea markets in Victoria Falls, at these markets you can purchase fresh produce, souvenirs to take home for your friends and family, all whilst mingling with locals along the way.
A Cultural Experience through a nearby Zimbabwe Village
While there are various different safari's you can do to see wildlife, I think that an experience of meeting locals & partaking in their daily life with them is an exceptional way to spend your time and contribute back to the community and country you are visiting. This activity is highly recommended for families travelling with children and for those who want to escape the typical tourist spots, and revel in true Zimbabwe culture.
Wild Horizons Elephant Sanctuary
If you are an animal lover, and even if you are not, this experience is life-changing, and in my opinion, will turn you into an animal lover. Seeing these intelligent, majestic animals up close is nothing short of amazing. While you don't get to personally interact with them, seeing them unobstructed, in their natural habitat is one of the best ways to experience their magic.
A Night Cruise on the Zambezi River
A sunset cruise on the Zambezi River after a long-day of sightseeing is the perfect way to wind down (or up, if you want to party afterwards). You will get to experience traditional Zimbabwean cuisine with fantastic wine pairings, unlimited drinks, and see aquatic wildlife as you cruise on the river for 3 hours. Don't worry about finding transportation to the boat, Pure Africa will pick you up and drop you off at your accommodation. Cruises run from $45-$94, depending on if you want a standard or upmarket river cruise.
Eat at The Lookout Cafe
View the Victoria Falls Bridge and gorge as you dine on Crocodile and Berry Creme Brulee.
Bungee Jump / Zip Line / or Tour the Victoria Falls Bridge
If you are an adrenaline junkie, bungee jumping off Victoria Falls Bridge should be on your bucket list. At 365 feet in the air, you will jump from great heights and witness spectacular views. If bungee jumping isn't your thing, don't worry, you can also take a 984 ft zip line ride across the falls or bridge swing from a 262 foot height. You can book your jump or swing through the company Shearwater.
You now have all the information to make the most out of your trip and be well-prepared for a seamless travel journey. Don't forget to pack warm clothes, and perhaps a few things you may want to donate if you plan to visit a local village. Victoria Falls is a town you will not want to leave and certainly won't forget. Enjoy it all!

THE VIC FALLS BUSH TELEGRAPH
our Bi-Monthly E-Newsletter

Each issue has a destination update, loads of information about conservation and wildlife, specials offers, traveller tips, community projects, website highlights and tons more...

Find out more about our Bush Telegraph

"Your newsletter keeps me informed about new and old and is the best I've seen in a long while - informative, not commercial, just plain perfect!" - I.Skliros

Don't worry. Your e-mail address is totally secure. I promise to use it only to send you The Vic Falls Bush Telegraph.
Return from From Australia to Victoria Falls, Zimbabwe: A Travel Guide to our home page