Understanding Yellow Fever Certificate Requirements
There have been questions about whether or not travellers need Yellow Fever vaccination and certificate before arriving in Zimbabwe, Zambia or South Africa. We have put together some information to help you understand where the disease is found, and which countries require visitors to have the Yellow Fever certificate.
Where is Yellow Fever Found?
The Yellow Fever Virus (YFV) occurs in the following countries:
Africa
Americas
Angola, Benin, Burkina Faso, Burundi, Cameroon, Central African Republic, Chad, Congo, DRC, Ethiopia, Gabon, Gambia, Ghana, Guinea, Guinea Bissau, Equatorial Guinea, Ivory Coast, Kenya, Liberia, Mali, Mauritania, Niger, Nigeria, Rwanda, Senegal, Sierra Leone, South Sudan, Sudan, Togo, Uganda
Argentina, Brazil, Bolivia, Colombia, Ecuador, French Guyana, Guyana, Panama, Paraguay, Peru, Suriname, Trinidad & Tobago, Venezuela

Note: Zimbabwe, Botswana, Zambia and South Africa are not considered Yellow Fever Risk Zones.
For some of these countries, YFV does not occur in all regions of the country, but it is still considered a high risk country. Therefore, the World Health Organisation (WHO) recommends that people travelling to these countries get a Yellow Fever vaccination for prevention.
What About Zimbabwe, Zambia and South Africa?
When you are entering Zimbabwe, Zambia or South Africa, you will only need a Yellow Fever Certificate if you have travelled or lived in any of the countries that are considered high risk area (see list above and map below). South Africa used to require visitors who had been to Zambia to provide the certificate, but since February 2015, this rule no longer applies. Read about it here.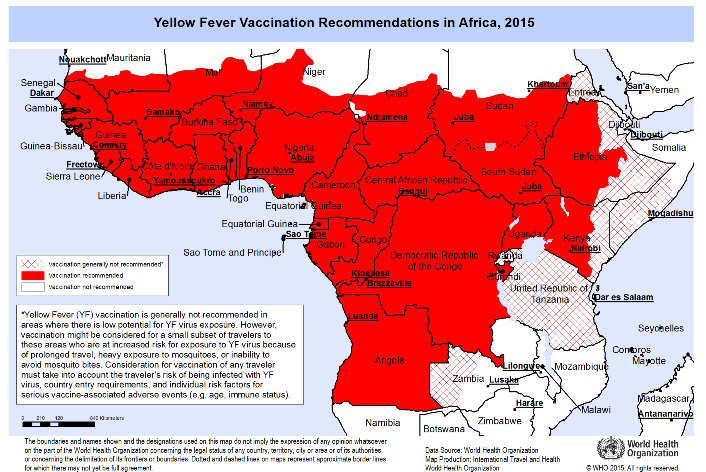 African countries considered as yellow fever zones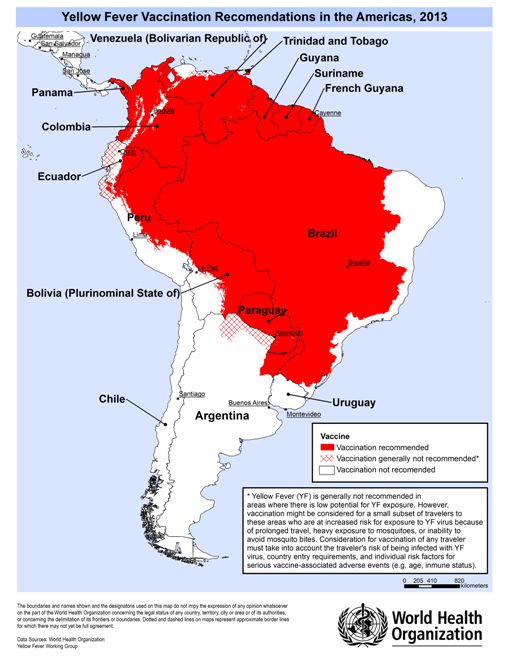 South American countries considered as yellow fever zones
What If I've Been in Transit in a Yellow Fever Area?
If you have been or are going to be in transit in a YFV risk area for more than 12 hours (10 hours in some countries), you will need to get a Yellow Fever certificate. For more country-specific requirements, click here.

When Else Will I Need a Yellow Fever Certificate?
The countries listed below will require a traveller to carry a Yellow Fever certificate only if they have travelled to or if they reside in any of the countries listed in the table above.
| | | |
| --- | --- | --- |
| Afghanistan | Gambia | Niger |
| Albania | Ghana | Nigeria |
| Algeria | Grenada | North Korea |
| Angola | Guadeloupe | Oman |
| Anguilla | Guatemala | Pakistan |
| Antigua & Barbuda | Guinea | Papua New Guinea |
| Australia | Guinea Bissau | Paraguay |
| Bahamas | Guyana | Philippines |
| Bahrain | Honduras | Pitcairn Islands |
| Bangladesh | India | Reunion |
| Barbados | Indonesia | Rwanda |
| Belize | Iran | Samoa |
| Benin | Iraq | Sao Tome & Principe |
| Bhutan | Ivory Coast | Saudi Arabia |
| Bolivia | Jamaica | Senegal |
| Botswana | Jordan | Seychelles |
| Brunei Darussalam | Kenya | Sierra Leone |
| Burkina Faso | Kazakhstan | Singapore |
| Burma | Kosovo | Solomon Islands |
| Burundi | Kyrgyzstan | Somalia |
| Cambodia | Laos | South Africa |
| Cameroon | Lebanon | Sri Lanka |
| Cape Verde | Lesotho | St Helen |
| Central African Republic | Liberia | St Lucia |
| Chad | Libya | St Martin |
| China | Madagascar | St Vincent & The Grenadines |
| Congo | Malawi | Sudan |
| Costa Rica | Malaysia | Suriname |
| Curacao | Maldives | Swaziland |
| Djibouti | Mali | Syria |
| Dominica | Malta | Tanzania |
| DRC | Martinique | Thailand |
| Easter Island | Mauritania | Timor-Lest |
| Ecuador | Mauritius | Togo |
| Egypt | Mayotte | Trinidad & Tobago |
| El Salvador | Mexico | Tunisia |
| Equatorial Guinea | Montserrat | Uganda |
| Eritrea | Mozambique | Vietnam |
| Ethiopia | Namibia | Yemen |
| Fiji | Nauru | Zambia |
| French Guyana | Nepal | Zimbabwe |
| French Polynesia | Netherlands Antilles | |
| Gabon | New Caledonia | |
Generally, it is advisable to get vaccinated and obtain a valid Yellow Fever certificate at least 10 days before your travel if you are visiting or passing through a country where YFV occurs. The certificate is valid for a lifetime. To learn about prevention of other mosquito-related diseases, visit our malaria page.
How Long is a Yellow Fever Certificate Valid?
The vaccination and certificate are now valid for a lifetime (as of July 2016). Booster doses and new vaccination certificates used to be recommended every 10 years for people who continued to be at risk of the infection, but this is no longer necessary in most cases.
Children
Generally, yellow fever vaccinations may be given to children from the age of 1 year.
Yellow Fever is a viral disease which occurs in most the tropical regions of Africa and the Americas. It is transmitted by the Aedes mosquitoes which thrive in these regions. To find out more about Yellow Fever, visit the World Health Organisation's page here.
Can't find what you are looking for? Use Google Search to search this website for any term you are looking for.


Share with others!

The Vic Falls Bush Telegraph
our Free Quarterly E-Newsletter

Each quarter there's loads of information about conservation and wildlife, a destination update, specials offers and discount packages, traveller tips and stories, book reviews, African folktales, environmental reports, bush recipes, best photo competitions and tons more....

"Your newsletter keeps me informed about new and old and is the best I've seen in a long while - informative, not commercial, just plain perfect!" I.Skliros

This Quarter we are also giving away a Free Screensaver to Every New Subscriber.