Elephant's Walk Shopping Centre
ENTER INTO ELEPHANT'S WALK SHOPPING VILLAGE AND ENJOY HOURS OF BROWSING AROUND SOME OF THE BEST SPECIALITY SHOPS ZIMBABWE HAS TO OFFER.
THE SAFE, SECURE SHOPPING COMPLEX IN VICTORIA FALLS - WE OFFER GUARDED PARKING AND NO HARASSMENT WHILST YOU SHOP.
Open every day from 8am to 5pm.
Late night shopping available on request.

Within the beautiful garden courtyard, you can enjoy a leisurely breakfast or lunch and local coffees at Brook's Cafe, or browse some of the many shops surrounding the courtyard. If you are looking for something to take home with you or gifts to take back to your loved one, you will definitely find something unique at Elephant's Walk.
What you will find within the Village
See the map and key below for all you will find at Elephant's Walk Shopping Centre


Downstairs shops at Elephant's Walk Mall
| | | |
| --- | --- | --- |
| 1. Batoka Creatives | 2. Victoria Falls Wine Experience | 3. Prime Art Gallery |
| 4. The Mixed Bag | 5. Wild Visions Photographic Gallery | 6. Sunset Collective |
| 7. Jafuta Heritage Center | 8. Zambesia Books | 9. DHL |
| 10. Brook's Cafe | 11. Ndoro Co | 12. Wendy's Mart |
| 13. Kudhinda | 15. EJ Creations | 16. EcoDrop |
| 17. Gift Sithole Creations | 18. Wire Working Table | 19. Open Air Market |
| 21. Moses Kalembela Scrimshaw & Obert Monga Mosiacs | 22. Ronald & TNT Bead and Batik Shed | 23. Ndau Collection Studio & Essential Beauty Salon |
| 24. African Trophy Dealers Taxidermy | 31. Papa Victor | |


Map of the upper level of Elephant's Walk Mall
| | |
| --- | --- |
| C. Ace Air & Ambulance | D. Alliance Insurance and Health |
| E. Private | F. Private |
| G. Jafuta Foundation Office | H. Private |
The Elephant's Walk Shopping Centre offers something for everyone with a wide variety of shops and service providers.
Batoka Creatives
This is essentially the first shop that you will see on your left when you enter Elephant's Walk Mall. They have a collection of some unique art and gift ideas, such as woven baskets and Tonga stools.
Craft Market
Next, you will encounter the craft market on your left and on your right. There are purses, satchels and handbags made from chitenge fabric. Then there are wood and stone carvings of different sizes, drums that can fit in your suitcase, as well as wire art.
Victoria Falls Wine Experience
Also on the left after Batoka Creatives is the Victoria Falls Wine Experience, host to some fabulous events and wine tasting.
EJ Creations
Past the wine place is a colourful shop which specialises in tailor-made garments and accessories. Here, you will find chitenge fabric and clothing, lady's hand bags, small curios and gift ideas.
Brooks Cafe
Enter the courtyard, and you will find Brooks cafe, the open air restaurant serving breakfast and lunch. Their menu offer a variety, including teas and coffees, drinks, desserts and milkshakes.
Ronald The Bead Man
Beyond the cafe, you will find Ronald's beadwork. Here, you can buy from various bracelets and earrings, or get your custom accessories made while you watch.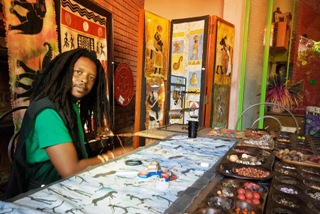 Kudhinda
This little shop sells a few accessories such as bangles, necklaces and purses in lovely designs. You will also find scented candles and incense in different flavours.
Wendy's Mart
This shop is next and sells various gifts and clothing.
Ndoro Co
This shop is next, and sells a wide range of gifts, from unique scrap books, jewellery, to home ornaments.
In the back are some more curio carvings, a hair and nail salon, and Ndau Collection workshop. Ndau is known for world class jewellery designs, some of which have graced international runways.
Zambezia Books
On the right side of the courtyard is Zambezia Books, a collection of vintage reading material and various odd collectibles, such as some of the original Zimbabwe dollar notes (post independence and pre-hyperinflation).
Jafuta Heritage Centre
An important part of the Elephant's Walk is a small museum called Jafuta Heritage Centre. It houses a private collection of material cultural and visual Zimbabwean artefacts. It allows the visitor to explore some of the tribes and history of the country and if they wish, to discuss aspects of this with our curator, Ephraim Sithole.
Read more about the Jafuta Heritage Centre here
Sunset Collective
This shop contains different accessories such as jewellery, purses, hair bands, sunglasses and hand bags.
Wild Visions
Here you will find a gallery comprising photographic art from photographer Tom Varley, paintings by Alison Baker, and some paper mache art by Sharon Parry - all local artists.
Next to Wild Visions is a shop which sells some hard-to-find products - The Mixed Bag.
Prime Art Gallery
This is one of the bigger art galleries in Victoria Falls, housing a collection of sculpture and paintings from some of Zimbabwe's biggeest artists such as Dominic Benhura and John Mahove.
ARTIST AT WORK
| | |
| --- | --- |
| | |
| Gift - working artist | Leamington - working artist |
| | |
| Lewes - working artist | Ronald the Bead Man |
Not only will you find beautiful paintings, sculptures, jewellery, unique printed clothing and stunning accessories at Elephant's Walk Shopping Centre, but you will also find gentle, friendly and helpful people!
HOW TO GET THERE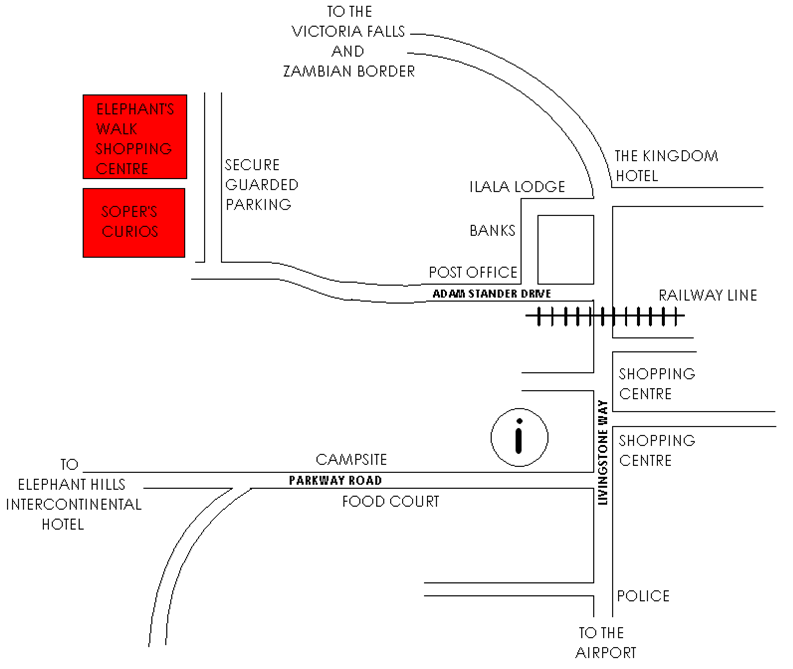 THE VIC FALLS BUSH TELEGRAPH
our Bi-Monthly E-Newsletter

Each issue has a destination update, loads of information about conservation and wildlife, specials offers, traveller tips, community projects, website highlights and tons more...

Find out more about our Bush Telegraph

"Your newsletter keeps me informed about new and old and is the best I've seen in a long while - informative, not commercial, just plain perfect!" - I.Skliros

Don't worry. Your e-mail address is totally secure. I promise to use it only to send you The Vic Falls Bush Telegraph.
Return from Elephant's Walk Shopping Centre to our home page