Home | Vic Falls Information | Vic Falls Shopping | Elephant's Walk Shopping Centre
Elephant's Walk Shopping Centre

ENTER INTO ELEPHANT'S WALK SHOPPING VILLAGE AND ENJOY HOURS OF BROWSING AROUND SOME OF THE BEST SPECIALITY SHOPS ZIMBABWE HAS TO OFFER.
THE SAFE, SECURE SHOPPING COMPLEX IN VICTORIA FALLS - WE OFFER GUARDED PARKING AND NO HARASSMENT WHILST YOU SHOP.


Open every day from 9am to 5pm.
Late night shopping available on request.


Within the beautiful garden courtyard, you can enjoy a leisurely breakfast and local coffees at Africa Cafe Restaurant, or have some really good Asian food at the upstairs Nam Took Thai Restaurant, whilst keeping in contact with your families or friends via broadband internet.

What you will find within our Village:

See the map and key below for all you will find at Elephant's Walk Shopping Centre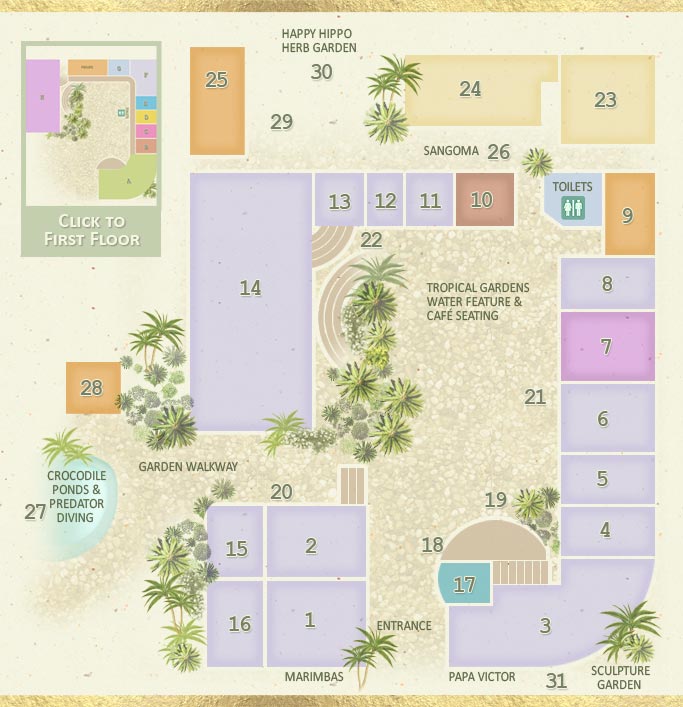 Downstairs shops at Elephant's Walk Mall
| | | |
| --- | --- | --- |
| 1. African Heritage | 2. Ndau Collection – show room | 3. Prime Art Gallery |
| 4. Wild Memories | 5. The Book Shop | 6. Instant Cater Quip |
| 7. Jafuta Heritage Center | 8. Southern Treasures | 9. DHL |
| 10. The Africa Café | 11. Chitenge Tenga | 12. Cultural Music Vibes |
| 13. Matsimela Home Spa | 14. Pischem – Prime Art Gallery | 15. Pearls Gallery And Tours |
| 16. Suntime Curios | 17. Gift Sithole Creations | 18. Wire Working Table |
| 19. Open Air Market | 20. Leamington Muzhingi | 21. Moses Kalembela Scrimshaw & Obert Monga Mosiacs |
| 22. Ronald & TNT Bead and Batik Shed | 23. Ndau Collection Studio | 24. African Trophy Dealers Taxidermy |
| 25. Spokang Trading Sewing and Upholstery | 26. Sangoma Fortune Teller | 27. Predator Diving |
| 28. Sagrone Enterprises | 29. Frank Mahore Carver | 30. Happy Hippo Organic Herb Garden |
| 31. Papa Victor | | |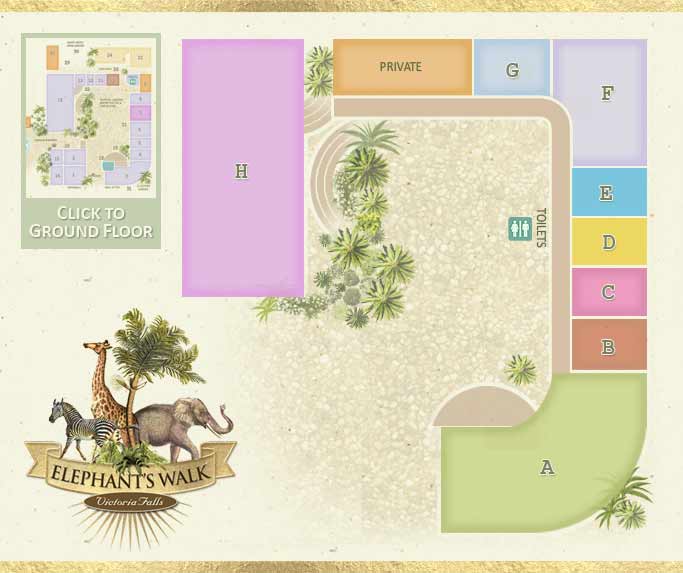 Map of the upper level of Elephant's Walk Mall
| | |
| --- | --- |
| A. Nam Took Chinese and Thai Restaurant | B. TBC |
| C. Tel One | D. Stan's Gym |
| E. African Eagle | F. Private |
| G. Silver Tours | H. HOFSTRA Accounting |
The Elephant's Walk Shopping Centre offers something for everyone with a wide variety of shops and service providers:
CURIO & CRAFT SHOPS
| | | |
| --- | --- | --- |
| | | |
| African Heritage Shop | Chitenge Tenga Shop | Outdoor Market |
ARTIST AT WORK
| | |
| --- | --- |
| | |
| Gift - working artist | Leamington - working artist |
| | |
| Lewes - working artist | Ronald the Bead Man |
VARIETY
| | |
| --- | --- |
| | |
| Garden Courtyard | Ndau Jewellery Studio |
| | |
| Prime Art Sculpture Gallery | The Sandal Shop |
Not only will you find beautiful paintings, sculptures, jewellery, an assortment of music, unique printed clothing and stunning accessories at Elephant's Walk Shopping Centre, but you will also find gentle, friendly and helpful people!
An important part of the Elephant's Walk is a small museum called Jafuta Heritage Centre. It houses a private collection of material cultural and visual Zimbabwean artefacts. It allows the visitor to explore some of the tribes and history of the country and if they wish, to discuss aspects of this with our curator, Ephraim Sithole (who is also the local N'anga and he can throw the bones for you as well!)
Read more about the Jafuta Heritage Centre here
HOW TO GET THERE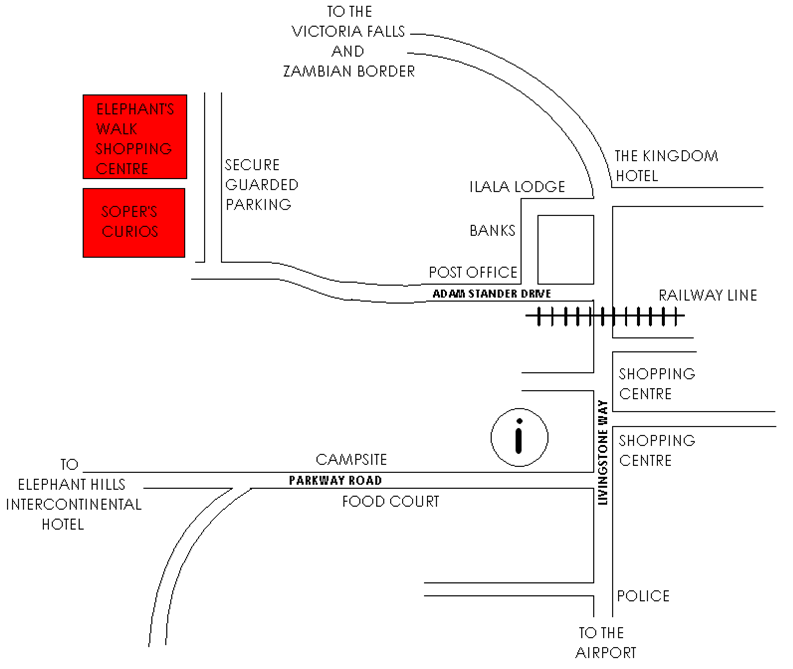 Share with others!

Can't find what you are looking for? Use Google Search to search this website for any term you are looking for.


The Vic Falls Bush Telegraph
our Free Quarterly E-Newsletter

Each quarter there's loads of information about conservation and wildlife, a destination update, specials offers and discount packages, traveller tips and stories, book reviews, African folktales, environmental reports, bush recipes, best photo competitions and tons more....

"Your newsletter keeps me informed about new and old and is the best I've seen in a long while - informative, not commercial, just plain perfect!" I.Skliros

This Quarter we are also giving away a Free Screensaver to Every New Subscriber.
---
Return from Elephant's Walk Shopping Centre to our home page