Matusadona National Park
This iconic National Park is an area of outstanding natural beauty and unspoilt wilderness, filled with a huge variety of flora and fauna.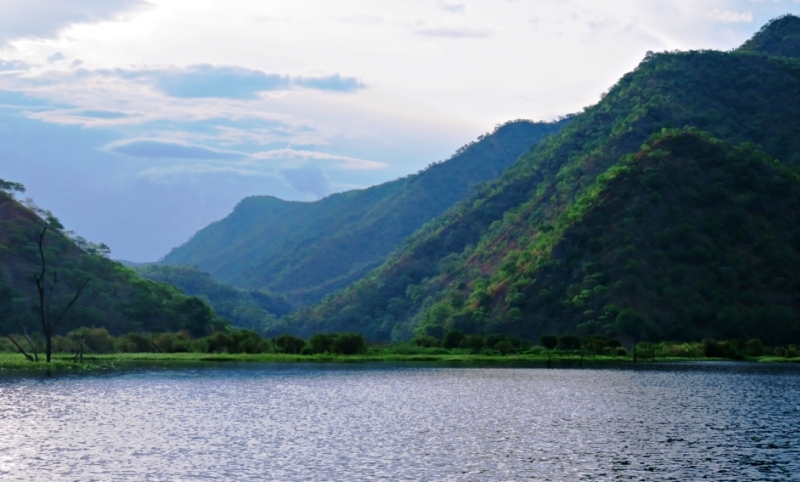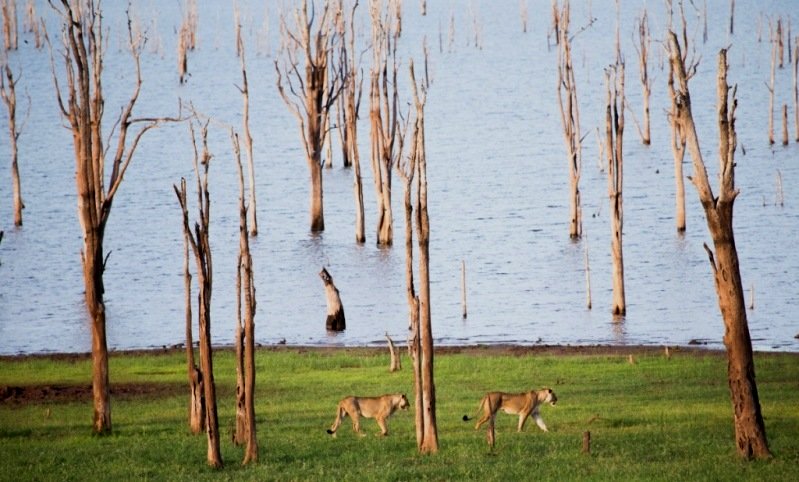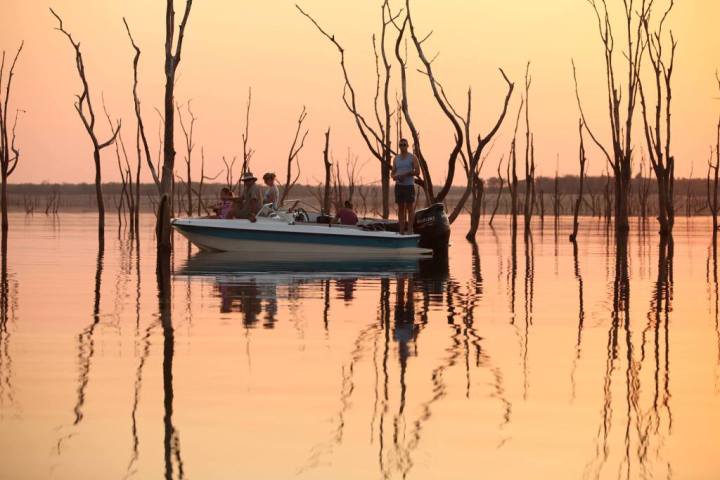 The Matusadona National Park lies on the southern shores of Lake Kariba in the north west of Zimbabwe. Kariba is the vast body of water separating the countries of Zimbabwe and Zambia. This park is an unparalleled wilderness area measuring 1400 square kilometres.
It is sandwiched between the steep sided Sanyati gorge to the east, and the wider meandering Ume River to the west. The 700m high rugged Matusadona range of mountains form the essential escarpment that separates the park from the farmlands and civilisation further south.
Between the mountains which form the most magnificent backdrop and the beautiful shoreline with its inlets and bays, lies the valley floor which consists mainly of Mopani and Jesse bush, but is home to big herds of game.
Due to its remoteness, access is not easy. Boats transfers from Kariba town are probably the simplest but if coming from further afield then air charters are common. Access by road is without question limited to 4x4 vehicles.
Its remoteness has protected it from over-development, with only a smattering of safari lodges and very little other facilities. Ordinarily in a place of such outstanding beauty with so many natural resources, camps would be ubiquitous. This very remoteness has also been its worst enemy, as it is a hard area to protect and poachers have reeked considerable damage to the wildlife populations - 400 rhino a few years back are now reduced to a mere handful. However things have changed and now it is an Intensive Protection Zone (IPZ) manned by some very serious anti-poaching units dedicated to conservation, who have brought the situation under control.


Origins of the Name
The name of the park is derived from the Shona word "matuzviadona", which translates to "falling dung" or "the dung has fallen", since elephant dung was often seen all around the hills.
Becoming a National Park
On 7th November 1958, just prior to the completion of the Kariba dam wall in December of that year, the Matusadona Park was declared a non-hunting area. This was important as the fast rising waters of the Kariba Dam meant that thousands of people and animals would need to move from the river's banks. The famous "Operation Noah", orchestrated by Rupert Fothergill, moved the bulk of the wildlife into the safety of this park. In 1963, the wildlife area was declared a game reserve, and Operation Noah was completed in 1964. Only in 1975 was Matusadona made a national park under the Parks and Wildlife act of Rhodesia.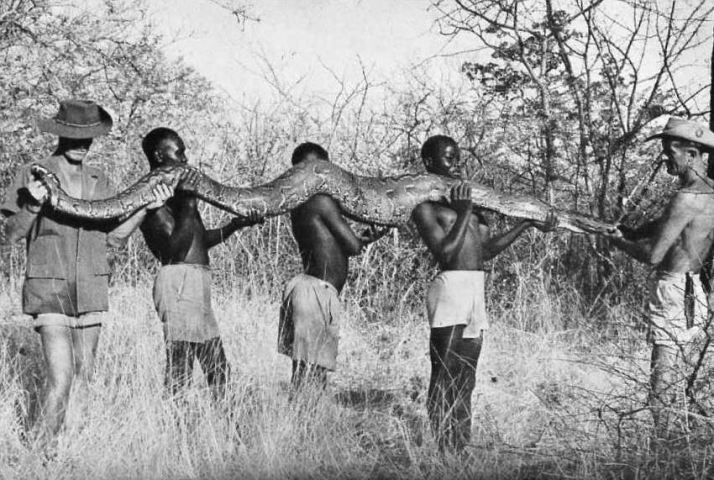 Huge python being relocated during Operation Noah
Source: Zambia and Rhodesia Genealogy and History (website no longer exists)
The Wildlife of Matusadona
Matusadona National Park is one of the few places where you will still find Africa's Big 5 animals - lion, elephant, buffalo, leopard and the endangered rhino. Matusadona is an Intensive Protection Zone because of the existence of the black rhino. Other game you can find there are impala, warthog, kudu, zebra, yellow spotted dassie, scrub hare, water buck, bush buck, honey badger, wild cat, chacma baboon, vervet monkey and the more elusive species such as civet, roan, sable, white-tailed mongoose, reed buck, eland, night ape, spotted hyena, caracal and bush pig. Occasionally, cheetah have also been spotted in the park. Crocodiles and hippo are also present in abundance.
The birdlife in Matusadona is exceptional and a bird-lovers paradise, with more than 350 recorded species, of both woodland birds, waterfowl and raptors. Of particular interest is some islands and even clusters of petrified trees which have become "Heronries" - exclusive breeding grounds for a variety of gregarious birds, including several species of heron, egrets and cormorants. Hundreds of these birds return to the same place every year, it's quite a remarkable sight to see.
It impossible to mention Kariba without mentioning Fishing, the two words go hand in hand. Most well-known and sought after is the ferocious tiger fish, in these water they are abundant but catching them requires quite a bit of knowledge and then to land them even more skill, as they are adept at jumping out the water and flicking the hook from their bony mouths, if it has not been set well enough. Catch and release for tiger is the most followed practice. Bream are also very common and when on the bite, it is not uncommon to land at least 20 of these beauties within a very short space of time. There are over 40 species of fish in Lake Kariba and fishing is a very popular and rewarding pastime in this part of the world.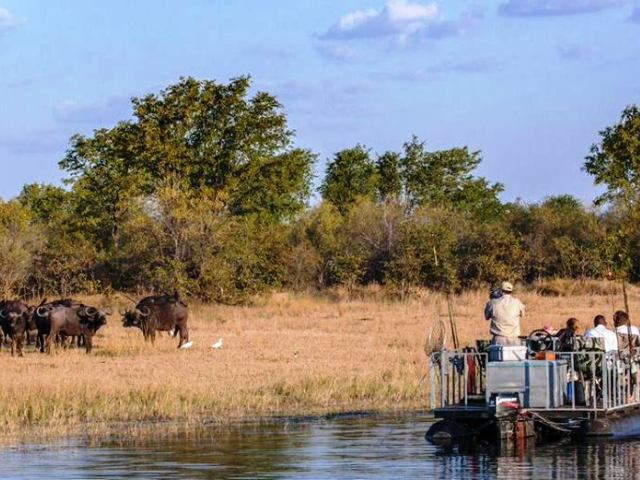 Matusadona National Park has three distinct ecological areas: The lake and its shoreline, the valley floor and the Zambezi escarpment.
The lake is characterised by dry dead trees - called petrified forests - these are remaining woodlands that were flooded and drowned as the water rose once the Zambezi River was dammed and turned into Lake Kariba.
Along the shoreline, tall regenerative torpedo grass (Panicum repens) flourished, only requiring the fluctuating water levels to replenish the soils nutrients. This grass now provides an endless food supply for the grazers such as the buffalo, zebra, waterbuck and impala and has contributed significantly to their increase in numbers.
The valley floor is mainly flat with dense jesse bush (Combretum celastroides) and mopani woodland (Colophospermum mopane). There is not much grazing in these woodlands but it is popular with the browsers, most notably the black rhino which also likes to seek refuge here.
The escarpment or Matusadona mountains is mostly made up of Julbernardia and Brachystegia woodlands, and rises 700m from the Zambezi valley floor. This area is very rugged and is difficult to access.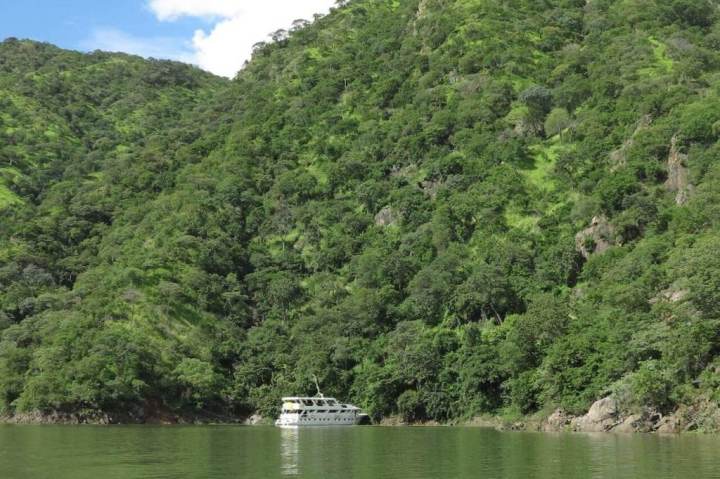 Things to Do in Matusadona National Park
On the Lake - fishing, canoeing, boat cruises, game-viewing by boat, houseboat holiday, scenic cruises up the Sanyati gorge, sailing
On the Land - game drives, rhino tracking, guided walking safaris
Accommodation in and Around Matusadona National Park
As we mentioned earlier, there is only a handful of private safari camps dotted along the shoreline of Matusadona, along with a few campsites and self-catering lodges managed by Zimbabwe National Parks.
Most of the national parks camps have very basic facilities but some are quite run down, so best to do some research on what is there before you go.
Houseboats are probably the most popular form of accommodation in Matusadona. The houseboats themselves are moored at harbours in Kariba town and then cruise across the lake and park for a night or two in one of the many beautiful lagoons and bays of this iconic shoreline.
There are three private lodges in the Matusadona National Park. The more budget accommodation is at Spurwing Island Lodge where they offer full board rates and optional lodge activities at an additional cost. Rhino Safari Camp in the northwest part of the park, is a fully inclusive camp, with a range of activities including safaris, fishing and hiking. To the far east of the park is a luxury tented camp - Changa Safari Camp. This camp is also fully inclusive.
Just west of the park boundary are two other camps: Bumi Hills Lodge is a luxury safari lodge offering fully inclusive stays, Musango Safari Camp is exclusively located on Musango Island, also having fully inclusive rates. Both of these have easy access the Matusadona National Park where some of the activities are offered.
See more Lake Kariba Accommodation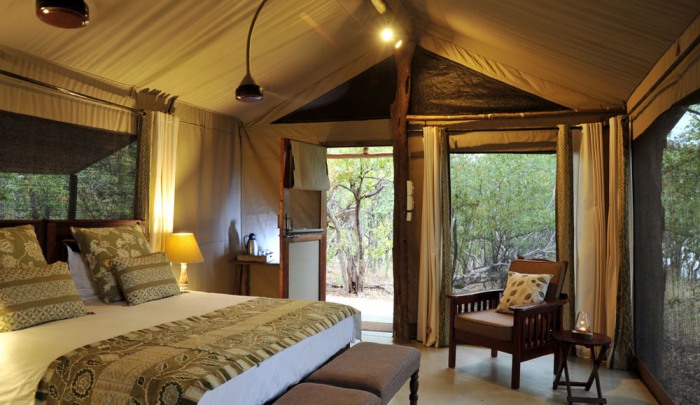 How to Get There
Matusadona National Park is one of the toughest places to get to. If you plan on self-drive, make sure you have a good 4x4 and it is worthwhile to plan for a few nights stay because of the arduous drive. The easiest way is by boat, so you can drive to Kariba, which is all tar from Harare and leave your car there for about $5 per day, and charter a boat to your accommodation.
Access to the private camps and lodges can be by private air charter to Fothergill Airstrip (to get to Spurwing and Changa) or Bumi airstrip (for Bumi Hills, Musango and Rhino camps), and then transferring by boat to the lodging.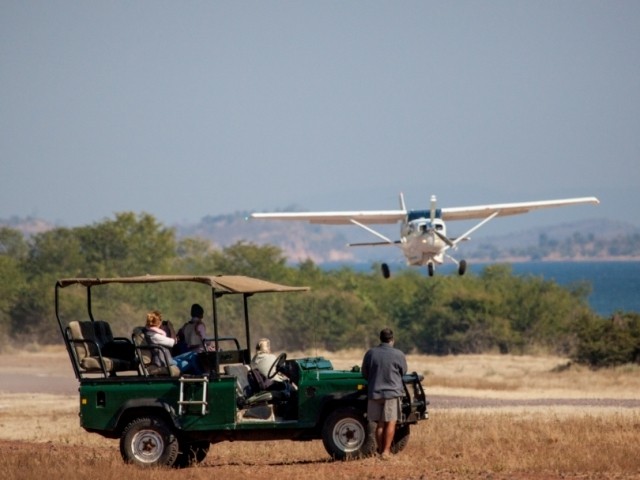 THE VIC FALLS BUSH TELEGRAPH
our Bi-Monthly E-Newsletter

Each issue has a destination update, loads of information about conservation and wildlife, specials offers, traveller tips, community projects, website highlights and tons more...

Find out more about our Bush Telegraph

"Your newsletter keeps me informed about new and old and is the best I've seen in a long while - informative, not commercial, just plain perfect!" - I.Skliros

Don't worry. Your e-mail address is totally secure. I promise to use it only to send you The Vic Falls Bush Telegraph.
Return from Matusadona National Park to our Victoria Falls home page