So if you are not sure what there is to do in Kariba, we have attempted to explain all the available activities for you here in detail.
What is There to Do at Lake Kariba?
The 3 main draw cards to Kariba are Game viewing, Birdwatching and Fishing. In each of these areas it excels beyond normal expectations. These Kariba activities can be done whether you are staying in a fancy safari lodge, on a houseboat or in Kariba town.
But Kariba is also not just about action packed adventure, it's also about relaxation. It really is an idyllic, lazy, hot spot in the sun, where one goes to unwind, lie on a sun lounger, read a book and sip on cold gin and tonics while taking in the unforgettable scenery.
Kariba Activities If You Are Staying At a Safari Lodge
If you are a fly-in tourist staying at one of the lovely Safari Lodges dotted around the lake, then you are going to be kept busy with the multitude of activities that they have on offer.
These include, game viewing by boat, by vehicle and on foot. All three options offering a unique way in which to experience this intriguing spot. Black rhino were re-introduced into Matusadona, so tracking them and finding one is a special experience. It's a genuine Big-5 destination which is rare to find these day.
Bird-watching even if you are not that interested, is unavoidable as the birdlife is so prolific and you are soon likely to be engrossed.
Fishing, as these are some of the best waters in Southern African. It's home to the ferocious Tiger fish and the bream when they are biting are insanely good fun to catch.
Scenic boat cruises which explore the myriad of inlets and bays close to their camps along with days trips to other areas of interest.
Some camps have cultural village tours to authentic fishing villages nearby. This eye-opening and fascinating experience shows how the villagers live a subsistence lifestyle, reliant on the land and the water to survive.
If You Are Staying On a House-boat
If you are staying on a Houseboat, then activities are not too dissimilar to being at one of the safari lodges described above, bar the game viewing by vehicle and on foot. Every houseboat has at least one tender boat and that boat is used for excursions, whether it be fishing, game viewing, birdwatching or just cruising. On the main boat you can chill out and take in the wonderful scenery. Most of the boats have either a pool or a jacuzzi for those stifling hot summer months.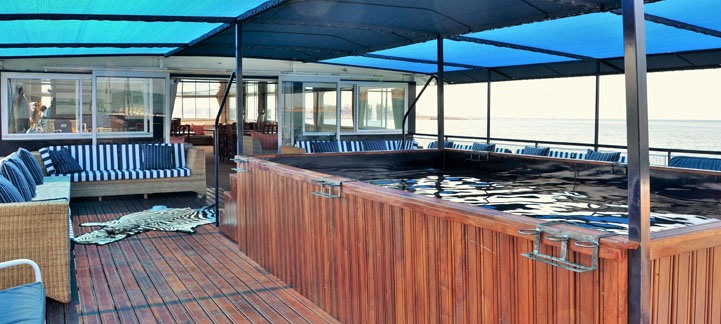 Plunge pool on the Shikra houseboat
If You Are Staying In Kariba Town
If you are not staying in one of the safari lodges or on a houseboat but have your own boat, of-course you can enjoy all the pleasures and activities that boating on this lake has to offer. If you don't have your own boat, boats can be hired from Marineland in Kariba town and these will take you on fishing and game viewing excursions by the hour or by the day.
If you are staying in Kariba town, there is a couple of must do Kariba activities. One is to see the Kariba dam wall which is very impressive. There is a view point about above the wall where one gets an excellent view, if any of the flood gates are open then the view is even more spectacular.
At this observation post, there is a small curio market, where the talented Kariba ladies sell their bright Africa print table cloths, crochet garments, hats and trinkets along with the intriguing and unique Nyami-Nyami walking stick, which tells the whole story of the Kariba dam in one carving. If you don't have you own transport, then taxis are available.
The other is to get up to the Kariba heights, this is a bit of a winding drive right to the summit where the Kariba club used to operate. The panoramic view from here, over the lake and across to the Matusadona hills, is just out of this world. The Santa Barbara church which was built in memorial to the construction workers who died whilst building the dam, is there and is also worth a quick look.
Kariba town is surrounded by Safari areas, so dangerous game such as elephant, buffalo and even lion are often encountered in and around parts of the town. One needs to be aware of this and be vigilant around these animals as they are wild even though at first they might appear tame. However, this is part of the attraction of Kariba and a game drive down the powerlines road can be very productive.
Annual events here include the Kariba Marathon and the International tiger fishing tournament.
What NOT To Do At Lake Kariba
Don't go swimming in the Lake, there are lots of Crocodiles!