Zambezi Cycle Challenge
The Zambezi Cycle Challenge is a fulfilling and exciting 3 day tour all for a good cause
12th to 14th July 2024
The Zambezi Cycle Challenge is a fitting event for conservationists as well as those who seek a thrilling and challenging cycling activity in Victoria Falls.
It is a fundraising event which aims to raise funs in order to preserve the wellbeing of Victoria Falls and the surrounding environment. To read more about the beneficiaries of this event, click here.
"Teams will be required to be made up of at least two members, but the race organisers will consider single applicants for as long as they agree to be grouped with other cyclists of a similar ability."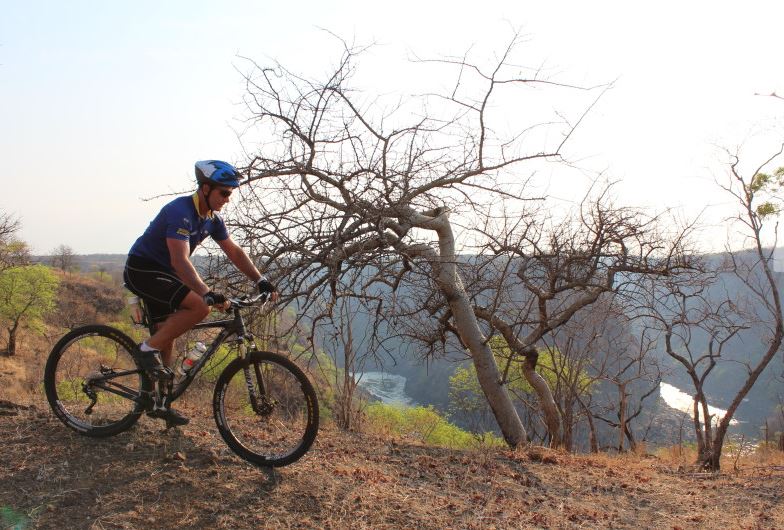 Cycle Challenge participant by the Zambezi gorge
Add on a few days and enjoy Helicopter flights, Canoeing, Rafting, Elephant back safaris or for the wild at heart some gorge swinging or bungee jumping. Packages are available through us.
***z-enquire-vf.shtml
The three day stage event will cover a distance of between 50 to 80 kms each day
Registration
Online Registration opens on 1st February 2024.
Detailed Itinerary
You will find diagrams of the routes for all three cycling days here.

Registration Day

The registration desk will be open at Ilala Lodge from 12h00 to 17h00. The welcome, safety and race briefing will be done at 18.00hrs. It is compulsory for all participants to attend this briefing.

Dinner and drinks are available after the briefing (at your own expense) and buses will shuttle riders back to the Cycle Village at the end of the evening. Dinner is included, but drinks are at own expense, at $10 per book.

Most importantly for those who do not have their own transport to the start, please ensure that your bikes are numbered and have been delivered to the Cycle Village before 16.00. Please place them on the bike racks available to you, so that they are loaded on the trucks that will deliver them to the start the following morning.

Challenge Day 1 - 72 Kilometres

Bikes will be loaded the night before and entrants will depart from Ilala Lodge at 6 am. The road transfer will take approximately 25 minutes along the Bulawayo Road and start just behind the Airport. The ride starts at 7.00am. The first 5kms will be on gravel road and then enter a double track for the next 10kms. After the 10km track, the elephant trail will take you to Elephant Pools. Thereafter, its a combination of single and double track for the rest of the route, riding through community areas and wildlife areas. The ride also goes past the Wild Horizons Wildlife Sanctuary, then past the Victoria Falls Hotel and end at Explorers Village. Enjoy the natural surroundings and keep a respectable distance should you came across any wildlife. There will be safety marshals present in places where riders will mostly likely encounter wildlife, but riders still must be vigilant throughout this days ride.

Lunch at Explorers Village (included in registration).

Free afternoon at Leisure.

Bikes must be delivered to Ilala Lodge by 16.00hrs for loading if riders do not have their own transport to get to the starting point for Day 2.

Challenge Day 2 - 55 Kilometres

Entrants will depart Ilala Lodge at 6am, and the transfer to the starting point is about 25kms out on the Gorges road.

This day will start on the tar to separate the riders a bit and then wind its way through a scenic valley, taking them through many authentic village scenes. Some technical riding but generally short hills and sharp descents. Some wonderful fast and winding sections on cattle paths through some woodland will eventually take you back through a new section through the Wild Horizons Sanctuary and back to the finish at Wild Horizons Lookout Café.

Lunch at the Wild Horizons Lookout Café ( included in registration).

Free afternoon at Leisure.

Bikes must be delivered to the Cycle Village by 16.00hrs for loading if riders do not have their own transport to get to the starting point for Day 3.

Dinner- Included for Ilala Lodge Guests in Accommodation package, or for pre-booking by non-residents

Challenge Day 3 - 52 Kilometres

The buses will leave the Ilala Lodge at 6 am and transfer riders to the start, approximately 45 minutes down the Gorges Road. It's just about all single track and the most technically challenging day of the event. The start has a 3 km stretch on gravel before entering a gentle single track through the rural villages.

The route then goes through the Wild Horizons National Park concession and via a single track that is at times meandering and pleasant to technical and potentially dangerous. Interspersed regularly along this route are (some) breath taking views of the Zambezi River way below. Stop and enjoy the view, as there will be a section that is a compulsory walk for safety purposes. As riders approach the end of the ride, they will be greeted by the thunder and spray of the Victoria Falls before the final stretch to Ilala Lodge.

Lunch for riders at Ilala Lodge ( included in registration fee)

16:00- Transfers from Ilala Lodge to Pure Africa Jetty Site

16:30- Sunset Cruise, canapes and drinks provided with registration for all participants

18:30-Gala Dinner (3 course meal) included in registration for all participants, photos, prize-giving and an evening of fun (drinks are not included and can be purchased on site using drinks tickets ($10 booklets) directly from Pure Africa)

Transfers back to Ilala Lodge will be available after dinner onwards until 22:00.
What you Need to Know
• Minimum age requirement for any cyclist is 16 years of age and a maximum of 70 years of age, unless permission has been requested and granted by both a medical practitioner and the event organisers.
• Safety approved riding helmets are compulsory (gloves are recommended).
• All cyclists must be in good health and of good fitness. Whilst cyclist in the groups may not be racing & do not have to be a super cyclist to enter, you do need to be fit & healthy with training & preparation to be able to enter.
• Cyclists must have completed at least 1 mountain bike event in the past 9 months covering a min of 70km.
• The cycle tour may take you into close contact with wild animals. Neither the organisers, the sponsors, their employees, partners nor agents can be held responsible for any injury or incident on the tour.
• For more important terms and conditions, visit this page.
THE VIC FALLS BUSH TELEGRAPH
our Bi-Monthly E-Newsletter

Each issue has a destination update, loads of information about conservation and wildlife, specials offers, traveller tips, community projects, website highlights and tons more...

Find out more about our Bush Telegraph

"Your newsletter keeps me informed about new and old and is the best I've seen in a long while - informative, not commercial, just plain perfect!" - I.Skliros

Don't worry. Your e-mail address is totally secure. I promise to use it only to send you The Vic Falls Bush Telegraph.