Elephant Back Safari
For the Ride of Your Life.....
PLEASE NOTE: Elephant Back Safari's are no longer available in Victoria Falls. The activity is now an "Elephant Encounter". Although you don't get to ride the elephant you still get up close the elephant and are able to learn more about them and the conservation program.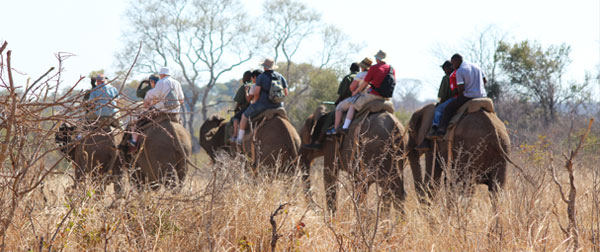 Victoria Falls elephant back safari
View wildlife on safari on another level, and ride the wilderness' very own 4x4. These majestic creatures will take you through the bush and enable you to see game from another perspective.
Our Elephant Back Safari - A Personal Account......
We were invited by Shearwater Adventures on an early morning trip. We were taken to their Private Game Reserve about 20 minutes from the town centre.
Arriving at a wonderful thatched building on a river bed and were given a welcomed cup of coffee and a very thorough safety talk, signed the indemnity form and we were off.
You get on these enormous animals from a high wooden platform that the elephants are trained to walk along side of - when you first get on you feel a bit unsettled and it certainly feels a very long way down. You sit on a type of saddle with stirrups for your feet to rest in. Two people per elephant and one "Induna" or driver.
Our Induna was called Heritage and he was very knowledgeable about the elephants and some of the wildlife that we encountered during the walk. All the time talking to his elephant and being aware of us, deflecting overhanging thorny branches etc.
Elephant safari with through the bush
Although I have done this before the sheer exhilaration of sitting on an enormous African Elephant, touching, hearing, smelling and seeing them this close is indescribable and I could never tire of it. I watched their movements in fascination as they are almost silent as they make their way along the game paths.
When we stopped to look at something they would start eating the trees around us, and you feel just like you are part of the herd as they go about their daily business. It's magical and I would do this again and again.
We returned to the platform and were then given a chance to interact with the elephants - feeding them pellets and having photos taken whilst they very willingly "sat down" for us.
It was great and I know that it was my sons best part of the trip. Looking into those big gentle eyes with such long eyelashes, wondering how much more they must know about life, than we ever will.
At the end we were shown a short video of our elephant back safari which you can buy for US$30 and they also have some cool footprints of each different elephant (Did you know that elephant footprints are as individual as our fingerprints?)
We were served a wonderful cooked breakfast and returned to town, the whole safari having taken about two hours.
All Trips Include
Transportation from all major lodges and hotels to the activity.
Experienced guides will accompany every safari.
Safety talk, introductions to the Elephants and their "Induna's"
The opportunity to observe and learn about game, bird life, flora and fauna.
A breakfast is served on the morning safari.
Refreshments and snacks are served on the afternoon safari.
Return transfer to town
Equipment
Clients sit on a custom build saddle that has stirrups to rest your feet on and straps to hold on to.
Clients will mount the Elephants from a ramp that is almost level with the back of the Elephant.
All guides are first aid qualified.
All Trip Leaders carry a rifle, communications radio and first aid kit on the trip.
Age Restriction - 4 years min. All children 18 years and below require a legal guardian to sign an indemnity form.
What To Bring
• Cameras and videos
• Neutral colour clothes
• Comfortable shoes
• Hats
• Binoculars
• Booking voucher
• Money for videos




Interaction with elephants
Read Experiences and Reviews from other travellers - or why not share your own Experience with us. Find out more...
Back to Victoria Falls Activities
THE VIC FALLS BUSH TELEGRAPH
our Bi-Monthly E-Newsletter

Each issue has a destination update, loads of information about conservation and wildlife, specials offers, traveller tips, community projects, website highlights and tons more...

Find out more about our Bush Telegraph

"Your newsletter keeps me informed about new and old and is the best I've seen in a long while - informative, not commercial, just plain perfect!" - I.Skliros

Don't worry. Your e-mail address is totally secure. I promise to use it only to send you The Vic Falls Bush Telegraph.
Return from Elephant Back Safari to our Home Page