Zambezi Seaway Project
Recently worrying reports have popped up in the press that the Zambezi Seaway Scheme, first mooted in the 1950's by the Portuguese to reduce freight costs for landlocked countries in Southern Africa, is back on the cards.
The proposed Seaway would be 1500kms long stretching from Victoria Falls in western Zimbabwe to the Indian ocean in the eastern Mozambique. Promoters of this gigantic scheme - The Zambezi Seaway Corporation, say it will offer a cheaper, faster and more efficient route to the ocean, thus boosting local economies.
The current cost of transporting the vast quantities of goods and minerals to the coast is prohibitive. Therefore by floating these goods transportation cost would be dramatically reduced thereby bringing them onto the world market at greatly reduced prices leading to an industrial boom.
Elephants drink and wallow in the Zambezi River as the sun goes down
Could this really be true?
Reading several reports on the subject the people behind this corporation are actually considering this. Have we not made enough mess of our planet earth so far? Have we not learnt anything from the mistakes we have already made? Do we really need another industrial boom - have the last industrial booms not done enough damage to our world? Damage… that many of us are now trying to correct.
The concept is based purely on economic advantages to the people of the region and the receiving world economies. There is no doubt that this would stimulate the economies, but at what cost, it's all about people people people.
No one seems to have considered the impact such a project will have on the environment and the abundant wildlife that thrives along the banks of the Zambezi or in her waters.
It's not ours to destroy, what right do we have to take one of the most magnificent spectacles in nature and turn it into a man made seaway for our own economic gain. We are custodians of this planet… is this what you would call looking after it?
If anyone, including the people behind the concept were to take the time to experience this place of incredible beauty in its full entirety, they would not be able to contemplate destroying it. This 1500km stretch of water is home to some of the most outstanding areas of wildlife left on our planet.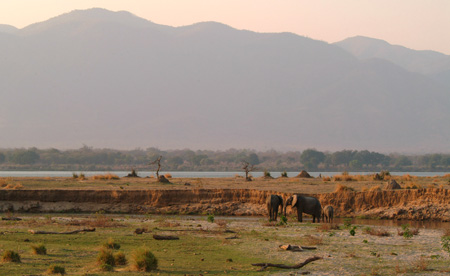 Lovely colours can be seen at sunset. These elephant drink from a small tributary, the mighty Zambezi can be seen in the back ground
I respect that every one of us on this planet has a different point of view. That if you didn't know the Zambezi intimately, then you could be forgiven for thinking nothing of changing it from a place of extraordinary natural beauty into an economic viability.
But for those of us who do know this place, we must put every effort into exposing the worth and beauty of this place, to the people behind this scheme. Showing that if we destroy it, it can never be replaced - is that fair to our children, just so that we can export minerals cheaper. All for the gain of mankind is that really what it's about. Does the animal kingdom really have no say in this at all?
A young Elephant wallows at a waterhole at Mana Pools one of the National parks on the banks of the Zambezi
The Zambezi is Africa's fourth largest river and flows from north western Zambia through Angola, Namibia, Botswana, Zimbabwe and finally into the ocean in Mozambique. The river supports two of southern Africa's largest Hydro- electrical power stations one at Kariba on the Zimbabwe - Zambia Border and one at Cabora-Bassa in Mozambique.
The cost is expected to top US$3 billion which hopefully is enough of a deterrent to stop this scheme from proceeding. The worrying thing is, that some nutcase in a government department who receives a big enough spin off, along with possible backing from the Chinese, mighty actually get this project off the ground and destroy one of the world's natural havens.
Beautiful Carmine Bee-eaters migrate to breed in the sand cliffs of the Zambezi every year around September time. Thousands of them can be seen - it is a breath taking sight.
Before you can really live. You need to find something worth dying for!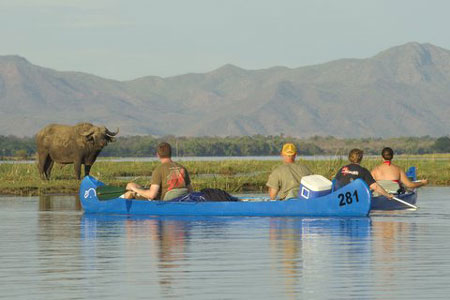 Tourism is a major income earner for the region. Here tourists are on a canoe trip on the lower Zambezi which normally last 3 to 9 days. It is a true wilderness experience. Can you imagine a ship in the background!!!
Please if you have any point of view we would love to hear it. Just fill in your comments in the boxes below and we will publish them.
Have your say about the proposed Zambezi Seaway Project
This is a hot topic, with many different view points. Please let us know yours, it might well have an impact....

Read opinions and comments from other readers, just below this form. Please scroll down.
Comments from other visitors...
Click on the headlines below to read the full story.

If you agree or disagree with anything that someone has written. Have your say by posting your own comment. Simply click on the blue link, just below the last comment entered...

THE VIC FALLS BUSH TELEGRAPH
our Bi-Monthly E-Newsletter

Each issue has a destination update, loads of information about conservation and wildlife, specials offers, traveller tips, community projects, website highlights and tons more...

Find out more about our Bush Telegraph

"Your newsletter keeps me informed about new and old and is the best I've seen in a long while - informative, not commercial, just plain perfect!" - I.Skliros

Don't worry. Your e-mail address is totally secure. I promise to use it only to send you The Vic Falls Bush Telegraph.
Return from Zambezi Seaway to our home page