Travelling Solo to Victoria Falls
...and the surrounding regions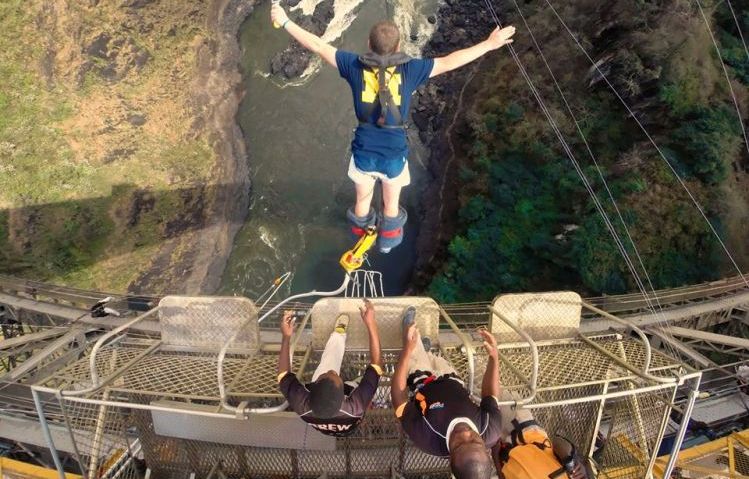 Bungee jumping solo off the Victoria Falls Bridge


While travelling solo is already a bit daunting, taking a holiday alone in an African country can be even more so. But you should know that travelling to Victoria Falls is generally a breeze. You may worry about safety, money, language, health, etc., so we'll break it down in this article, and in the most honest way. But let's start with the basics…
Entry Requirements
So not only will you need to consider entry visa requirements these days, but also covid-19 regulations for your destination countries. The good news is that you can look up your nationality to see if you need a Zimbabwe visa. There, you will find links to other country visa pages and the Kaza visa page as well. For the latest Covid-19 travel updates, our Zimbabwe Covid-19 travel updates page is kept up-to-date with the information you need. On this page, you will also find information and links to Botswana and Zambia's pages.
Is It Safe?
The city of Victoria Falls is a pretty safe place, even safer than many cities around the world. For a solo traveller, this is a great destination to travel to. Check out our more in-depth page on how safe Victoria Falls is.
For all other travel information you will need, our Victoria Falls Information page has what you need to know on health, getting here and getting around, weather, where to eat, etc.
Where to Stay As a Solo Traveller
While it tends to be more expensive to travel alone, there are certain times of the year where you can have an epic experience travelling by yourself without breaking the bank. Single supplements are a nightmare, but in Victoria Falls, as well as other destinations in Zimbabwe, you have an opportunity to avoid those extra costs of single rooms by looking at travelling in the not-so-busy seasons (see our article on High vs Low season).
Comfortable hotel in Victoria Falls friendly for solo travellers
There are usually very good deals including a waived single supplement, as well as pay/stay and other good deals and packages on accommodation. This is also true for safari lodges and camps in Hwange National Park, and other wildlife areas such as Chobe National Park in Botswana, making it easier to combine a safari with your adventure in Victoria Falls.
Accommodation in Victoria Falls ranges from backpackers and bed & breakfast lodges to fully inclusive safari lodges in the surrounding parks. It's best to make use of a local travel agent to get the best value for your money, and the most accurate information so you can find the perfect place for your stay.
Things To Do
Activities in Victoria Falls that don't charge extra for singles include most of the high wire and bridge activities. Some trips will take a single guest as long as there are other people booked on the same excursion, while others will charge you double altogether. It can get complicated, and this is why we strongly advise you to consult with us so that we can build your itinerary based on what's available, what you are comfortable with, and if need be, we can change things around accordingly as we are in touch with the operators.
There are other things to do that don't necessarily need to be booked, such as the Vulture Culture experience at the Victoria Falls Safari Lodge, or enjoying sundowners at the same hotel while watching out for wildlife at the nearby waterhole. Of-course for these, you would need to find your own way around using the local taxis, or use one of the hotel shuttle buses to get from and to the city centre.
You will very likely come across some insistent curio guys selling their wares along the streets. Supporting them is a noble thing to do, but may not be the safest out in the open. Rather opt for those who have established shops at the different shopping areas. The formal curio markets will also have a variety of curios, African cloth and clothes, beadwork and so much more.
The vulture feeding at the Victoria Falls Safari Lodge
Where to Eat and Drink
Victoria Falls has a great selection of restaurants that as a solo traveller, you can enjoy, and possibly meet new people. Three Monkeys in the city centre, and close to the Elephant's Walk shopping mall is a fine place for good food and drinks. Nearby, The River Brewing Co. offers craft beer and a delicious array of cocktails. And on some nights, you can enjoy the talent of Zimbabwean musicians from around the country. But if you really want to get your groove on and meet some lively locals, Shoestrings Bar hardly ever disappoints (especially on Friday nights).
For some dining with a view, and very relaxed atmosphere, the Lookout Café located above the Zambezi River gorge is a great place for lunch and dinner (especially on a full moon). For a real treat, the Cassia Restaurant (ex Palm Restaurant) at Ilala Lodge is tops. While it's known for it's romance, it is a wonderful place to spoil yourself while you're in Victoria Falls.
Local Zimbabwean food is found at places like Mama Africa restaurant, the Boma or Dusty Road Township experience. There are many more Victoria Falls restaurant options to enjoy as a solo traveller, both in the city centre, and outside the limits.
Unique dishes made from indigenous Zimbabwe ingredients at Dusty Road
Considerations
• You don't have to worry about language as most people in the town do speak English.
• Zimbabweans are considered some of the friendliest people.
• Victoria Falls is becoming even more accessible from different parts of the world.
• US dollar is king, but most places will take international cards, and some will take other currencies.
• It's best to pre-book your accommodation and activities and get your itinerary and paperwork sorted before you arrive.
• Travel insurance is highly recommended.
For more essential tips, read our 7 Things you Need to Know Before Visiting Victoria Falls.
Get your free downloadable travel guide packed with lots of useful information.

THE VIC FALLS BUSH TELEGRAPH
our Bi-Monthly E-Newsletter

Each issue has a destination update, loads of information about conservation and wildlife, specials offers, traveller tips, community projects, website highlights and tons more...

Find out more about our Bush Telegraph

"Your newsletter keeps me informed about new and old and is the best I've seen in a long while - informative, not commercial, just plain perfect!" - I.Skliros

Don't worry. Your e-mail address is totally secure. I promise to use it only to send you The Vic Falls Bush Telegraph.
Return from Travelling Solo to Victoria Falls to our home page