Victoria Falls 4x4 Rental
Zimbabwe is the ideal destination for a Self-Drive Safari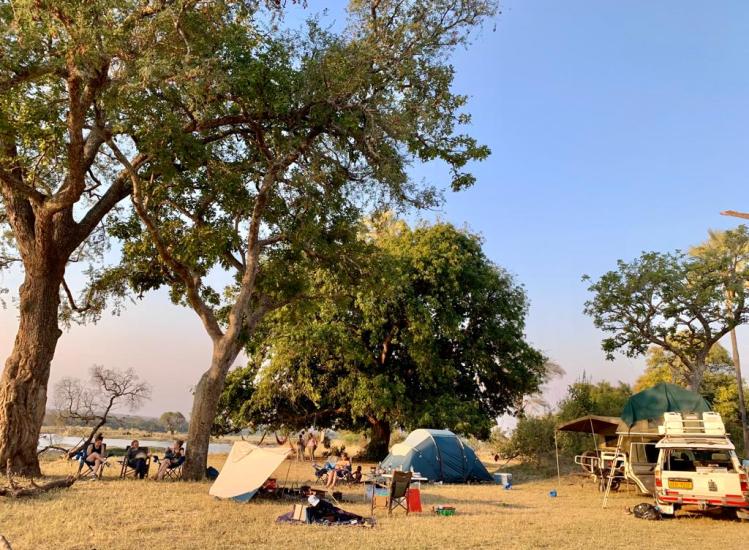 Self-drive camping in the Zambezi National Park
What Can I see in Zimbabwe?
Zimbabwe's three most well-known National Parks - Hwange, Mana Pools and Gonarezhou are amongst some of the best game parks in Africa, whilst others such as Matobo Hills, Chimanimani, Matusadona, Chizarira, Kazuma and Zambezi national park are hidden gems that only a few international travellers know about and get to go to.
Lake Kariba, once the largest man-made lake in the world, to the north. Victoria Falls, the world's largest curtain of falling water and a natural wonder of the world, to the west and Great Zimbabwe ruins in the south, which is the largest ancient structure south of the Sahara are all worthy of inclusion in an itinerary.
Wildlife, culture, history and unsurpassed natural beauty makes Zimbabwe a fantastic choice for a self-drive safari. Zimbabwe's National Parks are far less crowded than some neighbouring countries, so you can often find yourself in remote locations without another soul around, which is rather appealing to the traveller seeking wild places.
The roads on the whole are not in bad condition and fuel is readily available. The country is safe to travel around, and Zimbabweans have a well-deserved reputation for being very friendly and helpful people.
At one stage Zimbabwe had a reputation for terrible roadblocks, manned by abusive policemen. Those days are gone, long ago but the bad reputation sadly is hard to shake off.
Self-drive camping safaris are very popular in Southern Africa, particularly in South Africa, Botswana and Namibia, where you see fully kitted camping 4x4 vehicles and trailers everywhere. Bushlore, Gecko and Britz are some of the leading self-drive vehicle hire companies, although there are several smaller ones as well.
However, none of these companies have opened offices in Zimbabwe or have vehicles for hire within the country, so it has been quite a struggle for the self-drive enthusiast who just wants to travel around Zimbabwe to find a fully kitted out camping vehicle to hire.
Self-drive vehicle with rooftop tent
Victoria Falls 4x4 Camping Vehicles Now for Hire
That is until now, because Victoria Falls 4x4 self-drive safaris have opened to solve that problem. They have initially started with two Diesel VX Toyota Landcruiser's and a camping trailer, all with roof top tents which can accommodate up to 8 campers. Couples and smaller groups can take just the one vehicle or one vehicle and the trailer.


Optional trailer for your self-drive safari
The vehicles are fully equipped with tents, fridges, chairs, tables, cooking equipment and utensils, bedding and everything you need for your ultimate camping experience! A full list of what is included is available on request. Extra equipment can be added to or taken out, to tailor the trip to your requirements.
Trailer with camping equipment
Details of the 4x4 rental vehicles and safari trailers based in Victoria Falls:
Land Cruiser 6 Cylinder Diesel VX 5 speed manual:
• 4x4, plus low range
• 2 fuel tanks (Total fuel +- 160L +20L Jerry can)
• 2 spare wheels
• Electric winch
• Dual battery system
• 2 x 20LPlastic water containers on the roof
• 1 x Spare fuel 20l fuel jerry can on the roof

Land Cruiser 4 Cylinder Diesel VX Automatic:
• 4x4 plus low range
• 1 Long range fuel tank (+-145L +20L Jerry can)
• 1 spare wheel
• 2 x 20LPlastic water containers on the roof

Safari trailer:
• Roof top tent
• 750 W Inverter with battery
• Solar panel
• 2 x 20L water jerry cans
• 1 x spare wheel
• Cooler box
• 1x gazebo
Gazebo tent and inside the rooftop tent
Vehicle Collection and Return:
A minimum of 2 hours should be set aside for explanation and demonstration of the vehicle and its equipment when collected. On return the vehicle and its contents are checked and 1 hour set aside for this.
Collection and Drop off:
If collection and drop off points are not in Victoria Falls there will be an extra charge.
If in the unlikely event of a mechanical breakdown a replacement vehicle will be supplied except if the problem can be sorted at a local repair workshop quickly and easily. A replacement will be made as soon as possible.
Suggested Routes for 4x4 Rental in Zimbabwe
To be honest, you could create a whole website dedicated to self-drive routes around Zimbabwe and maybe we will do that one day. There are so many permutations of iconic destinations, degrees of difficulty, personal preferences, and lengths of stay, it's impossible to do them any justice by discussing them in brief here.
Once you know the length of your trip and have ideas of what you want to see and experience, then you would be best to discuss this with us or one of the 4x4 rental companies to come up with a route that suits you specifically.
Be sure to read about self-driving on SA 4x4.
THE VIC FALLS BUSH TELEGRAPH
our Bi-Monthly E-Newsletter

Each issue has a destination update, loads of information about conservation and wildlife, specials offers, traveller tips, community projects, website highlights and tons more...

Find out more about our Bush Telegraph

"Your newsletter keeps me informed about new and old and is the best I've seen in a long while - informative, not commercial, just plain perfect!" - I.Skliros

Don't worry. Your e-mail address is totally secure. I promise to use it only to send you The Vic Falls Bush Telegraph.
Return from Victoria Falls 4x4 Rental page to our home page