Map of Zimbabwe
Zimbabwe lies between the Limpopo and Zambezi Rivers in south central Africa. It is bounded by Zambia in the north and northwest, by South Africa in the south, by Mozambique in the east and north-east; and by Botswana in the south-west
The Map of Zimbabwe below shows the surrounding countries with international borders, provinces boundaries, the national capital Harare, provinces capitals, major cities, main roads, railroads and airports.
Zimbabwe is divided into 8 provinces and 2 cities with provincial status: (province capitals in parentheses) Bulawayo (city), Harare (city), Manicaland (Mutare), Mashonaland Central (Bindura), Mashonaland East (Marondera), Mashonaland West (Chinhoyi), Masvingo Province, (Masvingo), Matabeleland North (Lupane), Matabeleland South (Gwanda), and Midlands Province (Gweru)
The country, part of the great plateau that is a major feature of the geography of southern Africa, lies wholly to the north of the tropic of Capricorn and covers a total area of 390,580 square kilometres.

Click on the Map of Zimbabwe to enlarge as a PDF document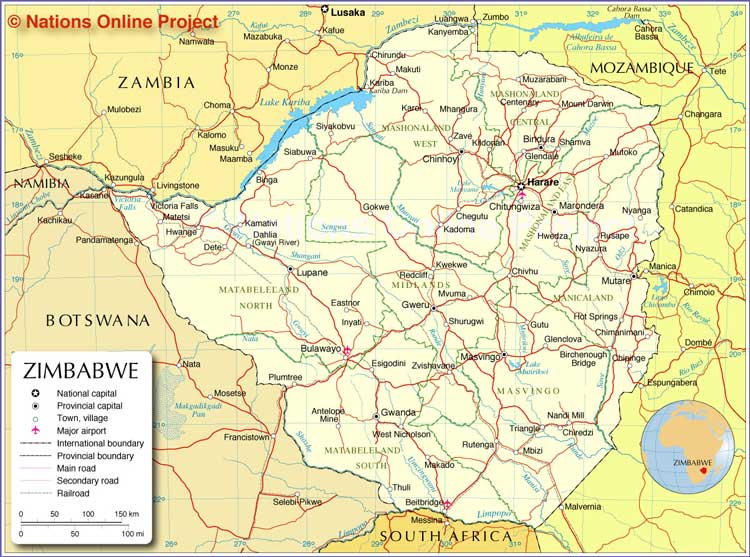 Map of Zimbabwe
Thanks to Nations Online Project for the above Zimbabwe Map. You are free to use this map for educational purposes, but please refer to the Nations Online Project.
Zimbabwe is roughly 3 times the size of England and almost the same size as California. Most of the country stands 300 meters or more above sea-level, over 75% is above 650 meters and 66% of the country is above 1000 meters. The highest point in the country is Mount Inyangani at 2592 meters in the Eastern Highlands and the lowest point 250 meters is at the Save/Runde confluence in the south-eastern corner of the country.
Click on the Map of Zimbabwe to enlarge in a new window
The most outstanding geographical feature is Zimbabwe's central plateau, (shown in brown on the above Zimbabwe map) known as the Highveld running about 650 kms from north-east to south-west and 80 kms from east to west, it is bordered on each side by the Middleveld.
The other outstanding feature is Africa's fourth largest and least spoilt river the Zambezi, which marks the countries northern border with Zambia and which gave birth in the 1960's to what was then the world's largest man-made lake; Kariba.
In the very western tip of the country the Zambezi river plunges over the Victoria Falls. Twice the height and one and a half times the width of North America's Niagara Falls.
To the east the Eastern Highlands form a narrow north-south trending mountainous belt some 250 km in extent along the Mozambique border (shown in dark brown and purple on the Zimbabwe map above). This is the most varied geomorphic province in Zimbabwe and a complete contrast to the lowland areas of the south east.
Zimbabwe Geography
Location: Southern Africa, between South Africa and Zambia
Geographic coordinates: 20 00 S, 30 00 E
Map references: Africa
Area:
total: 390,580 sq km
land: 386,670 sq km
water: 3,910 sq km
Area - comparative: slightly larger than Montana
Land boundaries:
total: 3,066 km
border countries: Botswana 813 km, Mozambique 1,231 km, South Africa 225 km, Zambia 797 km
Climate: tropical; moderated by altitude; rainy season (November to March)
Terrain: mostly high plateau with higher central plateau (high veld); mountains in east
Elevation extremes:
lowest point: junction of the Runde and Save rivers 162 m
highest point: Inyangani 2,592 m
Natural resources: coal, chromium ore, asbestos, gold, nickel, copper, iron ore, vanadium, lithium, tin, platinum group metals
Geography - note: landlocked
Can't find what you are looking for? Use Google Search to search this website for any term you are looking for.


Share with others!

The Vic Falls Bush Telegraph
our Free Quarterly E-Newsletter

Each quarter there's loads of information about conservation and wildlife, a destination update, specials offers and discount packages, traveller tips and stories, book reviews, African folktales, environmental reports, bush recipes, best photo competitions and tons more....

"Your newsletter keeps me informed about new and old and is the best I've seen in a long while - informative, not commercial, just plain perfect!" I.Skliros

This Quarter we are also giving away a Free Screensaver to Every New Subscriber.