Zimbabwe Safari IS7A - Temporarily Unavailable
7 night fully inclusive affordable luxury safari in magnificent Victoria Falls and magical Hwange National Park - Zimbabwe
3 Nights Victoria Falls, Zimbabwe
4 Nights Hwange National Park
8 Days / 7 Nights
Reference: IS-7A
Starts Victoria Falls Airport / Ends Victoria Falls Airport




Safari Overview
This safari starts at the secluded and beautifully positioned Gorges Lodge which is perched on the very edge of the Batoka gorge, with views that will literally take your breath away. Being 22kms from Victoria Falls it is away from the hustle and bustle yet is close enough to enjoy the multitude of activities available. Victoria Falls is not only one of the "Seven natural wonders of the world" but also a world heritage site and the "Adventure Capital of Africa" get to see and experience all that this magnificent destination has to offer.
Finish off with 4 nights at Bomani Tented Lodge in the remote south eastern corner Hwange National Park. This premier concession along with its incredibly knowledgeable professional guides will ensure that you have an unforgettable safari experience.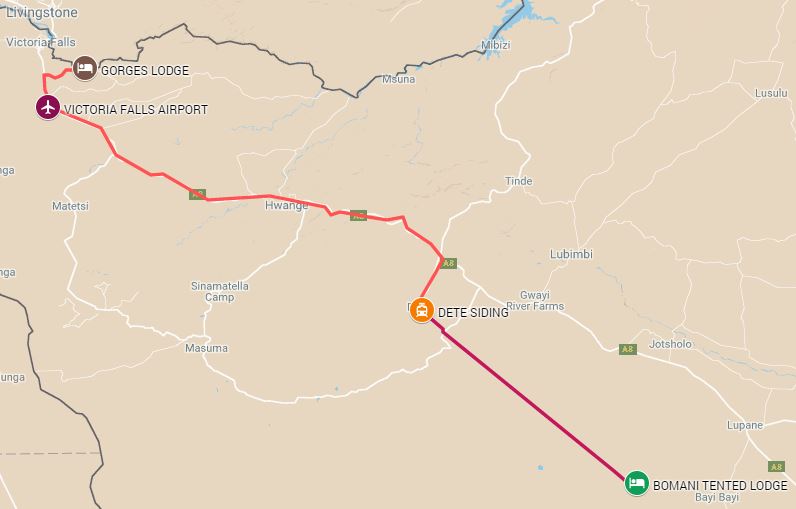 Zimbabwe Safari IS7A Inspired Journey Overview
Accommodation
Nights 1, 2 & 3 - Luxury chalet at Gorges Lodge
Nights 4, 5, 6 & 7 - Luxury Hornbill tent at Bomani Lodge
Transfers Included
Day 1 - Road Transfer: Victoria Falls Airport to Gorges Lodge
Day 4 - Road and Rail Transfer: Gorges Lodge to Bomani Tented Lodge – Via the Elephant express
Day 6 - Road Transfer: Bomani Tented Lodge to Victoria Falls Airport
Highlights
Breathtaking views of the Batoka gorges from your room at Gorges lodge
View the spectacular and mighty Victoria Falls
Partake in the multitude of activities available at Victoria Falls from sedate sunset cruises to adrenaline crazy bungee jumping and everything in between (extra activities not included)
Elephant express 70km railcar journey along the boundary of Hwange National park
Excellent Game viewing in Hwange National Park and Bomani's private concession
---
Notes: Day 1, 2, & 3
DAY 1
You will be met at Victoria Falls airport by one of our representatives and transferred by air-conditioned minibus to Gorges Lodge arriving by mid-afternoon. The views from both the bedrooms and the central area will literally blow your mind away, so spend the rest of the afternoon relaxing and taking in this spectacle. Later you might decide to enjoy some of the activities offered by the lodge, like the Black eagle viewing, which is highly recommended. Finish off the day with a delicious supper in the main lodge dining room.
DAY 2
After breakfast catch the lodge shuttle and spend the day in Victoria Falls town. Enjoy the multitude of activities on offer and of course take a tour of the of the magnificent Victoria Falls. Although these activities are not included in the package price, please let us help you to arrange an itinerary of activities suitable for you. Have a look at this page Victoria Falls activities to see what is on offer.
In the late afternoon shuttle back to Gorges Lodge to enjoy the evening with sundowners overlooking the gorge and listening to the pounding Zambezi bellow. Later enjoy a 3 course dinner in the garden under the stars.
DAY 3
Another full day means you can chill out at Gorges Lodge or catch the shuttle into town to partake in any activities that you still wish to do. Please have a look at the activities available Victoria Falls Activities and contact us to arrange a suitable itinerary just for you. You might decide to do a sundowner cruise on the Zambezi River this evening and transfer back to the lodge a bit later, in time for dinner and some traditional dancing.
Victoria Falls
One of the original natural wonders of the world, the Victoria Falls is a World Heritage Site and an extremely popular tourism attraction. Known locally as 'The Smoke that Thunders', this spectacle is accessible from both Zambia and Zimbabwe and it is an ideal place to combine a game viewing and water sports. There is excellent fishing, a terrifying bungee jump and arguably the best commercial white water rafting in the world.
Overnight: Gorges Lodge
Gorges Lodge is built on the edge of the Batoka Gorge, some 200 awe-inspiring metres above the mighty Zambezi River. Each stone under thatch cottage boasts a private indigenous garden and a private decked veranda: the ideal place to watch the sunrise – or set – over the Zambezi. The cottages have en-suite bathrooms, minibars, overhead fans and tea and coffee making facilities. Gorges Lodge is a 30-minute drive from the town centre; far enough away to allow you the chance to relax and absorb the incredible views whilst enjoying delicious homemade cuisine and sipping on a delectable African wine, but still close enough to allow you to easily travel into town to take part in any number of the exciting activities that are on offer, from elephant back safaris to enjoying a delectable dinner while cruising down the Zambezi River at sunset.
Activities at Gorges Lodge
Victoria Falls Tour
The world's largest curtain of falling water, the Falls, is quite simply breath-taking: stroll along the rainforest's edge and pause at each vantage point to make it a truly unforgettable experience – just don't forget your rain jacket and umbrella. This can be enjoyed quietly on your own or, at request, with our guide.
Village & School visit
As an important component of Imvelo's program to actually involve local communities in tourism our guests can enjoy a visit to nearby Chisuma Village to gain insights into some of the real life daily activities of a typical Zimbabwean rural community. Part of the tour includes a spontaneous visit to an individual household where our guests are welcomed and invited to join some of the traditional daily activities such as crushing grain into meal, ploughing the fields and brewing beer. Imvelo has made huge inputs into the schools surrounding our lodges, and providing you visit on a week day, you can also visit our local primary school. Our teachers love their pupils to interact with our guests as a way to practice their language skills and broaden horizons. Part of the visit includes a welcome song and dance performance by the children as well as a class interaction, usually around an atlas or their school books.
Traditional dancing
Our talented team of dancers come from villages within walking distance of Gorges Lodge and love to entertain our guests in the evenings. Sebenze and his troupe perform just after sundown and their energetic dance and drum routine is vibrant and interactive - so don't be surprised if you get pulled in to join the fun!
Gorge walk
The lodge is set in a magnificent and lush indigenous garden with stunning views across the gorge and of the pounding Zambezi River 200 metres below. Explore the area around the lodge accompanied by a guide and when you're done enjoy refreshments and freshly prepared snacks while you watch the sun set at Peregrine Point.
Black Eagle Viewing
A pair of Verreaux's Eagles nest in the gorge at the lodge and provide our guests with amazing displays of their aerobatic skills and courtship rituals, often at eye level. Evenings are their hunting time so sit back with sundowners and snacks as these magnificent birds soar past on thermals whilst hunting in the gorge. The eagles are not the only birds resident here – lanner falcons, peregrine falcons and augur buzzards also call the gorge home and the inter-specific interactions are a highlight when the eagles stray too close to the falcons' nests.
Sundowner Cruise
Sundowner cruise on the Zambezi River
---
Notes: Day 4, 5, 6, 7 & 8
DAY 4
Today your safari into one of the best game parks in Africa begins. After breakfast, a 2-hour road transfer in an air-conditioned minibus takes you to Impofu siding where you will meet the Elephant Express. This refurbished diesel railcar is specially designed for guest's comfort and optimal game viewing. The exquisite 70km rail journey takes you right along the boundary of Hwange National Park and is the perfect start to your safari experience. At Ngamo siding, a Bomani Lodge 4 x 4 vehicle will meet you and transfer you a short distance, through their private concession to the camp. Settle into your tent and then enjoy a late lunch followed by a game drive with sundowners and snacks by the Pan. Freshen up and enjoy a delicious 3 course supper out under the stars.
DAY 5
Wake up to an early morning game drive and walk in Hwange National Park's acacia forests surrounding Ngamo Plains, escorted by a fully licensed and experienced guide. Return to Bomani for brunch and either a siesta or an hour or two in the blind over the waterhole. Later, go for an afternoon game drive photography in the evening light and sundowners and canapés at Major Pan. Return with a night drive back to the lodge to freshen up and then refreshments around the campfire and later a 3 course dinner in the main lodge area.
DAY 6
Arise to an early morning full day trip into the park for a one of a kind 'pump run' with a picnic and siesta under the trees at Mfagazaan Pan. Imvelo's trademark pump runs combine game viewing in remote areas of the park with practical hands-on conservation. You can assist the guide with day-to-day maintenance at the borehole pumps which are the heartbeat of Hwange National Park and its wildlife. Take a leisurely afternoon game drive back to the lodge going from pan to pan, weaving our way between the throngs of jostling elephant that come pouring in for the fresh water. It makes for a fun, memorable and extremely rewarding day. Freshen up and then go for campfire refreshments and supper in the main lodge area.
DAY 7
This morning you will go for a village visit and school tour at Ngamo Village followed by a tour of Imvelo's Community projects. Return to Bomani for a late brunch with the option of either a siesta or spending an hour or two in the waterhole blind. Opt for an afternoon walk or game drive going from pan to pan across the Ngamo plain. The return will be a night drive back to the lodge for showers, then campfire cocktails and snacks followed by supper in main lodge dining room.
DAY 8
Wake up for morning tea or coffee followed by breakfast and then transfer by one of the Bomani 4 x 4 game drive vehicles to Halfway house (1.5 hours). Here you will be collected by an air-conditioned shuttle and transferred on a good tar road to the Victoria Falls Airport (2.5hrs) for your onward flight.
**Please note that the above activity schedule is a guideline and you can tailor-make your itinerary with the camp managers onsite, to suit your exact needs.
Hwange National Park
Hwange National Park is Zimbabwe's biggest reserve, home to a profusion of wildlife, including giraffe, lion, zebra and approximately 40 000 elephants. It provides sanctuary for all the country's endangered species, including a population of wild dogs thought to be among the most sizeable surviving groups on the continent. Terrain ranges from desert dunes and savannah lands to rocky outcrops and sparse forests, and visitors have the choice of game drives, guided walks or horseback safaris as a means of experiencing the park and its creatures.
Overnight: Bomani Tented Lodge
This comfortable and well-appointed lodge is nestled in a remote and untouched corner on the edge of Hwange National Park in a 5000-acre private reserve, and is famous for its impressive sightings of herds of elephant, not to mention many other spectacular species of wildlife.
The main lodge is built on a spectacular viewing platform and overlooks Bomani Pan. You can enjoy your breakfast while watching zebra and wildebeest quietly graze or sip a sundowner as giraffe and elephant soak up the day's final rays.
Of course the main pastime at Bomani is game viewing, and whether you choose to go on a guided game walk in the lodge's private concession or a game drive in the national park, you will not be disappointed - these spectacular landscapes teem with a rich array of unique African wildlife and flora.
Activities at Bomani
Game Drives
Game drives are conducted by experienced guides in traditional open safari vehicles. On your morning game drives pause to enjoy tea, coffee and biscuits and in the afternoons cool drinks and cooked snacks will be provided. Bomani land Cruisers seat up to 9 guests and Land Rovers seat up to 7 guests. Game drives in this remote portion of Hwange National Park seldom see another vehicle and are a spectacular insight into the wildlife and environment unique to this part of the park.
Game Walks
Game walks are an exciting option for photography of big game on foot. They are usually undertaken in the mornings and are conducted by a fully licensed and highly experienced armed professional guide. In this remote and wild area every walk provides fascinating insights into Hwange's circle of life; watch Hwange's elephants shake acacia trees to loosen and then eat the pods while on a smaller scale dung beetles roll up the elephant dung containing acacia seeds into balls. Dung beetles bury these balls and the acacia seed is now ready to germinate and grow into a new tree!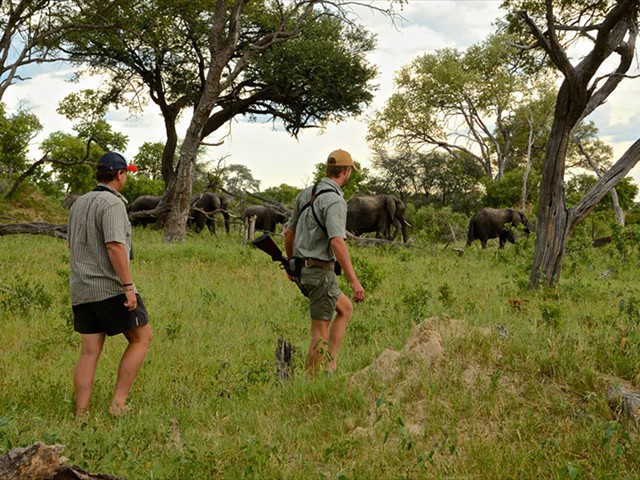 Night Drives
It's well worth joining one of the shorter night drives through Bomani's private concession. Trackers operate powerful spotlights to seek out some of the less-seen nocturnal creatures. The light's red filter lessens the disturbance, thus creating a unique opportunity to watch the fascinating behaviour of the nocturnal world. Unusual highlights include ant bears, porcupines, genets, springhares, lesser bushbabies and pennant winged nightjars.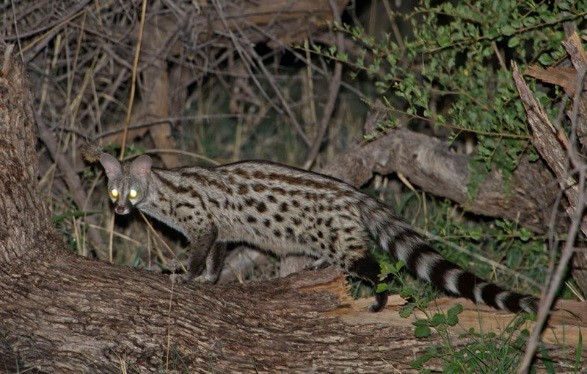 Game viewing blinds
For the hard core photographers, the lodge's game viewing blinds at some of the waterholes are ideal for wildlife photography.
Pump runs
Imvelo Safari Lodges operate 8 waterholes for the wildlife in this region of the National Park, the furthest of which is 55 km away. A popular activity is to take an all day trip into the Park to visit the waterholes to drop off fuel and oil for the motors as well as rations and supplies for the pump attendants. A picnic lunch is then enjoyed near one of the waterholes followed by a leisurely game drive back to lodge in the afternoon.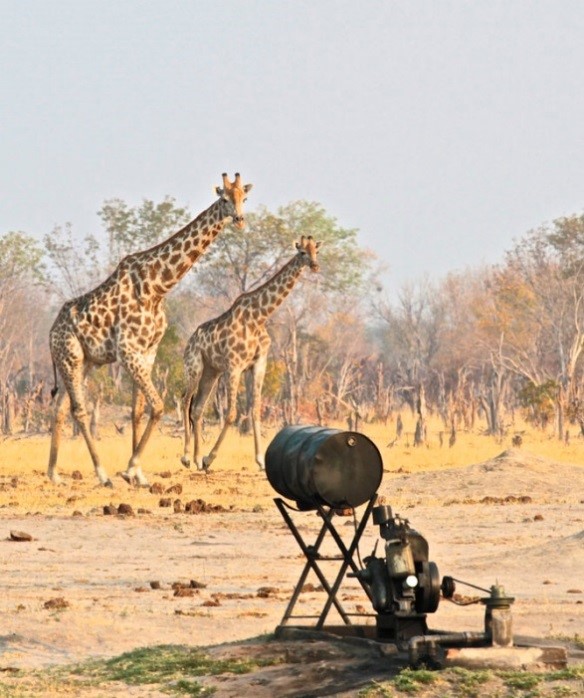 School tours and village visits
Fifteen minutes' drive from the lodge our guests have the opportunity to enjoy a real life look at village life in rural Matabeleland. A fascinating experience of a variety of typical daily village activities is followed by a tour of one of the nearby schools conducted by the Headmaster where guests are given the opportunity to hear traditional songs sung by the children and enjoy a 'class interaction'.
---
Included in this safari
GORGES LODGE
• Accommodation in a stunning room at the edge of the gorges with private viewing deck
• Dinner, Bed and Breakfast
• Laundry
• In-house lodge activities: Guided tour of the Falls (including park entrance fee), Guided tour of the craft village, Visit to the local village, School tour (not available during school holidays), gorge walk with sundowners and snacks (weather-dependent), sundowner cruise (including river usage fee)
BOMANI TENTED LODGE
• Accommodation in a luxury tented room overlooking Bomani Pan
• All meals and non-premium beverages
• Laundry
• Service of a licensed guide
• Activities: game walks, game drives, all day excursions, hide sits, night drives, visit to local village and school tour
• National park fees
TRANSFERS
• All road transfers and one rail safari transfer between Bomani and Gorges Lodges
• Return Victoria Falls Airport transfers
Excluded
• Premium imported beverages at both lodges
• Activities not mentioned
• Tips and Gratuities
More Travel Information
• Victoria Falls Travel Information
• Victoria Falls Activities
• Hwange National Park Information