Home | Safari Ideas | Zimbabwe Safari IG5A - Victoria Falls & Hwange
Zimbabwe Safari IG5A
5 Nights in Victoria Falls & Hwange on a luxury safari getaway
2 Nights Hwange National Park
3 Nights Victoria Falls, Zimbabwe
6 Days / 5 Nights
Reference: IG-5A
Starts Victoria Falls Airport / Ends Victoria Falls Airport
Total Price 5 nights: US$ 2198 (high season) / US$ 1664 (low season) per person sharing


Safari Overview
This safari takes you to one of the most central camps in Hwange National Park which is great for a variety of game, and has easy access to Victoria Falls. Then you will spend a few days enjoying the sites and activities of Victoria Falls, while staying at the legendary Victoria Falls Hotel.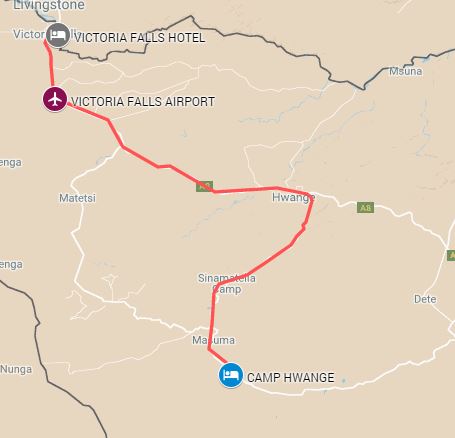 Zimbabwe Safari IG5A Inspired Journey Overview
Accommodation
Nights 1 to 2 - Luxury Thatched chalet at Camp Hwange
Nights 3 to 5 - Standard room at Victoria Falls Hotel
Transfers Included
Day 1 - Road Transfer: Victoria Falls Airport to Camp Hwange
Day 3 - Road Transfer: Camp Hwange to Victoria Falls Hotel
Day 6 - Road Transfer: Victoria Falls Hotel to Victoria Falls Airport
Highlights
Excellent Game viewing in Hwange National Park with quality expert guides
Guided game drives and walking safaris
Relax and enjoy a view of the very active waterhole
View the spectacular and mighty Victoria Falls
Partake in the multitude of activities available at Victoria Falls from sedate sunset cruises to adrenaline crazy bungee jumping and everything in between
---
Hwange National Park
Hwange National Park is Zimbabwe's biggest reserve, home to a profusion of wildlife, including giraffe, lion, zebra and approximately 40 000 elephants. It provides sanctuary for all the country's endangered species, including a population of wild dogs thought to be among the most sizeable surviving groups on the continent. Terrain ranges from desert dunes and savannah lands to rocky outcrops and sparse forests, and visitors have the choice of game drives, guided walks or horseback safaris as a means of experiencing the park and its creatures.
Overnight: Camp Hwange
Ideally situated in a private concession in the North part of the Hwange National Park, just 3hrs 30min by road from Victoria Falls, Camp Hwange, consists of 8 comfortable chalets.
The lodge offers the chance to have a unique experience with excellent safaris both by vehicle and on foot, plus the chance to do night drives. The guides, arguably considered to be amongst the best in Africa, known for their love of nature and the wide open spaces, offer you a chance to discover the world where you are a part of the mosaic of life.
A stay at Camp Hwange is more than a great safari, it is an experience of life.
Notes: Day 1 & 2
DAY 1
You will arrive at Victoria Falls International Airport, and picked up for your road transfer to Hwange National Park. It is about a 3.5-hour ride to Camp Hwange, mostly on tarred road. Once you are checked in, you may freshen up and take in the surroundings. A night game drive is recommended this evening, and then you may return to the lodge for drinks and dinner in the open dining area.
DAY 2
Start the day with an early morning game drive in Hwange National Park. Breakfast and snacks will be packed for you. The drive is combined with walking safari where you will be tracking animals on foot with a licensed and experienced guide. Spend some time at the water points and watch the animals that come to drink and play. At about mid-day, head back to camp for lunch and a siesta. Well rested, meet back late afternoon have tea/coffee with some snacks to keep you going until dinner, and then it is off either on a drive or a walk out of camp. In the dryer months walking to the log hide in front of camp is one of the most rewarding things to do. In the log hide you can have elephants coming within meters of you, zebra coming in to quench their thirst, warthogs trotting in for a quick mud bath, the sun sets behind the hide and so the light is usually soft and picture taking is at a premium. As the sun sets, enjoy your favourite drink. A night drive on the way back to camp is a nice way to end off and hope to see the nocturnal animals, like springhares, serval, honey badgers, bat eared fox and if you are lucky a leopard or an Aardwolf. The day ends with dinner and relaxation in the main camp area while you enjoy the African night sky.
Activities Info
Game Walk
Camp Hwange reverts back to the concept the original safari, where activities centred on being immersed in the wild, walking being the main activity. During walks with well trained and experienced guides you will track and follow some of the most feared animals of Africa, secure in the knowledge that your guides and trackers are competent in all aspects of this exciting adventure. Not only will you get the chance to see the well-known dangerous animals, sightings and the habits of the smaller, lesser known species and aspects of the African bush will be explained you, giving you an insight into the mysteries of how all things depend on each other. Just before the sun rises your day on safari begins. After a wakeup call everyone gathers at the camp fire to have a light breakfast before setting out on the morning's activities. We usually leave Camp Hwange by Land Rover for a game drive to a designated area chosen earlier, where you will be briefed by your guide and then all set off on a safari walk.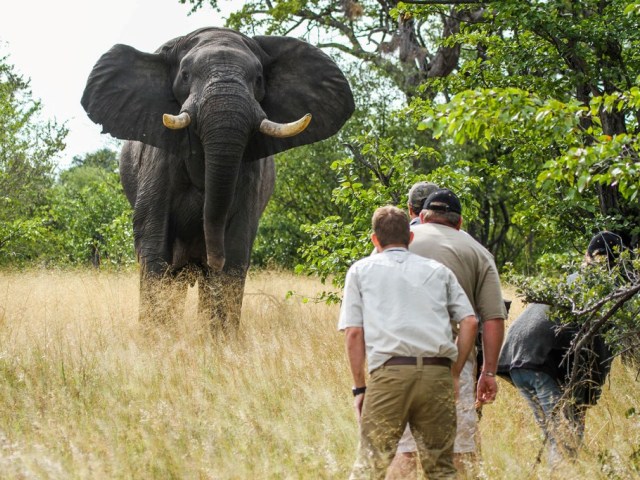 Hide sit
Sit and watch the activities at the waterhole. We do have a unique log pile hide in the shade near the waterhole which you guide will be happy to take you - so that you may have a close up view of all the visitors needing to drink and carry out their ablutions.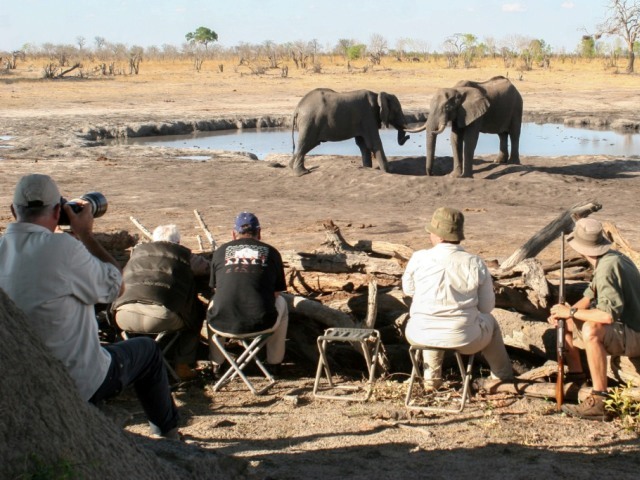 Game Drives
In the mornings when it is still cool and the light is soft for photography, the air of expectancy is everywhere. It is nice to cruise along in the vehicle getting a few pictures of animals here and there. Your guide will be scowering the road for tracks of some of the animals that rule the night i.e. lion, hyena and leopard to mention a few. Should you not find them in the vehicle, but find their tracks especially the lion then it is time to get out and track them on foot. Whether you see them up close or as a flash running away, time on foot with lion is thrilling way to spend the morning.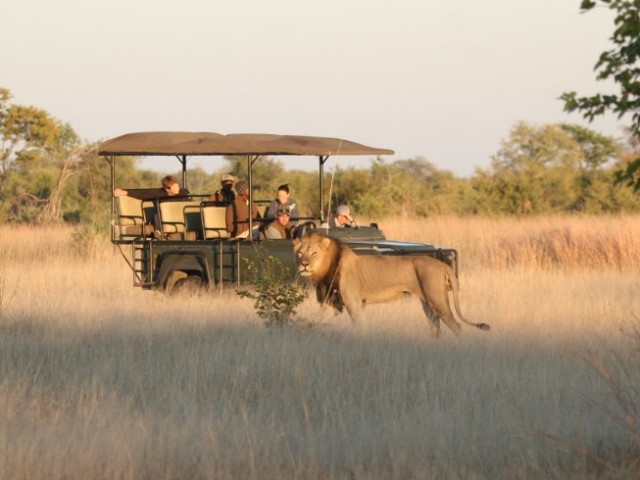 ---
Victoria Falls
One of the original natural wonders of the world, the Victoria Falls is a World Heritage Site and an extremely popular tourism attraction. Known locally as 'The Smoke that Thunders', this spectacle is accessible from both Zambia and Zimbabwe and it is an ideal place to combine a game viewing and water sports. There is excellent fishing, a terrifying bungee jump and arguably the best commercial white water rafting in the world.
Overnight: Victoria Falls Hotel
The Victoria Falls Hotel, popularly known as "the grand old lady of the Falls", is situated in the Victoria Falls National Park, a world heritage site, and is a member of the exclusive Leading Hotels of the World group.
The Edwardian-style five-star hotel, built in 1904, combines the charm of the old with the convenience of the new. Set in lush tropical gardens with lily ponds, palm trees and semi-tropical shrubs, it provides the tranquillity and seclusion that many guests seek. The famous Victoria Falls are just a ten-minute walk away using the hotel's private pathway, and "the smoke that thunders" or "Mosi-O-Tunya" in the local dialect, is clearly audible and visible from this luxurious landmark.
World-class service, and food and beverage choice and preparation second to none, make the hotel a magnet for international visitors and locals alike. The opulent Livingstone Room for fine dining and dancing, the Jungle Junction with its famous breakfast and dinner buffets and ethnic entertainment in the evenings, offer variety and wide choice. Stanley's Terrace, with its clear view of the Victoria Falls Bridge, connecting Zimbabwe and Zambia, is renowned for its cocktails and afternoon teas. The Terrace has been a rendezvous for adventurers in Africa for over a century.
The ambience of the hotel is steeped in that history with all suites decorated in the gracious Edwardian style of Zimbabwe's colonial era. Small executive meetings and private dining facilities are easily arranged for those who wish to combine a little business with a lot of pleasure, and all in a secluded and discreet environment.
It is the Victoria Falls Hotel that remains the major attraction for visitors. Waking up to the sound of "the smoke that thunders", seeing the sun rise beneath the mist of one of the seven natural wonders of the world and the lunar rainbow at night, all the while soaking up the history and ambience of a bygone era, is more than unforgettable – it is unique.
Notes: Day 4, 5 & 6
DAY 4
On this day, after breakfast you will be picked up for your road transfer to Victoria Falls town. This is about a 3.5-hour ride. You will be taken to the five star Victoria Falls Hotel. After check in, feel free to wander around town which is in walking distance from the hotel, take part in any of the activities offered, or visit the Victoria Falls themselves, which are within walking distance from the hotel. You can have lunch at the hotel or at one of the restaurants around town.
DAY 5
You have 2 full days to soak up the wonderful atmosphere of Victoria Falls, it is the adventure capital of Africa and there are activities on offer to cater for everyone's needs. View the mighty Falls, partake in the many activities on offer or wander around the streets to do a bit of curio shopping, then finish off at a café for refreshments and a bite to eat. Please have a look at the available Victoria Falls Activities and contact us to arrange a suitable itinerary just for you.
DAY 6
This is the last day of your tour. After breakfast, you will have time to pack up and around mid-morning, you will be picked up for your transfer to Victoria Falls International Airport for your departure flight.
Dining Info
Livingstone Room
Enjoy dinner and dancing in the elegant Edwardian Livingstone Room, with classic a la carte and tables d'hote menus. Whilst the Livingstone Room reflects the century old hotel's style of grandeur and opulence, the dress code has been relaxed for the convenience of the guest. A fine selection of wine and liqueurs are available. Maximum seating capacity of 120 pax.
Jungle Junction
Dining at the Jungle Junction offers an unforgettable experience with a fusion of African flavours. Entertainment from ethnic groups epitomises the spirit of Africa. Jungle Junction is the ideal venue for incentives groups. The Jungle Junction has a maximum seating capacity of 140 pax.
Stanley's Terrace
Stanley's Terrace is a must for light meals throughout the day. Traditional high tea is served every afternoon, with spectacular views of The Victoria Falls Bridge and the Victoria Falls themselves. Stanley's Terrace is the ideal location for sundowners and offers a table d'hôte menu with an a la carte menu on offer after 1100hrs. Stanley's Terrace has a maximum seating capacity of 100 pax.
---
Price
Total Price for 5 Nights: US$ 2198 (high season) / US$ 1664 (low season)
Per person sharing
Included in this safari
CAMP HWANGE
• Accommodation in a spacious thatched chalet with views of the Hwange bush and nearby waterhole
• All meals and local beverages
• Laundry
• Emergency Medical Evacuation
• Activities: Game drives; Walking safaris; Night game drive
VICTORIA FALLS HOTEL
• Luxury accommodation in a standard room
• Daily breakfast
TRANSFERS
• Return Victoria Falls Airport transfers, road transfers between Camp Hwange and Victoria Falls Hotel
Excluded
CAMP HWANGE
• Premium beverages
• All transfers to and from camp
• National Park fees
VICTORIA FALLS HOTEL
• All other meals and drinks
• Activities
NATIONAL PARK FEES
• All national park fees in Hwange and Victoria Falls are paid on arrival.
More Travel Information
Can't find what you are looking for? Use Google Search to search this site for any term you are looking for..


Share with others!