Home | Botswana Information | Botswana Travel Information
Botswana Travel Information
How do you get there? Getting to Botswana is not complicated.
The way to travel to Botswana is either by air or road. It is important to note that although not impossible to get to, some areas are quite remote. Some places are only accessible by air, while other areas are simple to drive to.
Flying into Botswana
The major airlines that fly into Botswana are South African Airways, Kenya Airways and Air Botswana, which is Botswana's major airline. There are no direct flights from Europe or most parts of the world. You can only fly directly into Botswana via commercial airlines from Johannesburg or Cape Town (South Africa), Lusaka (Zambia), Windhoek (Namibia), or Nairobi (Kenya).
Maun Airport (Maun), Kasane Airport (Kasane), Francistown International Airport (Francistown) and Sir Seretse Khama International Airport (Gaborone) are the international airports in Botswana. From these you can link to smaller airports and airstrips across the country.
Botswana by Road
Driving
Multiple entry points are available with all 4 of Botswana's neighbours. These border posts are mostly efficient, well managed and maintained. The border with South Africa specifically has a large number of entry points (15 to be exact) some of these are on busy roads, others are remote and are extremely quiet. Border posts opening and closing times vary so one would need to confirm these beforehand. The timetable listed below is from the Government of Botswana website:
| | |
| --- | --- |
| Border Post | Hours |
| Bray (South Africa) | 08:00 to 16:00 |
| Kazungula Ferry (Zambia) | 06:00 to 18:00 |
| Kazungula Road (Zimbabwe) | 06:00 to 20:00 |
| Makopong (South Africa) | 08:00 to 16:00 |
| Maitengwe (Zimbabwe) | 06:00 to 18:00 |
| Mamuno (Namibia) | 07:00 to 00:00 |
| Martins Drift (South Africa) | 08:00 to 18:00 |
| Matsiloje (Zimbabwe) | 06:00 to 18:00 |
| McCarthy's Rust (South Africa) | 08:00 to 18:00 |
| Middleputs (South Africa) | 08:00 to 18:00 |
| Muhembo (Namibia) | 06:00 to 18:00 |
| Ngoma Bridge (Namibia) | 08:00 to 16:00 |
| Pandamatenga (Zimbabwe) | 08:00 to 16:00 |
| Parrshalt (South Africa) | 08:00 to 16:00 |
| Phitshane Molopo (South Africa) | 07:30 to 16:30 |
| Pioneer Gate (South Africa) | 06:00 to 22:00 |
| Platjan (South Africa) | 08:00 to 16:00 |
| Pont Drift (South Africa) | 08:00 to 16:00 |
| Ramatlabama (South Africa) | 06:00 to 20:00 |
| Ramokwebana | 06:00 to 22:00 |
| Ramotswa (South Africa) | 07:00 to 19:00 |
| Sikwane (South Africa) | 07:00 to 19:00 |
| Tlokweng Gate (South Africa) | 06:00 to 22:00 |
| Zanzibar (South Africa) | 08:00 to 16:00 |
Read more about driving in Botswana.
Botswana Travel By Bus
Intercape bus offers a Johannesburg/Pretoria to Gaborone route. It is also possible to link from Cape Town and other cities in South Africa. You can book online via Intercape, and make your payments online.
Mahube Express is a bus service based in Botswana which services routes into Zimbabwe and also to Johannesburg (South Africa).
From Victoria Falls (Zimbabwe) or Livingstone (Zambia), it is possible to get a transfer vehicle take you to Kasane and other places around the Botswana town. However, these tend to be a bit costly, especially if there a only a few passengers at a time. For transfers or other Botswana travel information, contact us.
The Kazungula Ferry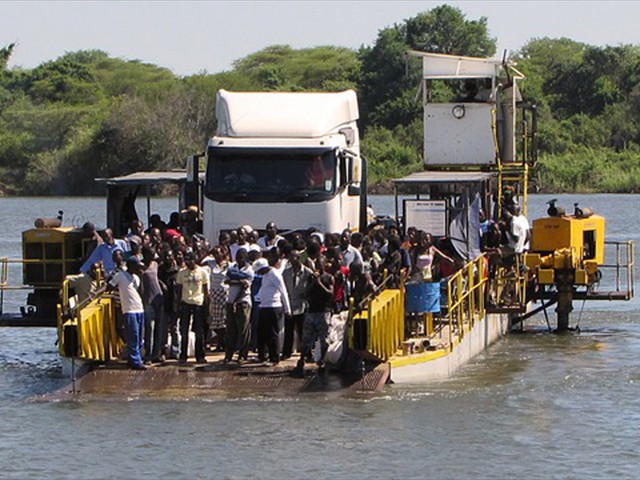 The Kazungula Ferry
The single border crossing between Zambia and Botswana is via the Kazungula Ferry. It is a pontoon ferry which crosses the Zambezi River where it is about 400 metres wide. Passengers, cars and even commercial trucks use the ferry to cross to and from Botswana. The times for crossing are between 6am to 6pm. It is ideal for self-driving between Zambia and northern Botswana. This crossing can get busy during the peak travel season. Here is a detailed article of need to knows for self-drivers.
Important Botswana Travel Information - Entry Regulations
All visitors to Botswana are required to have a valid passport. Visitors to Botswana are allowed to stay for a maximum of 90 days per year. There are different visa regulations for nationals of different countries, so be sure to understand whether or not you will need to obtain a visa prior to travelling to Botswana, or if you can get a visitor's visa on your arrival. See our Botswana visa page for more information.
Children under the age of 18 are required to have additional documents with them. See more about Botswana travel requirements for minors.

Botswana requires visitors who have been to high risk yellow-fever countries to provide a vaccination certificate upon entry into the country. If you do not live or have not visited a yellow fever zone, you do NOT need to produce a yellow fever certificate. For more information about countries that are considered high-risk areas, please visit our Yellow Fever page.
For such a large country Botswana has relatively few roads. The major arterial roads are generally good quality tar, although pot holes can be encountered in some areas. There are dirt roads in the more remote areas which are mostly encountered when travelling between and to the National Parks, due to the thick sand. 4x4 vehicles are essential in these parts.



Distances between Botswana's towns and cities
Click to download the full chart
If you decide to drive into Botswana, you must have your drivers' license and accompanying vehicle registration documents with you at all times. Driver's licenses from outside Botswana are valid for six months. If the driver's license is not in English, a translated document should accompany the license.
Driving in Botswana is on the left hand side of the road. The speed limits are 60km/hr in residential and rural areas, and 120km/hr on the highways. Watch out for numerous speed traps. Botswana has relatively few Police roadblocks.
In most areas drivers must be aware of wild animals and livestock, especially on the highways at night when visibility is greatly reduced. In fact, it is not advisable to drive at night on Botswana's highways as fences are limited and these animals wander freely.
Car Hire within Botswana's border is pretty straight forward, with the big names like Avis, Europcar, Bidvest etc being available at all the major airports and cities. However if you are thinking of hiring a car from South Africa and driving into Botswana that's a bit more tricky. Here is a very useful article on just that subject Cross Border Car Hire South Africa
Third party insurance is required for all vehicles that enter Botswana. It is available at the border, together with a Temporary Import Permit (TIP) which is valid for six months. Third party insurance valid within the South African Customs Union is also valid in Botswana.
A road tax/levy will be charged for all vehicles and trailers entering Botswana. This can only be paid in Botswana Pula at the border post (foreign currency cannot be used to pay for the road tax). Credit cards can be used at some border post but it's not advisable to rely on these completely, so carry some cash which you can exchange at the bureaux de change for Pula.
It is important to note that there are no fuel stations within the country's National Parks, so please bear this in mind and plan ahead - carrying enough extra fuel in metal jerry cans if you have a long journey.
THE VIC FALLS BUSH TELEGRAPH
our Bi-Monthly E-Newsletter

Each issue has a destination update, loads of information about conservation and wildlife, specials offers, traveller tips, community projects, website highlights and tons more...

Find our more about our Bush Telegraph

"Your newsletter keeps me informed about new and old and is the best I've seen in a long while - informative, not commercial, just plain perfect!" - I.Skliros

Don't worry. Your e-mail address is totally secure. I promise to use it only to send you The Vic Falls Bush Telegraph.
Return from Botswana Travel page to our home page