Chobe Day Trip
A Day of Outstanding Game Viewing in the Chobe National Park...
The Chobe Day Trip picks up from 7h00 sets off at about 7h30 from either Victoria Falls or Livingstone - destination Chobe National Park in Botswana. If you are coming from Livingstone, you will travel to the Kazungula Bridge and then across the river to Kasane. If you are coming from Victoria Falls, you will be transferred by vehicle to the Kazungula Border which is the border post between Zimbabwe and Botswana - a distance of 80km - here your Botswana Guide will meet you.
Beyond the Border
After completing the border formalities it's time for your first safari of the day which is a 3hr boat cruise along the Chobe River. This section of river is famous for its huge herds of elephant which can be viewed up-close and safely from the boat. Hippos, crocodiles and an abundance of birdlife is thrilling to see and experience. What a fantastic way to spend the morning.
The morning boat cruise ends at around 12.30pm in time for a welcomed and tasty lunch at a local restaurant.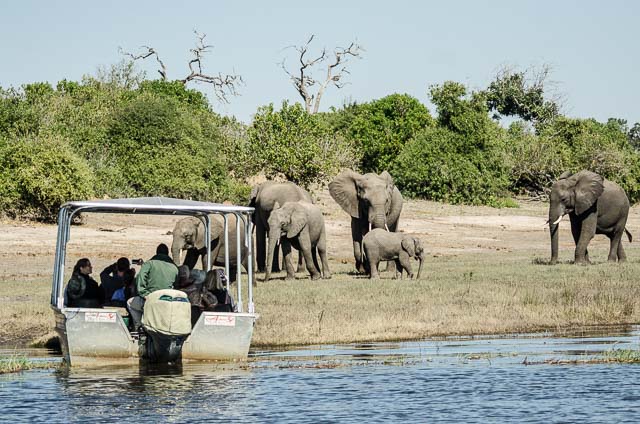 Elephants are a regular site on the Chobe Day trip
Halfway Through a Chobe Day Trip
After lunch it is time for an afternoon game drive in the Chobe National Park, where once again you have the opportunity to enjoy an abundance of wildlife as you explore the Chobe Riverfront by open safari vehicle. Large herds of elephant, buffalo and plains game, along with their accompanying predators have made this their home. It's very rare for this not to be a truly unforgettable game viewing experience.
Sadly the day is now drawing to an end and it's time to head home before dark. You will be transferred back to your hotel in either Livingstone or Victoria Falls arriving there at about 18h30.
Chobe Day Trip Prices (include all transfers, park fees, food and drinks)
A reason to experience A Chobe day trip.....
IT'S A KIND OF MAGIC
An interesting phenomenon is occurring on the Chobe this year. The river level is rising at unprecedented rates in comparison to the last 10 years. It's amazing to watch as areas normally untouched by the river are being enveloped by the inescapable floods. The result has been a frenzy of new activity in these zones, especially by Chobe's myriad of bird life. There is visible excitement amongst the Kingfishers that are feasting on the fingerlings colonizing these new waters. The Bee-Eaters never tire in their chase for juicy prey resulting from the late surge in the insect population.
This year we are also experiencing very heavy late rains, that swoop in from Zambia to the north and concentrate along the river. A hugely diverse array of mammal species are now making appearances in the Chobe waterfront area. Guides who have worked this area for decades are saying that this is a result of drier weather further inland and the sweet smells of new growth by the river. With the herbivores come the predators. Lions and leopards are being sighted daily. It is unusual that sightings of these cats are better from the river, but the usual charm of the Chobe boat cruise has now been even more enhanced by the high possibilities of viewing these creatures in amongst elephants and buffalo along Watercart, an area famous for its year round concentrations of plains game. Guests on game drives are experiencing different rewards. They are being taken a little further inland away from the waters' edge and are being greeted by herds of zebra, wildebeest, eland and sometimes even the elusive Sable.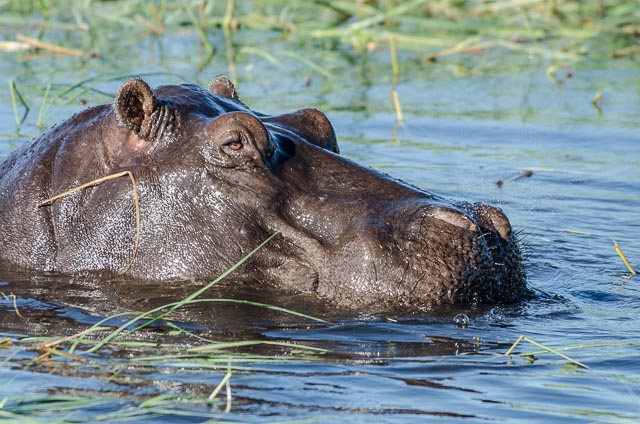 Hippos are a regular sight on the Chobe River
The Wild Dogs are also back and they have new pups. The pack's numbers have swelled to 17 and their hunting success rate has been greatly enhanced by the unparalleled concentrations of game along the river front. Every day there is something new, every day a new adventure for those who are privileged to visit this beautiful piece of Africa.
This truly is a special time to be in Chobe!
Text by Luke Brown, African Odyssey and Into Africa
Overnight Chobe Camping Trips......
Chobe Overnight Camping Trips are also available - these safaris include; River cruises, game drives and wonderful nights at an exclusive wilderness camp deep within the Chobe National Park. One, two and three night trips are available. For more information on these please send us an enquiry form.

Choosing between Zambezi National Park and Chobe National Park?
This is a tough choice and tricky question. Zambezi National Park is right on your doorstep, but Chobe is world renowned for its game viewing.
What does one do... well I guess if I can point out the pros and cons of each you can make up your own mind.
Chobe without doubt has fantastic game viewing, far greater abundance than in the Zambezi National park.
However, Chobe is far more commercialised than The Zambezi National Park. There will be lots of tourist on all sorts of game activities, if a pride of lions is spotted the words gets around quickly and there will be lots of vehicles descending upon that spot (Kenya style - lots of minibuses). The Zambezi Nat Park in comparison is extremely quiet with only a few vehicles entering the park so although you might not see as much, what you do see you will be able to enjoy much more. Don't get me wrong here, there is still plenty of game of all species in the Zambezi Nat park.
If you take a tour with one our recommended operators in the Zambezi Nat park, you will be sure to have truly bush experience, which means not only only looking for big game, but understanding and getting to know about the birds and insects, grasses and trees in fact the whole eco system, you will be able to walk if you wish and really get to interact with the African bush.
A Chobe day trip if you are staying in Victoria Falls involves at least 3hrs of travelling time (return trip), plus some time spent clearing customs and immigration between Zimbabwe and Botswana, a simple procedure, still it has to be done, and if you are on a foreign passport you will now have to buy another visa upon entry back into Zimbabwe or will have had to purchase a double entry or uni-visa when you first arrived. Zambezi National park in comparison is 10mins drive from the centre of Victoria falls and there obviously are no border posts and extra visa costs.
Chobe river is outstanding in beauty, but equally so is the Mighty Zambezi river along which the Zambezi National Park borders.


You will need to ensure that you have the proper visas for entry and exit. Click on the following links for visa information - Botswana visa | Zambia visa | Zimbabwe visa

Chobe National Park Pictures
THE VIC FALLS BUSH TELEGRAPH
our Bi-Monthly E-Newsletter

Each issue has a destination update, loads of information about conservation and wildlife, specials offers, traveller tips, community projects, website highlights and tons more...

Find out more about our Bush Telegraph

"Your newsletter keeps me informed about new and old and is the best I've seen in a long while - informative, not commercial, just plain perfect!" - I.Skliros

Don't worry. Your e-mail address is totally secure. I promise to use it only to send you The Vic Falls Bush Telegraph.
Return from Chobe day trip to our Victoria Falls Home Page