Holiday to Victoria Falls

20th January 2009

We are now back in Pietermaritzburg and this is a short account of our trip to Zimbabwe – Hwange and Victoria Falls.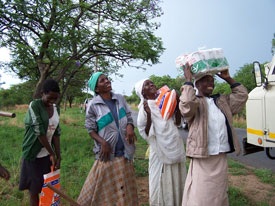 Desperate ladies appear from the bushes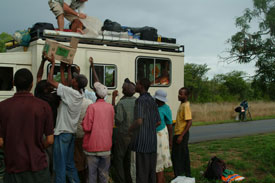 Distributing food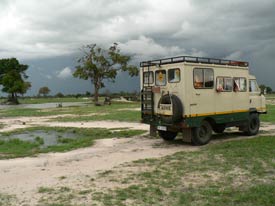 Lots of rain around Hwange National Park
Check in at Hwange Main Camp

Our drive up from South Africa through Botswana into Zimbabwe was uneventful. Entering Zimbabwe through the Plumtree border post and then up through Bulawayo onto Hwange National Park.

Passing through Bulawayo was sad – it has always been a sleepy town but the amount of business and factories that had closed was disturbing. Traffic lights hang disconnected, signs have fallen down and street lights are bent and buckled from being driven into but people carry on with their daily lives, adapting amazingly to the changes all around. They are cheerful and friendly despite all these challenges, but they are tired and want change.

We had been given some mealie meal, beans, oil, soap and clothes by a Church in Pietermaritzburg to take up for distribution to desperate people in Zimbabwe. Not really sure on how to do this we had planned to stop just outside Bulawayo in a remote village but as things happened we were stopped at a Police road block on the outskirts Bulawayo. The policemen were very polite and did not give us any problems one even saying that as tourists we should not be hassled - which is encouraging.

Another vehicle had broken down just beyond this and we stopped to help them. Half an hour later we were about to be on our way when a group of ladies emerged from the bushes on the side of the road. They looked pretty needy to us and we both felt that they would be good candidates for some free food. A bit reticent to begin with, they soon were singing and dancing with joy which drew a large crowd of passers and before we knew it Arnie (our Vehicle) was transformed into a food distribution truck. The need was huge and our supply was limited but it was great being able to help just a few of these desperate people.

The 14650 sq kilometre Hwange National Park is as always fantastic. It's wild and remote and somehow you get this inner feeling that it is real Africa. It is not the best game viewing time of the year due to the rain. The vegetation was thick and all the waterholes and pans were overflowing. However we were lucky enough to have a few good sightings of game - including lion, 6 cheetahs which we managed to follow for some distance, 2 wild dog sleeping about 100m from our camp, and about 4 big herds of elephant. We saw endless amounts of Giraffe and Zebra and a few big herds of Eland.

Due to the current situation in Zimbabwe there were only a few other people in the park – which on one hand is very sad but on the other hand great to have it to ourselves. Before our trip we had heard widespread rumours of poaching in the Park. We did not see any evidence of this. There was one elephant carcass at Shumba pan but we were told that this had died of natural causes.

A tell tale sign of poaching in a park is when you see animals running miles away at the sound of a vehicle. This was not the case at Hwange and the elephant herds that we saw were very relaxed. Tony had a chat to a National Park Ranger who gave us confidence that the anti-poaching unit is still very active – which we felt was good news. We will be posting a more detailed report on this soon.

Six days flew by and sadly we had to move on. We travelled right through the park, on pretty poor roads, and out through the Pandamatenga Border post into Botswana to fill up on fuel and food supplies for our time in Victoria Falls. The shops in Kasane are good and meat and fresh supplies readily available. The price of petrol in Botswana was cheaper at that stage than even the price in South Africa.
Me on the edge of the falls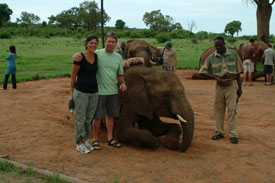 Tony and I elephant back riding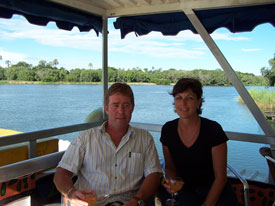 Sunset cruise with Shearwater
New Years Day in the Zambezi River

Our time in Victoria Falls was as always great. It was good to see that although there were not as many tourists as usual for the time of year – there were some.

It seems that the news of the cholera outbreak in Zimbabwe had caused a lot of people to cancel their holiday – this together with the current political chaos is making is increasingly difficult for the tour and hotel operators to keep their heads above water.

Having said this they are optimistic for the up coming year, and are poised for this town to boom again once the dust settles and normality returns.

Two or three new shops have opened in town including a great hand made jewellery shop and fast food court.

On the down side we did find that things had become extremely expensive. Everything is quoted in US Dollars or the equivalent in Rand and Pula, and you can expect to pay 2 to 3 times what you would in South Africa for basics like coke and hamburgers. Please read our currency page for more details

We did some great activities including an Elephant Back Safari, Helicopter flight, White Water Rafting and a Sunset Cruise. We spent a lot of time visiting the hotels and talking to as many people as we could.

We have gathered tons of new information to upload, this will take us a bit of time but we will get it up there as fast as we can – so keep a close look out – or sign up for our RSS feed and get pinged automatically.

Our time with all our friends over Christmas and New Year was great – the highlight was on New Years Day when about 20 families all went into the Zambezi National Park for a day on the banks of the Zambezi.

As one person said swimming in the Mighty Zambezi as if it was a stream in one's garden. – What a great way to spend the day and bring in the New Year.

We are really excited to be updating the site and have also a Victoria Falls News page which we will be receiving local news directly from source.

Watch this space…

---
20th November 2008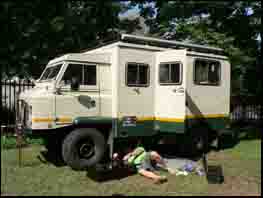 Changing Fuel Tank on Arnie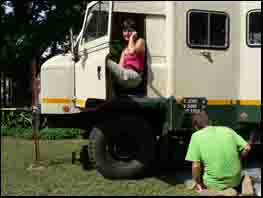 Boo making some calls
We are leaving for our Zimbabwe trip on the 3rd November 2008. The trip will start with our first night with Dan (our eldest son) at Entabeni, he is planning to take us on a walk and hopefully show us the amazing lions on the reserve.
After that we will head up through Botswana and enter into Zimbabwe through Plumtree. Spending the next 10 nights in the Hwange National Park. I believe although they have had some rain - the elephants are there in their hundreds.
From Hwange we will be going back into Botswana to re-supply with both food and fuel - both of which are not readily available in Vic Falls.
Christmas will be spent in the Falls with lots of old friends (maybe not all old!!!). Tony is looking forward to taking Dan and Dean (son No 2) white water rafting for their first time.
Tony was a rafting guide for about two years and has described the river and the various rapids to the boys numerous times - at last they are old enough to experience it for themselves.
Shane (son No 3) and I will probably do something more sedate like a trip to the Falls themselves. My personal favourite and a scene I never grow tired of experiencing.
Anyway enough dreaming time to get on organising the food and camping equipment...... how many days to go until we leave.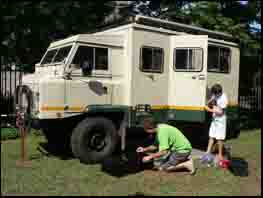 Fixing Arnie
Can't find what you are looking for? Use Google Search to search this website for any term you are looking for.


Share with others!

The Vic Falls Bush Telegraph
our Free Quarterly E-Newsletter

Each quarter there's loads of information about conservation and wildlife, a destination update, specials offers and discount packages, traveller tips and stories, book reviews, African folktales, environmental reports, bush recipes, best photo competitions and tons more....

"Your newsletter keeps me informed about new and old and is the best I've seen in a long while - informative, not commercial, just plain perfect!" I.Skliros

This Quarter we are also giving away a Free Screensaver to Every New Subscriber.
Return from Holiday to Victoria Falls to our Home Page