Zimbabwe Botswana Safari IG6A
The delta, elephant country and a mighty world wonder all in one safari, staying at a popular Chobe lodge, a beautiful camp in the delta, and an award-winning safari lodge just 10 minutes from the mighty Victoria Falls
2 Nights Okavango Delta, Botswana
2 Nights Chobe National Park, Botswana
2 Nights Victoria Falls, Zimbabwe
7 Days / 6 Nights
Reference: IG6A
Starts Maun Airport / Ends Victoria Falls Airport

Total Price 6 Nights: US$ 2992 (low season) | US$ 4757 (high season)
per person sharing



Safari Overview
This classic, well priced safari takes you to two of Botswana's unique regions and ends with a couple of nights in Victoria Falls.
Start off at Africa's largest inland delta and Botswana's latest addition to UNESCO world heritage sites – the impressive, unique and pristine Okavango Delta, which is incomparable with any other destination. Then fly on to the Chobe Riverfront, famous for its vast quantities of all forms of wildlife, where you will enjoy both land and river safaris.
Finish off with a bucket list for many - the Victoria Falls, another world heritage site full of fun activities and of course, the mighty Victoria Falls. In honesty, two nights at each location is not long enough but if you're short of time and it's variety and splendour you are after then this package is ideal. It gets you into the right places at the right price! You can of course add on nights if you want.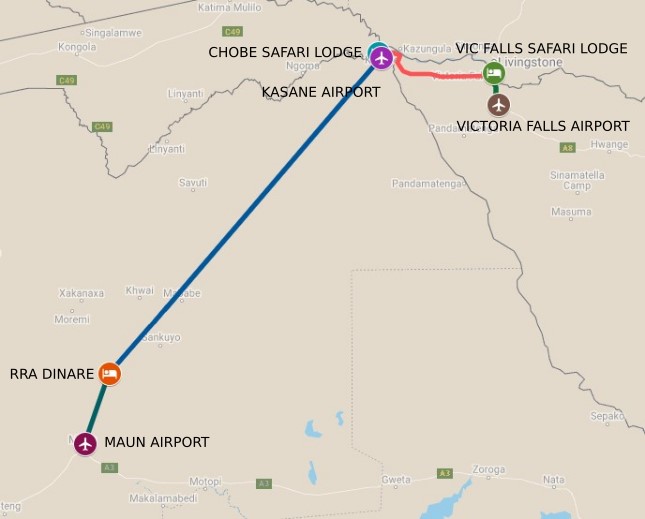 The route map for Zimbabwe Botswana Safari from Okavango to Chobe and then Victoria Falls


Zimbabwe Botswana Safari IG6A Inspired Journey Overview
Accommodation
Nights 1 & 2 - Luxury safari tent at Rra Dinare Camp
Nights 3 & 4 - Luxury safari room at Chobe Safari Lodge
Nights 5 & 6 - Standard Room at Victoria Falls Safari Lodge
Transfers Included
Day 1 - Road Transfer: Rra Dinare Airstrip to Rra Dinare Camp (45 minutes)
Day 3 - Road Transfer: Rra Dinare Camp to Rra Dinare Airstrip (45 minutes)
Day 3 - Road Transfer: Kasane Airport to Chobe Safari Lodge (10 minutes)
Day 5 - Road Transfer: Chobe Safari Lodge to Victoria Falls Safari Lodge (1hr - excluding border procedures)
Day 8 - Road Transfer: Victoria Falls Safari Lodge to Victoria Falls Airport (30 minutes)
Flights Included
Day 1 - Flight: Maun Airport to Rra Dinare
Day 3 - Flight: Rra Dinare to Kasane Airport
Highlights
Luxury tented safari rooms overlooking the Gomoti River and flood plains, on a large private concession, surrounded by the Okavango Delta
Private concession and game rich area offering high quality game viewing day and night
Game drives, seasonal water activities – mokoro canoe trips, and game walks
Chobe Safari Lodge situated on the banks of the Chobe River
Phenomenal game viewing in Chobe National Park - good chance in spotting 4 of the big 5
View the spectacular and mighty Victoria Falls
Partake in the multitude of activities available at Victoria Falls from sedate sunset cruises to adrenaline crazy bungee jumping and everything in between (activities not included in package price)
---

Notes: Day 1 & 2
DAY 1
On arrival to Maun Airport, you will take a light aircraft transfer to the Okavango Delta and land on Santawani Airstrip, and onwards to Rra Dinare Camp. Spend the morning and afternoon with an activity of your choice. This can either be a Mokoro cruise, a guided walk, or a game drive. A night Game Drive is also recommended.
DAY 2
Spend the morning and afternoon with an activity of your choice. Day and night game drives take place in the private concession adjacent to Moremi Game Reserve. These are on and off road safaris, comprising six people, a guide and a tracker (at night). Rra Dinare also offers seasonal water activities on the Gomoti river and game walks available depending on local conditions. Mokoros are water level dependent.
Okavango Delta
Lying in the middle of the largest expanse of sand on earth the Okavango Delta is one of Africa's most amazing, sensitive and complex environments supporting a spectacle of wilderness and wildlife. Unique as one of the world's few inland deltas, the placid waters and lush indigenous forests offer a safe haven for innumerable bird and wildlife species. The Okavango Delta offers a number of activities for the visitor; game viewing, birding and fishing are all on offer. One can experience this magical world of islands and waterways from land, air and water.
Highlights include the elusive Sitatunga antelope which has found refuge in this pristine wetland ecosystem, while birds such as the African fish eagle, Pel's fishing owl and many others provide a spectacular display.
Overnight: Rra Dinare Camp
Adjacent to Moremi Game reserve on south eastern side of the Delta, overlooking the Gomoti River and its flood plains, the camps are located in a private concession of 67,000 acres and have been designed to embrace the natural surroundings of the riverine forest.
Accommodation at Rra Dinare consists of eight stylish tents, including a guide's tent and a family tent, and at Mma Dinare 9 tents and a guide's tent, all of which overlook the Gomoti River floodplains.
Both central areas have been built in keeping with the other properties in the same portfolio - open, thatched spaces that allow guests to relax and enjoy the natural surroundings, whilst watching wildlife and birds from the comfort of an armchair or the bar. The swimming pool and curio shop at each camp complete the luxurious, relaxed feel for which Under One Botswana Sky safaris are known.
The airstrip which is servicing the two Dinare camps is approximately 20min by chartered flight from Maun and 1h20min from Kasane. The camps are situated 45min game drive from the airstrip.
Activities at Pom Pom
Game Drives, Mokoro Trips and Walking Safaris
Since this area normally receives floods last it contains some of the closest dry-season watering points for the game that spreads out towards Nxai and Makgadikgadi Pans during the rains. Around this, there is a high density of game in the dry season but since quite a lot of the reserve is mopane woodlands (a favourite location for animals during the rains and early dry season) good game viewing is expected all year round.
This river system attracts a wide variety of game. Familiar favourites include: Elephant, Buffalo, Giraffe, Kudu, Impala, Tsessebe, Hippo, Crocodile, Genet, Honey Badger and a host of Plains Game. Rare Antelope breeds including Roan, Sable & Eland, not normally seen in the Okavango region, occur here. As the Gomoti is the main water source in the area, Lion, Leopard, Cheetah and Wild Dog come down to the riverside to drink and hunt, of course! The locations and views are spectacular with the classic flooding of the Okavango across the adjacent seasonal floodplains. For those keen on bird-watching, the combination of the wetlands and the drier Acacia and Mopane veldt provide a perfect habitat for a variety of aquatic species including Open Billed Storks, Hammerkops, Egrets, Ibis and forest/savannah dwellers including Raptors, Shrikes, Drongos, Sunbirds, Ground Hornbills and so on.
Game drives (day & night) in a private concession adjacent to Moremi Game reserve, on & off road, 6pax per vehicle, driver & tracker (on night game drives). Seasonal water activities on Gomoti river and game walks available depending on local conditions.
---

Notes: Day 3 & 4
DAY 3
On your last day at Rra Dinare, you will be taken up to the airstrip for your flight to Kasane Airport, where you will be met by a representative of Chobe Safari Lodge who will transfer you to the lodge only 10 minutes away. After checking in you will meet your personal activities advisor who will explain how the game drives, cruises and other activities work, along with the times and places of departure. Lunch, is a delicious buffet spread or a pool snack for the not so hungry.
Freshen up and rest before meeting at the jetty for the Sunset Cruise at 15h00. This is a 3-hour cruise up the Chobe River – you will have a chance to see elephants playing and swimming in the water or simply enjoying the green grass found along the banks. Pods of hippos are dispersed amongst the elephants and you will find yourself not knowing which way to look as the abundance of all species of game surrounds you.
There is a cash bar on the cruise if you feel you would like to enjoy a cold drink as you watch a magnificent sunset aboard the boat before returning to the lodge in time to freshen up before dinner.
DAY 4
An early morning start to the day with a Safari Game Drive departing from the lodge around about 06h00-06h30. The early mornings are the best time to find the cats as they make their way back into the shade for the heat of the day – often after making a kill in the night. Prides of Lions are very often seen on these early morning game drives.
You will return to the lodge around about 09h00 in time for a Full English breakfast which is normally welcomed by all. The heat of the day can be spent enjoying the swimming pool or relaxing in the cool of your air conditioned room.
Once the day has cooled down, make your way to the jetty for a second afternoon sunset cruise. No two cruises are the same and the wildlife experiences are always exciting and rewarding. The sheer abundance and variety of animal and birdlife will keep you fixated. The notorious sound of the laughing hippo, never very far away, will add to the overall magical experience.
**Please note that the above activity schedule is a guideline and you can tailor-make your itinerary with the camp managers onsite, to suit your exact needs.

Chobe National Park
The Chobe River forms the northern boundary of the Chobe National Park, renowned for its reliable and diverse game viewing. Safaris are conducted both by boat and on land. This section of the park is best known for its elephant and hippo populations but the waters attract all manner of game including large herds of buffalo and the lions that prey on them.
Overnight: Chobe Safari Lodge
Chobe Safari Lodge is situated in Kasane on the banks of the Chobe River, just a short 10-minute drive to the entrance gate of the Chobe National Park making it an ideal choice.
This popular lodge has 66 bedrooms and 8 rondavels, a large central eating and entertainment area, with an inviting swimming pool. The riverside bar is a great place to enjoy a few drinks before or after your game activities. The bedrooms all face the river and are big and comfortable, with fans and air-conditioning, along with all other necessary amenities. The staff are friendly and helpful and the lodge is well organised. Wild but habituated warthogs, mongoose and monkeys roam freely on the lawns providing endless entertainment from the balcony of your room, while the variety of birds is an absolute delight.
Activities at Chobe Safari Lodge
Game Drives
Boat Cruise & Private Boat Cruises
---

Notes: Day 5, 6 & 7
DAY 5
Today after another early morning game drive and breakfast you will be met and transferred by air-conditioned minibus to Victoria Falls Safari Lodge in Zimbabwe. You will need to have your travel documents (including a visa if applicable). It takes approximately one hour, excluding border crossing procedures. You will arrive in time for lunch and have the opportunity to settle in and relax. Later in the afternoon we recommend a sunset cruise or helicopter flight. Dinner can either be at the hotel or we can recommend other options in and around town. Although activities are not included in the package price, please let us help you to arrange an itinerary of activities suitable for you. Have a look at this page Victoria Falls activities to see what is on offer.
DAY 6
You have a full day to soak up the wonderful atmosphere of Victoria Falls, it is the adventure capital of Africa and there are activities on offer to cater for everyone's needs. View the mighty Falls, partake in the many activities on offer or wander around the streets to do a bit of curio shopping, then finish off at a café for refreshments and a bite to eat. Please have a look at the activities available Victoria Falls Activities and contact us to arrange a suitable itinerary just for you.
DAY 7
Unfortunately, this is the last day of this trip. You have time to enjoy one last activity before transferring mid-morning to the Victoria Falls airport to catch your connecting flight.
Victoria Falls
One of the original natural wonders of the world, the Victoria Falls is a World Heritage Site and an extremely popular tourism attraction. Known locally as 'The Smoke that Thunders', this spectacle is accessible from both Zambia and Zimbabwe and it is an ideal place to combine a game viewing and water sports. There is excellent fishing, a terrifying bungee jump and arguably the best commercial white water rafting in the world.
Overnight: Victoria Falls Safari Lodge
Victoria Falls Safari Lodge is without doubt one of the most popular places to stay in Victoria Falls, Zimbabwe. The Lodge is situated on a high plateau overlooking the vastness of the Zambezi National Park, giving you the superb feeling of being out in the remote African wilderness, yet a short 15 minute drive takes you into the town centre and the Victoria Falls entrance.
A waterhole, well frequented by wildlife is situated directly below the lodge which can been viewed from most of the bedrooms, the bars, the pool deck, restaurants and lounges. A constant stream of animals coming down to drink provides 24hr entertainment (the waterhole is floodlit at night).
The 72-room Lodge is rich in ambience and offers sublime hospitality. All the bedrooms at Victoria Falls Safari Lodge are en-suite and the sliding glass doors open onto balconies with uninterrupted views of the National park, some rooms overlooking the waterhole. The rooms all have soft natural fabrics and brightly coloured African paintings giving them a wonderful contemporary safari lodge feeling. The staff are warm and personable providing faultless delivery to guests during their stay.
---
Price
Total Price 6 Nights: US$ 2992 (low season) | US$ 4757 (high season)
Per person sharing
Included in this safari
POM POM CAMP
• Accommodation in a luxury tent with spacious deck overlooking the Gomoti River and floodplains
• All meals, Snacks, Tea & coffees, Local Brand Beverages (alcoholic & non-alcoholic)
• Camp activities and National park fees
• Emergency Evacuation Cover (guests still require their own insurance)
CHOBE SAFARI LODGE
• Accommodation in a luxury room with garden views of the lodge
• Breakfast, Lunch and Dinner
• Activities: 2 game drives, 2 boat cruises
• Chobe National Park fees
VICTORIA FALLS SAFARI LODGE
• Accommodation in a fabulous, comfortable room with views of the National Park
• Daily Breakfast
• Access to the Vulture Culture experience
TRANSFERS
• Air transfer from Maun to Rra Dinare, and from Rra Dinare to Kasane Airport
• Road Transfers between Kasane airport, Chobe Safari Lodge, Victoria Falls Safari Lodge and Victoria Falls Airport
Excluded
RRA DINARE CAMP
• Premium beverages
CHOBE SAFARI LODGE
• Drinks
VICTORIA FALLS SAFARI LODGE
• All other meals and drinks
• Activities and any park entrance fees

More Travel Information
• Victoria Falls Travel Information
• Victoria Falls Activities
• Okavango Delta Information
• Chobe National Park Information
THE VIC FALLS BUSH TELEGRAPH
our Bi-Monthly E-Newsletter

Each issue has a destination update, loads of information about conservation and wildlife, specials offers, traveller tips, community projects, website highlights and tons more...

Find out more about our Bush Telegraph

"Your newsletter keeps me informed about new and old and is the best I've seen in a long while - informative, not commercial, just plain perfect!" - I.Skliros

Don't worry. Your e-mail address is totally secure. I promise to use it only to send you The Vic Falls Bush Telegraph.

Return from this Zimbabwe Botswana Safari IG6A page to our home page