Home | African Safaris | Zimbabwe Safari Ideas | IB5B - Hwange National Park & Victoria Falls
Zimbabwe Safari IB5B
An affordable 5 Nights at the edge of Hwange National Park and in Victoria Falls
3 Nights Hwange National Park
2 Nights Victoria Falls, Zimbabwe
6 Days / 5 Nights
Reference: IB-5B
Starts Victoria Falls Airport / Ends Victoria Falls Airport

Total Price 5 nights: US$ 956 (high season) / US$ 950 (low season)
per person sharing


Safari Overview
This safari takes you from the wonderful and game rich Hwange National Park, to the ever impressive Victoria Falls, on a budget. Spend a few nights at Miombo Safari Camp on a private concession at the edge of Hwange National Park, and then at Lorries, a quaint and cosy lodge in the quiet side of Victoria Falls town, while you enjoy exciting safari experiences and activities.
Zimbabwe Safari IB5B Inspired Journey Overview
Accommodation
Nights 1, 2 & 3 - Thatched Chalet at Miombo Safari Camp
Nights 4 & 5 - Standard Double Room at Lorries B & B
Transfers Included
Day 1 - Road Transfer: Victoria Falls Airport to Miombo Safari Camp
Day 4 - Road Transfer: Miombo Safari Camp to Lorries B & B
Day 6 - Road Transfer: Lorries B & B to Victoria Falls Airport
Highlights
Excellent Game viewing in Hwange National Park
Visit to the Painted Dog Conservancy
View the spectacular and mighty Victoria Falls
Partake in the multitude of activities available at Victoria Falls from sedate sunset cruises to adrenaline crazy bungee jumping and everything in between (Not included in price)
---
Hwange National Park
Hwange National Park is Zimbabwe's biggest reserve, home to a profusion of wildlife, including giraffe, lion, zebra and approximately 40 000 elephants. It provides sanctuary for all the country's endangered species, including a population of wild dogs thought to be among the most sizeable surviving groups on the continent. Terrain ranges from desert dunes and savannah lands to rocky outcrops and sparse forests, and visitors have the choice of game drives, guided walks or horseback safaris as a means of experiencing the park and its creatures.
Overnight: Miombo Safari Camp
Miombo Safari Camp bordering Hwange National Park offers a choice of rustic or deluxe accommodation and is ideally situated for day safaris into the national park. The area enjoys the highest concentration of wildlife and is famed for its large herds of elephant. Hwange's elephant population is estimated at 30,000. Miombo features four luxury tented tree houses and one honeymoon tented suite. Each suite is built to the highest quality with a world of comforts. Set in verdant Miombo woodland with our own waterhole providing you with the ultimate game viewing and birding experience at your doorstep.
Notes: Day 1, 2 & 3
DAY 1
You will be met at Victoria Falls airport by one of our representatives and transferred by air-conditioned minibus to Miombo Safari Camp on the boundary of Hwange National Park. This is a 155km drive on the Vic Falls - Bulawayo highway which takes approximately 2 hours. When you arrive at Miombo, you will be checked in and then you can relax by the pool or bar and enjoy the surroundings and the waterhole in front of the lodge. You can go on a night game drive after dinner, or relax by the campfire with your drinks.
DAY 2 & 3
Hwange offers some of the best wildlife sightings available in Africa without the congestion of numerous tourists. During the next two days you have the opportunity to experience the activities offered by Miombo Camp (see details below of the activities available and arrange these with the lodge managers onsite to suit your individual needs). Two activities per day are included in this package. The days will end with an al fresco dinner at the safari lodge and drinks around the campfire.
Activities at Miombo
Morning & Afternoon Game Drive
Equipped with camera, sun hat, binoculars & any specialist bird or animal guide books, you are ready to depart on morning game drive in a custom-designed safari vehicle in Hwange National Park with your assigned local professional safari guide, as the sun caresses the surrounding tree tops.
Hwange National Park proudly is home to a tremendous cross-section of wildlife; in fact with over 105 species of mammals, 430 species of birds - 50 species of those being raptors (birds of prey) & more than 100 species of trees & bushveld shrubs, it is amongst the most densely populated & diverse safari environments anywhere in the world. The close-by Dom waterhole is a prime game viewing area with massive game concentrations especially so in the dry season (late July to October) when a steady procession of all manner of mammals & birds congregate here throughout the day to quench their thirst.
So too the Ngweshla loop which passes the two magnificent open Kennedy pans that are particularly popular with a usual congregation of elephants found in this area. Nyamandhlovu Pan features a high-rise viewing platform located directly in front of a dam which is not only a draw card for all manner of mammal & bird species coming to drink here, but it is home to hippo & some not so small crocodile.
Afternoon game drive commences with your choice of beverage & snacks mid-afternoon & it is once again, into Hwange National Park in search of new safari encounters. At an appropriate time & at an appropriate spot picked by your professional safari guide, just as the sun begins to sink on the western horizon, a stop will be made & traditional 'sundowner' drinks will be served. This time is ´Out of Africa` personified.
Painted Dog Conservancy
The Painted Dog Conservation (PDC) is a leading model for community-based predator conservation, combining the most advanced modern technology with traditional knowledge of local communities, the PDC has experienced great success – Zimbabwe's African Wild Dog population has increased from 400 to 700 individuals since the project's inception. PDC's model also brings direct benefit to local people with increased employment & unparalleled education opportunities.
Residents of PDC's neighbouring communities not only benefit from its programs but also actively contribute to them. For example, community members are employed in anti-poaching units & in addition produce beautiful, unique art from the confiscated snare wire. They assist in systematic monitoring of the African Painted Dog population & teach environmental educational. The active engagement of local residents empowers communities, strengthens conservation & unreservedly raises environmental awareness.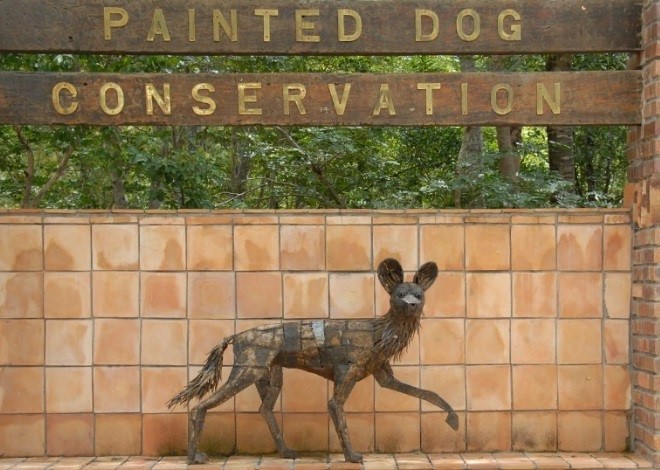 Night Game Drives
Miombo Safari Lodge also offers our guest night game drives around the Miombo concession where you can experience the wild nocturnal activity. Guests can expect to see nocturnal game such as hyena, jackal, porcupine, civet, genet, white tail mongoose, & occasionally leopard & lion.
Walking & Birding Safaris
As well, during the day time guided nature walks & bird watching excursions on the Miombo concession can be tailor-made to suit individual couples, a family or an in-house group's abilities & desires.
Village Visits
Miombo Safari Camp can also arrange an excursion for guests to the Dete Village which exposes visitors to the village lifestyle & to learn about local traditions
---
Victoria Falls
One of the original natural wonders of the world, the Victoria Falls is a World Heritage Site and an extremely popular tourism attraction. Known locally as 'The Smoke that Thunders', this spectacle is accessible from both Zambia and Zimbabwe and it is an ideal place to combine a game viewing and water sports. There is excellent fishing, a terrifying bungee jump and arguably the best commercial white water rafting in the world.
Overnight: Lorries B & B
Lorrie B&B is family run with the focus on personal attention to detail and guest satisfaction. Lorries B&B is a short walk from the mighty Victoria Falls and all that this amazing destination has to offer. All rooms are well appointed en-suite with own verandas set in a quiet tropical garden. Recently converted to Solar Geysers and Air Conditioning available in all rooms on request.
Notes: Day 4, 5 & 6
DAY 4
Today after breakfast and another early morning activity, if you wish, you will be transferred by air-conditioned minibus from Miombo Safari Camp to Lorries B&B in Victoria Falls town, arriving around midday. This gives you time to settle in and relax or do one of the multitude of activities on offer. Although these activities are not included in the package price, please let us help you to arrange an itinerary of activities suitable for you. Have a look at this Victoria Falls activities page to see what is on offer.
DAY 5
You have a full day to soak up the wonderful atmosphere of Victoria Falls, it is the adventure capital of Africa and there are activities on offer to cater for everyone's needs. View the mighty Falls, partake in the many activities on offer or wander around the streets to do a bit of curio shopping, then finish off at a café for refreshments and a bite to eat. Please have a look at the available Victoria Falls Activities and contact us to arrange a suitable itinerary just for you.
DAY 6
Unfortunately, this is the last day of this trip. You have time to enjoy one last activity before transferring mid-morning to the Victoria Falls Airport to catch your connecting flight.
---
Price
Total Price 5 nights: US$ 956 (high season) / US$ 950 (low season)
Per person sharing
Included in this safari
MIOMBO SAFARI CAMP
• Accommodation in a thatched chalet
• All meals and local beverages
• Activities: Two safari drives per day
• Laundry
LORRIES B and B
• Accommodation in a comfortably set standard room
• Breakfast daily
TRANSFERS
• Return Victoria Falls Airport transfers
• Return Hwange - Vic Falls road transfers (based on a minimum of 2 people)
Excluded
MIOMBO SAFARI CAMP
• Premium beverages
• National Park fees
LORRIES B and B
• All other meals and activities not mentioned
More Travel Information
Can't find what you are looking for? Use Google Search to search this website for any term you are looking for.


Share with others!