Home | African Safaris | Zimbabwe Safari Ideas | IB5D - Hwange & Victoria Falls
Zimbabwe Safari IB5D
Self drivers can enjoy this super budget safari at their own leisure, combining Hwange National Park and Victoria Falls at a ridiculous price
3 Nights Hwange National Park, Zimbabwe
2 Nights Victoria Falls, Zimbabwe
6 Days / 5 Nights
Reference: IB-5D
Starts Hwange National Park / Ends Victoria Falls

Total Price 5 nights: US$ 307 (high season), US$ 268 (low season)
per person sharing


Safari Overview
This super affordable self-drive safari, offers a great bush experience in Hwange National Park at a well-equipped and high quality self-catering lodge in the heart of the park in a very good game viewing area. Then drive to Victoria Falls and spend two nights at a comfortable B&B, exploring Victoria Falls town, sights and activities at your own leisure.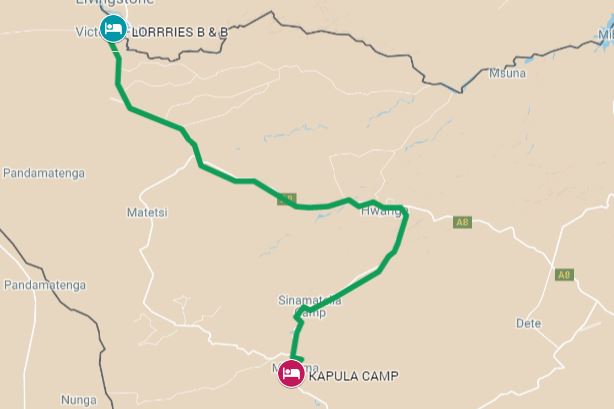 Zimbabwe Safari IB5D Inspired Journey Overview
Accommodation
Nights 1, 2 & 3 - Tented Room at Kapula South Camp
Nights 4 & 5 - Standard Double Room at Lorries B & B
Transfers
Day 1 - Self-Drive to Kapula South Camp
Day 4 - Self-Drive: Kapula South Camp to Lorries B & B
Day 6 - Self-Drive: Lorries B & B to onward destination
Highlights
Excellent Game viewing in the heart of Hwange National Park
Very well equipped and comfortable self-catering lodge allowing for a very affordable safari at your own pace
View the spectacular and mighty Victoria Falls
Partake in the multitude of activities available at Victoria Falls from sedate sunset cruises to adrenaline crazy bungee jumping and everything in between (Not included in price)
---
Hwange National Park
Hwange National Park is Zimbabwe's biggest reserve, home to a profusion of wildlife, including giraffe, lion, zebra and approximately 40 000 elephants. It provides sanctuary for all the country's endangered species, including a population of wild dogs thought to be among the most sizeable surviving groups on the continent. Terrain ranges from desert dunes and savannah lands to rocky outcrops and sparse forests, and visitors have the choice of game drives, guided walks or horseback safaris as a means of experiencing the park and its creatures.
Overnight: Kapula Camp
Situated adjacent to the famous Masuma dam picnic site in the heart of Hwange National Park, the largest park in Zimbabwe, Kapula is a stone's throw away from the Victoria Falls/Kasane/Kariba tourist hub.
The park occupies roughly 15 000km2 in the North West corner of the country and can be easily accessed from Botswana, South Africa and Zambia. Game sighting is excellent in the dry winter months from June to October.
During the full moon you can expect spectacular moonlit game viewing from your tent deck. With over 400 bird species, the summer months from November to May are a special treat for the avid bird watcher.
Kapula's north and south camps both consist of four extravagant, safari-style tented suites with en-suite facilities. These may be booked per pair, or altogether. All four tents come with a choice of sleeping arrangement, namely two 3/4 beds or one king-sized bed.
All tents are positioned with privacy in mind, and are built upon elevated timber decking, that provides a spectacular, open-fielded view of the surrounding land and wildlife.
Decorated with a distinct African flavour, the tents exude both comfort and style.
In addition to the lodging tents, Kapula's north camp boasts a large main building that overlooks a waterhole in the Kapula Vlei area, the perfect place to enjoy sundowners, whilst telling the day's tales around the adjacent camp fire.
The building comes equipped with a full kitchen suite, including two fridges, a deep freezer, a gas stove and both lounge and dining room, each with seating for twelve. The south camp also has a campfire, kitchen tent and specially built game-viewing platform.
Notes: Day 1, 2 & 3
DAY 1 to 3
Make your way to Kapula Camp (South) in Hwange National Park, either via the Main Camp or Sinamatella entrance gates, depending on the direction of your journey. Kapula is a fully equipped tented camp, all you need to do is bring in your food and drinks.
Kapula is situated in a private concession only a few kilometres from Masuma dam in the heart of Hwange National Park. An open vlei and small waterhole in front of the lodge attracts an abundance of wildlife, which you can enjoy watching from the elevated central entertainment area. The whole area is rich in bird and wildlife and this spot makes for an excellent safari.
A licensed guide can be booked in advance to assist during game drives, otherwise game drives through Hwange National Park are done completely on your own. No shops are located inside the National park so ensure that you stock up with your supplies before entering.
---
Victoria Falls
One of the original natural wonders of the world, the Victoria Falls is a World Heritage Site and an extremely popular tourism attraction. Known locally as 'The Smoke that Thunders', this spectacle is accessible from both Zambia and Zimbabwe and it is an ideal place to combine a game viewing and water sports. There is excellent fishing, a terrifying bungee jump and arguably the best commercial white water rafting in the world.
Overnight: Lorries B & B
Lorrie B&B is family run with the focus on personal attention to detail and guest satisfaction. Lorries B&B is a short walk from the mighty Victoria Falls and all that this amazing destination has to offer. All rooms are well appointed en-suite with own verandas set in a quiet tropical garden. Recently converted to Solar Geysers and Air Conditioning available in all rooms on request.
Notes: Day 4, 5 & 6
DAY 4 & 5
Possibly do another early morning game drive, then pack up and drive up to Victoria Falls and check in at Lorries B & B. The drive should take no longer than 3 hrs. You have one and a half days to soak up the wonderful atmosphere of Victoria Falls, it is the adventure capital of Africa and there are activities on offer to cater for everyone's needs. View the mighty Falls, partake in the many activities on offer or wander around the streets to do a bit of curio shopping, then finish off at a café for refreshments and a bite to eat. Please have a look at the Victoria Falls Activities and contact us to arrange a suitable itinerary just for you.
DAY 6
Unfortunately, this is the final day of your safari. After breakfast, pack up your gear and head to your next destination.
Directions - Kapula South Camp to Lorries B & B
• Head north until you get to the main gravel road
• Continue up to Sinamatella Camp
• From Sinamatella Camp, head northeast up to the Bulawayo -Vic Falls Highway (A8)
• Turn left onto A8 towards Victoria Falls
• Travel about 106kms to Victoria Falls town
• Turn left onto Reynard Rd
• Drive for about 1.1kms then turn right. Destination will be on the left .
---
Price
Total Price for 5 nights: US$ 307 (high season), US$ 268 (low season)
Per person sharing
Included in this safari
KAPULA CAMP - SOUTH
• Accommodation only, in a simple but comfortable en-suite tents.
• Use of all the camps cooking facilities, which include all pots pans and crockery, stoves, fridges and deep freezers
LORRIES B and B
• Accommodation in a clean and comfortable room with garden views
• Daily breakfast
Excluded
TRANSFERS
• Road transfers – trip is totally self-drive and self-catering at Kapula Camp in Hwange PARK FEES
• National Park fees to be paid on entry into Hwange National Park
More Travel Information
Can't find what you are looking for? Use Google Search to search this website for any term you are looking for.


Share with others!