Zimbabwe Safari IG5B
5 Night safari in Hwange and Victoria Falls, combining two top quality safari lodges both with splendid views and prolific waterholes
3 Nights Hwange National Park
2 Nights Victoria Falls, Zimbabwe
6 Days / 5 Nights
Reference: IG-5B
Starts Victoria Falls Airport / Ends Victoria Falls Airport

Total Price 5 nights: US$ 2945 high season, US$ 1864 low season
per person sharing


Safari Overview
This safari combines the best of Hwange National Park and Victoria Falls - starting with three nights at The Hide in Hwange, famous for its large concentrations of elephant. This premier lodge with extremely knowledgeable and personable guides is situated in the southern section of the park, which is particularly good for game viewing.
Transfer to Victoria Falls for the remaining two nights at one of the most highly recommended hotels - Victoria Falls Safari Lodge. This is a perfect base for you to enjoy the multitude of activities available. Both places are situated in front of waterholes frequented by volumes of both large and small game.
Zimbabwe Safari IG5B Inspired Journey Overview
Accommodation
Nights 1,2 & 3 - Deluxe Safari Tent at The Hide
Nights 4 & 5 - Standard Double Room at Victoria Falls Safari Lodge
Transfers Included
Day 1 - Road Transfer: Victoria Falls Airport to The Hide
Day 4 - Road Transfer: The Hide to Victoria Falls Safari Lodge
Day 6 - Road Transfer: Victoria Falls Safari Lodge to Victoria Falls Airport
Highlights
Award winning safari camp with excellent game viewing on the private concession in Hwange National Park
Guided day and night game drives and walking safaris
Very active waterhole at The Hide viewed from your room or in one of the underground hides
Sleep under the stars at the lodge's Dove Nest
View the spectacular and mighty Victoria Falls
Partake in the multitude of activities available at Victoria Falls from sedate sunset cruises to adrenaline crazy bungee jumping and everything in between. At Victoria Falls Safari lodge, the Siduli Hide gets you closer to the action at the local waterhole. (Activities not included)
Views of the waterhole at Victoria Falls Safari Lodge with the national park beyond
---

Notes: Day 1, 2 & 3
DAY 1
On arrival at Victoria Falls airport you will be met by one of our representatives and transferred to Hwange National Park. This takes about 2 hours on tarred road and then a further hour on dirt road through the National Park to the camp. It will be late afternoon so a perfect time to relax with a sundowner and watch the animals as they come down to drink at the waterhole in front of the Lodge. A delicious dinner is served around a giant teak table, after which gather around the fire pit and exchange stories with some of the other guests at the lodge.
DAY 2
No set activities or schedule on safari in The Hide – you will have made some plans for your chosen activities for the day at dinner with the guides the night before – if you are going on an early activity you will have an early wakeup call with tea/coffee and light breakfast before departing. As with all game viewing the early mornings are the best times to sight the cats before the heat of the day. Return to camp in time for breakfast or brunch depending on how the morning has gone. During the heat of mid-day enjoy the comfort of your room or the refreshing cool of the pool before starting your afternoon activity. Dinner again is a time to share stories and photos with other clients in camp and can get to know the staff and share their enthusiasm for the game in their concession.
DAY 3
One the last full day at The Hide. You will by now have your favourite places and activities that you feel you would like to see and do before departing from this amazing small but special piece of Hwange. The day will be structured again the night before with your guides exactly as you would like – everything in this camp is about you and your experience. You can read more about the activities in the paragraphs below.
Hwange National Park
Hwange National Park is Zimbabwe's biggest reserve, home to a profusion of wildlife, including giraffe, lion, zebra and approximately 40 000 elephants. It provides sanctuary for all the country's endangered species, including a population of wild dogs thought to be among the most sizeable surviving groups on the continent. Terrain ranges from desert dunes and savannah lands to rocky outcrops and sparse forests, and visitors have the choice of game drives, guided walks or horseback safaris as a means of experiencing the park and its creatures.
Overnight: The Hide
Well known and much loved, The Hide Safari Camp is situated within Hwange National Park, Zimbabwe's largest game reserve. 'The Hide', into its third decade, accommodates up to 20 guests in well-appointed deluxe tents under thatch, all tents overlook the productive waterhole. Tents have en-suite facilities that include outdoor showers and bath tubs.
Up to 4 game activities per day, bush walks, day and night drives, 'hide' sits including our new underground tunnel to one hide. Enjoy a "sleep-out" in the romantic Dove's Nest. The Hide is a very personal camp with friendly staff and experienced guides.
Activities at The Hide
Guided Walks
Morning and afternoon guided walks are offered at The Hide Safari Camp. The camp is fortunate to have the best of both worlds - while located within the Hwange National Park, it is also surrounded by a private concession which allows us to offer activities not otherwise permitted. Hwange is a vast playground worth exploring so you don't have to worry about being bored. Early morning walks are there for the thrill of encountering wildlife on its own terms and exploring the little surprises of the bush.
Day and Night Game Drives
Morning and afternoon game drives as well as night drives with a spotlight are offered at The Hide Safari Camp. Days can be spent further afield on game drives in search of predators and prey alike. Sundowners are an important part of the experience. Enjoy the natural beauty with a cold drink in hand. The guides at The Hide are very much part of the family and have been with the lodge for many years. They have undergone some of the most rigorous training in Africa and their passion for and knowledge of the bush is often what makes a safaris so special.
The Dove's Nest Treehouse
The Dove's Nest, is just about the best way to get away from it all. There are few things more exciting than spending a night out in a tree house. Overlooking the open tree-lined vlei and pan, this rustic gem is a perfect vantage point from which to view wildlife safely, quietly. Just the two of you. Kept simple, as a tree house should be, the bedroom of the Dove's Nest is reached by a wooden stairway and with a closable door. You won't have to forego your hot shower and warm bed and the location is second to none.
Underground Hide and Wine Cellar
You're sitting on the deck at The Hide 'A' frame. The sun has just set, its residual warmth a soft tinge of pink in the sky. Just then, a family of elephants strolls into the scene and up to the waterhole. You watch, fascinated by their interactions. Now, here's where you jump into action. Without the need for a guide or host, you can go directly from the deck into the underground hide and observe the elephant family from up-close. Just step off the deck and slip down the steps into a whole new world. Along a tunnel, you'll walk for about 10 metres under the surface of the earth – and then emerge into a "window on the waterhole", where you can sit quietly, the unobserved observing. It's a special new addition and makes the experience of "game viewing" more intense and personal.
Along the same tunnel, guests are delighted to find, hidden away in the wall, a real wine cellar. Perfectly cooled at a steady 17 degrees Celsius, ambient-lit and stocked with a small selection of fine wines from around the world, this is a welcome addition to an already all-sensory experience at The Hide. Guests are invited to choose the wine they'd like with dinner – or suggestions are made based on wine pairing experts' recommendations.
---

Notes: Day 4, 5 & 6
DAY 4
Start the day with a hearty breakfast before you are transferred out of Hwange National Park and transferred to the Victoria Falls Safari Lodge. After checking in to the hotel enjoy some lunch either at the award winning Makuwa-kuwa restaurant, or take the complimentary shuttle into town and have lunch at one of the restaurants there. Although activities are not included in the package price, please let us help you to arrange an itinerary of activities suitable for you. Have a look at these Victoria Falls activities and discounted packages to see what is on offer.
DAY 5
Today, soak up the wonderful atmosphere of Victoria Falls, it is the adventure capital of Africa and there are activities on offer to cater for everyone's needs. View the mighty Falls, partake in the many activities on offer or wander around the streets to do a bit of curio shopping, then finish off at a café for refreshments and a bite to eat. Please have a look at the available Victoria Falls Activities and contact us to arrange a suitable itinerary just for you.
A popular choice is to end the last day with a Boma Experience in the evening, situated on the grounds of Victoria Falls Safari Lodge (not included).
DAY 6
Sadly, this is the last day of your tour. After breakfast and a possible early morning activity, you will be transferred around mid-morning to Victoria Falls International Airport for your departure flight.
Victoria Falls
One of the original natural wonders of the world, the Victoria Falls is a World Heritage Site and an extremely popular tourism attraction. Known locally as 'The Smoke that Thunders', this spectacle is accessible from both Zambia and Zimbabwe and it is an ideal place to combine a game viewing and water sports. There is excellent fishing, a terrifying bungee jump and arguably the best commercial white water rafting in the world.
Overnight: Victoria Falls Safari Lodge
Victoria Falls Safari Lodge is renowned as a supreme property at "Wonder of the World" destination Victoria Falls, and is showcased in numerous awards of high repute, including the 2012 Top 10 Resorts & Safari Camps in Africa as voted by the distinguished international Conde Nast Traveler magazine.
The 72-room Victoria Falls Safari Lodge is rich in ambience and offers sublime hospitality. With views of the waterhole and wild African bush, it's hard to beat this prime setting that is perfectly positioned to enjoy activities above and below the Falls. The staff are warm and personable providing faultless delivery to guests during their stay.
Activities at Victoria Falls Safari Lodge
Boma Experience
Described as an unforgettable African experience infused with Zimbabwean cuisine, spirited performances and traditional storytelling, The Boma – Place of Eating has firmly established itself as a Victoria Falls highlight. Partially open to the skies, The Boma specialises in a superb selection of Zimbabwean dishes. A four-course meal combines a choice of starters with a barbecue buffet. The adventurous are enticed with local delicacies such as mopani worms and potjiekos (hunter's game stew), whilst those wishing to enjoy beef, pork, fish and chicken or a variety of vegetarian meals are welcome to do so. The sights and sounds of the evening are accentuated by a feast of nightly entertainment, incorporating traditional dancers, who captivate guests with their vibrant songs and dance. The acclaimed Zambezi Drumbeat provides a wonderful interactive drumming experience.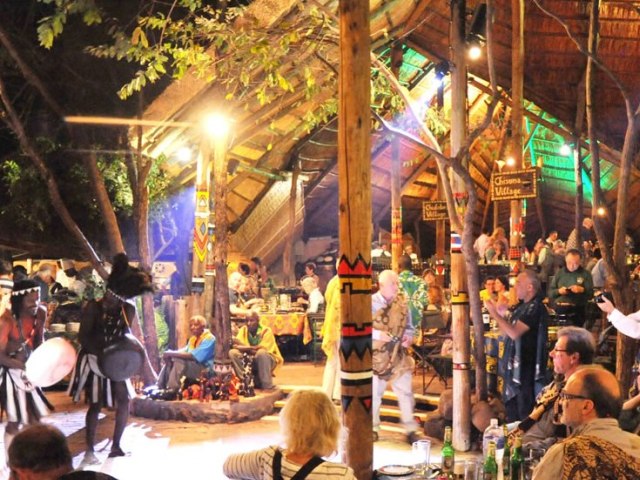 ---
Price
Total Price 5 Nights: US$ 2945 high season, US$ 1864 low season
Per person sharing
Included in this safari
THE HIDE
• Accommodation in a deluxe tent with views of the waterhole
• All meals, local drinks, house wine, teas/coffees
• Laundry
• Conservation fee and National Parks fee
• Up to 4 activities per day: Morning and afternoon guided walks; Morning and afternoon game drives; Night drives with a spotlight; 'Hide sits' around the pan; An overnight sleep-out in the "Dove's Nest" tree house for 2 people
VICTORIA FALLS SAFARI LODGE
• Accommodation in a comfortable standard room with uninterrupted views of the National park
• Daily breakfast
• Access to the Vulture Culture experience
TRANSFERS
• Return Victoria Falls Airport transfers
• Road transfers between The Hide and Victoria Falls Safari Lodge
Excluded
VICTORIA FALLS SAFARI LODGE
• All other meals
• All other activities

More Travel Information
• Victoria Falls Travel Information
• Victoria Falls Activities
• Hwange National Park Information
THE VIC FALLS BUSH TELEGRAPH
our Bi-Monthly E-Newsletter

Each issue has a destination update, loads of information about conservation and wildlife, specials offers, traveller tips, community projects, website highlights and tons more...

Find out more about our Bush Telegraph

"Your newsletter keeps me informed about new and old and is the best I've seen in a long while - informative, not commercial, just plain perfect!" - I.Skliros

Don't worry. Your e-mail address is totally secure. I promise to use it only to send you The Vic Falls Bush Telegraph.