Zimbabwe Safari IS7B
7 Nights in Zimbabwe's western region enjoying wonderful game, the mighty Zambezi River, and the awesome Victoria Falls
3 Nights Hwange National Park
2 Nights Victoria Falls, Zimbabwe
2 Nights Zambezi National Park
8 Days / 7 Nights
Reference: IS-7B
Starts Victoria Falls Airport / Ends Victoria Falls Airport

Total Price 7 nights: US$ 2482 high season, US$ 2258 low season
per person sharing



Safari Overview
Enjoy spectacular game viewing in one of the best game parks in Zimbabwe, while staying at Ivory Lodge just outside Hwange National Park. Then transfer to a quiet, family owned and run guest house in Victoria Falls town, where you will stay while taking part in the multitude of activities available in Victoria Falls. The final two days are spent relaxing and game viewing at Imbabala Safari Lodge just 80kms upstream of Victoria Falls in the Zambezi National park.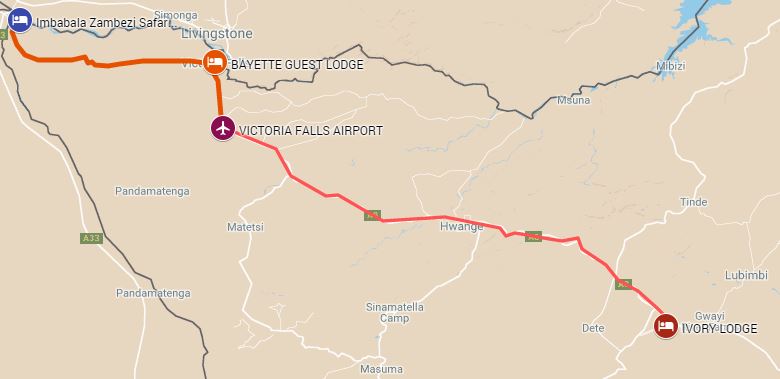 Zimbabwe Safari IS7B Inspired Journey Overview
Accommodation
Nights 1, 2 & 3 - Elevated tree house at Ivory Lodge
Nights 4 & 5 - Deluxe room at Bayete Guest Lodge
Nights 6 & 7 - Thatched room at Imbabala Safari Camp
Transfers Included
Day 1 - Road Transfer: Victoria Falls Airport to Ivory Lodge
Day 4 - Road Transfer: Ivory Lodge to Bayete Guest Lodge
Day 6 - Road Transfer: Bayete Guest Lodge to Imbabala Safari Camp
Day 8 - Road Transfer: Imbabala Safari Camp to Victoria Falls Airport
Highlights
Excellent Game viewing in Hwange National Park whilst staying at Ivory Lodge
Lots of available game activities at Ivory Lodge - drives, walking, hides sits and night drives.
Visit to the Painted Dog Conservancy
Cultural village, clinic and school tours
View the spectacular and mighty Victoria Falls
Partake in the multitude of activities available at Victoria Falls from sedate sunset cruises to adrenaline crazy bungee jumping and everything in between (activities not included)
Zambezi river cruises and game drives in Imbabala's 5000 acre private concession, which also has 14kms of river frontage
Optional fishing trips at Imbabala offer the potential opportunity to catch a Tiger Fish
---
Notes: Day 1, 2 & 3
DAY 1
You will be met at Victoria Falls Airport by one of our representatives and road transferred by air-conditioned minibus to Ivory Lodge near Hwange National Park which takes approximately 3 hrs. You may arrive in time for an evening game drive on the lodge's private concession; otherwise, enjoy drinks at the lodge while you watch the animals visit the local waterhole. After that, enjoy a 3 course dinner at the main lodge dining area.
DAY 2
No two days are the same at Ivory Lodge, game viewing and cultural experiences are tailor-made to guest's preferences, please see details below of the activities available and arrange these with the lodge managers onsite to suit your individual needs. Whether you choose to do a full day game drive into the National Park or to relax by the pool overlooking the waterhole, this wild and unspoilt bush paradise will guarantee you leave with memories to last a lifetime!
DAY 3
Another day of game viewing and cultural activities at Ivory Lodge, tailor-made to suit your needs and influenced by what the wildlife at the time of your visit is doing. Hwange offers some of the best wildlife sightings available in Africa without the congestion of numerous tourists.
Hwange National Park
Hwange National Park is Zimbabwe's biggest reserve, home to a profusion of wildlife, including giraffe, lion, zebra and approximately 40 000 elephants. It provides sanctuary for all the country's endangered species, including a population of wild dogs thought to be among the most sizeable surviving groups on the continent. Terrain ranges from desert dunes and savannah lands to rocky outcrops and sparse forests, and visitors have the choice of game drives, guided walks or horseback safaris as a means of experiencing the park and its creatures.
Overnight: Ivory Lodge
A small intimate lodge featuring 7 luxurious tree houses and 2 Presidential Elephant Suites set on elevated platforms amongst the indigenous flora of Hwange Game Park. Deep in the mystical teak forests of Hwange is this unobtrusive camp, bathed in the tales of pioneering hunters and explorers such as Fredrick Courtney Selous. Lumbering giants drift around your stilted platforms, their tusks glinting in salute to the sanctuary of shade offered up by these massive trees.
This is Ivory Lodge – place of elephants. It is here that great herds of elephants are found – sometimes over 100 strong.
Hwange is renowned for its huge tuskers – big old bulls with magnificent tusks. It is also here that the famous Presidential Herd drinks – these elephants' home-range is amongst the dense feeding areas of the Sikumi Vlei and where they find refuge from the scorching heat at Ivory's water hole.
Silently, elegantly, the lodge stands over the waterhole. Watch by flood light under a star spangled African night sky – the elephants in their play-fighting; their display of instinctive rituals; their caressing and murmurings.
Activities at Ivory Lodge
Game Drives
Morning, afternoon & full day game drives can be arranged on the concession and into the National Park. An abundance of game species can be spotted within the concession and National Park including Elephant, Lion, Giraffe, Cheetah, Zebra, Sable, Wild Dog, Leopard and much more! Within the concession, evening game drives can be arranged with a sunset stopover for sundowners and your choice of beverage. Returning to the lodge by spotlight to find those elusive night animals & arriving back in camp in time to freshen up for dinner.
Walking Safari
After a fireside coffee and delicious muffins, journey into the bush on foot with your professional guide on a walking safari. Enjoy the early crisp mornings as you discover the wonders of the African bush and witness its wildlife come to life. Starting time is first light. Walking Safaris are carried out on our private concession of 6000 acres and are weather dependent. Walking Safaris only available upon request during reservation.
Painted Dog Conservation Centre
Zimbabwe boasts one of the largest populations of this endangered species. A visit to the Hwange Research Centre to learn more about these beautiful painted dogs and the rehabilitation, research and conservation efforts surrounding the centre is highly recommended. There is no entry fee charged but the program kindly asks visitors to either buy something from the curio shop with proceeds going to the program or welcomes any donations.
Culture & Community
Zimbabwe offers a rich, dynamic culture and through the support of our non-profit project "The Mother Africa Trust" we offer visits to local clinics, rural schools and the Dete Old Age Home. A fantastic way to get to know the friendly people and culture of Zimbabwe!
Pan Sits
Spend the day, half a day relaxing near the pan with full waiter service and watch the animals as they get up close and personal.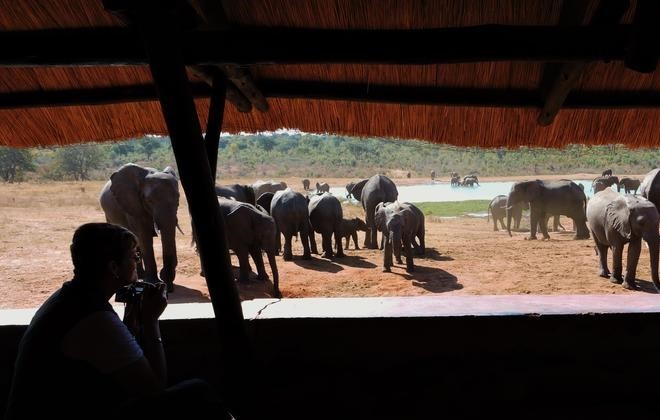 ---
Notes: Day 4 & 5
DAY 4
It's a good idea, although not compulsory to wake up early and go for another early morning game drive or walk on Ivory Lodge's private concession. Predators like lions are the most active in the early mornings and you have a good chance of spotting them. Return to the lodge for breakfast and then transfer to Bayete Lodge in Victoria Falls. You will be there by lunchtime so you have the whole afternoon to either relax or enjoy one of the many activities available in Victoria Falls. Although activities are not included in the package price, please let us help you to arrange an itinerary of activities suitable for you.
DAY 5
You have a full day to soak up the wonderful atmosphere of Victoria Falls, it is the adventure capital of Africa and there are activities on offer to cater for everyone's needs. View the mighty Falls, partake in the many activities on offer or wander around the streets to do a bit of curio shopping, then finish off at a café for refreshments and a bite to eat. Please have a look at the available Victoria Falls Activities and contact us to arrange a suitable itinerary just for you.
Victoria Falls
One of the original natural wonders of the world, the Victoria Falls is a World Heritage Site and an extremely popular tourism attraction. Known locally as 'The Smoke that Thunders', this spectacle is accessible from both Zambia and Zimbabwe and it is an ideal place to combine a game viewing and water sports. There is excellent fishing, a terrifying bungee jump and arguably the best commercial white water rafting in the world.
Overnight: Bayete Guest Lodge
Bayete Guest Lodge offers comfortable and affordable accommodation and is situated in the heart of the Victoria Falls Residential Area. The lodge is 3 km away from the Victoria Falls rainforest and 22 km from the airport. Recently renovated, this family run lodge has 25 rooms which are set in a lush tropical garden. Central to the lodge is the large tear drop pool which is hugged by the Caldecott Boma and Ngwezi Tavern. Breakfast is served in the Caldecott Boma every day. Lunch and dinner are also available on special request and are delicious home cooked meals. Buffets and BBQ's are available for group bookings or by special request.
---
Notes: Day 6, 7 & 8
DAY 6
You have another free morning in Victoria Falls to partake in one of the activities that you may still want to do, then around midday you will be transferred to Imbabala Safari Lodge, about 80kms (1 hour) away. Arriving in time for lunch, which you can savour whilst soaking up the wonderful vista. You then have the rest of the day to relax or experience one of the scheduled lodge activities, which you can read more about in the activities info below.
DAY 7
Arise to an early morning game drive in the park. Brunch will be served at the lodge upon your return. Take an afternoon siesta, relax by the pool or do some fishing. Afternoon high tea will be served and then you will depart on a river safari with your guide and sundowners and snacks. Return to the lodge for dinner which may be served in the lounge or under the stars.
DAY 8
Sadly, this is the final day of your trip. After breakfast, you will be transferred to Victoria Falls International Airport for your onward flight.
Zambezi National Park
Zambezi National Park together with Victoria Falls National Park cover an area of 56,000 hectares. The northern border of the Park is formed by the great Zambezi River which also forms the border between Zimbabwe and Zambia for much of its length. A wide variety of larger mammals may be found within the Zambezi National Park including elephant, lion, buffalo and leopard. In addition, herds of sable antelope, eland, zebra, giraffe, kudu, waterbuck and impala as well as many of the smaller species of game can be viewed. The Zambezi River is home to over is 75 species of fish and is famous for its bream and fighting tiger fish.
Overnight: Imbabala Zambezi Safari Lodge
Imbabala Zambezi Safari Lodge is situated on a riverine fringe of the mighty Zambezi River where Zimbabwe, Botswana, Zambia and Namibia converge. Imbabala offers the chance to unwind but also some of the most amazing game viewing and bird watching in the region, in the seclusion of a private National Parks concession. The 5,000-acre concession has 14 kilometres of private Zambezi river frontage and borders the Chobe Forest Reserve, which is renowned for its massive Elephant population.
Imbabala offers exclusive accommodation for only 20 guests in 9 individual thatch lodges with en-suite facilities. Experienced guides are on hand for all activities. Exploring the Zambezi River by boat affords guests an exclusive river experience. Game drives in the private concession area are popular and often provide fantastic game sightings including lion, painted dog, elephant, giraffe and kudu. The area has approximately 420 bird species sighted making it an exciting venue for birders.
Imbabala is located 80 kilometres west of Victoria Falls, access is by transfer from Victoria Falls, Livingstone or Kasane.
Activities at Imbabala
Game drives (Morning, Afternoon & Night)
Experienced guides are on hand for all activities. These centre around tracking game on morning, afternoon and night game drives in open 4x4 safari vehicles on the Imbabala Private Concession Area.
River Safaris
Exploring the Zambezi River by boat affords guests an exclusive river experience. Bird-watching is exceptional, as birdlife is prolific and varied, ranging from water birds to shy forest dwellers.
Spa Treatments
Selected Spa Treatments are available at an additional charge
Optional Extra Activities
Walking Safaris and fishing excursions for the renowned Tiger Fish, are available by prior arrangement, and at an extra charge.
---
Price
Total Price for 7 Nights: US$ 2482 high season, US$ 2258 low season
Per person sharing
Included in this safari
IVORY LODGE
• Accommodation in an elevated tree house with views of the African bush
• All local beverages and meals
• Laundry
• Conservation fee
• National Parks fee
• Two activities per day: Half day game drive; Full day game drive Visit to the painted dog conservancy; Village tour Walking safaris (on request); Game Count (on request)
BAYETE GUEST LODGE
• Accommodation in a quirky Deluxe room
• Daily breakfast
IMBABALA ZAMBEZI SAFARI LODGE
• Accommodation in a stone and thatch chalet with a spectacular veranda view
• All meals and non-premium drinks
• Activities: morning or afternoon game drives, river safari, night drive
• Conservation fees
TRANSFERS
• All road transfers between Victoria Falls town, Imbabala Lodge and Ivory Lodge in Hwange
• Return Victoria Falls airport transfers
Excluded
PARK FEES
• Premium brand drinks.
More Travel Information
• Victoria Falls Travel Information
• Victoria Falls Activities
• Zambezi National Park Information
• Hwange National Park Information
Return from Zimbabwe Safari IS7B page to our home page