Zimbabwe Tourism
Zimbabwe tourism is the country's third-largest foreign currency earner, behind Mining and Agriculture
Zimbabwe's Tourist Statistics
Tourist arrivals have ebbed and flowed over the years, in direct correlation to Zimbabwe's tumultuous political and economic history.
The graph below shows highs of two and a quarter million foreign tourists arrivals in 1999, followed by many years of ups and downs. However, the trend since 2012 has been a steady increase, with arrivals in 2018 surpassing the previous highs of 1999, as demand for this nation's diversity and magic consistently lured international arrivals from around the world.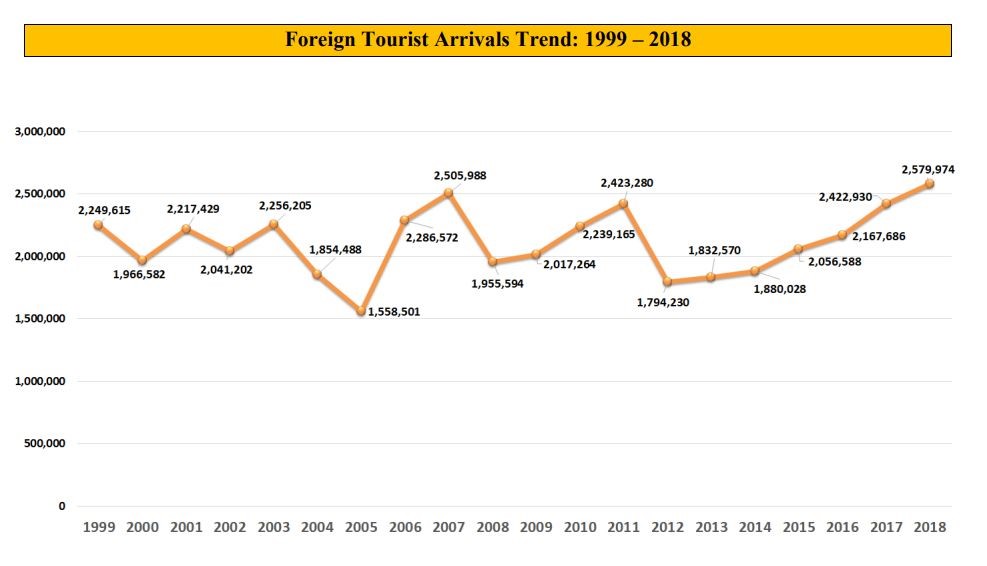 Tourist Arrivals to Zimbabwe between 1999 and 2018
Zimbabwe Tourism Authority (ZTA) had not released 2019 stats at the time of writing this article, but 2019 did see a slight dip in numbers, due to not only Zimbabwe's woes but also uncertainty in the global arena. At the end of 2019 fake news about the Victoria Falls drying up went viral and this had a dramatic effect on tourist arrivals for the end of that year. By all accounts, 2020 was all set to be a bumper year, as the Victoria Falls were expecting record water levels and then the Corona virus hit and the numbers obviously plummeted to zero, as international travel was banned worldwide.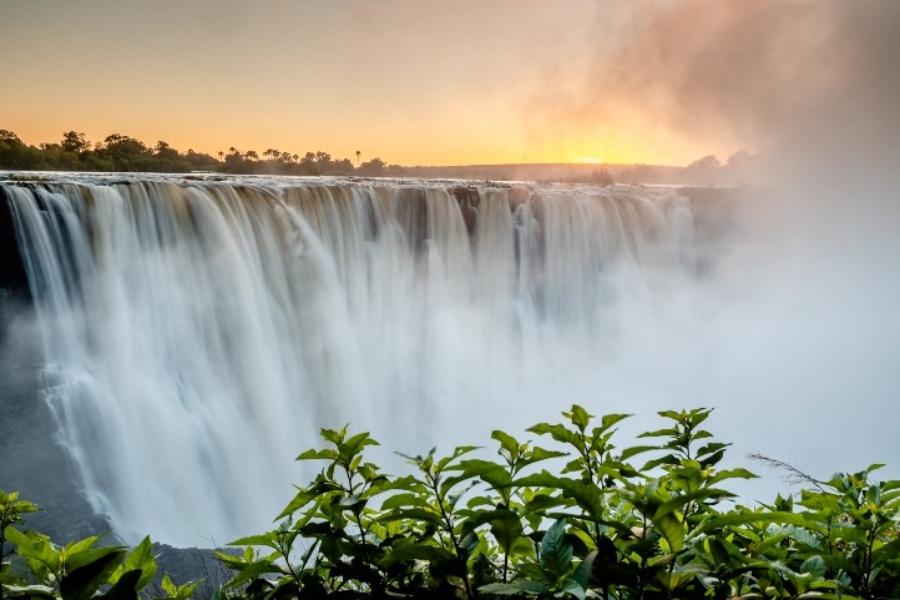 The Victoria Falls
Why is Tourism in Zimbabwe So Popular?
Zimbabwe has been aptly branded as – A World of Wonders. It is full of adventure, wildlife, history and culture. One or even two visits will never be enough to experience all that the country has to offer.
Zimbabweans have a warm and welcoming nature and make every visitor feel at home. Meeting the wonderful people and experiencing their culture is definitely another highlight of visiting this beautiful country.
Zimbabwe's people - ever smiling and laughing
If you are visiting Zimbabwe for the first time then it's wise to engage the services of a local tour operator, who has an in-depth knowledge of the country and can ensure that you get to experience the best of what's on offer, according to your budget and desires.
Zimbabwe's Tourist Attractions
The most famous landmark in Zimbabwe is the majestic Victoria Falls. Not only is this waterfall a natural world wonder but the town is known to be one of the top adventure capitals in the world, with over 50 registered activities to do ranging from relaxed cruises to adrenaline-pumping, adventure-finding, historical-touring, unbeatable wildlife-encountering and much much more. The town also offers exquisite accommodation options with hotels and lodges that are often named as top accommodation options around the world.

Zimbabwe offers pristine safari opportunities with some of Africa's leading wildlife parks. Mana Pools, Gona-re-zhou, Matusadona, Hwange National Park, Matobo Hills and Zambezi National Park are some of the main ones. These parks in Zimbabwe offer every kind of accommodation option from national parks camping and chalets to high-end luxury camps.

Over 100 different species of animals including the Big Five - Lion, Leopard, Elephant, Buffalo and Rhino can be seen. For bird lovers, there are over 400 different species of birds.

The mighty Zambezi River is the fourth largest river in Africa. It is the border between Zimbabwe and Zambia and flows over the magnificent Victoria Falls and winds its way into Lake Kariba which is one the largest man-made lakes in the world. There is no better way to spend your time than by partaking in a glorious sunset and dinner cruise on the Zambezi River or cruising on a luxury houseboat on Lake Kariba.

Zimbabwe has a rich history and heritage which is well preserved in museums, structures, caves and rock art scattered around the country. Great Zimbabwe ruins are the largest ancient structure south of the Sahara and second only to the Pyramids of Egypt in size and grandeur.

These sites can be explored to totally absorb the meaning of being Zimbabwean.
How to Plan a Trip to Zimbabwe?
If you are thinking of visiting Zimbabwe and would like some more information and help in planning your trip, then please don't hesitate to contact us. We are specialists in this field and have arranged hundreds of itineraries for foreign guests. It gives us great pleasure to personalise the experience just for you and your requirements from our in-depth knowledge of the country.
THE VIC FALLS BUSH TELEGRAPH
our Bi-Monthly E-Newsletter

Each issue has a destination update, loads of information about conservation and wildlife, specials offers, traveller tips, community projects, website highlights and tons more...

Find out more about our Bush Telegraph

"Your newsletter keeps me informed about new and old and is the best I've seen in a long while - informative, not commercial, just plain perfect!" - I.Skliros

Don't worry. Your e-mail address is totally secure. I promise to use it only to send you The Vic Falls Bush Telegraph.
Return from Zimbabwe Tourism to our home page