Home | Information About Livingstone
Information About Livingstone - Victoria Falls Zambia
The town of Livingstone, named after David Livingstone - the first European to set eyes on the Victoria Falls and the surrounding area, sits on a sandy plateau in the Southern Province of Zambia. It was established in 1907 and it was Zambia's capital city in pre-colonial times.
Location of Livingstone on the map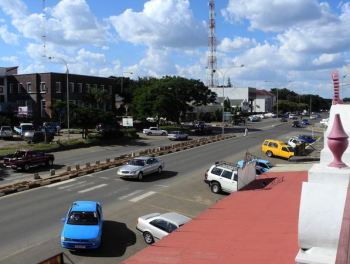 View of the main street in Livingstone town

The estimated population of Livingstone is over 136,897 (number from the 2010 census), with the majority of the people being of the Tonga speaking population.

Livingstone town seems like a place almost stuck in time, lined with colonial British architecture in the main road, but also with modern as well as African designs. A few of the hotels and lodges in and around Livingstone also reflect the old European influence both architecturally and in the interior design. One such example is the Royal Livingstone Hotel.

Although it is situated 10 kilometres away from the actual Victoria Falls, Livingstone receives guests from all over the world, who want to enjoy the world wonder, as well as the many exciting activities that both side of the Falls have to offer.
The Weather in Livingstone
The weather in Livingstone like in Victoria Falls in Zimbabwe is humid subtropical, with dry winters and humid and wet summers.
Tourists going the Devil's Pool from Livingstone Island

The rain falls between the months of November and March and peaks between December and January. The total average rainfall is about 692mm each year (about 27.2 inches). During this season, the land transforms into thick green bush, and many species of animals drop their young because of the abundance of good grazing available. The Zambezi River is at its lowest levels in November but localized rain ensures that the river starts to rise, however it is not until the headwaters, from the main catchment basin in Northern Zambia, reach Victoria Falls in March / April that the river reaches its peak flow. High water months are therefore from about March to July and activities such as the famous Devil's Swim will not be possible as the water levels will be too dangerous.

In the summer months, the highest temperatures of the day range between 28°C and 34°C, although they can reach 40°C. The lower daily temperatures in summer are between 14°C and 19°C. In winter (June and July), night-time temperatures go as low as about 6°C, although occasionally may reach freezing. During the day, it is about 25.5°C. The maximum winter temperature ever recorded in Livingstone was 32.5°C.
Safety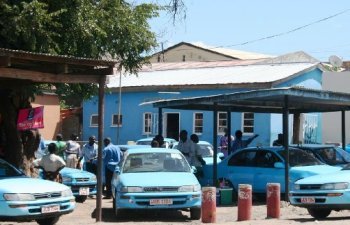 The blue taxis in Livingstone

Being a relatively small town, Livingstone is generally a safe place to be. Visitors should, however, look out for the petty crimes like pick-pocketing. It certainly is not safe to be walking around in the town's peripheral after dark, as there could be wild animals about. Here are a few safety tips for travelling around Livingstone:
• It is good practice to keep your bags and purses closed, and your valuables close to you instead of in your trouser pockets, for example.
• If you are travelling by car, keep your doors locked and do not leave bags where thieves can see them.
• Avoid walking along the streets at night - get a taxi instead.
• Watch out for fraudsters and people trying to sell you goods or services at exorbitant prices.
• Do not exchange your foreign currency on the black market - you can get false notes. Use the registered foreign exchange bureaus such as the ones in the banks and supermarkets.
• Avoid walking around with a lot of cash.
• Women travelling alone are at higher risk of receiving verbal hassle, especially if wearing skimpy clothing. It is advisable to avoid dingy areas, and not to walk around alone. If you are approached, be polite but firm. Again, if you need to travel at night, get a taxi!
Health & Medical
Livingstone town has a few primary health clinics, government run hospitals and a few privately run medical centres. There are also some pharmacies in the area where you can get over-the-counter medicine, although you should carry your own prescription medication before your travel.
Visitors to Zambia are expected to purchase their own travel insurance before arriving to Zambia. Some lodges may include medical evacuation cover in their rates, but you must make sure before you make your bookings, and know the terms and conditions.
Yellow Fever certificates are only required if those travelling have previously been in a country of high risk (see list of high risk countries here). Zambia is considered a low-risk area, and this includes the Livingstone area.
Malaria is still prevalent in Zambia, especially in the low lying areas. It is always a good idea to take preventative measures when travelling to the Zambezi region. Taking prophylactics two weeks before and two weeks after your trip is recommended. Contact your doctor for advise and medication. The clothes that you wear need to cover the body - long sleeved shirts, long pants, etc. In the evenings especially, the mosquitoes really go to work. You will also want to use mosquito repellent (which is also available locally) on exposed skin. Mosquito coils and insecticide sprays are can also be used to keep the bugs away. Most hotels and lodges will have mosquito nets, but make sure that you have done your part to prevent getting bitten.
Water in the hotels and lodges is generally safe to drink. You will also find bottled water available in the shops or supermarkets. You must not swim in areas that are not designated. Hotel and lodge swimming pools are fine but other still water bodies can contain diseases and must be avoided. Swimming by the river banks (unless otherwise advised) should not be done because these areas can have crocodiles and hippos. Never swim at night in places near the river.
How to Get to Livingstone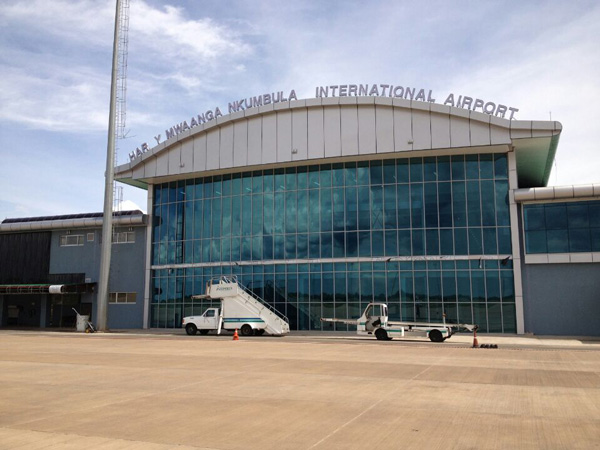 Outside the Harry Mwaanga Nkumbula International Airport - Livingstone International Airport

By Air - The Harry Mwaanga Nkumbula International Airport / Livingstone International Airport, is no more than a 15 minute drive from the centre of Livingstone town. You can fly into Livingstone by connecting from centres such as Johannesburg, Nairobi and Lusaka. It is also possible to fly to Victoria Falls Airport in Zimbabwe which is less than an hours' drive from Livingstone town but there is a border crossing involved which can cause delays if travelling during the peak season.

By Road - Good tar roads access Livingstone from Lusaka, Kazangula in Botswana and Victoria Falls in Zimbabwe. The Victoria Falls Bridge border post with Zimbabwe opens from 06h00 to 22h00. The next nearest border post is the Kazangula border with Botswana. This border crosses the Zambezi River on a pontoon ferry, and opens between 06h00 and 18h00. There is no scheduled departure for the ferry so do not expect to get through quickly. The Sesheke border with Namibia is crossed via the Katima Mulilo Bridge, and opens from 06h00 to 18h00. The bridge is about 200 kilometres (124.3 miles) from Livingstone town. For information about vehicle and other requirements, read our Zambia Information page.
Getting Around Livingstone
Probably the fastest way of getting around Livingstone is by taxi. They are easy to spot and you will see them all over the town, the majority are a light blue in colour. The taxis are generally not metered, but there is a price range that you can get from the Civic Centre in Livingstone. Otherwise, prices are negotiable.
If you are driving, especially at night watch out for drunk drivers and potholes. Driving in Livingstone is generally safe, but be sure to lock your doors and do not leave any valuables in plain sight as these may attract thieves. You will should to keep your drivers license and vehicle registration documents close to hand. See more information about driving in Zambia here.
Transfers between hotels and lodges in Livingstone, and activities or the airport can be arranged, although some hotels will pick up their guests from Livingstone Airport. Transfers can also be arranged for destinations across the border to Victoria Falls and Victoria Falls airport, as well as to Chobe in Botswana. Charter flights can be expensive, for the longer distances such as to the Okavango and very remote areas where it is difficult to drive. However, for larger groups, it may prove to be the best value for money.
History of Livingstone and the Victoria Falls
Victoria Falls

The location of Livingstone Island on the Zambezi River - right at the edge of the Victoria Falls

While David Livingstone was not the first European to enter Zambia, he was the first to travel to the Victoria Falls. In the local Kololo language, it was called Mosi-oa-Tunya - meaning "the smoke that thunders". David Livingstone was transported by the local people to an island on the edge of the Victoria Falls, and it was from there that he first saw the Victoria Falls. This island is what is now known as Livingstone Island. David Livingstone named the waterfalls after Queen Victoria, who was the queen of Great Britain at that time.

It was the reports by David Livingstone that sparked interest to the area, and eventually missionaries and traders settled in Victoria Falls and Livingstone. The Victoria Falls Bridge was completed in 1905, and this railway line resulted in even more people gaining access to Victoria Falls - a journey that used to take 4 months now only took 4 days by train. The Victoria Falls Hotel in Zimbabwe was meant to be torn down after the bridge was built, but had to be expanded due to the increased number of tourists to the area.

Livingstone Town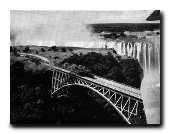 The Victoria Falls Bridge
after completion

Before the commissioning of the Victoria Falls Bridge, the first white settlement began along the Zambezi River about 10-12kms upstream of Victoria Falls known as the Old Drift. Settlers, who were generally in search of wealth and adventure in the lands further to the north of the Zambezi struggled with malaria and fever and the mortality rate was extremely high. In one rainy season 11 of the 31 settlers died of malaria or blackwater fever. If they didn't succumb to the fever they were often mauled by lions.

After the bridge was completed, the settlers at the Old Drift were made to move to a less mosquito-ridden new town about 12 kilometres inland from the Victoria Falls. This distance of the planned town from the Falls was opposed by the settlers who felt that it was too far from the natural wonder, and that they would loose out on income from tourism.
The Old Drift 1900
(photo - www.tothevictoriafalls.com)

However, with the move of the British South African Company's headquarters to Livingstone, the town began to grow - hotels were built, and by 1910 Livingstone had a post office, a court house, two hotels, a government house, a civil service building, an Anglican church, residences for civil servants of high rank, and a hospital under construction. A water pumping machine was installed in 1910 to provide water to the residents of Livingstone. Electricity was supplied by a generator to hotels, stores and the cold storage, later the Hydro Electric Power Station provided power from the Zambezi River.

Transportation was by mule-cart, and later, a trolley line was built from the government house to the Railway Station and the Boat Club. The trolleys ceased in 1927 because they were involved in too many accidents, and roads had improved by then.

In 1911, Livingstone became the capital of Northern Rhodesia (as Zambia was called then), since is was the most modern town at that time. It was still under the British South African Company. In 1928, Livingstone was given municipal status after it came under British rule. However, the town lost its status when Lusaka was named the capital in 1935 in order to move the country's administration closer to the copper mines and farming districts. Despite the setback, Livingstone town managed to expand with a new airport, a secondary school, a public hall, a new civic centre, and in the early 1960's a new railway station, a new hospital, a bigger post office, and a big new hotel came to being. African welfare, housing and education centres were developed, and Livingstone had 10 African schools and a teacher training college. The town had developed in a big way, and had beautiful green gardens, clean and neat shops, and a buzzing social life.
The Livingstone Royal Golf Club
The original clubhouse in 1908 (left), the refurbished clubhouse in 2007 (right)
Livingstone is now a place bursting with life infused with historical and contemporary Zambian culture. You can still see the charm of old in the colonial and public buildings with their wide, columned entrances, white facades and some with wooden verandas.
Mosi-oa-Tunya National Park
One of the few white rhinos in Mosi-oa-Tunya National Park

The 66 square kilometre Mosi-oa-Tunya National Park, established in 1972, runs from the Victoria Falls, and up 12 kilometres along the Zambezi River. It is the smallest national park in Zambia, but certainly is important. It was created to help conserve the animals which go back and forth across the Zambezi River, and is home to big game such as buffalo, elephant, giraffe, as well as zebra, antelope, warthog and various plant and other animal species. Less than ten of the very rare white rhino are also present in Mosi-oa-Tunya National Park.

On the Victoria Falls side of the park, there is dense rainforest which is kept that way by the spray of the Falls. Ebony trees, date and ivory palm are present in this side of the park. Downstream and along the Zambezi River's banks, one can find riverine forest and palm trees. The majority of Mosi oa Tunya National Park is characterised by savannah woodland, miombo and Rhodesian teak woodland.
Information about Livingstone's Accommodation
Zambezi Sun Hotel), and the Royal Livingstone Hotel (see Victoria Falls Accommodation - Zambia).
Dining in Livingstone
Restaurants in Livingstone are a mesh of different cuisines - Indian, Chinese, Italian, steakhouses, Mediterranean, European, Pizza, Spanish, seafood, traditional African and fast food. Hotels will also have their own restaurants, and some lodges may have bars as well.
Very few restaurants offer vegan and vegetarian options. A few of the restaurants will offer game meat such as crocodile, kudu and impala.
A fantastic alternative to dining at a restaurant is a ride on the Royal Livingstone Express. This is a formal and exquisite touring and dining experience aboard a classic steam train, which take you to the Victoria Falls Bridge and then through Mosi-oa-Tunya National Park. This is a 5-star dining experience which will not disappoint.
Activities in Livingstone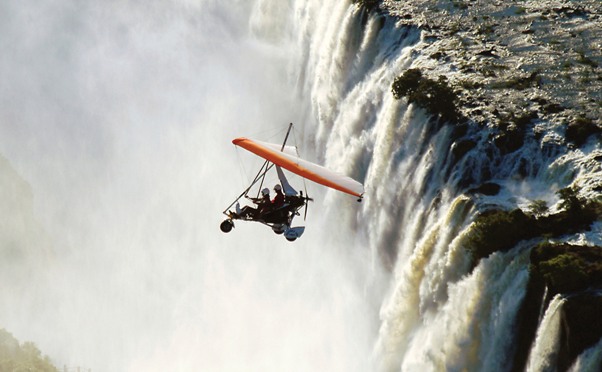 Activities in Livingstone - Microlight flight over the Victoria Falls

The Zambian side of the Victoria Falls does have some unique activities when comparing the two sides, the most popular one being the seasonal Livingstone Island Tour and Devil's Swim. The Microlight flights over the Victoria Falls are offered only in the Zambian side. Visitors to Livingstone can of-course enjoy the bridge activities such as bungee jumping, bridge slide and swing. No visa's are necessary, but a passport will be required. Many of the other activities are common to both sides of the Falls.

Livingstone offers visitors a whole lot more, culturally - from visits to local villages, museums, historical and architectural sites, to high tea on the Livingstone Island or the Royal Livingstone Hotel. There are also a few art galleries and studios in Livingstone town.
Shopping in Livingstone
There are a couple of small shopping malls in Livingstone, the main ones being Falls Park Mall and Mosi-oa-Tunya Square. These are located along the main road - the one that runs from Victoria Falls into Livingstone town. You will find a music store, a popular seafood restaurant, fast food restaurants, curio shops, and some supermarkets. There are other shops lined up along the main road including clothing shops, boutiques, grocery stores, and pharmacies.
Woven baskets on sale in Livingstone

There are a few market places within the town centre where you will find almost anything from blankets and clothes to curios and make-up. Maramba Market is a fresh food market that also has clothes and shoes as well as household goods. It is a fairly safe place to explore, and some lodges offer a guided tour of the market (for example Waterberry Lodge and Tongabezi Lodge).

Craft stores and curio markets offer a variety of products from sculptures and paintings to wall hangings and handmade jewellery (bracelets, earrings, and necklaces) with a cultural meaning. There is also a souvenir shop which sells postcards, local crafts and wall hangings.

Books, magazines and newspapers can be found in town at local supermarkets and The Book Shop in Mosi-oa-Tunya square. The Kubu Craft Cafe deals with used books and there are some hotels and lodges at which you can pass on or swap in your own books that you have read.
Map of Livingstone
You can find most of the accommodation, restaurants and places of interest in our Google map of Livingstone.
Read more important information on our Zambia Information page.
Can't find what you are looking for? Use Google Search to search this site for any term you are looking for..


Share with others!
The Vic Falls Bush Telegraph
our Free Quarterly E-Newsletter

Each quarter there's loads of information about conservation and wildlife, a destination update, specials offers and discount packages, traveller tips and stories, book reviews, African folktales, environmental reports, bush recipes, best photo competitions and tons more....

"Your newsletter keeps me informed about new and old and is the best I've seen in a long while - informative, not commercial, just plain perfect!" I.Skliros

This Quarter we are also giving away a Free Screensaver to Every New Subscriber.