Home | Zambia Activities | Steam Train - Zambia
Steam Train - Zambia
Fine wining and dining aboard The Royal Livingstone Express as you travel from Livingstone to the Victoria Falls Bridge in Pullman style coaches which have been lovingly restored to their former glory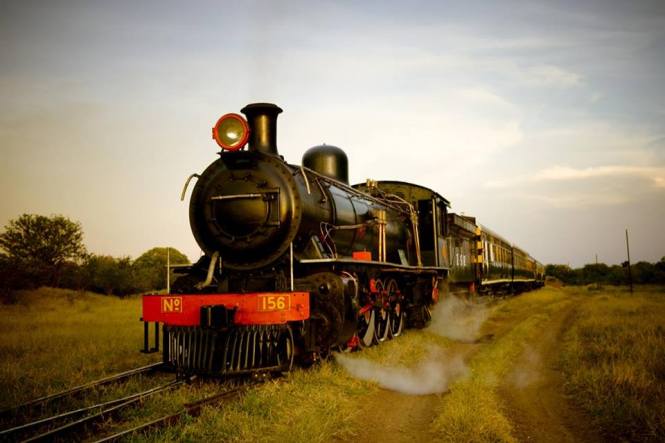 The Royal Livingstone Express - Zambia
Steam Train Trips
Royal Livingstone Express Dinner Run
The Dinner trip aboard the Royal Livingstone Express is a combination of a fine dining experience and a sight-seeing journey. Complete with a smart dress code, passengers have a classy adventure to the Victoria Falls Bridge to watch the gorgeous African sunset and marvel at the sight of the largest waterfall in the world, before heading back along the newly refurbished Mulobezi railway line to Livingstone town in a most beautiful and romantic steam train. This activity brings a whole new meaning to the word indulgence!
The Steam Train has scheduled runs on Wednesdays and Saturdays (although trips for other days of the week can be arranged), and starting in March 2018, the schedule will also include Mondays. Guests are picked up from the Day Activities Centre at the Royal Livingstone Hotel at 16h00 and transferred to the Bushtracks siding. After the photo opportunities of this exquisite steam train, it's time to board - drinks and snacks are served soon after. The locomotive makes its way to the Victoria Falls Bridge from the siding. Along the way, guests will likely spot a few of the large herbivores such as elephants and impala. After 20 to 30 minutes on the bridge, it's time to head back into Zambia and make the switch to the Mulobezi line which runs parallel to the Zambezi River.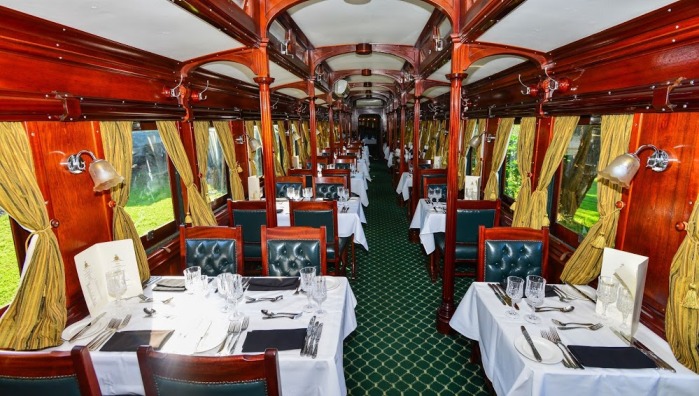 Dining Car on the Royal Livingstone Express
The dinner bell will sound and the train manager will lead guests to the dining carriage where a four-course dinner, prepared by the staff at the Royal Livingstone Hotel, will be served. Guests return to Bushtracks siding and at about 20h00 and are transferred back to their hotel.
THE STEAM TRAIN MENU
Menu 1
Amuse Bouche
Cold Cucumber Soup with Yogurt and Dill
Starter
Grilled Vegetable Roulade served with Pumpkin Chutney, Lettuce
Bouquet and Balsamic Reduction
Middle Course
Bream Fillet on Creamy butternut
Main
Braised Game Shoulder served on onion and Corn Mash potatoes with wilted Bondwe and pan-fried Baby marrow
Dessert
Vanilla Pannacotta served on Fruit minestrone with coconut milk reduction ​
Tea / Coffee and Petit four
Menu 2
Amuse Bouche
Cold Cauliflower and Coconut milk soup
Starter
Salmon fish cake served with homemade sweet chili sauce and pickle beetroot Carpaccio Salad
Middle Course
Mushroom Risotto
Main
Slow-roast shoulder of lamb with anchovy and rosemary served on a Spinach and roasted almond Polenta cake and Balsamic Jus Dessert
Individual lemon tart with Lemon sorbet and red Fruit Coulis
Tea / Coffee and Petit four
---
BEVERAGES ON OFFER INCLUDED IN THE TICKET
The Royal Livingstone Collection 2014 Sauvignon Blanc
The Royal Livingstone Collection 2012 Cape Blend
Mosi Lager Castle Lager
All Soft Drinks
---
PREMIUM BEVERAGES WHICH CAN BE PURCHASED ON THE TRAIN
Sparkling wines and spirits
What you will need to know
• Dress - smart casual
• Children pay full price
• The scheduled runs are on Wednesdays and Saturdays
• A minimum of 2 guests is required
• Transfers are from the Royal Livingstone Hotel and Day Activities Centre. If you are staying in a hotel in Livingstone town, you will need to organise a transfer or taxi to the hotel.
• All passengers MUST have their tickets (with indemnity form behind it) before boarding
• Snack, dinner and drinks are included in the price, but a cash bar available for spirits
Children
• We do not advise young children going on the train trips as they can get a bit too long for them, and they may disrupt other passengers
• Children pay the full fare for the train ride
Other Steam Train Trips
On alternative days, you can take one of the steam train trips on the Victoria Falls (Zimbabwe) side of the bridge, and these include Dinner and High Tea trips. For more information on those, contact us.
Epic Steam Train Journeys to Victoria Falls
From South Africa, Rovos Rail offers 3 nights in a luxurious 5-star steam train, as well as a much longer 11 day and four country experience on the 3-star Shongololo Express. Get to Victoria Falls by train!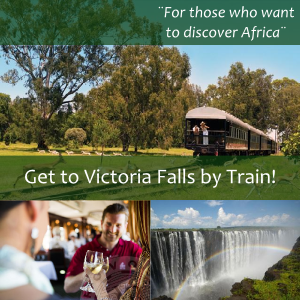 Share with others!

Can't find what you are looking for? Use Google Search to search this website for any term you are looking for.


The Vic Falls Bush Telegraph
our Free Quarterly E-Newsletter

Each quarter there's loads of information about conservation and wildlife, a destination update, specials offers and discount packages, traveller tips and stories, book reviews, African folktales, environmental reports, bush recipes, best photo competitions and tons more....

"Your newsletter keeps me informed about new and old and is the best I've seen in a long while - informative, not commercial, just plain perfect!" I.Skliros

This Quarter we are also giving away a Free Screensaver to Every New Subscriber.
---