Victoria Falls Microlight
The microlight experience over the Victoria Falls is what can only be described as truly breathtaking
Microlight Flying Over Victoria Falls - You can feel the power
My guess is that anyone wanting to do a microlight flight over Victoria Falls is familiar with what a microlight aircraft is, so very little explanation is needed to convey just how spectacular this experience is and how completely different it is from the more common helicopter flight.
Unlike the helicopter or fixed wing flights, microlights are completely open air giving a somewhat authentic experience of flying naturally plus being allowed to fly lower over the Falls than the helicopters you really get to sense the power of the Victoria Falls. Please take a look at the slideshow as I think the pictures speak for themselves.
With space for only one passenger and the pilot you are guaranteed uninterrupted, breathtaking aerial views of the "smoke that thunders".
Please note that this highly desirable activity is only available from Livingstone on the Zambian side of Victoria Falls. If you are staying on the Zimbabwean side you will need to arrange a transfer to Zambia, which is easy enough but can add to the cost if you require visas.
Flights are scheduled in the morning from 8am to 9.30am and afternoon from 3pm to 5pm when conditions are suitable for these light aircraft, flights during the heat of the day are not suitable or available.
The Victoria Falls microlight takes off from the Batoka Sky "Maramba" Aerodrome just outside Livingstone town, a mere 30 seconds from the river by air.
Rainbow Aircraft in South Africa and DTA (a company based in France) manufacture these weight shift microlight aircraft which are fitted with 912 Rotax engines manufactured in Austria.
Flights Options
15 minute flight - includes a short flight along the Zambezi River and several circuits over the Victoria Falls. The rainforest surrounding the Falls can be clearly seen as is any wildlife in and along the banks of the Zambezi.
30 minute flight - starts off the same as the 15 minute flight with several circuits over the Falls, but continues downstream over the Batoka gorges, and upstream along Zambezi River and the Mosi-Oa-Tunya National park. These impressive Zigzag gorges have been carved out of the basalt rock by the Zambezi river over the centuries. The aircraft flies low upstream along the Zambezi and the National Park making for a unique game viewing experience. Wildlife such as hippo, crocodile, giraffe and elephant are nearly always seen during this longer flight.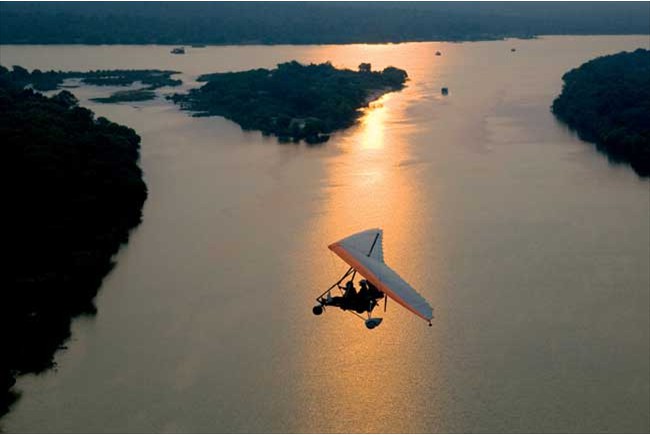 Flight over the Zambezi River
Only a Few Restrictions Apply

• Due to the light nature of these aircraft, flights are always completely dependant on weather conditions. We generally have fine weather in Victoria Falls but during the rainy season between December and March flights do get postponed or cancelled.

• There is a passenger weight limit (100kg). Larger customers please contact us before booking.

• No cameras are allowed for safety reasons. However a wing mounted camera is operated by the pilot and photographs are available for purchase at the end of the flight. This wing mounted camera is very effective allowing the pilot take pictures of you with the Falls as the background... a unique portrait and memory that will last you a lifetime. The experienced pilots will frequently take snap shots of the most picturesque areas along the flight path, but you can also request special shots. It's great because you actually have no choice but to just observe, taking in this marvellous spectacle without having to worry about capturing it on film.

We highly recommend the Victoria Falls microlight flight - it is a once in a lifetime experience that you will surely never forget. It has been described on the Trip Advisor forum as "a highlight of your life" and "one of the most incredible experiences of my life".





Can't find what you are looking for? Use Google Search to search this website for any term you are looking for.



Share with others!




The Vic Falls Bush Telegraph
our Free Quarterly E-Newsletter

Each quarter there's loads of information about conservation and wildlife, a destination update, specials offers and discount packages, traveller tips and stories, book reviews, African folktales, environmental reports, bush recipes, best photo competitions and tons more....

"Your newsletter keeps me informed about new and old and is the best I've seen in a long while - informative, not commercial, just plain perfect!" I.Skliros

This Quarter we are also giving away a Free Screensaver to Every New Subscriber.
Return from this Victoria Falls Microlight to our Victoria Falls home page