Victoria Falls High Wire Activities
Have you ever looked up into the sky and thought that you would love to be able to fly like a bird! Glide through gorges or swoop down over the river. Well this no longer needs be a fanciful dream...
Gorge Swing Leap of Faith
These High Wire activities like the bungee jump are for the total Adrenaline Junkie. The gorge swing especially is terrifying and why people pay to do it I am not quite sure, but they do...It will simply blow you away!
Basically there are three main high wire activities...
Flying Fox
You get clipped into a harness which is attached to a pulley which then glides along an almost horizontal cable across the gorge, 125m above the valley floor. This gives you the sensation of flying. It looks tame in comparison to the Foofie slide and Gorge swing, but I promise you this is still a thrilling experience, and requires great courage.
Flying Fox
Foofie Slide
This is similar to the Flying Fox but here the cable is not horizontal it is at an extreme angle so once you let go you accelerate down hill at speeds of over 100km/h. It is extremely exhilarating and unbelievably fast. This can be done single or tandem. It is also twice the distance as flying fox.
The foofie slide / zip line
Gorge Swing
Leave your stomach behind! This is only for the totally insane. Your harness is attached to a rope, the rope is attached to the middle of a cable that runs across the full width of the gorge.
Once you are all set, you stand on a platform on the edge of a sheer 120m cliff, say a quick prayer and jump off - How crazy is that, you jump off and free fall for about 70m straight towards the rocks and river below, then as the rope becomes taught you will start to arc and thankfully swing away from the rocks you were hurtling towards fractions of a seconds ago.
Although it looks like the most insane thing to do, everyone who does it, is on such a high afterwards.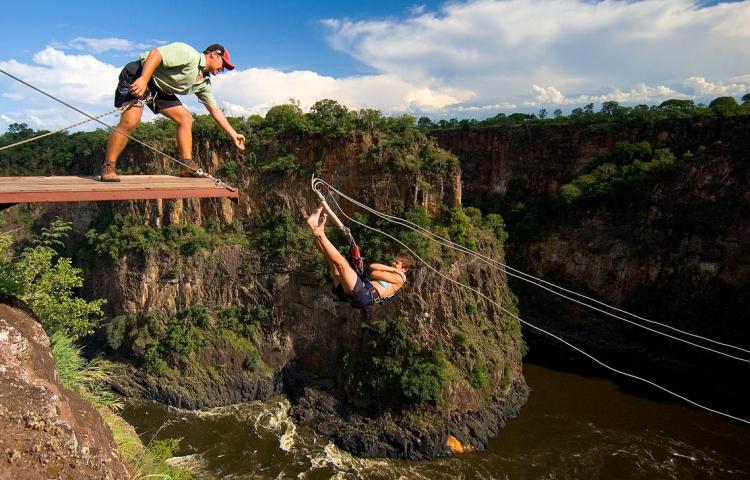 The gorge swing
Similar Activities
The companies offering these awesome activities in Zimbabwe are extremely good and professional. Their standards of safety are exemplary, they use only the best equipment available, and strict records are keep as to how many times each rope, harness etc has been used. The equipment is then replaced at the required intervals.
At the Victoria Falls Bridge (passport required), you will find the bungee, bridge slide and bridge swing operated by Shearwater. Wild Horizons' operation is in the gorges a little further down river (no passport required).
The pictures shown here and the descriptions I have given are all for the Wild Horizons High Wire operation.
The Shearwater operation is slightly different in that it is operates off the Victoria Falls Bridge so it doesn't have the Foofie slide, but it does have the swing, (called by them bridge swing) and slide like the flying fox (called by them a bridge slide) and of course it has the bonus of the Bungee Jump.
A few photos of extreme fun at the High Wire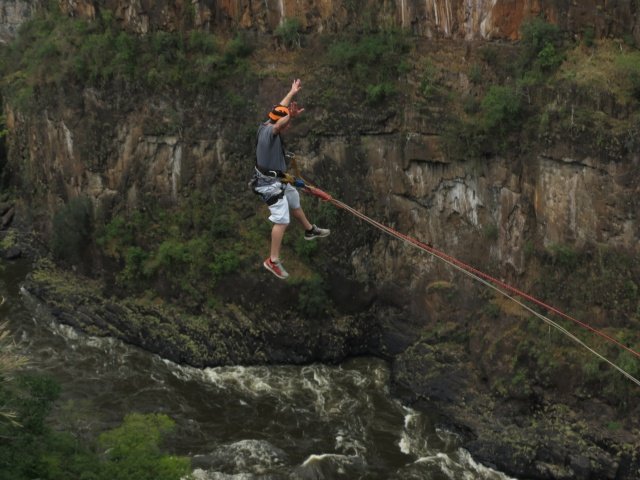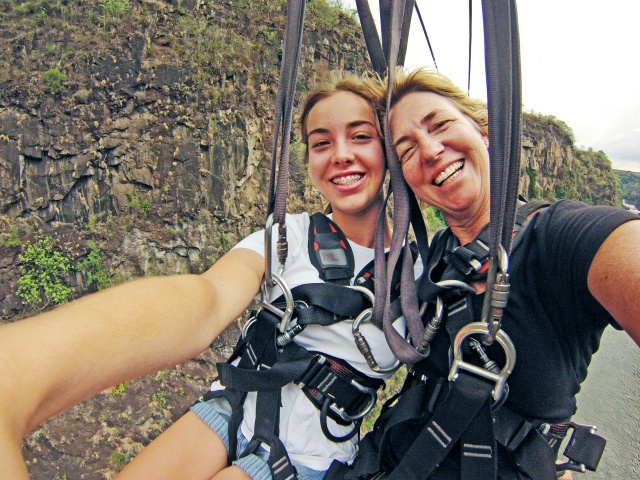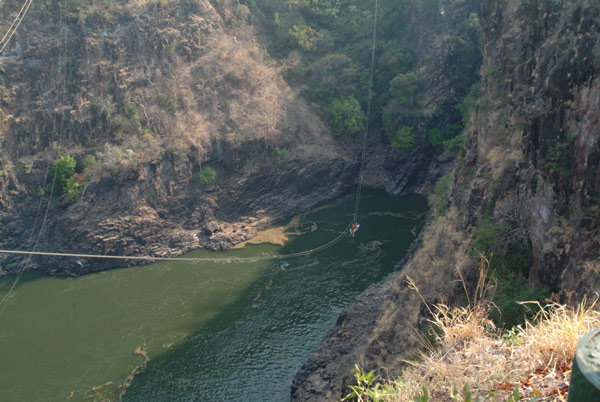 What you Need to Know
• Minimum age 10 years
• Minimum 1, maximum 20 clients
• Soft drinks and iced water are available during the day
• All clients are covered by MARS (Medical Air Rescue Service)
• Transfers to and from your hotel are included in the price
• You are pulled back up so there are no walk outs
• Available daily, all year round
• Canopy tour, and Half day combo packages are available.






THE VIC FALLS BUSH TELEGRAPH
our Bi-Monthly E-Newsletter

Each issue has a destination update, loads of information about conservation and wildlife, specials offers, traveller tips, community projects, website highlights and tons more...

Find out more about our Bush Telegraph

"Your newsletter keeps me informed about new and old and is the best I've seen in a long while - informative, not commercial, just plain perfect!" - I.Skliros

Don't worry. Your e-mail address is totally secure. I promise to use it only to send you The Vic Falls Bush Telegraph.
Return from High Wire activities to our Victoria Falls home page