Q & A with Victoria Falls Occasions
We had a chat with the two directors of Victoria Falls Occasions - Louise Nielsen and Karen Dewhurst. Victoria Falls Occasions is a fairly new establishment in Victoria Falls, which specialises in events and wedding coordination.
About the Business - Victoria Falls Occasions
Q: How did your business get started?
A: I [Louise] started out with my brother and partner at Royal Hire, and we found that we were constantly being asked for more of our services. Karen wanted to get more involved in operations so she decided to branch out on her own. So with our combined experience, we decided to get into the event planning business and that is how Victoria Falls Occasions was born. We do other events, but we mostly work on wedding planning
Q: Are you tied to Victoria Falls only? Where else do you organise events?
A: At the moment we work in Vic Falls and Hwange, but we would go to Zambia and as far as Bulawayo if needed. We are not tied to just the Victoria Falls area.
Q: Do you offer any packages for your services?
A: We have a standard coordination fee for all sized weddings. Then we get groups rates for accommodation, venues and so on.
Q: What size groups are you able to handle?
A: It depends on what the wedding venue can accommodate but we do not turn away any size groups. So from 2 people and above.
Q: How do you charge for food?
A: We don't do our own food. We would hire caterer depending on the venue and group size as well. Its easier to get the experts to do their thing so that we as Victoria Falls Occasions can stick to what we do best.
Options Available in Victoria Falls
Q: Can a couple get married in the Rainforest? What are the rules?
A: Yes, National Parks allows wedding ceremonies within the rainforest although they do charge a lot, over and above the entrance fee per person. Only the ceremony can be performed within the rainforest, not a reception. A couple can have their ceremony either at the statue of David Livingstone, or at the Devil's Cataract. Their area will be closed off, but other visitors to the falls can still enjoy their tour around the rest of the rainforest. A ceremony cannot have too many people, but we know of a wedding that was for 120 guests. The rainforest option is best for small groups. While I [Louise] worked at the Rainforest Café, I always saw small groups in the rainforest. People should know that it is possible to get wet depending on the level of the water.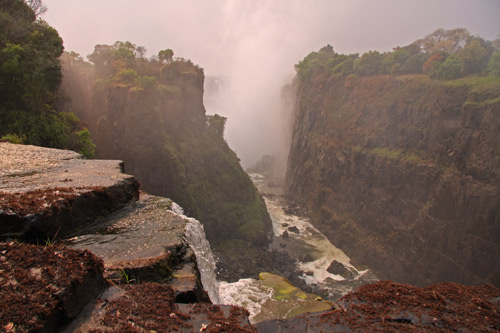 The view of the Victoria Falls and gorge
Q: What do you suggest for a couple wanting to elope?
A: This kind of situation would have the most possible options, but depending on preference, we would suggest sites such as the gorge at The Lookout or The Wallow, on a private island such as Kandahar Island, or on the Victoria Falls Bridge. For the celebration, the best would be a private dinner cruise on one of the smaller boats on the Zambezi River. A second option would be a private dinner at the Victoria Falls Hotel.
Q: Is it possible for non-Zimbabwean nationals to get married in Zimbabwe? What are the legal requirements?
A: It is possible although there are a few hoops to jump through. They must be in the country to take care of the local police clearance at least 3 weeks before their ceremony. They have to come with a letter from the courts where they are from stating that neither of them is married. We have to post notice outside our local court to announce their intentions and to make sure that no-one objects to their union. Most of the paperwork can be taken care of, but they must be here to get their fingerprints taken. They need to write a letter stating that they have no intentions of staying in Zimbabwe after they get married, and this is taken to immigration. It takes about 3 weeks to get their police clearance.
Q: Are there local suppliers for cakes, flowers, entertainment, beauticians, photographers, and food?
A: There are local suppliers for almost everything. Invitations that are of good quality are hard to find, plus most people use the internet these days, but those can be ordered from Harare. We can organise local DJs like DJ Francis, and bands like the Chicken Bus Band. Flowers have to be flown in from Harare, but there are quite a few excellent flower arrangers in Vic Falls. Makeup, hair and beauty treatments can be done locally. Cakes and catering are done locally as well.
Q: When is the busiest time for Victoria Falls weddings?
A: April, August, September and December. Usually, the busiest times coincide with when people try to avoid rains and winter, and December is mostly a pain because of accommodation.
Victoria Falls Occasions' Experiences & Recommendations
Q: What is the most difficult experience that you have had organising a wedding in Victoria Falls?
A: Last October we had an open-air setup for a couple and there was a downpour. We had pretty much guaranteed that it would not rain because it does not usually rain in Victoria Falls on the 9th of October. So we had to take everything down and reset three times before the rain finally stopped. The bride was amazing though, and the wedding party waited patiently for the rains to stop and for us to set up again. Another difficult one was one where they had organised different aspects of the wedding on their own in order to try and save money, and so when things started to get crazy, there was no one person to coordinate. That's when we were brought in at the last minute to pull it all together.
Q: Which is the most difficult venue to organise a wedding? And which is the easiest?
A: A Zambezi Explorer wedding is the easiest and the quality of their food and service is very good. The most difficult venue would be any out in the bush because of the logistics of having to take everything including the kitchen sink! However, having said that, as long as its well organised, it is very feasible and is actually popular.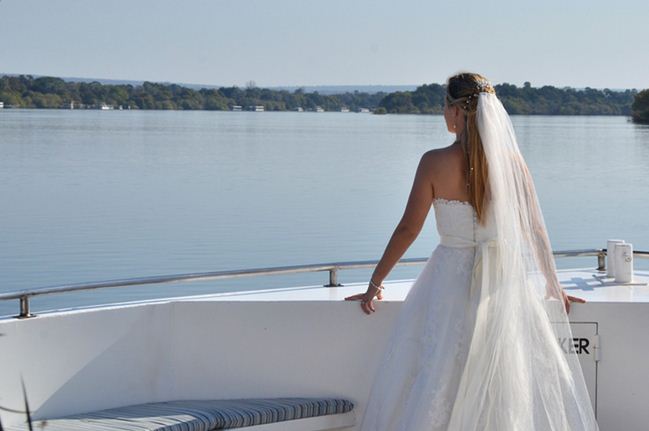 Zambezi Explorer river cruise wedding (photo from Zambezi Explorer)
Q: Is it essential to book well in advance? What is your recommendation?
A: It depends on how big the wedding is but generally 10 months before is ideal, for a decent sized wedding. It doesn't mean that we're busy for the whole ten months, but we as Victoria Falls Occasions have to get bookings in order well before the date.
Q: Are priests/pastors/officials available in Vic Falls?
A: There are a variety of religious and non-religious officiants for weddings including the local magistrate. Some people choose to pre-marry and then we arrange an officiant locally for just a blessing. If they haven't been married before, the magistrate or a marriage officer has to be there for the signing of the marriage certificate. Actually, the easiest process for foreigners would be to have the official ceremony done in their own country and then come into Victoria Falls for a blessing which does not require the extra paperwork. It's also easier for us. This is ideal for those who may be nervous about the legality of a Zimbabwean marriage certificate. You find that most people get married before they come for a wedding here. I [Louise] am a romantic so I like to encourage people to have everything done here and have one wedding day. But if they decide not to, then that's ok because it is a huge procedure.
Q: What are your recommendations for the honeymoon?
A: Elephant Camp definitely. But again it depends on where they are having their wedding. So if it's at The Wallow, we would say Elephant Camp. If it's in town, we would say Victoria Falls Hotel. Victoria Falls Safari Lodge, Victoria Falls Hotel and Elephant Camp are the most tried & tested.
Q: Have you had any weird or wacky requests from anyone wanting to having their wedding in Victoria Falls?
A: We haven't had one but I'm [Karen] looking forward to it. One bride asked us to suggest something way out and different. She didn't have a specific request, but she really wants something that's out there, we're still working on it!
Click here for more information about weddings in Victoria Falls.

To see questions and the answers by other visitors to this website regarding weddings in Victoria Falls click here.
THE VIC FALLS BUSH TELEGRAPH
our Bi-Monthly E-Newsletter

Each issue has a destination update, loads of information about conservation and wildlife, specials offers, traveller tips, community projects, website highlights and tons more...

Find out more about our Bush Telegraph

"Your newsletter keeps me informed about new and old and is the best I've seen in a long while - informative, not commercial, just plain perfect!" - I.Skliros

Don't worry. Your e-mail address is totally secure. I promise to use it only to send you The Vic Falls Bush Telegraph.
Return from Q & A with Victoria Falls Occasions page to our home page