Afternoon Game Drive, Rhino search, Night Drive and Bush Dinner
An afternoon and evening experience that is sure to be imbedded in your memory forever
This activity is located on the 2500 hectare Victoria Falls Private Game Reserve, (sometimes referred to as the Stanley and Livingstone private game reserve), just 12kms from Victoria Falls town. This pristine piece of African bush shares a boundary with the 56 000 hectare Zambezi National Park and has the Masuwe River running through its middle.
The entire reserve is fenced and is home to the Big Five (lion, leopard, elephant, buffalo, rhino). The reserve is guarded by specially-trained rangers who protect the rhino, but they are wild and roam freely.
There is a resident pride of lion and also a good population of leopard both of which are seen relatively often. Several elephants have also made this sanctuary their home. Other species of plains game such as buffalo, giraffe, zebra, impala, sable and eland are quite plentiful.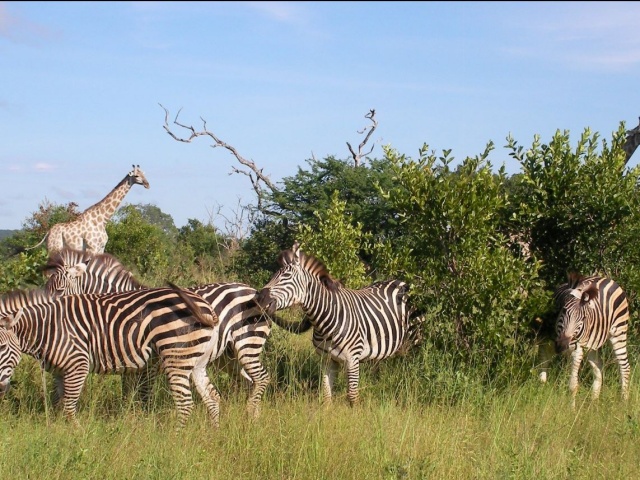 Zebra and giraffe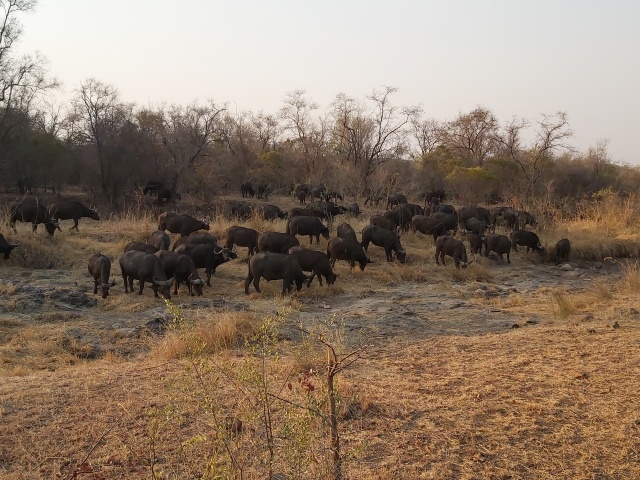 Cape Buffalo herd
Summary of this Afternoon and Evening Game Activity
This adventure-packed activity consists of three different sections; an afternoon game drive, during which time you will also search for the resident black rhino, a night drive and finally a three-course dinner under the stars.
The activity starts with pick-up from your hotel in the late-afternoon by your guide who then drives you to the reserve, no more than 20 minutes away. Once inside the reserve, the game drive begins. You will be returned to your hotel by about 9 pm after your bush dinner under the stars.
About the Afternoon Game Drive and Rhino Search
Drives are tailored to the guests' interests, but the most popular focus on this particular game drive is searching for the endangered Black Rhino. Their population on this reserve is healthy but they have a big territory in which to roam, so it is certainly not guaranteed that you will find them but there is also a good chance that you will.
The black rhino found here are different from the white rhino that one finds on rhino walks in the Mosi-oa-Tunya National Park in Livingstone. These are browsers, not grazers and they are more aggressive than their counterparts, hence you don't walk with these chaps. The black rhino have pointed lips to pluck leaves from branches and the white rhino have square lips, ideal for cropping grasses.
They are also highly secretive animals, so the search is all the more exciting and when one actually gets to encounter these huge, almost prehistoric beasts, the sensation is all the more rewarding. On our last visit there we were lucky enough to encounter three separate individuals, one of which had a calf and words are inadequate to describe the experience.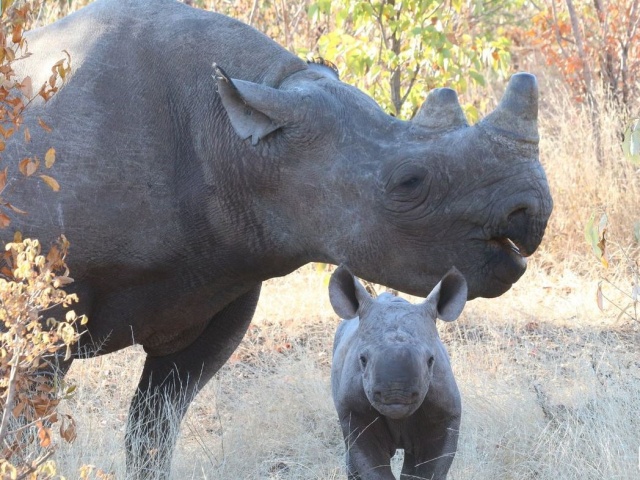 Black rhino and calf - The horns are removed periodically to protect them from poachers
The drive though is not only about the animals but also about the birds, trees, flowers, insects, animal tracks and grasses. The guides seem to have an endless amount of knowledge which they cannot wait to share with you.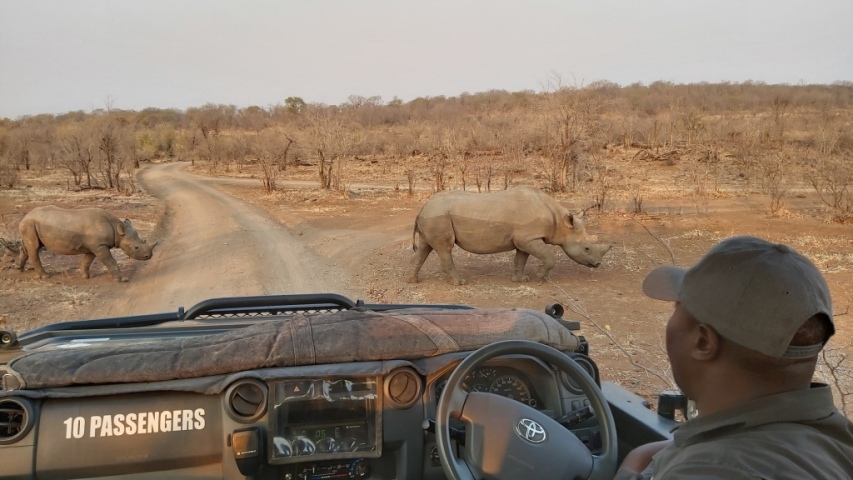 Rhino search is part of the experience
About the Night Drive
Sundowners and tasty snacks are served at one of the impressive viewpoints on the reserve, and the magnificent colours of a great African sunset are unlikely to disappoint you. As the darkness settles and the stars start to shine bright, you will start heading back to the boma area for dinner.
Along the way, your guide will use a spotlight to search for any of the nocturnal species, whose turn it is now to come out and hunt or forage for food. The guides are trained to use the spotlight in a responsible manner, the aim is to minimise disturbance to game during these safaris. Red filters will be used for close up viewing of game.
Nocturnal species that are possible to encounter include lion, leopard, hyena, jackal, night apes, honey badgers, civets, genets and servals to name just a few. Most National Parks and Reserves are closed and off-limits as soon as the sun sets. I have always felt a bit cheated by this because that's when you want to see what happens in the African bush at night.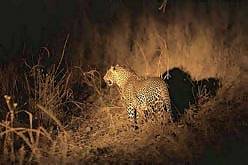 Leopard seen on the night drive
About the Bush Dinner
A three-course dinner, with the main course being a buffet-style barbecue (braai), is served in the campfire Boma area, which has open-air and undercover seating arrangements. Personally, one of my favourite experiences is to sit out under the African star-studded night sky, enjoying a good meal, a few drinks and good company. Drop off back at your hotel is normally around 9 pm depending on how long you wish to enjoy the evening.
Afternoon game drive, rhino search, night drive and bush dinner - Our Opinion
One of the reasons we recommend this experience, is that you are getting several activities bundled into one. Finding and seeing the rhino is also a surreal experience that you are unlikely to forget.
The game drive is ideal if you are excited about seeing rhino and also want to get out and see some wild animals, but it cannot be compared to game drives in one of the national parks close by which are much wilder.
The three-course dinner offers a good spread of tasty food (mostly meats and salads) and fits in well with the outdoor environment in the African bush, under the stars and around the campfire, but it's not going to win any culinary awards.
A word of caution - the nights in the winter months of June and July can get very very cold. Rain during December, January, February and March can also change the experience. Please contact us to discuss further.
What to Bring on this activity
• Camera
• Binoculars
• Sunglasses
• Very light jacket for summer evenings (only if you feel the cold)
• Warm jacket and pants for winter evenings
• Hat
• Sunscreen
• Insect repellent
What you Need to Know
• Summer pickup times approximately- 15h45 / drop off around 21h00
• Winter pickup times approximately - 15h15 / drop off around 20h30
• You will be accompanied by a trained and licensed Zimbabwean guide
• Return transfers from your accommodation, food and beverages are included
• The minimum age is 4 years of age and up to 11 years pay half price. No maximum age limit
• This is not a walking safari, you will remain in the vehicle, except to alight for sundowners and dinner

Read Experiences and Reviews from other travellers - or why not share your own Experience with us. Find out more...
THE VIC FALLS BUSH TELEGRAPH
our Bi-Monthly E-Newsletter

Each issue has a destination update, loads of information about conservation and wildlife, specials offers, traveller tips, community projects, website highlights and tons more...

Find out more about our Bush Telegraph

"Your newsletter keeps me informed about new and old and is the best I've seen in a long while - informative, not commercial, just plain perfect!" - I.Skliros

Don't worry. Your e-mail address is totally secure. I promise to use it only to send you The Vic Falls Bush Telegraph.
Return from Afternoon Game drive, Rhino search, Night drive and Bush dinner to our Victoria Falls home page