Home | Victoria Falls Activities | Night Drive
Night Drive
Game viewing at night with a spotlight is a whole new experience.
Most people are fairly familiar with game viewing in an open 4x4 vehicle during the day, it's an experience that many thousands of people enjoy every year when they come to Africa on Safari.
But what the majority of people don't do is Game Viewing at night with a spotlight. Most National Parks and Reserves are closed and off limits as soon as the sun sets. I have always felt a bit cheated at this because it's now that you imagine the bush coming to life with nocturnal animals. It's also a time when many of the large predators hunt under the cover of darkness.
Nocturnal species that you are likely to encounter include lion, leopard, hyena, jackal, night apes, honey badgers, civets, genets and servals to name just a few.
Victoria Falls in Zimbabwe is lucky to have two different night drive options available.
OPTION 1:
Introduction - Shearwater Adventures operates a night drive and bush dinner on the Victoria Falls Private Game Reserve. The reserve is 3500 hectares of pristine land, situated about 12kms from Victoria Falls town. It is here that Shearwater operate their elephant back safaris, lion walks, rhino tracking, games drive in-fact all their game activities. There is a wide variety of resident game on the reserve including amongst others rhino, buffalo and giraffe. However it is unlikely you will see wild lion here as the park is fenced.
Details - Pick up from your hotel is generally around about 4pm. You are transferred out to the Victoria Falls private game reserve and enjoy an afternoon game drive till sunset. Chances of seeing a wide variety of animals is very good. The knowledgeable guides impart fascinating facts about the African bush and their experiences living here. I can never really get enough of this. At sunset you will stop at a nice vantage point to have a few drinks and snacks, stretch your legs and discuss the afternoon so far with your fellow travellers. As darkness settles the spotlight comes out and now is your opportunity to see what happens in the African bush at night.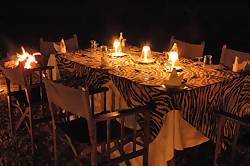 Dinner - After about an hour and a half, depending on the time of year, your guide brings you back to the Campfire Boma area, where a lovely 3 course meal has been prepared. It's one of the finest experiences to sit out under an African star studded night sky enjoying a good meal, a few drinks and good company. Drop off back at your hotel is normally around 10.00pm depending on how long you wish to enjoy the evening.
OPTION 2: (Temporarily Not available)
Introduction - Discover Safaris are very privileged to have been granted the only licence to conduct night drives within the genuine unfenced wilderness of the Zambezi National Park. It's a special and unique opportunity to visit this park which is 56000 hectares in extent. The northern border of the park is formed by the great Zambezi River. The park is totally wild and has a huge variety of wildlife including lion, leopard, wild dog, big herds of buffalo and elephant. In addition there is plenty of plains game like zebra, sable, giraffe, eland, kudu, waterbuck and impala to name a few. If you are comparing this to option 1, this is much bigger and wilder than the Victoria Falls Private Game reserve.
Details - Pick up from your hotel is generally around 4.30pm, with a drop off time at approximately 8pm. This night drive offers you the best of both worlds. The safari enters the park (only 6kms from the town centre) in the late afternoon, which is a better time to see game movements towards the Zambezi River. Following this, after refreshments on the banks of the Zambezi River, the safari continues into the night with a spotlight search for the nocturnal residents of the park. Drinks and snacks are available during the safari.
The professional guides share their seemingly endless knowledge with you about the African bush. They are trained to use the spotlight in a responsible manner, the aim being to minimise disturbance to game during these safaris. Red filters will be used for close up viewing of game.
Recommendations
We highly recommend doing either of these options, it is an experience you are unlikely to forget. A word of caution - the nights in the winter months of June and July can get very very cold. Rain during the months of December, January, February and March can also spoil this experience.

Email us: info@victoriafalls-guide.net
Read Experiences and Reviews from other travellers - or why not share your own Experience with us. Find out more...
Share with others!

Can't find what you are looking for? Use Google Search to search this website for any term you are looking for.


The Vic Falls Bush Telegraph
our Free Quarterly E-Newsletter

Each quarter there's loads of information about conservation and wildlife, a destination update, specials offers and discount packages, traveller tips and stories, book reviews, African folktales, environmental reports, bush recipes, best photo competitions and tons more....

"Your newsletter keeps me informed about new and old and is the best I've seen in a long while - informative, not commercial, just plain perfect!" I.Skliros

This Quarter we are also giving away a Free Screensaver to Every New Subscriber.
---