Old Drift Lodge

Situated on a site of historical importance, Old Drift Lodge is a luxurious safari lodge just 10kms upstream of the mighty Victoria Falls, in the Zambezi National Park.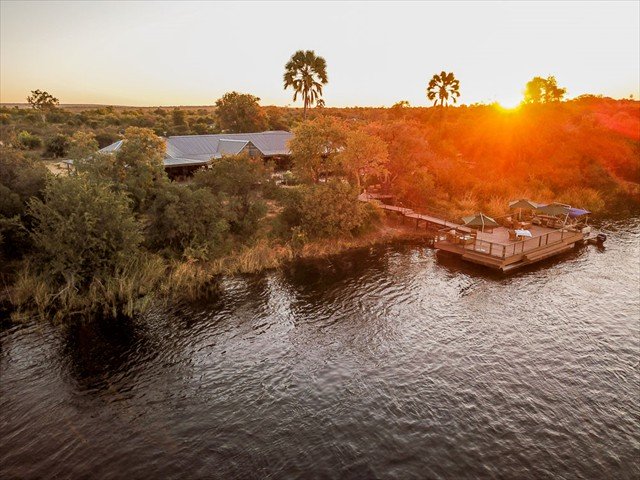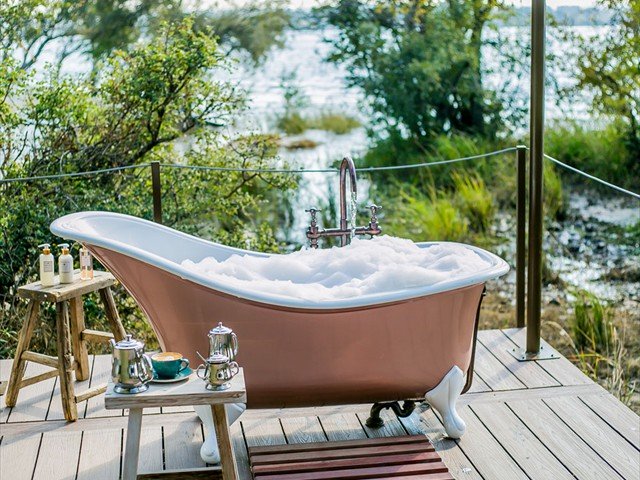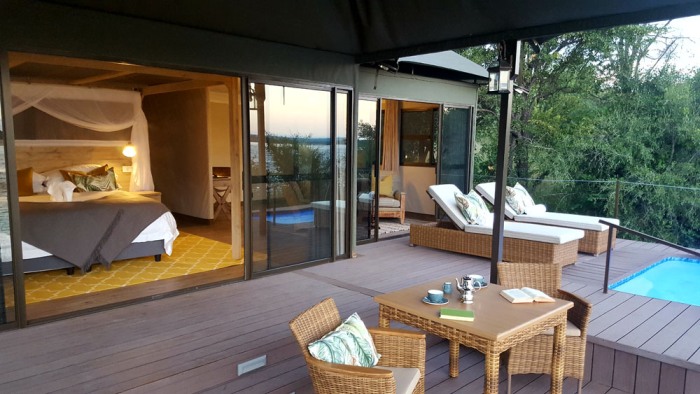 Introduction
One of the newer safari lodges to open in Victoria Falls, Old Drift Lodge joins the Wild Horizons lodge portfolio which includes The Elephant Camp and Elephant Camp West, and Wallow Lodge. In line with the promise of luxury accommodation, this new kid in the park is right up there with the five star bush lodges.
Old Drift is located 10kms upstream of the Victoria Falls on a small concession within the Zambezi National Park. It is the closest camp inside the park to town and access to the lodge is quick and easy, via boat or road transfers. Wild animals are often seen around the lodge, including elephant, buffalo and hippo, hence the need to be escorted by a professional guide back to your room at night.
The lodge gets it's name from the site on which it is built, which used to be the main crossing point on the Zambezi River between the then Northern and Southern Rhodesia (now Zambia and Zimbabwe). A drift is a shallow part of the river that makes crossing possible without using a boat. During the period around 1898, before the completion of the Victoria Falls Bridge people would ferry supplies, vehicles, passengers, livestock, etc. across the drift. It became somewhat of a hub and a small settlement was built. The site was abandoned when the settlers moved into town and nature took the site back.
Man once again took hold of the site and Old Drift Lodge was completed in April 2018. Fourteen spacious and luxurious tented suites, four of which are family suites with inter-leading rooms, are lined along the river's edge. All of the suites are river-facing and there is plenty of space on the wooden decks to enjoy the wonderful views. Inside, the bedroom in the centre is flanked by a lounge on one side, and the en-suite bathroom on the other. Featured beside the bathrooms is an outdoor shower and a bath with views of the Zambezi River.
In mid-2023, three star-beds were added to each of the units, giving guests the option of sleeping under the stars during their stay. The Star Suites offer breathtaking panoramic views of the river and surrounding wilderness, allowing you to witness nature's splendour from the comfort of your suite. Thoughtfully adorned with opulent furnishings and modern amenities, each suite provides the perfect blend of indulgence and serenity.
The large main central area, which consists of the dining area, bar, fire pit, reception and lounges, is accessible from all the suites via raised wooden pathways. The entire camp has been tastefully furnished and decorated, giving it an upmarket feeling.
Activities at Old Drift Lodge focus on game viewing and bird watching in the Zambezi National Park via game drives, walking safaris and river cruises. Several bird species are endemic to this area, which is an added bonus to those serious twitches. Being so close to town, all of towns activities are easily doable and a guided tour of the Victoria Falls is included in the fully inclusive rate.
Our Opinion
This family friendly lodge has a superb location only 9kms by road from the town centre, which makes it and ideal choice for those wanting to have an "out of town" lodge experience yet access all that the town has to offer. The site on the river is hard to beat and the plush tented suites are huge and lovely. Game viewing in the Zambezi National park is getting better year on year and you are likely to see a good variety of animals and birds, but if you after an intense safari experience, we would suggest adding on extra days in somewhere like Hwange or Chobe. Nice vehicles, good guides, friendly staff, exceptionally tasty food and private spa treatments in your own room all add to the overall experience.
Prices are in line with similar luxury lodges of this nature around Victoria Falls and we wholly recommend this safari lodge for those wanting top quality accommodation and food, a beautiful peaceful location to relax, easy access to town and a soft safari experience.
Summary
• Luxury tented camp on the banks of the Zambezi only 10kms upstream of the Victoria falls
• Situated on small private wildlife concession within the Zambezi National Park
• Easy access to Vic Falls town via boat or road transfer
• Historic site where river crossings occurred before the Victoria Falls Bridge was completed in 1905
• Completed April 2018
• All suites are private and have river facing views, with star-beds
• Activities include game drive and walks, boat cruises and a guided tour of the Falls
• Ideal for those wanting top quality accommodation and food, a beautiful peaceful location to relax, easy access to town and a soft safari experience.
• Zambezi National Park has good game viewing but for an intense safari experience we recommend adding on extra days at Hwange or Chobe

PRICE before special offers
Approximate price per person sharing per night


International
US$ 578 11 January to March & November to 20 December
US$ 722 April to October & 21 to 31 December

SADC
US$ 462 11 January to March & November to 20 December
US$ 578 April to October & 21 to 31 December


International
US$ 722 1 to 10 January
US$ 636 11 January to March & November to 20 December
US$ 831 April to June
US$ 867 1 July to October & 21 to 31 December

SADC
US$ 578 1 to 10 January
US$ 509 11 January to March & November to 20 December
US$ 665 April to June
US$ 694 1 July to October & 21 to 31 December

Accommodation at Old Drift Lodge
• 10 standard luxury suites with double or twin configuration (maximum 2 pax)
• 4 family luxury suites with one double room and one inter-leading twin room (maximum 2 adults + 2 children)
• Suites connected to main communal area with raised wooden walkways
• All suites are river-facing
All rooms have:
• En-suite bathroom with vanity and shower
• Outdoor bath and shower
• Lounge
• Air conditioning
• Ceiling fan
• Mosquito nets
• Storage space
• Tea/coffee making station
• Mini bar
• Spacious patio
• Private plunge pool with loungers
• Hair dryer
• Safe
• Wireless internet
• Gym in a bag
Dining
• Fine dining: breakfast, lunch, high tea and dinner. Lunch at the Lookout Cafe is included in the rate (drinks included)
• All meals, teas/coffees, snacks, mini bar are included in the rate
• Meals are served in the dining area, or alfresco on the main deck
• Private dinners can be arranged on the jetty
Facilities and Services
• Communal area which has reception, lounge areas, library, bar, dining areas, deck, firepit and jetty
• Laundry service
• Wireless internet
• 220V electricity
• Parking area
• Waterhole
• Access by boat transfer from Victoria Falls
• Scheduled shuttle to Victoria Falls town
• Airport transfers
• Private spa treatments
• Curio shop
• Credit card facility
• Activities: Morning and evening game drives; Morning and afternoon boat cruises; Walking safaris; Guided tour of Victoria Falls; Breakfast, brunch or lunch at the Lookout Café

Fully Inclusive Rates Include
• Accommodation
• All meals and local brand drinks
• Mini bar
• Return Victoria Falls or Livingstone Airport transfer
• Gym in a bag
• Lodge activities (listed above)
Rates Exclude
• Premium brand beverages
• Rainforest entrance fee during a guided tour of the Victoria Falls
• Curios and other purchases
• Conservation fee
• Laundry
• Spa treatments
Children
• Children of all ages are welcome a Old Drift Lodge
• There are four family suites at the lodge
• Children 0 to 7 years may go on game drives with parents in a private vehicle (price not included)
How to Get to Old Drift Lodge
• Fly into Victoria Falls Airport or Livingstone Airport, and the lodge will collect you.
• Transfers to Old Drift Lodge is via boat cruise up the Zambezi River or road transfer from Vic Falls town, either way it's no more than 30 minutes.
• Self drive is also possible from the town centre, via the Zambezi National Park entrance
THE VIC FALLS BUSH TELEGRAPH
our Bi-Monthly E-Newsletter

Each issue has a destination update, loads of information about conservation and wildlife, specials offers, traveller tips, community projects, website highlights and tons more...

Find out more about our Bush Telegraph

"Your newsletter keeps me informed about new and old and is the best I've seen in a long while - informative, not commercial, just plain perfect!" - I.Skliros

Don't worry. Your e-mail address is totally secure. I promise to use it only to send you The Vic Falls Bush Telegraph.