Home | African Safari | Zimbabwe Safari Ideas | Zimbabwe Safari IP7A - Zambezi River Front, Victoria Falls & Hwange National Park
Zimbabwe Safari IP7A
Victoria Falls, Zambezi National Park and Hwange National park, all combined into one beautiful 7-night package. Accommodation is at the best hotels and lodges that money can buy with charter flights included.
2 Nights Zambezi National Park, Zimbabwe
1 Nights Victoria Falls, Zimbabwe
4 Nights Hwange National Park
8 Days / 7 Nights
Reference: IP-7A
Starts Victoria Falls Airport / Ends Victoria Falls Airport

Total Price 7 Nights: US$ 6604 high season, US$ 4346 low season (2020)
per person sharing



Safari Overview
Victoria Falls, Zambezi National Park and Hwange National Park, all combined into one beautiful 7-night package. Accommodation is at the best hotels and lodges that money can buy with charter flights included.
Starting off with two nights at the luxurious Victoria Falls River Lodge on the banks of the Zambezi River just upstream from Victoria Falls. It's a perfect place to relax and unwind and enjoy the beautiful scenery along with some game and bird watching.
Followed by one night in a palatial suite at the grand and famous Victoria Falls Hotel. During this time, you will get to see the Falls, enjoy some delicious food and possibly partake in another couple of activities. Finish at Little Makalolo Camp in Hwange National Park for a truly authentic safari experience on possibly the best wildlife concession in the country. Four nights here gives you time to completely overdose on wildlife.
Zimbabwe Safari IP7A Inspired Journey Overview
Accommodation
Nights 1 & 2 - Luxury tented suite at Victoria Falls River Lodge
Nights 3 - Honeymoon or Junior Suite Victoria Falls Hotel
Nights 4, 5, 6 & 7 - Safari tent at Little Makalolo Camp
Transfers Included
Day 1 - Road and boat transfer: Victoria Falls Airport to Victoria Falls River Lodge
Day 3 - Road and boat transfer: Victoria Falls River Lodge to Victoria Falls Hotel
Day 4 - Road Transfer: Victoria Falls Hotel to Victoria Falls Airport
Day 4 - Road Transfer: Hwange airstrip to Little Makalolo Camp
Day 8 - Road Transfer: Little Makalolo Camp to Hwange airstrip
Flights Included
Day 4 - Victoria Falls to Hwange
Day 8 - Hwange to Victoria Falls
Highlights
Luxurious accommodation on the river bank, with private deck and plunge pool at Victoria Falls River Lodge
Zambezi River cruises, game drives fishing and birding
Palatial Junior suite at Victoria falls Hotel
High tea on the Stanley terrace
Lunch at the Lookout cafe
View the spectacular and mighty Victoria Falls
Scenic charter flight Vic Falls to Little Makalolo
Game viewing on possibly the best wildlife concession in the country within Hwange National Park
Huge dry-season concentrations of elephant and buffalo
Various activities including game drives (day and evening), walking safaris, village visits, star bed, or simply visit the discreet log-pile hide which looks out over a productive waterhole right in front of Little Makalolo
---

Notes: Day 1 & 2
DAY 1
On arrival at Victoria Falls Airport, you will be met by one of our representative and transferred to Victoria Falls River Lodge. It is a 30-minute ride on tarred road to Victoria Falls town and then about a 20-minute boat transfer into Zambezi National Park and the riverside lodge. After settling into your magnificent room you can opt to join a sunset river cruise on the Zambezi River. After the cruise return to the lodge to freshen up and then enjoy a 3 course dinner in the main central area.
DAY 2
You have one full day at Victoria Falls River lodge to enjoy the activities they have on offer. Please read below about these activities and arrange these with the lodge mangers onsite. Typically, guests partake in early morning and late afternoon game drives or boat cruises, but you also might want to try your hand at a bit of fishing during the middle of the day. The camp is positioned perfectly on the river bank, with wonderful views so taking time to relax in your luxurious room is also highly recommended.
Meals consist of early morning tea / coffee and continental breakfast, followed by a big brunch after your activity. Afternoon tea offers a few delicious treats as well as hot and iced tea and coffee. A delicious 3 course dinner is served either in the main dining area or private dinners can be arranged on the Jetty. Drinks and snacks are provided on all activities.
Zambezi National Park
Zambezi National Park together with Victoria Falls National Park cover an area of 56,000 hectares. The northern border of the Park is formed by the great Zambezi River which also forms the border between Zimbabwe and Zambia for much of its length.
A wide variety of larger mammals may be found within the Zambezi National Park including elephant, lion, buffalo and leopard. In addition, herds of sable antelope, eland, zebra, giraffe, kudu, waterbuck and impala as well as many of the smaller species of game can be viewed. The Zambezi River is home to over is 75 species of fish and is famous for its bream and fighting tiger fish.
Overnight: Victoria Falls River Lodge
Victoria Falls River Lodge is the first private game lodge to be set in the Zambezi National Park. This newly built luxury tented lodge is situated on the banks of the mighty Zambezi River.
Uninterrupted panoramic views of African sunsets and good wildlife viewing makes this uniquely located lodge the ideal place from which to explore Victoria Falls as it combines the safari experience with one of the world's most famous tourist destinations!
The main lodge has an open plan design and has been positioned just back from the river – in view of the elephants' natural evening route. Sit back and sip on a cocktail, under the shade of the thatched roof, as the elephants graze along the river line. It's a cool escape from the African sun.
Activities At Victoria Falls River Lodge
Game Drive
Guests have choice of either a morning or evening game drive in the Zambezi National Park. For the ultimate bush safari experience, head out in a game-viewer to explore the Zambezi national Park early in the morning, armed with hot beverages and a delicious supply of traditionally baked rusks.
Alternatively, track a magnificent elephant herd as they move silently through the bush, or admire stately giraffe as they effortlessly weave their way through spiky acacia thicket – stopping to enjoy the phenomenal sunset with sun-downers and a variety of scrumptious snacks before returning to camp for dinner.
River Cruise
Watch from the comfort of a private river cruiser as the world awakens and the sun's first rays skip and dance across the shimmering surface of the mighty Zambezi River – A truly revitalising way to start any day!
For the not-so-early birds, sit back and let the gentle ebb and flow of the Zambezi lull and relax you, while you sip on sundowners, viewing nature's creatures, big and small, coming to the water's edge.
Additional On-Site Activities (optional)
Half Day Canoe Safari
This can be a morning or afternoon 4 hours long activity with lunch or dinner back at the lodge.

Full Day Canoe Safari
For 8 hours on the Zambezi River, this safari comes with a packed picnic lunch and drinks which can be enjoyed on the Zambezi River bank or on one of the islands on the river. Dinner will be served back at the lodge.

Fishing Safaris
Guests have a choice between fishing off the boat and fishing off the jetty.

Walking Safaris
These are done with an armed professional and licensed guide.
---

Notes: Day 3
DAY 3
On your last morning at Victoria Falls River Lodge, relax or enjoy one more morning activity. After breakfast you will be transferred back into Victoria Falls town and checked into your palatial suite at Victoria Falls Hotel. Lunch is included at the breath-taking Lookout Café with incredible views of the Batoka gorges, followed by a guided tour of the mighty Victoria Falls. Return to the Victoria Falls Hotel for a famous High Tea on the Stanley Terrace with beautiful views of the Victoria Falls Bridge. Dinner can either be at the hotel or at one of the many restaurants in town that we can recommend (not included).
Victoria Falls
One of the original natural wonders of the world, the Victoria Falls is a World Heritage Site and an extremely popular tourism attraction. Known locally as 'The Smoke that Thunders', this spectacle is accessible from both Zambia and Zimbabwe and it is an ideal place to combine a game viewing and water sports. There is excellent fishing, a terrifying bungee jump and arguably the best commercial white water rafting in the world.
Overnight: Victoria Falls Hotel
The Victoria Falls Hotel, popularly known as "the grand old lady of the Falls", is situated in the Victoria Falls National Park, a world heritage site, and is a member of the exclusive Leading Hotels of the World group.
The Edwardian-style five-star hotel, built in 1904, combines the charm of the old with the convenience of the new. Set in lush tropical gardens with lily ponds, palm trees and semi-tropical shrubs, it provides the tranquillity and seclusion that many guests seek. The famous Victoria Falls are just a ten-minute walk away using the hotel's private pathway, and "the smoke that thunders" or "Mosi-O-Tunya" in the local dialect, is clearly audible and visible from this luxurious landmark.
World-class service, and food and beverage choice and preparation second to none, make the hotel a magnet for international visitors and locals alike. The opulent Livingstone Room for fine dining and dancing, the Jungle Junction with its famous breakfast and dinner buffets and ethnic entertainment in the evenings, offer variety and wide choice. Stanley's Terrace, with its clear view of the Victoria Falls Bridge, connecting Zimbabwe and Zambia, is renowned for its cocktails and afternoon teas. The Terrace has been a rendezvous for adventurers in Africa for over a century.
The ambience of the hotel is steeped in that history with all suites decorated in the gracious Edwardian style of Zimbabwe's colonial era. Small executive meetings and private dining facilities are easily arranged for those who wish to combine a little business with a lot of pleasure, and all in a secluded and discreet environment. It is the Victoria Falls Hotel that remains a major attraction for visitors. Waking up to the sound of "the smoke that thunders", seeing the sun rise beneath the mist of one of the seven natural wonders of the world and the lunar rainbow at night, all the while soaking up the history and ambience of a bygone era, is more than unforgettable – it is unique.
---

Notes: Day 4, 5, 6, 7 & 8
DAY 4
There is time for breakfast and an early morning activity before transferring to Victoria Falls airport around mid-morning for your charter flight to Little Makalolo Camp in Hwange National Park. This scenic flight takes about 50 minutes followed by a short game drive to camp. After settling into your room enjoy some lunch and then relax until the late afternoon activities begin. After your game drive, drinks and dinner will be served. Join the other guests for drinks and coffee around the campfire before retiring for the night.
DAY 5, 6, & 7
Three full days of game viewing activities at Little Makalolo gives you time to completely immerse yourself in the natural wonders of this private wildlife concession, considered to be probably the best in the country. It's real Africa and it's exclusive to Wilderness Safari guests. There is an array of activities available, details of which can be seen below. Please arrange your days onsite directly with the camp managers, influenced by the season and recent wildlife sightings, tailor-made to suit your exact requirements. If you want to spend the night under the stars in the camp's "Star bed", a guide will take you there and then set you up with dinner and drinks while you enjoy the sights and sounds of the Hwange nightlife.
Meals consist of early morning tea / coffee and continental breakfast, followed by a big brunch after your morning activity. Prior to the afternoon activity high tea is served. Dinner is a delicious 3 course affair. Drinks and snacks are provided on all activities.
DAY 8
Sadly, time is up although another early morning game drive is possible if you feel like it. After breakfast you will be transferred to the airstrip for your return charter flight to Victoria Falls airport in time for your connecting international flight.
Hwange National Park
Hwange National Park is Zimbabwe's biggest reserve, home to a profusion of wildlife, including giraffe, lion, zebra and approximately 40 000 elephants. It provides sanctuary for all the country's endangered species, including a population of wild dogs thought to be among the most sizeable surviving groups on the continent. Terrain ranges from desert dunes and savannah lands to rocky outcrops and sparse forests, and visitors have the choice of game drives, guided walks or horseback safaris as a means of experiencing the park and its creatures.
Overnight: Little Makalolo Camp
Little Makalolo Camp lies in one of Hwange National Park's best wildlife viewing areas. It offers privacy for guests who enjoy small camps and a sense of remoteness. The area is ecologically diverse, ensuring great numbers of animals year-round.
The camp's six spacious en-suite tents, with both indoor and outdoor showers, are nestled in the tree line. Teak walkways lead to the main area where a false Mopane tree shades a separate dining and living area with views of the much-frequented waterhole. During siesta hours, guests can enjoy up-close and outstanding wildlife viewing at the log-pile hide that overlooks the waterhole in front of camp.
Activities centre on game drives in open 4x4 Land Rovers and guided walks. The area's large number of waterholes attracts game in both quantity and variety, especially in winter when water sources become scarce and Wilderness Safaris takes responsibility for pumping 22 of Hwange's boreholes in the Concession to sustain its wildlife. Guests are also able to visit the nearby village for authentic cultural interactions. A "pizza stop" and sleep-out option at the wildlife-rich Madison Pan completes the experience.
Activities at Little Makalolo
Game Drives
The private Wilderness Safaris concessions are situated in the most productive area of Hwange National Park. The varied habitats and vegetation types as well as countless waterholes mean that game drives are exciting with always something new to be seen.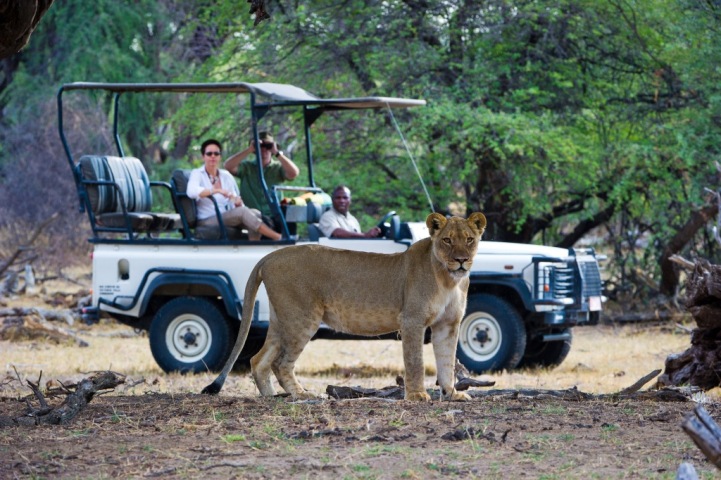 Morning Walking Safaris
Hwange was proclaimed some 80 years ago and has served as a haven for one of the densest concentrations of game in Africa. There is no better way to experience this park than on foot with an experienced safari guide.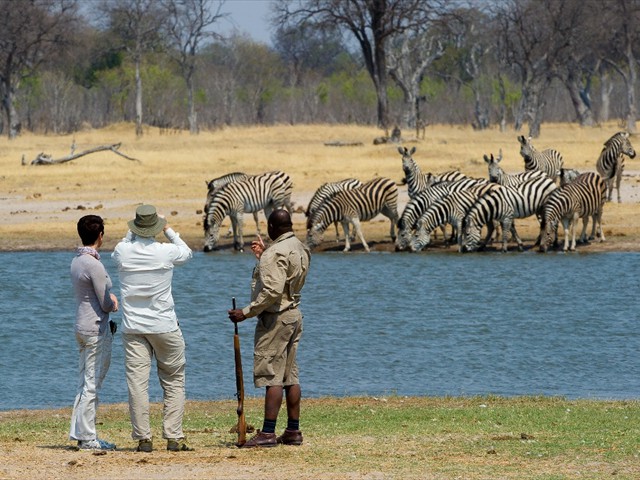 Log-pile Hide
This hide is beautifully placed at the camp's productive waterhole and is the perfect place to spend your afternoon siesta hours. Elephants are often the star attraction at the hide; just watch out for the sprays of water propelled from their nearby trunks.
Evening Game Drives
The Hwange 'night act' includes species such as lesser bushbaby, spotted hyaena, leopard, lion, Selous mongoose, pangolin, caracal, porcupine, scrub hare, springhare and even honey badger.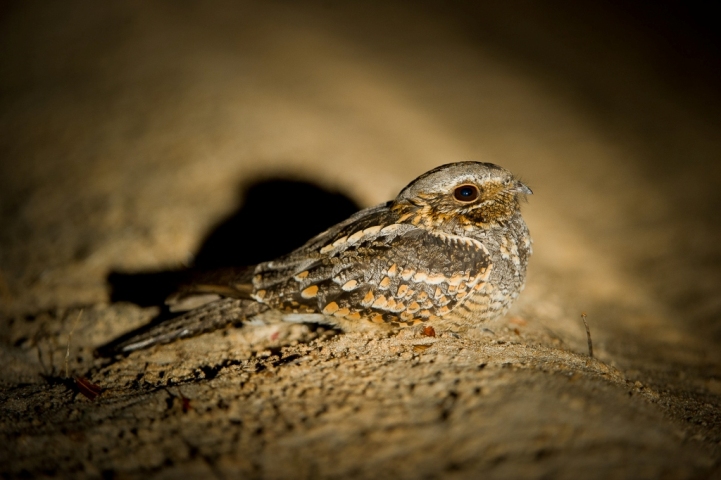 Star Bed
Situated on a raised platform overlooking Madison Pan, the Star Bed is just a 20-minute drive away from camp and offers a truly secluded, remote wilderness experience – and the opportunity of sleeping under the stars.
Village Visits
An authentic village experience takes place in a manner that is respectful to all parties. Usually around four hours and lead by one of the local villagers or a Wilderness guide, it often includes a tour of the school, meeting the headman or headwoman and enjoying cultural exchanges with the villagers.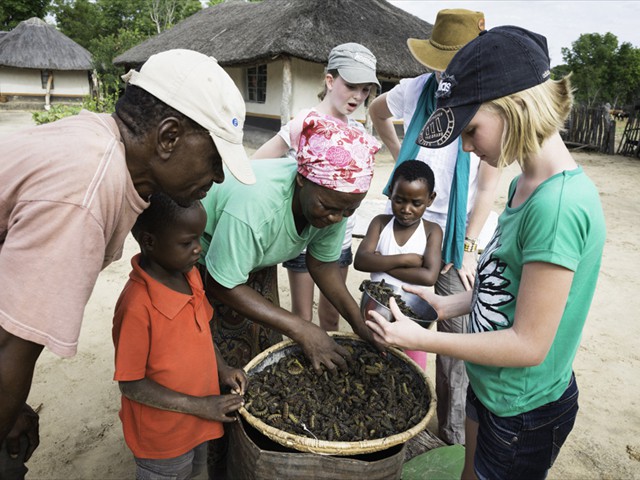 ---
Price
Total Price for 7 Nights: US$ 6604 high season, US$ 4346 low season (2020)
Per person sharing
Included in this safari
VICTORIA FALLS RIVER LODGE
• Accommodation in a luxury room overlooking the Zambezi River
• All meals and local drinks, High tea
• Activities: Tour of the Falls; Two game activities (either a morning or afternoon game drive in the Zambezi National Park, or sunrise or sunset river cruise); Bird watching on Kandahar Island
VICTORIA FALLS HOTEL
• Accommodation in either the plush Honeymoon or Junior suite
• Breakfast daily
• Lunch at the Lookout Café
• Guide tour of the Falls, including park entry fees
• High Tea on the Stanley terrace
LITTLE MAKALOLO CAMP
• Accommodation in a comfortable safari tent, perfectly located for a spectacular view of the waterhole
• All meals and local drinks
• Laundry
• Hwange National Park Fees
• Twice daily scheduled camp activities: Morning and evening game drives, Nature walks, Game viewing (within a log hide), Sleeping under the stars, Cultural tours/Village visits
TRANSFERS
• Return air transfers between Hwange and Victoria Falls
• Road and boat transfers between Victoria Falls Airport, Victoria Falls River Lodge and Victoria Falls Hotel
• Road transfers to specified activities
Excluded
• Premium imported brands and champagne
• Tip and gratuities
• Unspecified meals and activities
• Zambezi National Park fees at Victoria Falls River Lodge, paid per person per night

More Travel Information
Can't find what you are looking for? Use Google Search to search this website for any term you are looking for.


Share with others!

The Vic Falls Bush Telegraph
our Free Quarterly E-Newsletter

Each quarter there's loads of information about conservation and wildlife, a destination update, specials offers and discount packages, traveller tips and stories, book reviews, African folktales, environmental reports, bush recipes, best photo competitions and tons more....

"Your newsletter keeps me informed about new and old and is the best I've seen in a long while - informative, not commercial, just plain perfect!" I.Skliros

This Quarter we are also giving away a Free Screensaver to Every New Subscriber.
Return from Zimbabwe Safari IP7A to our home page