Zambezi River Fishing - Zambia
Catch the elusive Tiger fish in an exciting fishing experience in the great Zambezi River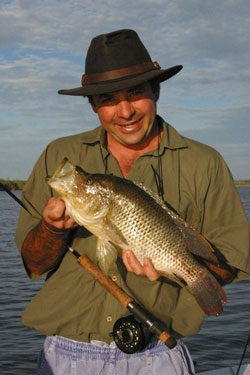 Fish caught in the Zambezi River
Above the Victoria Falls is a calmer portion of Zambezi River where one can go and have en exciting experience fishing for Tiger fish. These elusive fish require a bit of skill to catch as they are quite aggressive - which is part of the thrill. Also, they can grow as big as 33lb (15kgs) so you could be in for a big fight.
The Zambezi River has over 75 fish species but the most sought-after of these is the Tiger Fish. You can also find African Pike, Barbel, Upper Zambezi Yellow fish, Bream or Tilapia while on your fishing trip.
Spinners and lures are the most common method of catching these fish although using light tackle, a fly and a fly-rod is becoming very popular and brings an extra dimension to a very exciting sport.
The Zambezi is real Africa so there is no getting away from the fact that Hippos and Crocodiles live in these waters in profusion. Experienced guides however know exactly how to avoid these animals and let them be, so that both man and animal can enjoy this magical place. So don't let these dangers stop you from going rather make sure you go only with someone who knows what they are doing.
The pickup times for fishing trips are 06h30 and 13h30, and drop off at 13h30 and 18h30 respectively.
NOTE: The Zambian authorities enforce an annual fishing ban, which means no fishing between 1st December and 1st March.
What you will need to bring
• Sunscreen - You may feel the cool in the Zambezi breeze but the sun gets very hot out so make sure you are covered, even with a long sleeved shirt.
• Hat
• If you plan on being out at sundown, make sure you have your mosquito repellent because this is when the mosquitoes come out in full force.
Share with others!

Can't find what you are looking for? Use Google Search to search this website for any term you are looking for.


The Vic Falls Bush Telegraph
our Free Quarterly E-Newsletter

Each quarter there's loads of information about conservation and wildlife, a destination update, specials offers and discount packages, traveller tips and stories, book reviews, African folktales, environmental reports, bush recipes, best photo competitions and tons more....

"Your newsletter keeps me informed about new and old and is the best I've seen in a long while - informative, not commercial, just plain perfect!" I.Skliros

This Quarter we are also giving away a Free Screensaver to Every New Subscriber.
---
Return from Zambezi River Fishing to our Victoria Falls home page