Victoria Falls Canoe Safari - Zambia
Victoria Falls Canoe Safaris operated on the Zambian side take you down the upper Zambezi River, between two national parks - a scenic and magnificent trip for half a day, full day, or overnight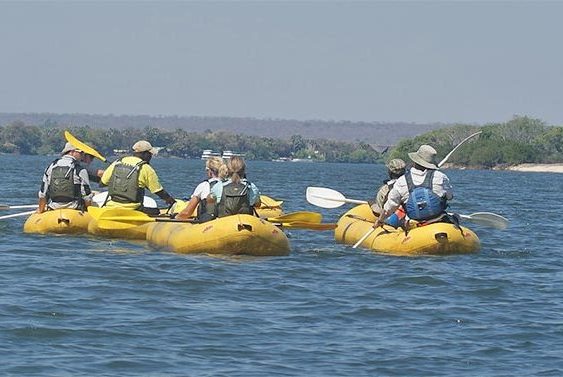 View of the national park from a Zambezi River canoe safari
(source: SAFPAR)
The Setting
The Upper Zambezi River is a beautiful place for canoeing, with stunning vegetation such as ebonies, water berries, palms and a tremendous variety of acacia. The canoe trails described on this page are operated in Zambia, but they take you down the Zambezi, zigzagging on the boundary between two countries with views of the Zambezi National Park in Zimbabwe, and the Mosi oa Tunya National Park.
Victoria Falls canoe safaris on offer in Zambia are the half day, full day and overnight trips - where the evening is spent in tents by the riverside and a delicious meal and cool drinks are enjoyed under the beautiful African skies.
The Operator
Safari Par Excellence started running Canoeing Safaris in the Lower Zambezi National Park in 1991. Now they operate safaris from Livingstone on the Upper Zambezi, this is the section of the Zambezi River up stream of the Victoria Falls. This section of the Zambezi River offers great wildlife viewing with the excitement of running small Grade 2 rapids.
Raft Float
For those who prefer someone else to take the reigns (so to speak), the raft float is an option where a canoe is replaced by a large raft with a frame and oars for the guide. Safpar uses eight person inflatable rafts, which are incredibly stable when running small rapids and are easy to manoeuvre and paddle. You will be provided with paddles, but if you want to relax and let your guide do all the work, you are free to do so. It is the least challenging option of the three canoe trips.
The Zambezi river above the Victoria Falls changes its nature continuously, from wide open expanses of water to narrow tree lined channels meandering between the myriad of rock and sand islands. Game is abundant. Species that may be encountered include Hippo, Crocodile, Elephant, Waterbuck, the elusive Cape Clawless Otter and hundreds of bird species.
While on the river safety is a major concern, a full safety briefing is given before the canoe safari commences, paddle training is given on dry land and then perfected on the river. The guide is always accompanied by a trainee/paddler, a comprehensive first aid kit and communications equipment is always carried.
Based out of The Victoria Falls Waterfront, Safpar operate half day safaris departing and returning from and to Livingstone - Zambia. Upper River Raft Float Safaris are ideal for large groups, up to a maximum of 80.
Full Day Safaris
These Victoria Falls Canoe safaris take the whole day, and includes lunch and soft drinks half-way through the trip. For the full day trip, Safpar uses a two person inflatable canoes, which are also quite stable.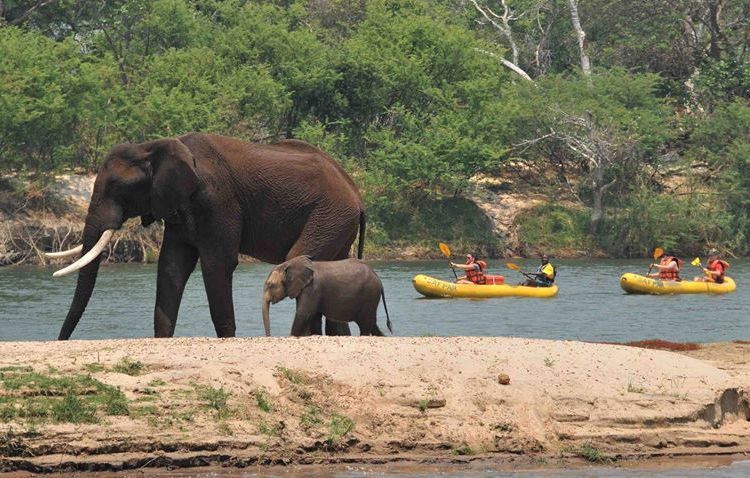 Overnight Camping Canoe Safaris
If you are a camping enthusiast or are aspiring to be why not get away from the world for the night with an Overnight Canoe Safari. A day canoeing is followed by a night camping at a permanent camp site on the banks of the Zambezi. The camp site overlooks the Zambezi National Park, as the sun comes down plentiful game can often be seen drinking on the Zimbabwean banks of the river.
On these canoe trips, Safpar uses the two person inflatable canoes.
Camping is a treat for all outdoor enthusiasts. During the trip, you are encouraged to take part in building camp, helping to prepare food and collecting wood. All camping equipment is delivered to the camp site by vehicle. All meals are freshly prepared by the guides, local beers and local spirits are included. Feel free to bring your own bottle of your favourite tipple.
What You Need to Know
• A $10 national park fee must be paid on arrival, and is not included in the rate
• Food and drinks are included
• There will be plenty of sunshine so wear a wide-brimmed hat, shorts, t-shirt, sunscreen, and sunglasses
• The minimum age for canoe trips is 12 years and they pay full price
• There is no maximum age but clients must be of a reasonable fitness
• You will not need your valuables, but bring a camera and binoculars - dry bags will be provided
• No previous experience is required and clients do NOT need to be proficient swimmers
THE VIC FALLS BUSH TELEGRAPH
our Bi-Monthly E-Newsletter

Each issue has a destination update, loads of information about conservation and wildlife, specials offers, traveller tips, community projects, website highlights and tons more...

Find out more about our Bush Telegraph

"Your newsletter keeps me informed about new and old and is the best I've seen in a long while - informative, not commercial, just plain perfect!" - I.Skliros

Don't worry. Your e-mail address is totally secure. I promise to use it only to send you The Vic Falls Bush Telegraph.
Return from Victoria Falls Canoe Safari to our Victoria Falls home page