Zimbabwe Botswana Safari IG7A
Affordable safari designed for variety and excellent game viewing opportunities
2 Nights Chobe National Park, Botswana
3 Nights Hwange National Park, Zimbabwe
2 Nights Victoria Falls, Zimbabwe
8 Days / 7 Nights
Reference: IG7A
Starts Kasane Airport / Ends Victoria Falls Airport

Total Price 7 Nights: US$ 3111 (low season) | US$ 4065 (high season)
per person sharing



Safari Overview
We have designed this lovely 7-night safari for its variety and affordability. You will get to experience some fantastic game viewing at a mid range lodge in Botswana and a premier safari camp in Zimbabwe finishing off in a well priced top quality boutique guest lodge in Victoria Falls.
This safari begins with a 2-night stay at Chobe Safari Lodge, the base for your Chobe National Park safari which is famous for its sheer volume of game. Here you will kick off your African safari with game drives and river cruises.
Then cross the border to Zimbabwe's Hwange National Park, home to a profusion of wildlife, including an estimated 45 000 elephants. Three nights at Camp Hwange, an exclusive and premier Safari Camp with outstanding guides and game viewing. Watch game on foot, in a vehicle, at the hide, or from the comfort of the lodge's main area which faces the nearby waterhole.
Finish off with two nights in Victoria Falls, home to one of the seven natural wonders of the world and Africa's adventure capital, while staying at a fabulous boutique guest lodge near the edge of town.


The route map for Zimbabwe Botswana Safari from Chobe to Hwange and then Victoria Fallss


Zimbabwe Botswana Safari IG7A Inspired Journey Overview
Accommodation
Nights 1 & 2 - Luxury safari room at Chobe Safari Lodge
Nights 3,4 & 5 - Thatched chalet at Camp Hwange
Nights 6 & 7 - Standard room at Batonka Guest Lodge
Transfers Included
Day 1 - Road Transfer: Kasane Airport to Chobe Safari Lodge (15 minutes)
Day 3 - Road Transfer: Chobe Safari Lodge to Victoria Falls (1 hour + border crossing)
Day 3 - Road Transfer: Victoria Falls to Camp Hwange (3.5 hours)
Day 6 - Road Transfer: Camp Hwange to Batonka Guest Lodge (3.5 hours)
Day 8 - Road Transfer: Batonka Guest Lodge to Victoria Falls Airport (30 minutes)
Highlights
Amazing game viewing in Chobe National Park – elephants and hippos in the Chobe River on the cruise and herds of plains game on the flood plain with a good chance of seeing lion and leopard.
Chobe Safari Lodge situated on the banks of the Chobe River
Spacious thatched accommodation on a private concession in Hwange National Park
Excellent guided game viewing by foot and by game vehicle, including night game drives
Partake in the multitude of activities available at Victoria Falls from sedate sunset cruises to adrenaline crazy bungee jumping and everything in between (activities not included)
View the spectacular and mighty Victoria Falls
---

Notes: Day 1 & 2
DAY 1
On arrival at Kasane airport you will be met by a representative of Chobe Safari Lodge who will transfer you to the lodge only 10 minutes away. After checking in you will meet your personal activities advisor who will explain how the game drives, cruises and other activities work, along with the times and places of departure. Lunch, is a delicious buffet spread or you can take a pool snack for the not so hungry.
Freshen up and rest before meeting at the jetty for the Sunset Cruise at 15h00. This is a 3-hour cruise up the Chobe River – you will have a chance to see elephants playing and swimming in the water or simply enjoying the green grass found along the banks. Pods of hippos are dispersed amongst the elephants and you will find yourself not knowing which way to look as the abundance of all species of game surrounds you.
There is a cash bar on the cruise if you feel you would like to enjoy a cold drink as you watch a magnificent sunset aboard the boat before returning to the lodge in time to freshen up before dinner.
DAY 2
An early morning start to the day with a safari game drive departing from the lodge around about 06h00-06h30. The early mornings are the best time to find the cats as they are at their most active before the heat of the day. Often having made a kill during the night, prides of lions are very often seen on these early morning game drives.
You will return to the lodge around about 09h00 in time for a Full English breakfast which is normally welcomed by all. The heat of the day can be spent enjoying the swimming pool or relaxing in the cool of your air conditioned room.
Once the day has cooled down, make your way to the jetty for a second afternoon sunset cruise. No two cruises are the same and the wildlife experiences are always exciting and rewarding. The sheer abundance and variety of animal and birdlife will keep you fixated. The notorious sound of the laughing hippo, never very far away, will add to the overall magical experience.
**Please note that the above activity schedule is a guideline and you can tailor-make your itinerary with the camp managers onsite, to suit your exact needs.

Chobe National Park
The Chobe River forms the northern boundary of the Chobe National Park, renowned for its reliable and diverse game viewing. Safaris are conducted both by boat and on land. This section of the park is best known for its elephant and hippo populations but the waters attract all manner of game including large herds of buffalo and the lions that prey on them.
Overnight: Chobe Safari Lodge
Chobe Safari Lodge is situated in Kasane on the banks of the Chobe River, just a short 10-minute drive to the entrance gate of the Chobe National Park making it an ideal choice.
This popular lodge has 66 bedrooms and 8 rondavels, a large central eating and entertainment area, with an inviting swimming pool. The riverside bar is a great place to enjoy a few drinks before or after your game activities. The bedrooms all face the river and are big and comfortable, with fans and air-conditioning, along with all other necessary amenities. The staff are friendly and helpful and the lodge is well organised. Wild but habituated warthogs, mongoose and monkeys roam freely on the lawns providing endless entertainment from the balcony of your room, while the variety of birds is an absolute delight.
Activities operated by and from the lodge include boat cruises, game drives, fishing, Victoria Falls day trips, Namibian village tours and private boat cruises, ensuring that you truly get to experience this area to its maximum.
Activities at Chobe Safari Lodge
Game Drives
Boat Cruise & Private Boat Cruises
---

Notes: Day 3, 4 & 5
DAY 3
A final early morning game drive is included allowing you the opportunity to indulge in Chobe's prolific wildlife. After breakfast, you will be picked up for your transfer to Camp Hwange in Zimbabwe's Hwange National Park. There is a border crossing involved, so make sure that you have your travel documents and visa if you need one. It is a pleasant 4.5 hour transfer, excluding border formalities, with the bulk of the journey being through National Park which is a safari experience in itself. After settling in there's probably time for a short siesta before joining an afternoon game drive. A night game drive is on offer if you are feeling up to it and then return to the lodge for drinks and dinner.
DAY 4
Start the day with an early morning game drive around the camp's private concession or venture into the National Park depending on animal movements at the time. The drive is often combined with some walking where you can track animals with your experienced professional guide. Spend some time at the water points and watch the animals that come to drink and play. Late morning head back to camp for lunch and a siesta. Well rested, meet back late afternoon for another drive or a walk out of camp. In the dryer months walking to the log hide in front of camp is one of the most rewarding activities. In the hide elephants come within meters of you, zebra come to quench their thirst or warthogs trot in for a quick mud bath. The sun sets behind the hide, so the light is usually soft and photography is at its best. A night drive on the way back to camp is a nice way to end off the afternoon in the hope of seeing nocturnal animals, like springhares, serval, honey badgers, bat eared fox and if you are lucky a leopard or an aardwolf. The day ends with dinner in the main camp area and a night cap or coffee around the camp fire under the African night sky.
DAY 5
Another day of game viewing activities at Camp Hwange, tailor-made to suit your needs and influenced by what the wildlife at the time of your visit is doing. Hwange offers some of the best wildlife sightings available in Africa without the congestion of numerous tourists
**Please note that the above activity schedule is a guideline and you can tailor-make your itinerary with the camp managers onsite, to suit your exact needs.
Hwange National Park
Hwange National Park is Zimbabwe's biggest reserve, home to a profusion of wildlife, including giraffe, lion, zebra and approximately 45 000 elephants. It provides sanctuary for all the country's endangered species, including a population of wild dogs thought to be among the most sizeable surviving groups on the continent. Terrain ranges from desert dunes and savannah lands to rocky outcrops and sparse forests.
Overnight: Camp Hwange
Ideally situated in a superb private concession in the North part of the Hwange National Park, just 4hrs by road from Victoria Falls. Camp Hwange consists of 8 comfortable luxury tents and definitely ranks amongst the absolutely top safari camps in Hwange. This northern section of the park is not frequented by many tourists - this along with Camp Hwange's own private concession, ensures that you have a personalised, unique and intimate safari experience.
Camp Hwange offers the chance to have an unforgettable experience with excellent safaris both by vehicle and on foot, plus the chance to do night drives. The guides, arguably considered to be amongst the best in Africa, share with you their love of nature and in-depth knowledge. A stay at Camp Hwange is more than a great safari, it is a life experience.
Activities at Camp Hwange
Game Walk
Camp Hwange reverts back to the concept the original safari, where activities centred on being immersed in the wild, walking being the main activity. During walks with well trained and experienced guides you will track and follow some of the most feared animals of Africa, secure in the knowledge that your guides and trackers are competent in all aspects of this exciting adventure. Not only will you get the chance to see the well-known dangerous animals, sightings and the habits of the smaller, lesser known species and aspects of the African bush will be explained you, giving you an insight into the mysteries of how all things depend on each other.
Just before the sun rises your day on safari begins. After a wakeup call everyone gathers at the camp fire to have a light breakfast before setting out on the morning's activities. We usually leave Camp Hwange by Land Rover for a game drive to a designated area chosen earlier, where you will be briefed by your guide and then all set off on a safari walk.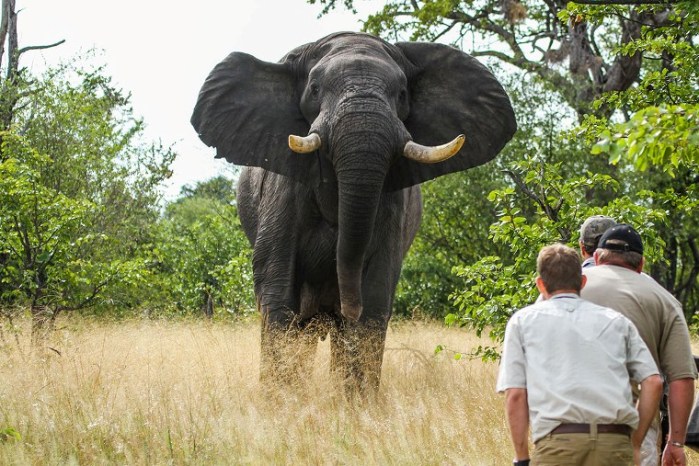 Hide Sits
Sit and watch the activities at the waterhole. We do have a unique log pile hide in the shade near the waterhole which you guide will be happy to take you - so that you may have a close up view of all the visitors needing to drink and carry out their ablutions.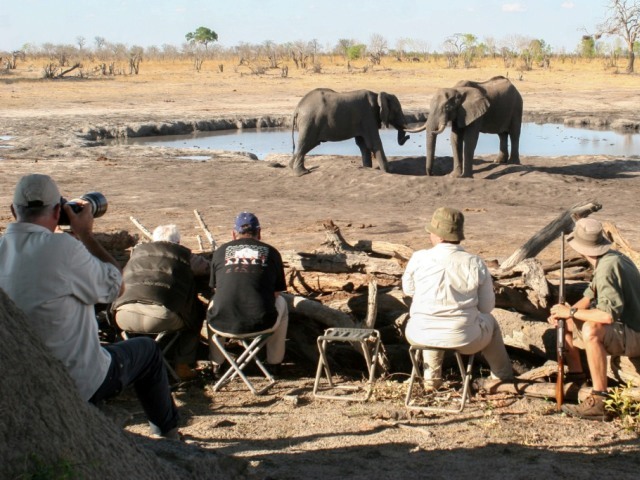 Game Drives
In the mornings when it is still cool and the light is soft for photography, the air of expectancy is everywhere. It is nice to cruise along in the vehicle getting a few pictures of animals here and there. Your guide will be scowering the road for tracks of some of the animals that rule the night i.e. lion, hyena and leopard to mention a few. Should you not find them in the vehicle, but find their tracks especially the lion then it is time to get out and track them on foot. Whether you see them up close or as a flash running away, time on foot with lion is thrilling way to spend the morning.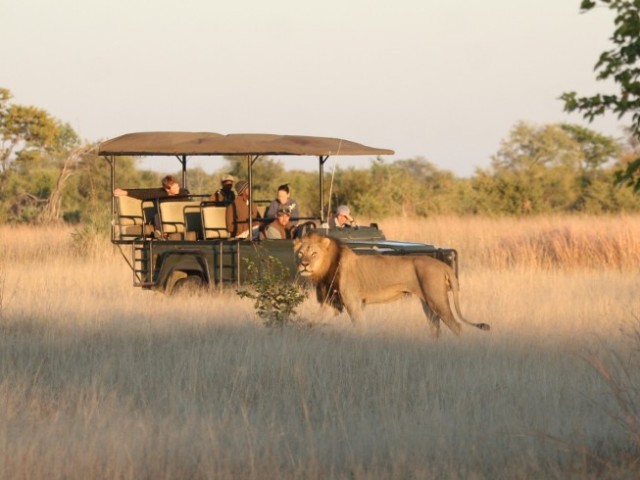 ---

Notes: Day 6, 7 & 8
DAY 6
On this day, after breakfast you will be picked up for your road transfer to Victoria Falls. Enjoy lunch at Batonka Guest Lodge, or go into town to sample other lunch options. We recommend an afternoon helicopter flight, then an evening cruise with dinner on the Zambezi River. Although activities are not included in the package price, please let us help you to arrange an itinerary of activities suitable for you. Have a look at these Victoria Falls activities to see what is on offer.
DAY 7
You have another full day to soak up the Victoria Falls and partake in some of the numerous activities on offer. Visit our Activities Page or contact us to help arrange your activities for you.
DAY 8
This is sadly the last day of your Safari. Around mid-morning, you will be picked up for your transfer to Victoria Falls International Airport in time for your international departure flight.
Victoria Falls
One of the original natural wonders of the world, the Victoria Falls is a World Heritage Site and an extremely popular tourism attraction. Known locally as 'The Smoke that Thunders', this spectacle is accessible from both Zambia and Zimbabwe and it is an ideal place to combine a game viewing and water sports. There is excellent fishing, a terrifying bungee jump and arguably the best commercial white water rafting in the world.
Overnight: Batonka Guest Lodge
Batonka Guest Lodge is an upmarket boutique guest lodge and simply put is just beautiful. It really is in a class of its own in this price range and also holds onto a standard of service that is rare to find these days. The Eco Friendly Lodge opened its doors in June of 2016 and is located in the residential suburbs just 2.5 kilometres from the Victoria Falls entrance. Being new it has all the up-to-date mod cons.
The lodge offers 22 tastefully designed and decorated, spacious rooms each with its own small balcony. TV, wifi, air-conditioning, universal chargers and a tea and coffee station are standard in every room. The large modern en-suite bathrooms are really stunning. Inter-leading family rooms are available.
The large central area encompasses the reception, curio shop, lounge and indoor dining room as well as a very large outside terrace which overlooks the gardens and swimming pool. This terrace, with a nice coffee bar is an ideal place to relax and chat to fellow travellers take in a coffee or opt to eat your meals here. All of the above makes for grand lodge but perhaps Batonka greatest feature yet is its staff; super friendly, accommodating and helpful, most guests just don't want to leave.
---
Price
Total Price 7 Nights: US$ 3111 (low season) | US$ 4065 (high season)
Per person sharing
Included in this safari
CHOBE SAFARI LODGE
• Accommodation in a luxury room
• 2 x Breakfast, 2 x Lunch and 2 x buffet dinner
• Activities: 2 game drives, 2 boat cruises
• Chobe National Park fees
CAMP HWANGE
• Accommodation in a thatched chalet
• All meals and local beverages
• Laundry
• Emergency Medical Evacuation
• Conservation fees
• All Activities: Game drives; Walking safaris; Night drives; Hide sits etc
BATONKA GUEST LODGE
• Luxury accommodation in a standard room
• Daily breakfast
TRANSFERS
• Transfer from Kasane Airport to Chobe Safari Lodge
• Cross-border transfer from Chobe Safari Lodge to Camp Hwange
• Return road transfer between Camp Hwange and Victoria Falls
• Airport transfer from Batonka Guest Lodge to Victoria Falls Airport
Excluded
CAMP HWANGE
• Premium beverages
BATONKA GUEST LODGE
• All other meals and drinks
• Activities

More Travel Information
• Victoria Falls Travel Information
• Victoria Falls Activities
• Hwange National Park Information
• Chobe National Park Information
THE VIC FALLS BUSH TELEGRAPH
our Bi-Monthly E-Newsletter

Each issue has a destination update, loads of information about conservation and wildlife, specials offers, traveller tips, community projects, website highlights and tons more...

Find out more about our Bush Telegraph

"Your newsletter keeps me informed about new and old and is the best I've seen in a long while - informative, not commercial, just plain perfect!" - I.Skliros

Don't worry. Your e-mail address is totally secure. I promise to use it only to send you The Vic Falls Bush Telegraph.
Return from this Zimbabwe Botswana Safari IG7A page to our home page