Zimbabwe Safari IG8B
Victoria Falls, Hwange and Kariba, often referred to as the golden triangle. This 8-night safari offers a perfect combination of game viewing, leisure and excitement.
2 Nights Victoria Falls, Zimbabwe
3 Nights Hwange National Park
3 Nights Lake Kariba
9 Days / 8 Nights
Reference: IG-8B
Starts Victoria Falls Airport / Ends Victoria Falls Airport

Total Price 8 Nights: US$ 8054 high season, US$ 3819 low season
per person sharing



Safari Overview
Victoria Falls, Hwange National Park and Kariba, often referred to as the golden triangle, offer a perfect combination of game viewing, leisure and excitement. Starting with 2 nights at the upmarket Ilala Lodge allows you to see the magnificent Falls and enjoy some of the exciting Victoria Falls activities on offer. Followed by 3 nights at Somalisa Camp, which is situated on a premier wildlife concession deep within the Hwange National park, offering outstanding game viewing opportunities. Finally wind down and relax at Bumi Hills Safari Lodge on Lake Kariba with views that will take your breath away along with some land and water based activities. Charter flights are included throughout. This classic Zimbabwe safari will without doubt leave you with memories that will last a lifetime.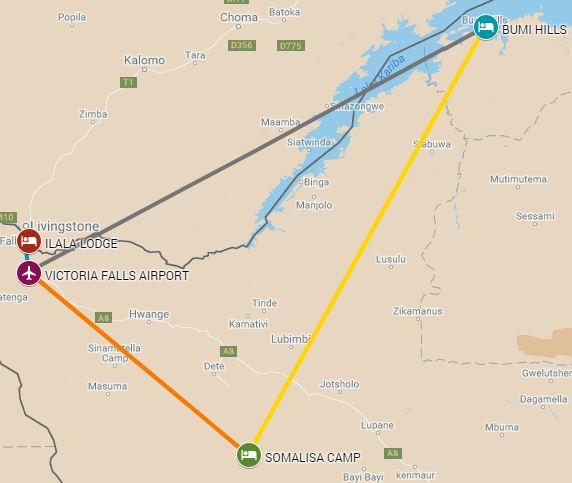 Zimbabwe Safari IG8B Inspired Journey Overview
Accommodation
Nights 1 & 2 - Deluxe room at Ilala Lodge
Nights 3, 4 & 5 - Luxury tented room at Somalisa Camp
Nights 6, 7 & 8 - Luxury tented suite Bumi Hills Safari Lodge
Transfers Included
Day 1 - Road Transfer: Victoria Falls Airport to Ilala Lodge (30 mins)
Day 3 - Road Transfer: Ilala Lodge to Victoria Falls Airport (30 mins)
Day 3 - Road Transfer: Hwange airstrip to Somalisa Camp (30 mins)
Day 6 - Road Transfer: Somalisa Camp to Hwange airstrip (30 mins)
Day 6 - Road Transfer: Bumi airstrip to Bumi Hills Safari Lodge (20 mins)
Day 9 - Road Transfer: Bumi Hills Safari Lodge to Bumi airstrip (20 mins)
Flights Included
Day 3 - Victoria Falls to Hwange (50 mins)
Day 6 - Hwange to Kariba (1 hr)
Day 9 - Kariba to Victoria Falls (1 hr 30 mins)
Highlights
View the spectacular and mighty Victoria Falls
Partake in the multitude of activities available at Victoria Falls from sedate sunset cruises to adrenaline crazy bungee jumping and everything in between (activities not included)
Outstanding and personalised game viewing on a private concession in Hwange National Park
Beautiful spacious en-suite tents with comfortably furnished private decks, overlooking Somalisa's waterhole
Fantastic relaxing getaway on Lake Kariba, with breath-taking views of the lake
Various activities while at Bumi Hills including game viewing, fishing, and cultural tours
---

Notes: Day 1 & 2
DAY 1
You will be met at Victoria Falls airport by one of our representatives and transferred by air-conditioned minibus to Ilala Lodge arriving by mid-afternoon. This gives you time to settle in and relax or we recommend a sunset cruise or helicopter flight on this first afternoon. Although activities are not included in the package price, please let us help you to arrange an itinerary of activities suitable for you. Have a look at this Victoria Falls activities page to see what is on offer.
DAY 2
You have 1 full day to soak up the wonderful atmosphere of Victoria Falls. It is the adventure capital of Africa and there are activities on offer to cater for everyone's needs. View the mighty Falls, partake in the many activities on offer or wander around the streets to do a bit of curio shopping, then finish off at a cafe for refreshments and a bite to eat. Please have a look at the available Victoria Falls Activities and contact us to arrange a suitable itinerary just for you.
Victoria Falls
One of the original natural wonders of the world, the Victoria Falls is a World Heritage Site and an extremely popular tourism attraction. Known locally as 'The Smoke that Thunders', this spectacle is accessible from both Zambia and Zimbabwe and it is an ideal place to combine a game viewing and water sports. There is excellent fishing, a terrifying bungee jump and arguably the best commercial white water rafting in the world.
Overnight: Ilala Lodge
The warmest of welcomes awaits you at Ilala Lodge Hotel. A gracefully distinguished ambiance. Attentive yet discrete service that always comes with a smile. The sublime surroundings of this boutique hotel will reawaken your senses while the power of the majestic Victoria Falls renews your spirit.
Relax in luxurious style. Listen to the meditative rhythm of the great Zambezi River as you drift off to sleep. As morning comes, gently awake and lift your head to see the spray of the majestic Victoria Falls across the unspoiled horizon – and let your soul sigh.
Feel at ease in the elegant and spacious rooms with African Teak furniture, soft, crisp linen – all en-suite facilities, bathroom with separate shower, air conditioning, overhead fan, satellite TV, hair dryer, tea & coffee making facilities, free Wi-Fi and a safe. The view from your room looks across the lawns to the National Parks where elephant, warthog, impala or the occasional buffalo might be passing by or simply grazing on the lawn or in the tree line.
Experience new tastes, indulge in unusual flavours and enjoy delectable dishes at our award winning restaurant "The Palm"; dine in view of the spray of the majestic Victoria Falls! Lodge also has a spa, where you can spoil yourself after that long safari!
---

Notes: Day 3, 4 & 5
DAY 3
Today, you will be picked up after breakfast for your charter flight to Hwange. Your flight takes about 50 minutes, then it is a 30-minute game drive to Somalisa Camp. After lunch it's siesta time during the heat of the day, so take time to relax in your room or the main lodge area and watch animals as they come down to drink at the waterhole. Then it's your chance to see some fantastic wildlife on an afternoon and evening game drive with your experienced guide. Return to the lodge after sunset, freshen up and enjoy a delicious dinner and evening around the campfire, recounting stories of the afternoons wildlife sightings.
DAY 4
No two days are the same at Somalisa, game viewing experiences are tailor-made to guest's preferences, please see details below of the activities available and arrange these with the lodge managers onsite to suit your individual needs. Whether you choose to track a herd of elephant on foot with your highly trained guide at dawn or spend the afternoon relaxing overlooking the waterhole on the deck by the pool, this wild and unspoilt bush paradise will guarantee you leave with memories to last a lifetime!
DAY 5
Another day of game viewing activities at Somalisa, tailor-made to suit your needs and influenced by what the wildlife at the time of your visit is doing. Hwange offers some of the best wildlife sightings available in Africa without the congestion of numerous tourists
Hwange National Park
Hwange National Park is Zimbabwe's biggest reserve, home to a profusion of wildlife, including giraffe, lion, zebra and approximately 40 000 elephants. It provides sanctuary for all the country's endangered species, including a population of wild dogs thought to be among the most sizeable surviving groups on the continent. Terrain ranges from desert dunes and savannah lands to rocky outcrops and sparse forests, and visitors have the choice of game drives, guided walks or horseback safaris as a means of experiencing the park and its creatures.
Overnight: Somalisa Camp
Somalisa Camp is set in the heart of Hwange National Park, and is known as the land of the giants for its big elephant herds. Nestled in a stunning location tucked away on an acacia island along the edge of an ancient seasonal flood plain, Somalisa provides guests with breath-taking views of the savannah plains across the famous Kennedy Vlei line. Recently re-built, Somalisa Camp has upgraded its level of accommodation to that of complete comfort and luxury whilst still maintaining its focus on the guiding and hosting of guests to ensure the ultimate guest experience.
Consisting of seven elegantly furnished Sail Tents with gauze sliding doors, a glass wood-burner fireplace for the cold winter nights, and an overhead fan for the hot summer days, each tent has en-suite bathroom facilities including flush toilets, an indoor and outdoor shower, as well as a copper slipper-style bathtub. The main decking area includes split level decking with a separate lounge and dining area, as well as a small splash pool for guests overlooking the "Elephant Pool" and a natural waterhole where herds of game congregate to drink and where guests can relax whilst soaking in the African bush.
Activities include guided walks lead by qualified and passionate guides who will share their knowledge and love of the bush with you, game drives and night drives. Wildlife sightings include elephant, kudu, sable antelope, zebra, wildebeest, gemsbok, the rare and endangered roan antelope, buffalo, giraffe, lion, leopard, hyena, and many other wildlife species.
Activities at Somalisa Camp
Game drives
Game drives are by qualified and passionate guides who will share their knowledge and love of the bush with you. The open land cruisers will accommodate six passengers on tiered seating so that views are not blocked and photographic opportunities are enhanced. Each of the vehicles are fitted with permanent canvas roofing to protect you from the varying weather elements, whilst still allowing an optimised up close and personal experience of wildlife. Guests who have booked a private vehicle can request for the roofing to be removed in advance of their safari.
Walking
Walking safaris are lead by armed and qualified guides. Because there is much more to an African safari than being driven around in a vehicle while passively viewing animals, Somalisa combines the ultimate itinerary with an expert guide, creating the complete journey, where experiences, knowledge and passions are shared and whereby a standard safari is transformed into an extra-ordinary one.
Bird Watching
Hwange National Park is known to have one of the highest diversities of wildlife and bird-life species than most National Parks in Southern Africa. There are over 470 birdlife species in the area.
Evening Game Drives
Evening Drives on Somalisa's Private Concession within the Hwange National Park are done in open land cruisers that will accommodate six passengers on tiered seating so that views are not blocked and photographic opportunities are enhanced. Each of the vehicles are fitted with permanent canvas roofing to protect you from the varying weather elements, whilst still allowing an optimised up close and personal experience of wildlife. Guests who have booked a private vehicle can request for the roofing to be removed in advance of their safari.
---

Notes: Day 6, 7, 8 & 9
DAY 6
Enjoy another early morning activity, then after breakfast prepare for your transfer out of Hwange National Park. The flight to Bumi Hills Airstrip takes about 1 hour and then it's a short 20-minute drive up to the hotel. Check into your room and then enjoy a lunch on the terrace, the view is breath-taking so just sit back and relax. Cool off in the infinity pool, or enjoy a spa treatment (optional extra) to wind down the day, or go on a boat cruise on Lake Kariba where you will spot the various animals that visit the shorelines to quench their thirst. Head back to the lodge for some drinks and prepare for dinner at the lodge's restaurant.
DAY 7
Go for a morning game drive with an experienced and knowledgeable guide out on the concession in an open 4×4 game viewer where you are likely to spot a wide variety of game, over 300 bird species as well as numerous insects, reptiles and trees! Return to the hotel for lunch and then if you wish take part in a cultural village tour to the sprawling mud-hut Tonga village under Chief Mola. A visit is both humbling and life-enriching to witness how these friendly, spiritual people survive under such harsh conditions and how they keep their centuries-old traditions alive along the length of the Zambezi River.
DAY 8
Wake up for a fishing excursion, a boat cruise, or a birding safari on the concession. Enjoy the rest of the day doing any of the available activities at Bumi Hills as this will be your last day in Kariba for this tour. Finish up your trip with a bush dinner (on request) along the Kariba shoreline.
DAY 9
Sadly, this is the last day of your safari. After breakfast you will be transferred to the airstrip for the 1 hour 30-minute flight back to Victoria Falls airport in time for your onward flight.
Lake Kariba
The planet's most voluminous man-made lake, Kariba is a popular tourist destination that was created in the 1950s when the mighty Zambezi River was dammed. It stretches for more than 200 kilometres along the border between Zimbabwe and Zambia, forming a natural boundary between the two countries. The lake's waters are home to abundant crocodiles, hippos, fish and aquatic birds, while its shoreline and islands are rich with terrestrial game such as elephant and buffalo. It has become one of Zimbabwe's main tourist attractions offering houseboat holidays, fishing safaris and wonderful game viewing experiences.
Overnight: Bumi Hills Safari Lodge
Bumi Hills Safari Lodge boasts one of Africa's finest wilderness locations with an elevated position on a range of remote hills overlooking the vastness of Lake Kariba. Bumi is situated near the North Eastern border of the Matusadona National Park and is easily accessible by light aircraft and boat, allowing you to be swiftly transported into paradise without the stress of a long journey.
The safari lodge has a total of 10 rooms, all with views over Lake Kariba. All rooms have balconies and uninhibited views over Lake Kariba. There are garden rooms available too, reserved for guides and tour leaders, with slated terraces, set a little way back. Taking centre stage is the beautiful infinity pool that seems to blend endlessly into the lake horizon. The pool is surrounded by intimate wine and dining terraces on different levels. The lodge interiors have been beautifully finished in a fusion of contemporary western and African styles.
Bumi Hills Safari Lodge is situated on an extensive wildlife conservation area. Bumi Hills is home to lion, leopard, big herds of elephant and buffalo, as well as a multitude of different plains game. Guests can indulge in superb fishing in the lake waters surrounding the safari lodge with bream and the fighting tiger fish in abundance. Birding and cultural experiences (with the rich local Tonga culture) also abound.
Activities at Bumi Hills
Wildlife Game Viewing
Bumi is unique among luxury safari lodges because of the exquisite added dimension of the water - Kariba is among the world's largest man-made lakes and a genuine African wilderness with far more animals than people. This allows for glorious game-viewing by boat as well as the traditional open 4 x 4 vehicles and walking in the wild with an armed professional guide.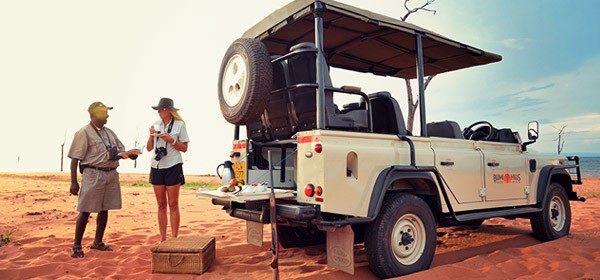 Birding
The Bumi area offers truly incredible birdlife, especially water birds, and hundreds of species have been recorded. It is a thrilling location for photography of the majestic scenery and wildlife, but also the prolific bird life for enthusiasts.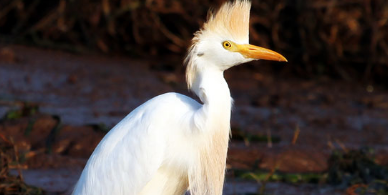 Fishing
Bumi is the prime fishing region of Kariba and is a major attraction that sets it apart from any traditional luxury safari lodge. Here it is rated one of Africa's Top 20 adventures. You'll thrill to catching the razor toothed tiger, pound-for-pound one of the world's most powerful freshwater species.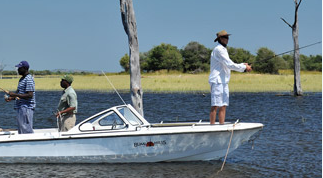 Cultural Excursions
The Bumi Hills Wildlife Area is bordered in the north west by the Chalala and Mola communities, which are home to the Tonga, a delightful and very spiritual people who have resided in this area and along the length of the Zambezi River for centuries. They have preserved ancient traditions and still live a largely subsistence lifestyle that is reliant on fishing, livestock and small scale farming. In the village of Chalala these customs have melted together with the inevitable infiltration of modern ways of life. However, the luxuries of a permanent electricity and water supply to homes are still absent, leaving the communities still largely reliant on the surrounding environment for their livelihood.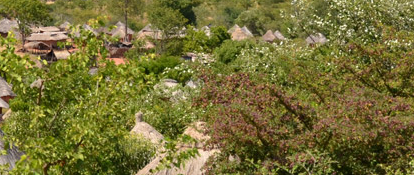 Lunch on Starvation Island
After a morning game drive, enjoy a delicious lunch on Starvation Island.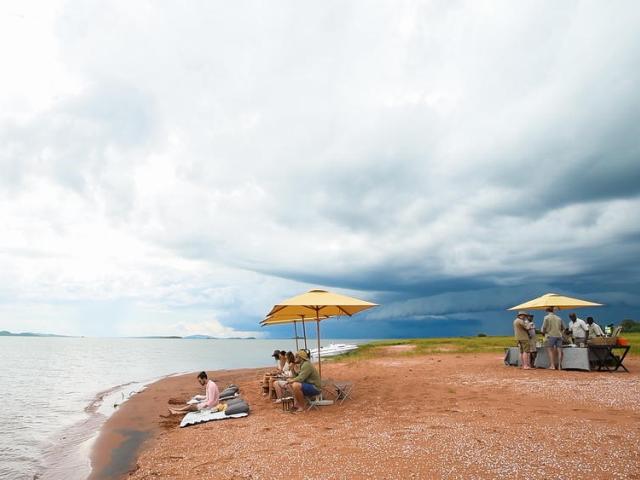 ---
Price
Total Price 8 Nights: US$ 8054 high season, US$ 3819 low season
Per person sharing
Included in this safari
ILALA LODGE
• Accommodation in a classy deluxe room
• Daily breakfast
SOMALISA CAMP
• Accommodation in a spacious, elegantly furnished tented suite
• All meals and non-premium drinks
• All game viewing activities
• Hwange National Parks Fees and Conservation Levy
• Laundry
BUMI HILLS SAFARI LODGE
• Accommodation in a luxurious safari tent with breath-taking views of Lake Kariba
• Standard Beverages, teas and coffees; Meals as served
• Laundry
• National Parks fees and Conservation levy
• Up to three scheduled activities per night of stay: Game drive, boat cruise, fishing, guided walking safari, cultural village tour
TRANSFERS
• Air transfers between Victoria Falls, Hwange and Bumi Hills
• All road transfers between lodges and airports/airstrips

Excluded
ILALA LODGE
• Other meals and drinks
• Activities
SOMALISA CAMP
• Premium and imported brand drinks
• Gratuities and items of a personal nature
BUMI HILLS
• Premium and imported brand drinks
• Spa Treatments

More Travel Information
• Victoria Falls Travel Information
• Victoria Falls Activities
• Hwange National Park Information
• About Kariba
THE VIC FALLS BUSH TELEGRAPH
our Bi-Monthly E-Newsletter

Each issue has a destination update, loads of information about conservation and wildlife, specials offers, traveller tips, community projects, website highlights and tons more...

Find out more about our Bush Telegraph

"Your newsletter keeps me informed about new and old and is the best I've seen in a long while - informative, not commercial, just plain perfect!" - I.Skliros

Don't worry. Your e-mail address is totally secure. I promise to use it only to send you The Vic Falls Bush Telegraph.
Return from Zimbabwe Safari IG8B page to our home page