Zimbabwe Safari IG8D
Victoria Falls and Mana Pools are two of Zimbabwe's iconic World Heritage sites. They offer plenty of excitement, breath-taking scenery and phenomenal game viewing opportunities. This magical 8-night safari combines the best of both these locations.

2 Nights Victoria Falls, Zimbabwe
6 Nights Mana Pools National Park
9 Days / 8 Nights
Reference: IG-8D
Starts Victoria Falls Airport / Ends Harare International Airport

Total Price 8 Nights: US$ 4701 high season, US$ 4429 low season
per person sharing

*This package is not available between December and March*


Safari Overview
Victoria Falls and Mana Pools are two of Zimbabwe's iconic World Heritage sites. They offer plenty of excitement, breath-taking scenery and phenomenal game viewing opportunities. This magical 8-night safari combines the best of both these locations.
Starting with 2 nights at the famous Victoria Falls Hotel. This Grand ol' Lady exudes an atmosphere from a bygone era. During your stay you will not only get to see the magnificent waterfall but you can also enjoy many of the Victoria Falls activities that are on offer. Followed by 3 nights at Kanga Camp, situated about an hour's drive inland from the Zambezi River in Mana Pools national park. It offers an authentic and unique game viewing experience, probably suited more to the seasoned safari goer. Then to balance it all, spend the last 3 nights at Zambezi Expeditions, a semi-permanent tented camp on the banks of the river. Offering canoeing, fishing, game drives and walks in and around Mana Pools, which needs little introduction on its quintessential game viewing opportunities. Charter flights are included throughout.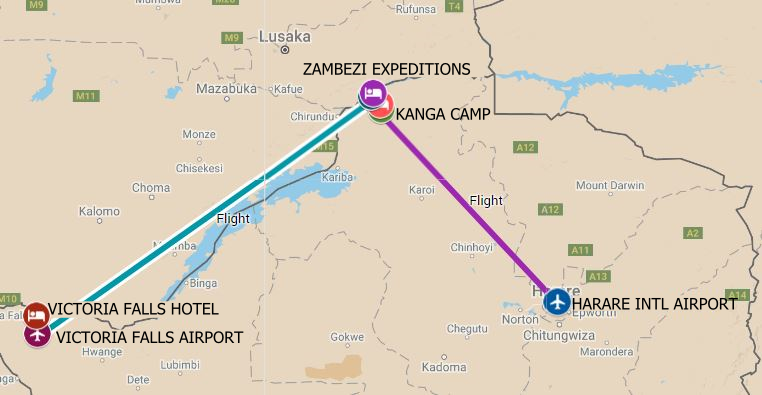 Zimbabwe Safari IG8D Inspired Journey Overview
Accommodation
Nights 1 & 2 - Classic room at Victoria Falls Hotel
Nights 3, 4 & 5 - En-suite permanent Meru tent at Kanga Camp
Nights 6, 7 & 8 - En-suite semi-permanent Meru tent at Zambezi Expeditions
Transfers Included
Day 1 - Road Transfer: Victoria Falls Airport to Victoria Falls Hotel
Day 3 - Road Transfer: Victoria Falls Hotel to Victoria Falls Airport
Day 3 - Road Transfer: Mana Pools airstrip to Kanga Camp
Day 6 - Road Transfer: Kanga Camp to Zambezi Expeditions Camp
Day 9 - Road Transfer: Zambezi Expeditions Camp to Mana Pools airstrip
Flights Included
Day 3 - Victoria Falls Airport to Mana Pools airstrip (2hrs 10mins)
Day 8 - Mana Pools airstrip to Harare International Airport (1hr 25mins)
Highlights
View the spectacular and mighty Victoria Falls
Partake in the multitude of activities available at Victoria Falls from sedate sunset cruises to adrenaline crazy bungee jumping and everything in between (activities not included)
Spectacular views of the Zambezi gorge and the Victoria Falls Bridge from the Stanley Terrace at Victoria Falls Hotel
Both inland and riverside experiences in Mana Pools National Park
Excellent game viewing at the waterhole in front of Kanga Camp
Kanga under the stars
Various exciting safari activities such as canoeing, fishing, game walks and drives in Mana Pools at Zambezi expeditions
---
Notes: Day 1 & 2
DAY 1
You will be met at Victoria Falls airport by one of our representatives and transferred by air-conditioned minibus to you the famous Victoria Falls Hotel, arriving by mid-afternoon. This gives you time to settle in and relax or we recommend a sunset cruise or helicopter flight on this first afternoon. Dinner can either be at the hotel or we can recommend other options in and around town. Although activities are not included in the package price, please let us help you to arrange an itinerary of activities suitable for you. Have a look at this page on Victoria Falls activities to see what is on offer.
DAY 2
You have 1 full day to soak up the wonderful atmosphere of Victoria Falls. It is the adventure capital of Africa and there are activities on offer to cater for everyone's needs. View the mighty Falls, partake in the many activities on offer or wander around the streets to do a bit of curio shopping, then finish off at a cafe for refreshments and a bite to eat. Please have a look at the available Victoria Falls Activities and contact us to arrange a suitable itinerary just for you.
Victoria Falls
One of the original natural wonders of the world, the Victoria Falls is a World Heritage Site and an extremely popular tourism attraction. Known locally as 'The Smoke that Thunders', this spectacle is accessible from both Zambia and Zimbabwe and it is an ideal place to combine a game viewing and water sports. There is excellent fishing, a terrifying bungee jump and arguably the best commercial white water rafting in the world.
Overnight: Victoria Falls Hotel
The Victoria Falls Hotel, popularly known as "the grand old lady of the Falls", is situated in the Victoria Falls National Park, a world heritage site, and is a member of the exclusive Leading Hotels of the World group. It is one of only three IS0-accredited hotels in Zimbabwe.
The Edwardian-style five-star hotel, built in 1904, combines the charm of the old with the convenience of the new. Set in lush tropical gardens with lily ponds, palm trees and semi-tropical shrubs, it provides the tranquillity and seclusion that many guests seek. The famous Victoria Falls are just a ten-minute walk away using the hotel's private pathway, and "the smoke that thunders" or "Mosi-O-Tunya" in the local dialect, is clearly audible and visible from this luxurious landmark.
World-class service, and food and beverage choice and preparation second to none, make the hotel a magnet for international visitors and locals alike. The opulent Livingstone Room for fine dining and dancing, the Jungle Junction with its famous breakfast and dinner buffets and ethnic entertainment in the evenings, offer variety and wide choice. Stanley's Terrace, with its clear view of the Victoria Falls Bridge, connecting Zimbabwe and Zambia, is renowned for its cocktails and afternoon teas. The Terrace has been a rendezvous for adventurers in Africa for over a century.
The ambience of the hotel is steeped in that history with all suites decorated in the gracious Edwardian style of Zimbabwe's colonial era. Small executive meetings and private dining facilities are easily arranged for those who wish to combine a little business with a lot of pleasure, and all in a secluded and discreet environment. It is the Victoria Falls Hotel that remains the major attraction for visitors. Waking up to the sound of "the smoke that thunders", seeing the sun rise beneath the mist of one of the seven natural wonders of the world and the lunar rainbow at night, all the while soaking up the history and ambience of a bygone era, is more than unforgettable – it is unique.
Dining Experiences at the Victoria Falls Hotel
Livingstone Room
Enjoy dinner and dancing in the elegant Edwardian Livingstone Room, with classic a la carte and tables d'hote menus. Whilst the Livingstone Room reflects the century old hotel's style of grandeur and opulence, the dress code has been relaxed for the convenience of the guest. A fine selection of wine and liqueurs are available. Maximum seating capacity of 120 pax.
Jungle Junction
Dining at the Jungle Junction offers an unforgettable experience with a fusion of African flavours. Entertainment from ethnic groups epitomises the spirit of Africa. Jungle Junction is the ideal venue for incentives groups. The Jungle Junction has a maximum seating capacity of 140 pax.
Stanley's Terrace
Stanleys Terrace is a must for light meals throughout the day. Traditional high tea is served every afternoon, with spectacular views of The Victoria Falls Bridge and the Victoria Falls themselves. Stanleys Terrace is the ideal location for sundowners and offers a table d'hôte menu with an a la carte menu on offer after 1100hrs. Stanleys Terrace has a maximum seating capacity of 100 pax.
---
Notes: Day 3, 4 & 5
DAY 3
Today, after breakfast you will be transferred to Victoria Falls Airport for your chartered flight to Mana Pools. The air transfer takes about 2 hours, and then a game drive takes you into Kanga Camp. Lounge around on the deck under the trees, take a dip in the pool, or have a siesta in your room. Later in the afternoon, join others for tea/coffee/refreshments and snacks. Thereafter, it's time for an afternoon/evening game drive around the private concession. You will be brought back to camp for a three course meal in the dining area on the main deck under the trees. Wind down with some drinks and stories before retiring for the night.
DAY 4
Wake up to a light breakfast before heading out on a walking safari or game drive. With your expert guide, get to know the park intimately, getting as close as you can to the African wildlife, flora and birdlife. Head back to camp for brunch and some rest. You may opt to relax on the raised deck, or taking a siesta in your comfortable tent. Kanga Camp gets great game at the pan, so you can enjoy an armchair safari if you do not want to go out for any activities (recommended). After the afternoon tea, if you wish to do the sleeping out experience (Kanga under the stars), your guide will walk you about a kilometre out of camp to the elevated sleeping platforms. Your drinks will be waiting for you around the campfire, and your dinner will be served while you are out there. Enjoy the sounds of the wild and the African night sky. Alternatively, you can opt for another activity and spend the night in your own tent.
DAY 5
The mornings are good for morning bush walks while it is still cool. After a light breakfast, head out with your qualified guide and catch the morning action on foot. Or you can opt for a game drive deeper into Mana Pools National Park. In the dry season, you may not need to go further than the camp's deck for a true Armchair Safari where the animals visit Kanga Pan. Brunch follows and then you get some relaxation time. Cool down in the pool or take a nap in your room. High Tea will be served in the afternoon and then you can enjoy an afternoon activity such as a drive and some fishing out on the Zambezi River. Break for sundowners before heading back to camp with a game drive, where your 3-course dinner will be waiting.
**Please note that the above activity schedule is a guideline and you can tailor-make your itinerary with the camp managers onsite, to suit your exact needs.
Mana Pools National Park
The life-giving power of the Zambezi River makes Mana Pools National Park one of Zimbabwe's lushest and flourishing regions, designated as the country's second World Heritage Site and known as one of the continent's premier game-viewing regions. Canoe trips are offered year round and provide a unique and memorable way for visitors to experience the area's striking scenic beauty and diverse fauna, while guided walks are a great way to see its pristine riverside forests.
Overnight: Kanga Camp
Kanga Camp is set within the most remote part of this World Heritage Site: Mana Pools. The camp is built around the Kanga Pan, the only permanent water source in the area available throughout the year, making it a hub for wildlife and a delight to explore on foot. Pristine and undeveloped, this area gives you a pure, unspoilt, private African safari experience. The diverse area has a multiple of open vlei lines, river systems of the Ruckomechi River, and mixed woodland types from Mopane woodland to Jesse bush and riverine forests. Pristine and undeveloped, this area gives you a pure, unspoilt, private African safari experience.
This 12 bedded luxury tented camp comprises of 6 luxury meru-style tents all furnished simply yet elegantly, with en-suite bathroom facilities which include flush toilets and running hot and cold water. Two of the tents are honeymoon units with a private deck for dining and relaxing in the afternoons. The honeymoon units can also be converted into a Family unit on special request. The main area has a comfortable lounge and dining area offering you uninterrupted views of a very active water hole. Relax in the upper deck lounge under the shade of a mahogany or sit on the deck below near the splash pool and enjoy Kanga − the old Africa in a new era.
Besides game drives and walking excursions, an hour's drive brings you to the wild Zambezi River where guests are able to join additional activities such as canoeing and fishing excursions on special request. The major highlight during your stay at Kanga, is "Kanga Under the Stars" − an opportunity to sleep on an open platform and experience the magnificence of an African night lit up solely by a sky studded with stars.
Activities at Kanga Camp
Game drives
Game drives at Kanga Camp are always full of surprises. Safaris in this game-rich region of Zimbabwe means there are common sightings such as leopard and wild dog. During the dry season, game drives are often not needed as the game comes straight to the pan in front of Kanga where fresh water is pumped throughout the day. Being the only pan within a 10km radius, this brings the true meaning to an Armchair Safari.
Walking
Walking at Kanga Camp is absolutely superb with the guidance of one of our professional guides in camp, walking in Mana Pools is one of the closest things we can get to being in the complete wilderness. Get to know the flora of the region or track lions on foot. A walk in Mana Pools is something truly special.
Kanga Under the Stars
A more adventurous option from Kanga Bush Camp is a sleep out approximately a kilometre from camp, where four sleeping platforms have been erected high up on wooden stilts under large wild fig trees. These consist simply of a mattress, with pillows and duvets, laid on a wooden platform, and completely covered by a mosquito net. Down below, two platforms each share a flush toilet and a bucket shower. A late afternoon walk/ drive from Kanga, with your guide, will bring you to 'Kanga under the Stars', where staff will be waiting for you with ice-cold drinks around a campfire. Later there is a three-course dinner, and in the morning, breakfast is served before walking back to Kanga.
---
Notes: Day 6, 7, 8 & 9
DAY 6
On your last morning at Kanga you will be picked up after breakfast for the hour long game drive to Zambezi Expeditions on the Mana Pools shoreline. Relax and enjoy the wonderful views of the Zambezi river. After high tea, go on an afternoon/evening game drive or walk through the Mana Pools flood plains. Return to camp for dinner served under a mess tent or outside along the shoreline.
DAY 7
Wake up for breakfast and start the day with an early morning game drive along the floodplain with expert guides - some of the best in Africa. This can be an all-day affair, where you will see an abundance of wild animals such as eland, elephant, painted dogs, water buck, and big herds of buffalo, kudu, lion and leopard. Meals and refreshments will be packed for you. Combine this activity with a walking or canoe safari to make the most out of your game viewing experience. Return to camp for some relaxation – a sundowner right on the Zambezi River banks is a great way to wind down. Dinner will be served under the mess tent or under the stars on the shoreline.
DAY 8
Today, you might decide to start off with a canoe safari and watch the early morning animal activities along the river banks. During the heat of the day relax in camp and watch nature unfold around you. Some fishing would be a great afternoon activity or choose from one of the other activities, details of which can be seen below. Dinner will be served either under a mess tent or along the shoreline.
DAY 9
Sadly, today is your departure day, so after breakfast, you will head out to the airstrip for your flight to Harare Airport and your onward arrangements. The air transfer takes 1.5 hours.
**Please note that the above activity schedule is a guideline and you can tailor-make your itinerary with the camp managers onsite, to suit your exact needs.
Overnight: Zambezi Expeditions Camp
The legendary Mana Pools is known for its wildlife rich flood plains and magnificent views of the Zambezi River, with the Zambezi Escarpment in Zambia as a dramatic backdrop to the scenery. The river boasts some of Africa's most amazing tiger fishing and adventure canoeing safaris, creating the perfect combination of beauty and fun and making this World Heritage site a must-visit national park.
Zambezi Expeditions offers one of the best ways to experience Mana Pools on the banks of the mighty Zambezi River. The 8-bed luxury mobile camp is set up prior to your arrival. Comprising of 4 twin bedded mini-meru style tents with en-suite bathroom facilities including flush toilets and al fresco bucket showers, the camp gives luxury camping a new definition by virtue of its simple yet elegant and comfortable furnishings. A 12-bedded camp consisting of six tents can be set up for a single group on special request.
The camp has a minimum stay of two nights for a minimum of two people and is the perfect combination to include with Kanga Camp for an overall riverside and inland experience.
Activities with Zambezi Expeditions Camp
Game Drives
One of the main highlights is a game drive along the flood plain in an open 4 x 4 Land Cruiser that takes you into the heart of an Africa dream abounding with the continent's unique animals − eland, elephant, African wild dogs, water buck, big herds of buffalo, kudu, lion and leopard.
Walking Safaris
Take a walk in the wild and encounter wild animals up close with Zambezi Expeditions Game Walks. Accompanied by one of our professional and highly-trained field guides, explore the banks of the Zambezi River on foot.
Canoeing
Zambezi Expeditions is situated on the banks of the mighty Zambezi River and offers canoeing safaris. Accompanied by one of our professional guides, a canoe trip is as exciting as it sounds with opportunities to get up close to some of Africa's wild animals while slowly cruising down the Zambezi. Elephants, hippos and crocodiles are common sightings. At the end of the canoe safari you are met by one of our game vehicles and transferred back to camp in time for an afternoon siesta.
Fishing
The Zambezi River is well-known for some of the best tiger fishing spots in Africa. The slow flow of the Zambezi allows for great catch-and-release tiger fishing and our guides are on-hand to assist in some early morning or afternoon fishing.
---
Price
Total Price 8 Nights: US$ 4701 high season, US$ 4429 low season
Per person sharing
Included in this safari
VICTORIA FALLS HOTEL
• Accommodation in a Classic room
• Breakfast daily
KANGA CAMP
• Accommodation in a large and spacious Meru-style tent
• All meals and non-premium beverages
• Laundry
• Mana Pools National Park fees & Conservation levy
• Two game viewing activities per day: Armchair safari, Game drive, Game walk, Kanga under the stars, Bird watching
ZAMBEZI EXPEDITIONS
• Accommodation in a mobile en-suite tent facing the Zambezi River
• All meals and local drinks
• Laundry
• Mana Pools National Park fees & Conservation levy
• Two game viewing activities per day: Game drive; Game walk; Fishing; Canoe safari
TRANSFERS
• Flight transfers from Victoria Falls to Mana Pools, and from Mana Pools to Harare
• All road transfers between the above hotels/camps and airports/airstrips
Excluded
VICTORIA FALLS HOTEL
• Meals other than breakfast
• Additional transfers, Victoria Falls activities and park fees
KANGA CAMP & ZAMBEZI EXPEDITIONS
• Premium imported spirits and champagne
• Transfers and activities other than those specified
More Travel Information
• Victoria Falls Travel Information
• Victoria Falls Activities
• Mana Pools
Return from Zimbabwe Safari IG8D page to our home page