Zimbabwe Safari IG9E
This specialised 9-night safari takes you along the Upper, Middle and Lower sections of the mighty Zambezi River. It's slightly out of the ordinary targeting unique safari opportunities, that we think are sure to enthral and delight the adventurous traveller.

2 Nights Victoria Falls, Zimbabwe
4 Nights Lake Kariba
3 Nights Mana Pools National Park
10 Days / 9 Nights
Reference: IG-9E
Starts Victoria Falls Airport / Ends Harare International Airport

Total Price 9 nights: US$ 4841.50 high season, US$ 4164.50 low season (2020)
per person sharing



Safari Overview
This specialised 9-night safari takes you along the Upper, Middle and Lower sections of the mighty Zambezi River. It's slightly out of the ordinary targeting unique safari opportunities, that we think are sure to enthral and delight the adventurous traveller.
Starting off gently with a couple of nights in Victoria Falls at the boutique Batonka Guest Lodge, just a few minutes away from the centre of Africa's adventure capital, where you can explore a variety of exciting Victoria Falls activities and the largest waterfall in the world itself.
Then fly to one of Zimbabwe's less travelled safari gems – Lake Kariba. Once the biggest man-made lake in the world, Kariba is a safari paradise with incredible scenery and wildlife. Musango Safari Camp captures the very essence of Kariba, it is owner run with a wide range of unique and special activities both land and water based. This will be no ordinary four nights!
Finally, another short flight, hops you down to the Lower Zambezi for a wonderful three nights, camping and canoeing in Mana Pools National Park – considered to be one of the best safari destinations in Africa. Walking, canoeing and comfortable accommodation makes this a unique and unforgettable experience. There is nothing quite like it.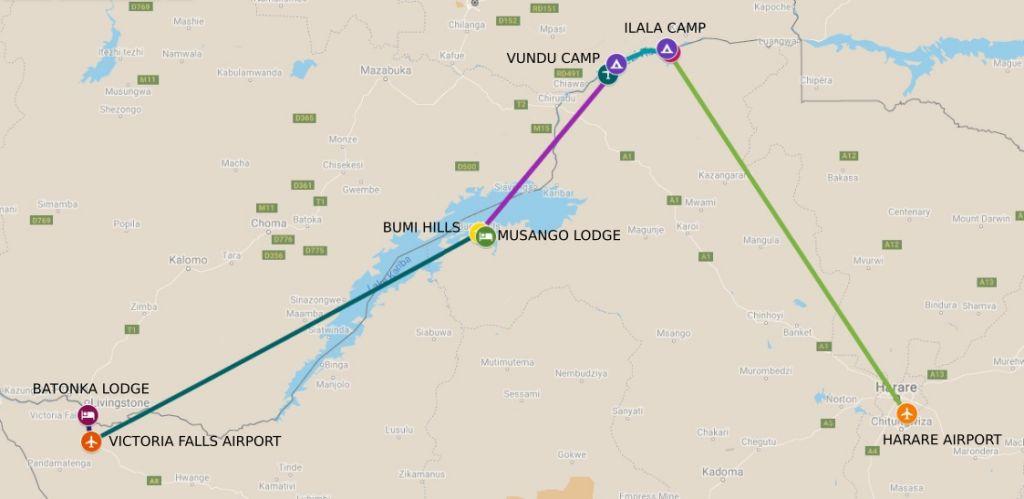 Zimbabwe Safari IG9E Inspired Journey Overview
Accommodation
Nights 1 & 2 - Room at Batonka Guest Lodge
Nights 3, 4, 5 & 6 - Safari tent at Musango Safari Camp
Nights 7, 8 & 9 - Mobile tents at Odyssey Canoe Safari
Transfers Included
Day 1 - Road Transfer: Victoria Falls Airport to Batonka Lodge (25 mins)
Day 3 - Road Transfer: Batonka Guest Lodge to Victoria Falls Airport (25 mins)
Day 3 - Road / Boat Transfer: Kariba airstrip to Musango Safari Camp (1 hr)
Day 7 - Road / Boat Transfer: Musango Safari Camp to Kariba airstrip (1hr)
Day 7 - Road Transfer: Mana west airstrip to Vundu Camp (30 mins)
Day 10 - Road Transfer: Ilala Camp to Mana main airstrip (45 mins)
Flights Included
Day 3 - Victoria Falls to Kariba (1hr 30mins)
Day 7 - Kariba to Mana Pools (45 mins)
Day 10 - Mana Pools to Harare International Airport (1hr 25mins)
Highlights
View the spectacular and mighty Victoria Falls
Partake in the multitude of activities available at Victoria Falls from sedate sunset cruises to adrenaline crazy bungee jumping and everything in between (activities not included)
Fantastic variety of land and water-based safari, cultural and historical activities at Musango
East-facing safari rooms with views of the lake – breath-taking sunrises to be expected
Chance to track the rare and highly endangered black rhino on foot!
Glide silently down the Zambezi River through Mana Pools National Park, and enjoy walking and canoe safaris.
---
Notes: Day 1 & 2
DAY 1
You will be met at Victoria Falls airport by one of our representatives and transferred by air-conditioned minibus to your hotel arriving by mid-afternoon. This gives you time to settle in and relax or we recommend a sunset cruise or helicopter flight on this first afternoon. Dinner can either be at the hotel or we can recommend other options in and around town. Although activities are not included in the package price, please let us help you to arrange an itinerary of activities suitable for you. Have a look at this page on Victoria Falls activities to see what is on offer.
DAY 2
You have a full day to soak up the wonderful atmosphere of Victoria Falls. It is the adventure capital of Africa and there are activities on offer to cater for everyone's needs. View the mighty Falls, partake in the many activities on offer or wander around the streets to do a bit of curio shopping, then finish off at a cafe for refreshments and a bite to eat. Please have a look at the available Victoria Falls Activities and contact us to arrange a suitable itinerary just for you.
Victoria Falls
One of the original 7 wonders of the world, the Victoria Falls is a World Heritage Site and an extremely popular tourism attraction. Known locally as 'The Smoke that Thunders', this spectacle is accessible from both Zambia and Zimbabwe and it is an ideal place to combine a game viewing and water sports. There is excellent fishing, a terrifying bungee jump and arguably the best commercial white water rafting in the world.
Overnight: Batonka Guest Lodge
Batonka Guest Lodge is an upmarket boutique guest lodge and simply put is just beautiful. It really is in a class of its own in this price range and also holds onto a standard of service that is rare to find these days. The Eco Friendly Lodge opened its doors in June of 2016 and is located in the residential suburbs just 2.5 kilometres from the Victoria Falls entrance. Being new it has all the up-to-date mod cons.
The lodge offers tastefully designed and decorated, spacious rooms each with its own small balcony. TV, wifi, air-conditioning, universal chargers and a tea and coffee station are standard in every room. The large modern en-suite bathrooms are really stunning. Inter-leading family rooms are available. The large central area encompasses the reception, curio shop, lounge and indoor dining room as well as a very large outside terrace which overlooks the gardens and swimming pool. This terrace, with a nice coffee bar is an ideal place to relax and chat to fellow travellers take in a coffee or opt to eat your meals here.
---
Notes: Day 3, 4, 5 & 6
DAY 3
You will be picked up from Batonka Lodge after breakfast and transferred to Victoria Falls Airport for your charter flight to Bumi Hills Airfield on Lake Kariba. This flight normally takes about 1.5-hours direct. From the airstrip, you will be transferred to the harbour where you will catch a speed boat transfer to Musango Safari Camp. After lunch, relax and take in the beautiful views of Lake Kariba before going on an afternoon boat cruise. After the cruise, return to camp for dinner and it's time to share stories around the campfire.
DAY 4, 5 & 6
Three full days at Musango, which is perfect because the range of activity options is quite something and each day brings with it excitement and adventure. You can read all about what activities are available below, then please chat to the lodge managers onsite and arrange your tailor-made itinerary suited to your specific needs.
Camp owners Steve and Wendy Edwards are in camp most of the time and it's a delight meeting them. Steve is certainly in the top 5 professional guides in the country, his knowledge is remarkable and his humour is infectious.
Typically, meals consist of early morning tea / coffee and continental breakfast, followed by a big brunch after your activity. Afternoon tea consists of something savoury and something sweet as well as hot and iced tea and coffee to wash it all down with. Sometimes all day trips are arranged whereby snacks and a packed lunch will be taken along. Dinner is a delicious 3 course affair. Drinks and snacks are provided on all activities.
Lake Kariba
The planet's most voluminous man-made lake, Kariba is a popular tourist destination that was created in the 1950s when the mighty Zambezi was dammed. It stretches for more than 200 kilometres along the border between Zimbabwe and Zambia, forming a natural boundary between the two countries. The lake's waters are home to abundant crocodiles, hippos, fish and aquatic birds, while its shoreline and islands are rich with terrestrial game such as elephant and buffalo. It has become one of Zimbabwe's main tourist attractions offering houseboat holidays, fishing safaris and wonderful game viewing experiences.
Overnight: Musango Safari Camp
Musango Safari Camp is an exclusive 16 bed camp situated just off the shoreline of the Matusadona National Park. Musango is owned and run by Steve Edwards and his wife Wendy. Steve is a professional guide and is considered to not only to be one of the best guides in Zimbabwe but one of the best in Africa. It is the only owner run safari camp on Lake Kariba, Zimbabwe.
Just a short flight away from Victoria Falls or Kariba, Musango offers an abundance of wildlife and bird life, with a wide selection of activities available or the option to simply relax.
The Musango activities include walking safaris, Big 5 game drives, boating safaris, cultural tours, sailing trips to Starvation Island and tiger fishing on the famous Lake Kariba. The activities offered are fun, informal and operated by trained and experienced guides.
Walking safaris provide guests the experience of tracking and photographing a wide variety of wildlife. Musango was involved in the re-introduction of black rhino into the Matusadona National Park, and guests can track the wild black rhino on foot within the park.
The Musango game drives are conducted across the water on the mainland in a classic game vehicle where guests can discover the prolific wildlife inhabiting the area.
Lake Kariba is a fantastic fishing location, and Musango caters for both novice and experienced fishermen. The famous tiger fish is found in abundance in the lake in addition to a variety of other species of fish.
Musango offers cultural visits to the local village, Musampa, where guests can learn about the local culture and lifestyle. Sailing to Starvation Island is a unique way to explore the bird life and wildlife in the area and view the spectacular Kariba sunsets. Musango offers trips to the island on-board a 23-foot catamaran.
Activities at Musango
Safari Walk
With a professional guide, tracking a multitude of animals, including the Big five, for which this area is famous. Musango's specialty is the rare Black Rhino.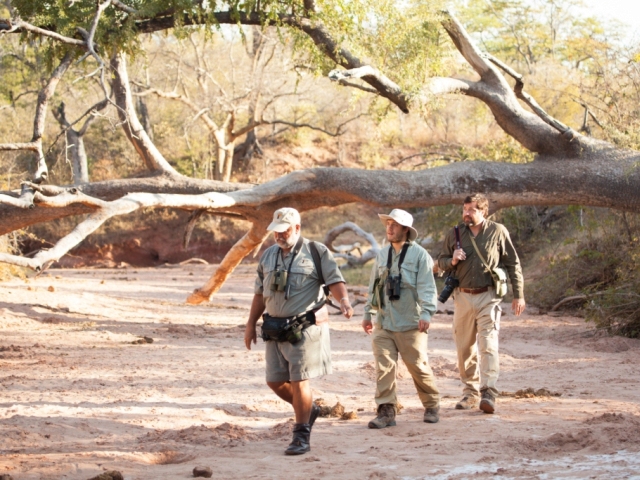 Game Viewing Cruise
In either boats or pontoons. This is simply the most productive way to experience wild life up close.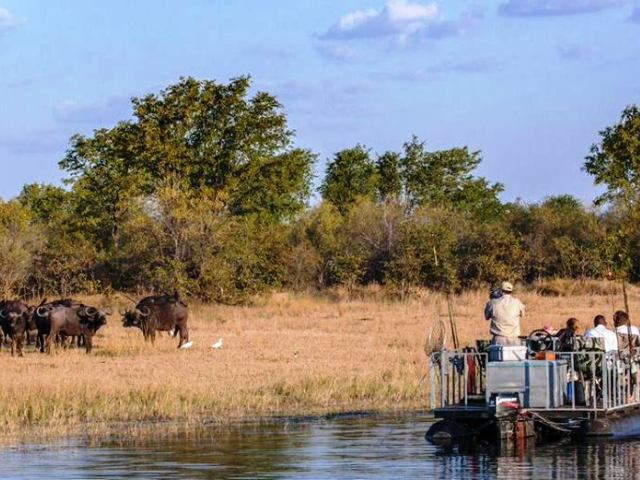 Canoeing
Along the shoreline and exploring the many wild life rich rivers, which abound in the vicinity. Experience the peace, tranquillity and relaxation whilst gently gliding past the prolific wild life, multitude of birds and stunning scenery.
Game Drive
Within the private wild life concession. Musango game drives are always very popular and productive.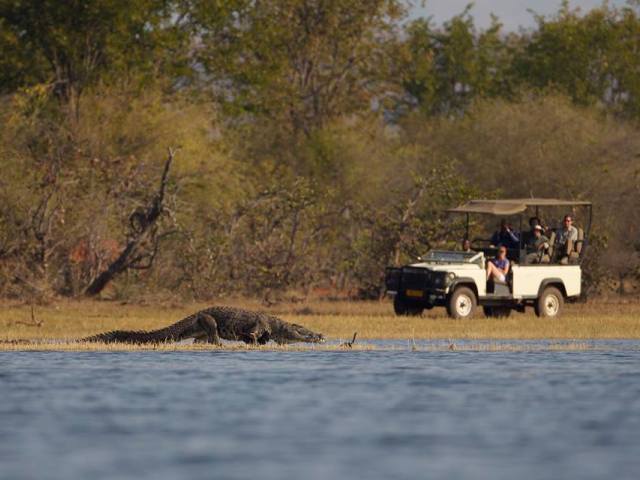 Cultural Village Trip
This genuine, non-tourist Fishing Village offer an insight to the Batonka people and their interesting traditions and way of life. Enjoy the Fish Market and net repairs, the village life and the school.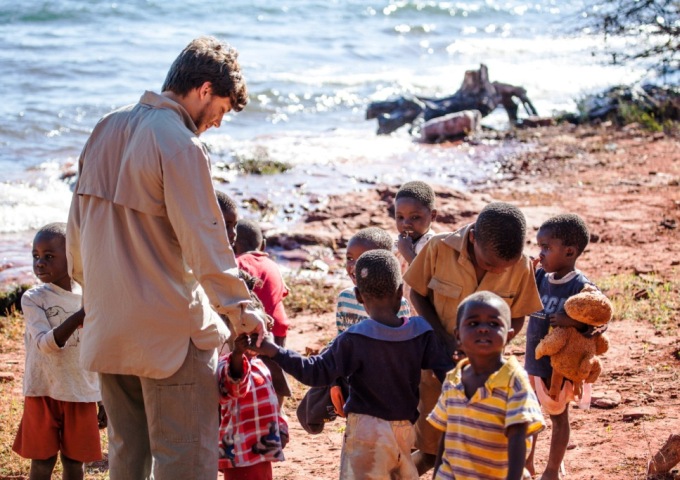 Black Rhino Tracking
Matusadona National Park is home to the rare Black Rhino. The recent and ongoing onslaught of Rhino in Southern Africa, makes being able to track and hopefully see this prehistoric animal a privilege and challenging adventure.
Dinosaur Fossil Site
Wander around with your guide and see the wide variety of Dinosaur fossils found by Steve. The area boasts fossils of many species of dinosaurs, including some of the oldest fossils in Southern Africa.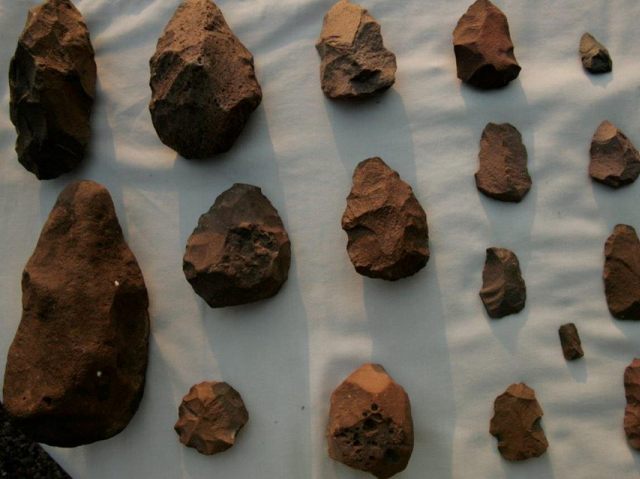 Specialist Birding Safaris
The immediate area around Musango Safari Camp offers more the 400 species of birds. Steve is a bird enthusiast and will delight you with some of the very special birds that this area has to boast, including Pel's Fishing Owl, Night Herons, Spinetails, Narina Trogon, Western Banded Snake Eagle, Lilian's Love Birds and many others.
Fishing
Lake Kariba offers many species of fish including the famous fighting Tiger Fish, huge Vundu catfish, as well as the delicious Bream. A world record Tiger Fish caught on a fly rod was landed near Musango. The camp supplies all fishing equipment, including fly fishing tackle.
Sailing to Starvation Island
Sailing to Starvation Island in our 23-foot catamaran is a unique activity. Sailing truly is a peaceful way to explore the Lake and this particular island is abundant in bird and wildlife. Starvation Island is so-called as at times of high water, the animals are indeed cut off from the mainland. The sunsets from Starvation Island are spectacular and if you are lucky enough to stay with us during a full moon, you may experience both a sunset and a moon-rise during this cruise.
---
Notes: Day 7
DAY 7
Sadly, your time at Musango Camp has come to an end. The time will be dependent on flight schedules on the day but at some stage in the morning you will be transferred back to the Bumi Hills Airstrip for your flight to Mana Pools. Upon arrival at Mana West Airstrip, you will be met by your guide and driven up to Vundu Camp not far away. Lunch, usually consists of cold meats, a variety of salads and freshly baked breads. In the early afternoon you will take a short drive to the canoe launch-spot near the confluence of the Ruckomechi and Zambezi Rivers. Here, your guide will give a full safety briefing, pointing out where all equipment - such as the first aid kit - is kept, as well as explaining what to do in an emergency. You will then depart downstream, by canoe, returning to Vundu camp. You will be struck immediately by the phenomenal birdlife along the river and you will begin to marvel at all the wildlife that surrounds you.
Arrival at camp is around sunset. The camp will be fully prepared and you will be able to sit back and relax with sundowners and snacks – tea and coffee and hot showers are also available. A campfire is already burning and this is invariably where guests will gather to discuss the day's events and plan for the morning. In the background your support staff and resident bush cook are busy preparing a three-course dinner for you.
Notes: Day 8
DAY 8
An early wake up as dawn breaks - hot water for freshening up will be placed in raised basins outside each tent, while tea, freshly brewed coffee, muffins or home-made biscuits are already waiting by the campfire. The aim is to be in the canoes and on the water in time to watch the sunrise. As one of the most magical times of day, you will be enchanted as you drift along quietly, listening to the sounds of the African wild wakening to a new day.
Following paddling for couple of hours, breakfast will be under a grove of acacia trees. After breakfast, guests have the opportunity to set off on a walk on the floodplain and surrounding woodlands. This is a great time to try and view predators before they lay up for the day. This walk offers an opportunity, not only for game viewing, but also to explore some of the more interesting aspects of the environment. You will spot a variety of animal spoor, and may even find yourself engrossed in tracking down a particular species. The guide will share fascinating facts about strange insects and spiders as well as a wealth of knowledge about this miniature world that forms such an integral part of the bush.
Returning to the canoes, you will head downstream to an area renowned for its huge, old elephant bulls. The guide tries to time the trip to catch them swimming or wading out to the grass islands, where the canoes will be able to glide quietly alongside these awesome giants. Their age makes them placid enough that they tend to ignore the canoes.
Lunch break coincides with the heat of the day. The canoes are pulled up below a grove of mahogany trees whose dense shade provides a welcome relief. The meal generally consists of cold meats, freshly prepared salads, pizza or quiche and cheese and biscuits. After eating and drinking your ice-cold drinks, you have a choice to either take another short walk through the mahogany forest or to just relax and enjoy an afternoon siesta. The late afternoon and evening is spent drifting down to camp and enjoying the game and birding along the river's edge. You will be welcomed by support staff who will be waiting at camp, reached by sunset.
Notes: Day 9 & 10
DAY 9
This day follows the same basic itinerary as day eight with a pre-dawn wake up and the sun rising whilst drifting down the Zambezi. However, this is the day that you will enter the "Wilderness Area" of Mana Pools National Park where there is limited access to people and vehicles. Breakfast may be taken on the Mbera River floodplain, which comprises stunning acacia woodland with large patches of thick "Adrenaline" grass – a habitat much favoured by all the predators. Towards the end of the dry season it also hosts large groups of female elephants with their babies.
The day is spent paddling through a maze of small channels before once again joining the main Zambezi. For a change, lunch is on one of the shallow sandbanks in the middle of the river, where a table and chairs are set up in ankle deep water with the whole width of the river stretching out on either side. This afternoon is the last chance for canoeing. Depending on water levels and time allowed, there may be an opportunity to explore Chikwenya Island on foot. This unique island is the largest on this section of the river and is host to prolific bird life as well as a number of interesting mammal species. In the afternoon you will paddle into Ilala Camp to spend the last night in the rustic luxury of the Odyssey Camp.
DAY 10
Depending on how you are feeling, an early morning walk before breakfast is possible or a well-deserved lie in! After breakfast and bidding your farewells a short game drive takes you to the airstrip for your charter flight to Harare International Airport.
Mana Pools National Park
The life-giving power of the Zambezi River makes Mana Pools National Park one of Zimbabwe's most lush and flourishing regions, designated as the country's second World Heritage Site and known as one of the continent's premier game-viewing regions. Canoe trips are offered year round and provide a unique and memorable way for visitors to experience the area's striking scenic beauty and diverse fauna, while guided walks are a great way to take its pristine riverside forests.
Mana Shoreline Canoe Safari
Natureways Mana Shoreline Safaris can either be canoeing or walking, paddle or stroll into your next campsite situated on the banks of the Zambezi River. These safaris are fully backed up, meaning guests do not have to lift a finger! Guests spend the night in comfort and leave for the day's activities, the Natureways staff will pack up the camp, move and setup camp again at the next night's location. Hot showers and meals freshly prepared over the open campfire await guests each night.
Overnight: Vundu Camp
Natureways Mana Shoreline Safaris can either be canoeing or walking, paddle or stroll into your next campsite situated on the banks of the Zambezi River. These safaris are fully backed up, meaning guests do not have to lift a finger! Guests spend the night in comfort and leave for the day's activities, the Natureways staff will pack up the camp, move and setup camp again at the next night's location. Hot showers and meals freshly prepared over the open campfire await guests each night.
Overnight: Chessa Camp
Chessa Camp is the second night campsite of Natureways Safaris Mana Shoreline Canoe or Walking Safaris. Once again on the bank of the Zambezi River, this camp looks over a small channel there is a large grass plain separating it from the main Zambezi. This camp is frequently visited by buffalo, waterbuck, elephant and hippos in the evenings.
Overnight: Ilala Camp
Ilala Camp is the third and final night campsite of Natureways Safaris Mana Shoreline Canoe or Walking Safaris. Ilala is found in the 'Wilderness Area' of the Mana Pools National Park, sitting high up on one of the rivers steep banks the camp overlooks one of the Zambezi River's largest islands, Chikwenya Island. As this is one of the most remote parts of the National Park, game and fishing is fantastic! If you are a fisherman this is the ideal location for the challenging Tiger Fish.
---
Price
Total Price for 9 Nights: US$ 4841.50 high season, US$ 4164.50 low season (2020)
Per person sharing
Included in this safari
BATONKA GUEST LODGE
• Accommodation in a beautiful and spacious room with views of the quiet gardens
• Daily breakfast
MUSANGO SAFARI CAMP
• Accommodation in an east-facing luxurious safari tent with views of Lake Kariba
• All meals, local spirits and drinks
• Laundry
• Game activities: Walking safaris, Game drives, Boat safari, Fishing, Cultural tour, Sailing to Starvation Island
• National Park fees
ODYSSEY MANA SHORELINE CANOE SAFARI
• Accommodation in spacious mobile tents
• All meals and drinks including local beers, spirits, imported wines, minerals, cordials, mineral water, tea and coffee
• Use of all camping and canoeing equipment
• Complementary laundry (time permitting)
• Services of fully qualified professional guide
• All activities: Photography, Fishing, Canoeing, Walking Safaris, Game Drives
• National park fees
TRANSFERS
• Road and boat transfers between hotels/lodges and airports
• Air transfers between Victoria Falls, Kariba, Mana Pools and Harare
Excluded
BATONKA GUEST LODGE
• All other meals and activities not mentioned
MUSANGO SAFARI LODGE & MANA SHORELINE CANOE SAFARI
• Premium and imported beverages
TAXES
• All departure taxes for chartered flights
More Travel Information
• Victoria Falls Travel Information
• Victoria Falls Activities
• Mana Pools National Park
Can't find what you are looking for? Use Google Search to search this website for any term you are looking for.


Share with others!

Return from Zimbabwe Safari IG9E to our home page