Zimbabwe Safari IP5D
Victoria Falls and Mana Pools are two of Zimbabwe's World Heritage sites, this short 5-night safari visits both of these iconic destinations. It's perfect for travellers short on time but high on budget, who want to see the Falls and also experience a magnificent safari.

2 Nights Victoria Falls, Zimbabwe
3 Nights Mana Pools National Park
6 Days / 5 Nights
Reference: IP-5D
Starts Victoria Falls Airport / Ends Harare International Airport

Total Price 5 Nights: US$ 6054 high season, US$ 4708 low season
per person sharing

*This package is not available between December and March*


Safari Overview
Victoria Falls and Mana Pools are two of Zimbabwe's World heritage sites, this short 5 night safari visits both of these iconic destinations. Accommodation is at the best you can get and charter fights are included. It's perfect for travellers short on time but high on budget, who want to see the falls and also experience a magnificent safari.
Starting with two nights at Elephant Camp in Victoria Falls. Located 20 minutes out of town on a private wildlife estate, this camp is simply stunning in all aspects from location and accommodation to service and cuisine. Get to see and experience all that Victoria Falls has to offer.
From there a 2-hour charter flight takes you to Ruckomechi Camp in Mana Pools for three nights. This gem of Zimbabwe is situated on the banks of the Zambezi River, with activities that are both water and land based. Without question, this private wildlife concession is amongst the very top concessions in the country and you are certain of an exceptional safari experience.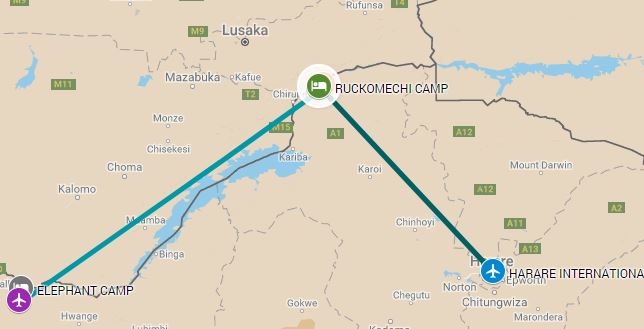 Zimbabwe Safari IP5D Inspired Journey Overview
Accommodation
Nights 1 & 2 - Luxury tented suite at Elephant Camp
Nights 3, 4 & 5 - Tented room at Ruckomechi Camp
Transfers Included
Day 1 - Road Transfer: Victoria Falls Airport to Elephant Camp
Day 3 - Road Transfer: Elephant Camp to Victoria Falls Airport
Day 3 - Road Transfer: Mana Pools airstrip to Ruckomechi Camp
Day 6 - Road Transfer: Ruckomechi Camp to Mana Pools airstrip
Flights Included
Day 3 - Victoria Falls to Mana Pools (2hrs 10mins)
Day 6 - Mana Pools to Harare International Airport (1hr 25mins)
Highlights
Luxurious accommodation, service and cuisine at Elephant camp
View the spectacular and mighty Victoria Falls
Partake in the multitude of activities available at Victoria Falls from sedate sunset cruises to adrenaline crazy bungee jumping and everything in between (activities not included)
Scenic 2 hour charter flight from Victoria Falls to Mana Pools
Fantastic Game viewing in Ruckomechi's premiere and private wildlife concession in Mana Pools
Top quality guiding which will enhance your overall safari experience
Wide range of land and water based game viewing activities at Ruckomechi, the only camp allowed motorised boats.
---
Notes: Day 1 & 2
DAY 1
You will be met at Victoria Falls airport by one of our representatives and transferred by air-conditioned minibus to Elephant Camp arriving by mid-afternoon. This gives you time to settle in and relax or we recommend a sunset cruise or helicopter flight on this first afternoon. Return to camp for a delicious dinner on the deck listening to the night sounds of Africa.
DAY 2
You have a full day to soak up the wonderful atmosphere of Victoria Falls, it is the adventure capital of Africa and there are activities on offer to cater for everyone's needs. View the mighty Falls, partake in the many activities on offer or wander around the streets to do a bit of curio shopping, then finish off at a café for refreshments and a bite to eat. A popular, inclusive activity at Elephant Camp is meeting the Wild Horizon's elephants down at the wallow on the lodge's estate. Please have a look at the available Victoria Falls Activities and contact us to arrange a suitable itinerary just for you.
The Elephant camp also has some of its own unique activities exclusive to guests who are staying there. These include, birding and walking safaris around the camps concession with one of the guides, followed by an elephant interaction with the Wild Horizons elephant. A visit to the onsite Victoria Falls Wildlife Trust and learn how research and activities are contributing to wildlife conservation in the area. A rural village tour where you will see local villagers going about their daily tasks and you can interact with them, this cultural activity shows you rural Zimbabwean life first-hand. A sunset cruise on the Zambezi River, a canopy tour at the gorge highwire site are also offered at Elephant Camp. Or simply relax by the pool and socialise with the other guests while watching the elephants coming to wallow at the waterhole.
Victoria Falls
One of the original natural wonders of the world, the Victoria Falls is a World Heritage Site and an extremely popular tourism attraction. Known locally as 'The Smoke that Thunders', this spectacle is accessible from both Zambia and Zimbabwe and it is an ideal place to combine a game viewing and water sports. There is excellent fishing, a terrifying bungee jump and arguably the best commercial white water rafting in the world.
Overnight: Elephant Camp
Situated on a private concession within and bounded by the Masuwe River and the Zambezi gorges, The Elephant Camp have breath-taking views of the Victoria Falls' spray and the spectacular gorges which separate Zimbabwe and Zambia. The Elephant Camp is a luxury, intimate lodge under canvas within easy reach of Victoria Falls (approximately 10km) and all its attractions and activities, yet secluded in its own private game reserve. The Elephant Camp offers exclusive suite accommodation for only 24 guests in 12 luxury tents.
The Elephant Camp West is an extension of The Elephant Camp, extending to the West of the current facility and catering to groups and families. The facility operates independently of the main camp ensuring a more intimate and serene experience for groups and guests. The Elephant Camp West offers exclusive suite accommodation for only 16 guests (8 adults and 8 children) in 4 luxury tents. Each suite in The Elephant Camp West can accommodate two adults and two children.
All suites are gorge facing and boast a private viewing deck and plunge pool, private lounge area, air-conditioning and fans, bath (with a view), inside and outside shower, mini bar and tea/coffee stations. The lounge, bar and dining area lead out to a sun kissed pool from where the roar of the water rushing over gorges becomes a constant beat and soon settles into the background like an old friend. It is calming and therapeutic to sit back, watch and listen to "the smoke that thunders"...
Select Spa Treatments are available in the privacy of your suite (subject to availability, on request at an additional charge). Access is by road transfer from Victoria Falls, Livingstone and Kasane.
Activities at Elephant Camp
Spa Treatments
Selected Spa Treatments are available in the privacy of your suite (subject to availability, on request at an additional charge).
Walking Safaris - Nature & Birding Walks
Explore our beautiful concession, part of the Victoria Falls National Park, with experienced guides who will bring the landscape to life. This activity is included in our rates but must be scheduled on arrival and is subject to availability.
Village Tour
Guests will be transferred to a rural village where they will see local villagers going about their daily tasks and interact with them. The tour enables them to see rural Zimbabwean life first hand.
Lunch at the Lookout Cafe
Embark on a trip to the one-of-a-kind Lookout Café, perched 120 meters above the turbulent rapids of the Zambezi River. This all-inclusive activity is set against the backdrop of the iconic Victoria Falls Bridge, which hangs over the spectacular chasm of the Batoka Gorge. During the rainy season, wisps of the spray from the rainforest curl around the edge of the rock face near the bridge. Creative cocktails and other beverages are included in the activity. From the vantage point of the café, guests can watch the bright rafts plummet through the rapids below, or adrenalin lovers soaring through the air on one of the exciting high wire activities.
Visiting the Victoria Falls Wildlife Trust
Guests visit the Victoria Falls Wildlife Trust (VFTW), a non-profit whose mission is to advance environmental conservation through hands-on wildlife research, the management of a veterinary laboratory and rehabilitation facility and the education of local peoples in the sustainable usage of natural resources. This activity is included but must be scheduled on arrival and is subject to availability.
Guided Tour of Victoria Falls
There is no finer ambience than the gentle roar of the waterfall. The trees grow so closely together that their branches entwine, and their soft, wet drip across the stone path that weaves through this natural wonder. Submerge yourself in the fragrance of the fauna and the playful fauna in this enchanting and awe-inspiring space. Satisfy your wanderlust by visiting the more beautiful of the Seven Wonders of the World.
Canopy Tour
The black basalt of the Batoka gorge stretches 100 meters skywards and is enrobed in thick vegetation, creating an idyllic space for zip lines to whizz through and unveil a stunning perspective of this breath-taking natural setting. Embark on a two-hour eco-adventure lead by two professional guides across nine unique slides. The adventure unfolds from the Wild Horizons Lookout Café, perched above the cove that forms at the first bend of the river below the waterfall. This is where your senses awaken to the excitement to come as the overwhelming view of this cavernous gorge rises to greet you. The turbulent rapids rage below, their steady roar climbing up the canyon creating an ambience of adventure. The awe-inspiring fauna and flora that sprouts across the lips of the gorge entice Trumpeter Hornbills, Schalow's Turaco, Peregrine Falcons- and if you are extremely lucky, the rare Taita Falcon. The gentle nature and moderate speed of the slides entices those who want to experience an adrenaline rush minus the scare factor. This is the activity where tranquility meets titillation and can be enjoyed by nature lovers, families, thrill seekers and corporate team building groups. The canopy tour can even be appreciated by those who get sweaty palms and a tingle in their toes just thinking about heights, as the slides traverse over a thick tangle of trees and vegetation.
Zambezi Royal Sunset Cruise
The Zambezi Royal is a luxurious, 28 seater single level cruise boat, offering a unique and intimate way to view the Zambezi River. The boat is the first of its kind, custom built to maximize comfort, style, practicality and service. Guests relax in the lush furnishings of this modern and contemporary vessel, enjoying lavish snacks, wine, cocktails and sparkling wine, as they coast up-river taking in the stunning scenery and surrounds of the upper Zambezi River.
---
Notes: Day 3, 4, 5 & 6
DAY 3
Lie in and enjoy the fabulous setting of Elephant Camp. After breakfast you will be transferred to Victoria Falls Airport, for your scenic charter flight to Mana Pools which takes approximately 2hrs, then a 20-minute road transfer takes you into Ruckomechi Camp. You will arrive in camp around lunchtime so there's plenty of time to settle in, relax and savour this wonderful spot on the banks of the Zambezi River before joining one of the afternoon activities like a game drive/walk or boat cruise. Dinner is served in the main dining area followed by drinks or coffee around the campfire to finish off a very eventful day.
DAY 4 & 5
Two full days of game viewing activities at Ruckomechi Camp, tailor-made to suit your needs and influenced by the seasons and recent wildlife sightings. Being on the river there are both land and water based activities which offers a great diversity. Please see below some of the activities on offer and then plan these with the camp managers onsite. Typically, guests partake in early morning and late afternoon activities and then relax during the heat of the day. Day trips into the central Mana Pools National Park are also possible by special arrangement (sometimes at an extra cost).
Meals consist of early morning tea / coffee and continental breakfast, followed by a big brunch after your activity. Afternoon tea consists of something savoury and something sweet as well as hot and iced tea and coffee to wash it all down with. Sometimes longer day trips include a packed lunch. Dinner is a delicious 3 course affair. Drinks and snacks are provided on all activities.
DAY 6
Sadly, this is the last day of your safari. There is time for one more early morning activity and breakfast. Around mid-morning you will be transferred to the airstrip for your charter flight to Harare airport and your onward arrangements.
Mana Pools National Park
The life-giving power of the Zambezi River makes Mana Pools National Park one of Zimbabwe's lushest and flourishing regions, designated as the country's second World Heritage Site and known as one of the continent's premier game-viewing regions. Canoe trips are offered year round and provide a unique and memorable way for visitors to experience the area's striking scenic beauty and diverse fauna, while guided walks are a great way to see its pristine riverside forests.
Overnight: Ruckomechi Camp
Ruckomechi Camp, situated in a private concession with access to the western areas of Mana Pools National Park, accommodates guests in ten spacious en-suite tented units, including a family unit, all of which overlook the wide lower Zambezi River. The camp is set amongst broad-canopied Ana trees, much loved by the elephants for their rich nutritious seeds. Each tent has both indoor and outdoor showers, and the camp boasts a favourite amongst guests: its outdoor "bath-with-a-view" in a secluded, scenic spot.
The central dining, bar, library and lounge areas face the majestic, evocative escarpment across the river in Zambia, and are connected to the rest of camp by low-level walkways. There is a separate deck with a pool and hammocks for swimming and sunbathing, and an inviting, cushion-strewn star-gazing deck. Wildlife viewing takes place in open 4x4 vehicles, on motorised pontoon boats or on canoes, on foot and in hides.
*NOTE: Ruckomechi is open seasonally between April and mid/late November each year.
Activities at Ruckomechi Camp
Game drives
Game drives early in the morning or late afternoon take place in open Land Rovers, taking in a coffee break or a sundowner at a scenic spot; seven seats allows everyone a window seat. Your guide takes you through the private concession as well as the National Park, accessing a diversity of habitats, and therefore a wide range of wildlife.
River Cruises
Cruises down this stretch of the Zambezi River are in nine-seater pontoons or in a six-seater speed boat. Canoes are a more adventurous option to see the large numbers of water birds and other wildlife that are attracted to the river and seasonal pans.
Walking Safaris
Mana Pools National Park is a remote, beautiful place that is best experienced on foot, led by a professional guide. This thrilling way of exploring the surrounding bush often heralds many exciting sightings.
Catch & release fishing
Bream (tilapia), barbel (catfish) and tiger fish are the some of the more common fish found at Mana Pools. Keen fishermen are always encouraged to bring their own equipment as the camp only carries basic fishing tackle. *This activity is subject to the availability of boats and is at an additional cost, per boat per hour payable direct.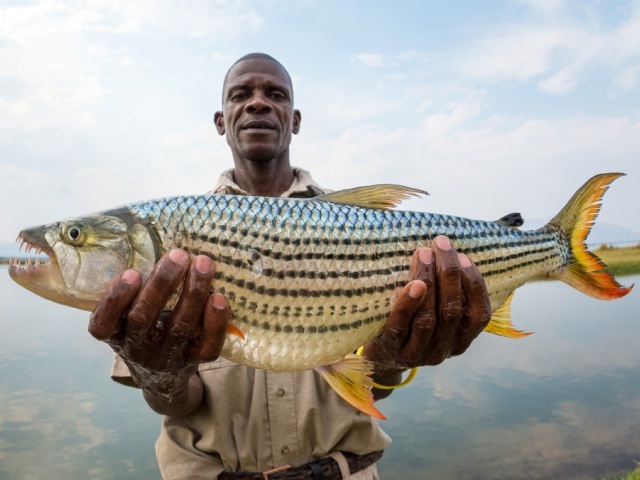 Star Bed
There is no better way of falling asleep than being serenaded by the sounds of nature while you gaze up at the starry skies of Africa. The romantic Star Bed is situated near a productive waterhole.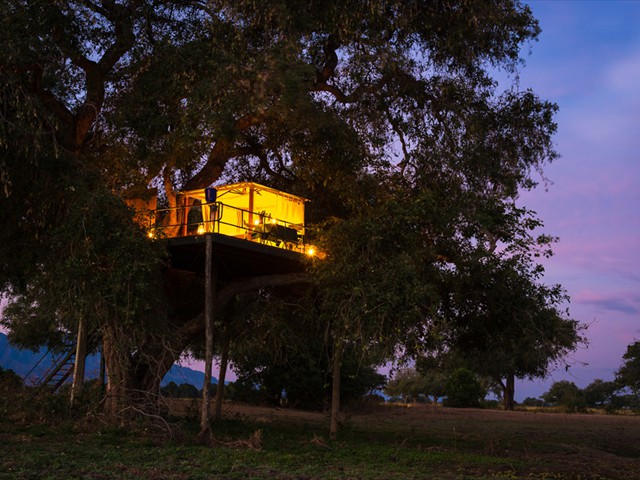 Fantastic Birding
The multiplicity of birdlife in the area includes three-banded courser, western banded snake-eagle, Arnot's chat, green-capped eremomela, African golden oriole, Lilian's lovebird, Böhm's spinetail and Meve's starling.
---
Price
Total Price 5 Nights: US$ 6054 high season, US$ 4708 low season
Per person sharing
Included in this safari
ELEPHANT CAMP
• Accommodation in a luxury tented room
• All meals, local brand drinks & house wines, complimentary mini bars in the rooms
• Return Victoria Falls Airport transfers & two transfers to Victoria Falls town per day
• Laundry
• Conservation and parks fees
• Emergency Medical Evacuation cover
• Activities: Meeting the Wild Horizons elephants; Sundowners at the Batoka Gorge; Birding & Nature walks on the concession; Lunch at the Lookout Cafe (Including drink); Guided tour of Victoria Falls; Canopy Tour; Zambezi Royal sunset cruise
RUCKOMECHI CAMP
• Accommodation in spacious tented rooms
• All meals and local drinks
• Laundry
• National Park Fees
• Twice daily scheduled camp activities: Game viewing from the hide; Birding safaris, Sleep-out, Catch and release fishing, River cruises, Guided walking safaris; Game drives; Canoeing
TRANSFERS
• Air transfers between Victoria Falls, Mana Pools and Harare airport
• Return road transfers between Victoria Falls Airport and Elephant Camp; Return road transfers between Mana Pools airstrip and Ruckomechi Camp
Excluded
•Premium imported brands and champagne
More Travel Information
• Victoria Falls Travel Information
• Victoria Falls Activities
• Mana Pools National Park Information
Return from Zimbabwe Safari IP5D to our home page