Zimbabwe Safari IP7B
This dream 7-night safari takes you from Victoria Falls to Hwange National Park and finally into Mana Pools for that absolute "ultimate safari" experience. Premiere hotels and camps makes this safari very hard to beat in terms of luxury and game viewing potential.

2 Nights Victoria Falls, Zimbabwe
2 Nights Hwange National Park
3 Nights Mana Pools National Park
8 Days / 7 Nights
Reference: IP-7B
Starts Victoria Falls Airport / Ends Harare International Airport

Total Price 7 Nights: US$ 8446 high season, US$ 6172 low season
per person sharing

*This package is available between April and Mid November ONLY*



Safari Overview
This dream 7-night safari takes you from Victoria Falls to Hwange National Park and finally into Mana Pools for that absolute "ultimate safari" experience. Premiere hotels and camps makes this safari very hard to beat in terms of luxury and game viewing potential. Charter flights are included.
Begin your safari with two nights in a palatial suite at the grand Victoria Falls Hotel. From this legendary hotel you will be able to witness the magnificent Victoria Falls and also partake in the various activities on offer.
Next fly into a remote corner of Hwange National Park for two nights at Little Makalolo Camp, situated on an outstanding private wildlife concession considered to be one of the best in the country. This is real Africa and the game and bird-watching opportunities abound.
Finally, fly to Ruckomechi Camp for three nights on this premiere and private wildlife concession situated on the Zambezi River in Mana Pools. Water and land based activities offers a completely different perspective from Hwange, so overall this perfectly balance safari is guaranteed to leave you with memories of a lifetime!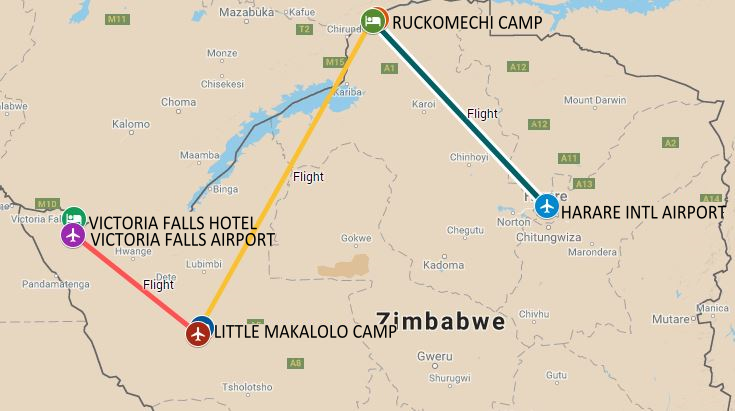 Zimbabwe Safari IP7B Inspired Journey Overview
Accommodation
Nights 1 & 2 - Premium suite at Victoria Falls Hotel
Nights 3 & 4 - Safari tent at Little Makalolo Camp
Nights 5, 6 & 7 - Tented room at Ruckomechi Camp
Transfers Included
Day 1 - Road Transfer: Victoria Falls Airport to Victoria Falls Hotel (30 minutes)
Day 3 - Road Transfer: Victoria Falls Hotel to Victoria Falls Airport (30 minutes)
Day 3 - Road Transfer: Hwange airstrip to Little Makalolo Camp (30 minutes)
Day 5 - Road Transfer: Little Makalolo Camp to Hwange airstrip (30 minutes)
Day 5 - Road Transfer: Mana Pools airstrip to Ruckomechi Camp (40 minutes)
Day 8 - Road Transfer: Ruckomechi Camp to Mana Pools airstrip (40 minutes)
Flights Included
Day 3 - Victoria Falls Airport to Hwange airstrip (50 minutes)
Day 5 - Hwange airstrip to Mana Pools (2 hrs)
Day 8 - Mana Pools airstrip to Harare International Airport (1hr 25 minutes)
Highlights
Palatial suite at the Victoria Falls Hotel
View the spectacular and mighty Victoria Falls
Partake in the multitude of activities available at Victoria Falls from sedate sunset cruises to adrenaline crazy bungee jumping and everything in between (activities not included)
Scenic 50 minute flight to Hwange National Park
Premiere private game concession in Hwange National Park at Little Makalolo
Huge dry-season concentrations of elephant and buffalo
Enjoy various activities including game drives (day and evening), walking safaris, village visits, star bed, or simply visit the discreet log-pile hide which looks out over a productive waterhole right in front of the lodge
Scenic 2 hour charter flight from Victoria Falls to Mana Pools
Beautiful tented suite with views of the Zambezi River at Ruckomechi Camp
Private concession with some of the best game viewing in Zimbabwe with fantastic game densities, and diverse and abundant birdlife which frequents the Zambezi shores.
Top quality guiding which will enhance your overall safari experience
Wide range of land and water based game viewing activities at Ruckomechi, the only camp allowed motorised boats.
---
Notes: Day 1 & 2
DAY 1
You will be met at Victoria Falls airport by one of our representatives and transferred by air-conditioned minibus to the Victoria Falls Hotel arriving by mid-afternoon. After settling into your palatial suite you have time for an afternoon activity such as a sunset cruise or helicopter flight, high tea on the hotel's Stanley Terrace is also an option. Dinner can either be at the hotel or we can recommend other options in and around town. Although activities are not included in the package price, please let us help you to arrange an itinerary of activities suitable for you. Have a look at this page on Victoria Falls activities to see what is on offer.
DAY 2
You have a full day to soak up the wonderful atmosphere of Victoria Falls, it is the adventure capital of Africa and there are activities on offer to cater for everyone's needs. View the mighty Falls, partake in the many activities on offer or wander around the streets to do a bit of curio shopping, then finish off at a café for refreshments and a bite to eat. Please have a look at the available Victoria Falls Activities and contact us to arrange a suitable itinerary just for you.
Victoria Falls
One of the original natural wonders of the world, the Victoria Falls is a World Heritage Site and an extremely popular tourism attraction. Known locally as 'The Smoke that Thunders', this spectacle is accessible from both Zambia and Zimbabwe and it is an ideal place to combine a game viewing and water sports. There is excellent fishing, a terrifying bungee jump and arguably the best commercial white water rafting in the world.
Overnight: Victoria Falls Hotel
The Victoria Falls Hotel, popularly known as "the grand old lady of the Falls", is situated in the Victoria Falls National Park, a world heritage site, and is a member of the exclusive Leading Hotels of the World group.
The Edwardian-style five-star hotel, built in 1904, combines the charm of the old with the convenience of the new. Set in lush tropical gardens with lily ponds, palm trees and semi-tropical shrubs, it provides the tranquillity and seclusion that many guests seek. The famous Victoria Falls are just a ten-minute walk away using the hotel's private pathway, and "the smoke that thunders" or "Mosi-O-Tunya" in the local dialect, is clearly audible and visible from this luxurious landmark.
World-class service, and food and beverage choice and preparation second to none, make the hotel a magnet for international visitors and locals alike. The opulent Livingstone Room for fine dining and dancing, the Jungle Junction with its famous breakfast and dinner buffets and ethnic entertainment in the evenings, offer variety and wide choice. Stanley's Terrace, with its clear view of the Victoria Falls Bridge, connecting Zimbabwe and Zambia, is renowned for its cocktails and afternoon teas. The Terrace has been a rendezvous for adventurers in Africa for over a century.
The ambience of the hotel is steeped in that history with all suites decorated in the gracious Edwardian style of Zimbabwe's colonial era. Small executive meetings and private dining facilities are easily arranged for those who wish to combine a little business with a lot of pleasure, and all in a secluded and discreet environment. It is the Victoria Falls Hotel that remains the major attraction for visitors. Waking up to the sound of "the smoke that thunders", seeing the sun rise beneath the mist of one of the seven natural wonders of the world and the lunar rainbow at night, all the while soaking up the history and ambience of a bygone era, is more than unforgettable – it is unique.
Dining Experiences at the Victoria Falls Hotel
Livingstone Room
Enjoy dinner and dancing in the elegant Edwardian Livingstone Room, with classic a la carte and tables d'hote menus. Whilst the Livingstone Room reflects the century old hotel's style of grandeur and opulence, the dress code has been relaxed for the convenience of the guest. A fine selection of wine and liqueurs are available. Maximum seating capacity of 120 pax.
Jungle Junction
Dining at the Jungle Junction offers an unforgettable experience with a fusion of African flavours. Entertainment from ethnic groups epitomises the spirit of Africa. Jungle Junction is the ideal venue for incentives groups. The Jungle Junction has a maximum seating capacity of 140 pax.
Stanley's Terrace
Stanley's Terrace is a must for light meals throughout the day. Traditional high tea is served every afternoon, with spectacular views of The Victoria Falls Bridge and the Victoria Falls themselves. It is the ideal location for sundowners and offers a table d'hôte menu with an a la carte menu on offer after 1100hrs. Stanley's Terrace has a maximum seating capacity of 100 pax.
---
Notes: Day 3 & 4
DAY 3
There is time for breakfast and an early morning activity before transferring to Victoria Falls airport around mid-morning for your charter flight to Little Makalolo Camp in Hwange National Park. This scenic flight takes about 50 minutes followed by a short game drive to camp. After settling into your room enjoy some lunch and then relax until the late afternoon activities begin. After your game drive, drinks and dinner will be served. Join the other guests for drinks and coffee around the campfire before retiring for the night.
DAY 4
One full day of game viewing activities at Little Makalolo offers you the opportunity to enjoy this private wildlife concession, considered to be probably the best in the country. It's real Africa and it's exclusive to Wilderness Safari guests. There is an array of activities available, details of which can be seen below. Please arrange your day onsite directly with the camp managers, influenced by the season and recent wildlife sightings, tailor-made to suit your exact requirements. If you want to spend the night under the stars in the camp's "Star bed", a guide will take you there and then set you up with dinner and drinks while you enjoy the sights and sounds of the Hwange nightlife.
Meals consist of early morning tea / coffee and continental breakfast, followed by a big brunch after your morning activity. Prior to the afternoon activity high tea is served. Dinner is a delicious 3 course affair. Drinks and snacks are provided on all activities.
Hwange National Park
Hwange National Park is Zimbabwe's biggest reserve, home to a profusion of wildlife, including giraffe, lion, zebra and approximately 40 000 elephants. It provides sanctuary for all the country's endangered species, including a population of wild dogs thought to be among the most sizeable surviving groups on the continent. Terrain ranges from desert dunes and savannah lands to rocky outcrops and sparse forests.
Overnight: Little Makalolo Camp
Little Makalolo Camp lies in one of Hwange National Park's best wildlife viewing areas. It offers privacy for guests who enjoy small camps and a sense of remoteness. The area is ecologically diverse, ensuring great numbers of animals year-round.
The camp's six spacious en-suite tents, with both indoor and outdoor showers, are nestled in the tree line. Teak walkways lead to the main area where a false Mopane tree shades a separate dining and living area with views of the much-frequented waterhole. During siesta hours, guests can enjoy up-close and outstanding wildlife viewing at the log-pile hide that overlooks the waterhole in front of camp.
Activities centre on game drives in open 4x4 Land Rovers and guided walks. The area's large number of waterholes attracts game in both quantity and variety, especially in winter when water sources become scarce and Wilderness Safaris takes responsibility for pumping 22 of Hwange's boreholes in the Concession to sustain its wildlife. Guests are also able to visit the nearby village for authentic cultural interactions. A "pizza stop" and sleep-out option at the wildlife-rich Madison Pan completes the experience.
Activities at Little Makalolo
Game Drives
The private Wilderness Safaris concessions are situated in the most productive area of Hwange National Park. The varied habitats and vegetation types as well as countless waterholes mean that game drives are exciting with always something new to be seen.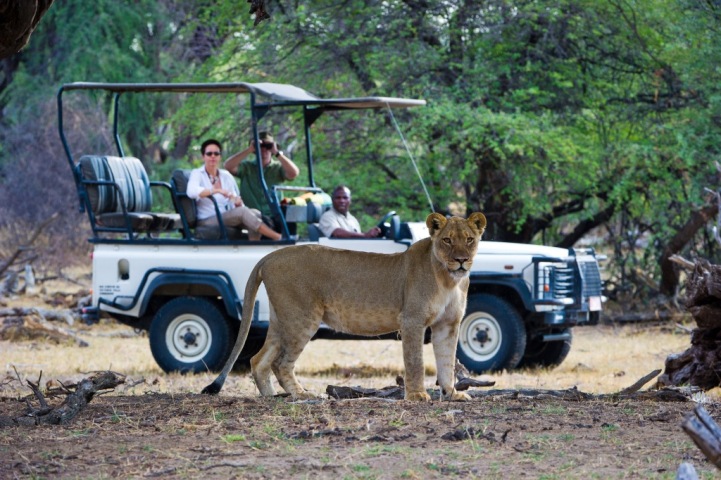 Morning Walking Safaris
Hwange was proclaimed some 80 years ago and has served as a haven for one of the densest concentrations of game in Africa. There is no better way to experience this park than on foot with an experienced safari guide.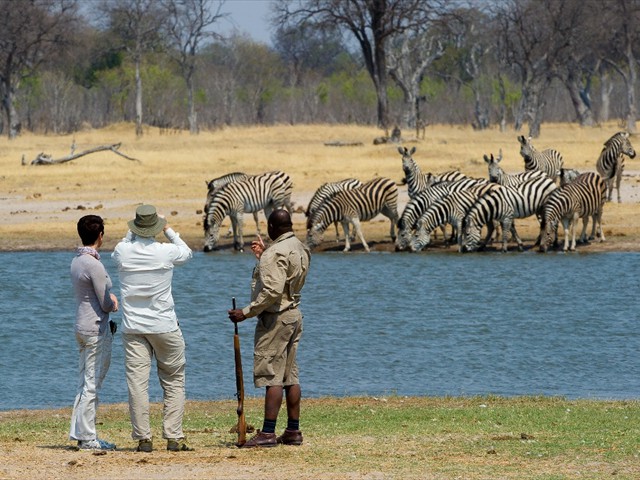 Log-pile Hide
This hide is beautifully placed at the camp's productive waterhole and is the perfect place to spend your afternoon siesta hours. Elephants are often the star attraction at the hide; just watch out for the sprays of water propelled from their nearby trunks.
Evening Game Drives
The Hwange 'night act' includes species such as lesser bushbaby, spotted hyaena, leopard, lion, Selous mongoose, pangolin, caracal, porcupine, scrub hare, springhare and even honey badger.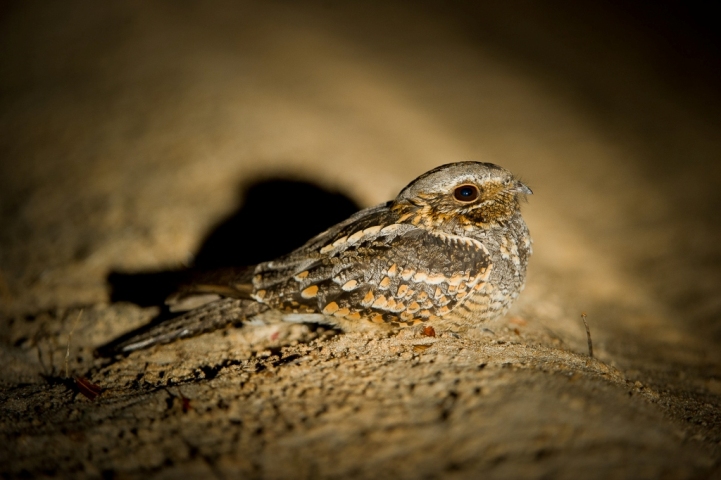 Star Bed
Situated on a raised platform overlooking Madison Pan, the Star Bed is just a 20-minute drive away from camp and offers a truly secluded, remote wilderness experience – and the opportunity of sleeping under the stars.
Village Visits
An authentic village experience takes place in a manner that is respectful to all parties. Usually around four hours and lead by one of the local villagers or a Wilderness guide, it often includes a tour of the school, meeting the headman or headwoman and enjoying cultural exchanges with the villagers.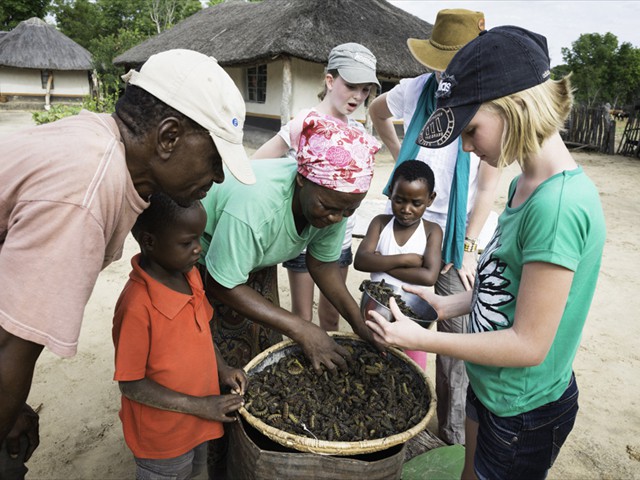 ---
Notes: Day 5, 6, 7 & 8
DAY 5
Your very scenic 2-hour charter flight to Ruckomechi Camp in Mana Pools will leave around mid-morning so you have time for a lie in or to partake in another morning activity on this magnificent concession. You will arrive in camp around lunchtime so there's plenty of time to settle in, relax and savour this wonderful spot on the banks of the Zambezi River before joining one of the afternoon activities like a game drive/walk or boat cruise. Dinner is served in the main dining area followed by drinks or coffee around the campfire to finish off a very eventful day.
DAY 6 & 7
Two full days of game viewing activities at Ruckomechi Camp, tailor-made to suit your needs and influenced by the seasons and recent wildlife sightings. Being on the river there are both land and water based activities which offers a great diversity. Please see below some of the activities on offer and then plan these with the camp managers onsite. Typically, guests partake in early morning and late afternoon activities and then relax during the heat of the day. Day trips into the central Mana Pools National Park are also possible by special arrangement (sometimes at an extra cost).
Meals consist of early morning tea / coffee and continental breakfast, followed by a big brunch after your activity. Afternoon tea consists of something savoury and something sweet as well as hot and iced tea and coffee to wash it all down with. Sometimes longer day trips include a packed lunch. Dinner is a delicious 3 course affair. Drinks and snacks are provided on all activities.
DAY 8
Sadly, this is the last day of your safari. There is time for one more early morning activity and breakfast. Around mid-morning you will be transferred to the airstrip for your charter flight to Harare airport and your onward arrangements.
Overnight: Ruckomechi Camp
Ruckomechi Camp, situated in a private concession with access to the western areas of Mana Pools National Park, accommodates guests in ten spacious en-suite tented units, including a family unit, all of which overlook the wide Zambezi River. The camp is set amongst broad-canopied Ana trees, much loved by the elephants for their rich nutritious seeds. Each tent has both indoor and outdoor showers, and the camp boasts a favourite amongst guests: its outdoor "bath-with-a-view" in a secluded, scenic spot.
The central dining, bar, library and lounge areas face the majestic, evocative escarpment across the river in Zambia, and are connected to the rest of camp by low-level walkways. There is a separate deck with a pool and hammocks for swimming and sunbathing, and an inviting, cushion-strewn star-gazing deck. Wildlife viewing takes place in open 4x4 vehicles, on motorised pontoon boats or on canoes, on foot and in hides.
NOTE: Ruckomechi is open seasonally between April and mid/late November each year.
Activities At Ruckomechi Camp
Game drives
Game drives early in the morning or late afternoon take place in open Land Rovers, taking in a coffee break or a sundowner at a scenic spot; seven seats allows everyone a window seat. Your guide takes you through the private concession as well as the National Park, accessing a diversity of habitats, and therefore a wide range of wildlife.
River Cruises
Cruises down this stretch of the Zambezi River are in nine-seater pontoons or in a six-seater speed boat. Canoes are a more adventurous option to see the large numbers of water birds and other wildlife that are attracted to the river and seasonal pans.
Walking Safaris
Mana Pools National Park is a remote, beautiful place that is best experienced on foot, led by a professional guide. This thrilling way of exploring the surrounding bush often heralds many exciting sightings.
Catch & release fishing *
Bream (tilapia), barbel (catfish) and tiger fish are the some of the more common fish found at Mana Pools. Keen fishermen are always encouraged to bring their own equipment as the camp only carries basic fishing tackle.
*This activity is subject to the availability of boats and is at an additional cost, per boat per hour payable direct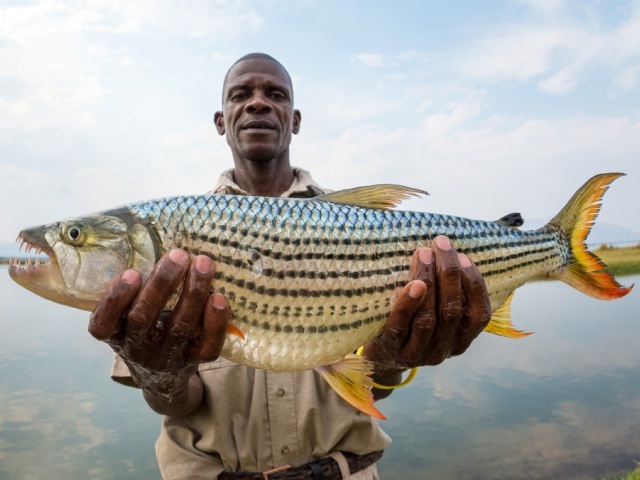 Star Bed
There is no better way of falling asleep than being serenaded by the sounds of nature while you gaze up at the starry skies of Africa. The romantic Star Bed is situated near a productive waterhole.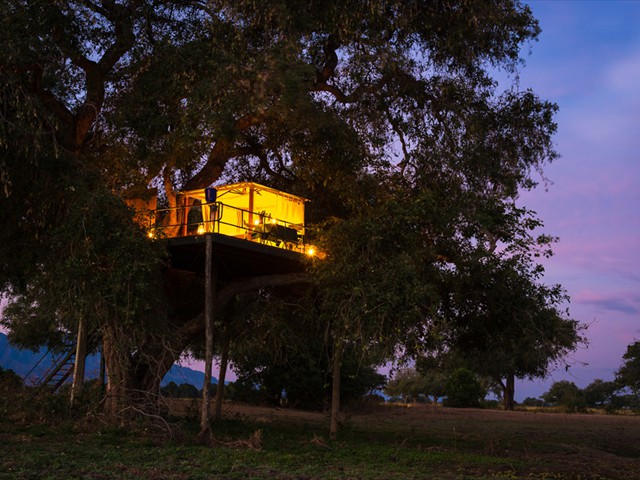 Fantastic Birding
The multiplicity of birdlife in the area includes three-banded courser, western banded snake-eagle, Arnot's chat, green-capped eremomela, African golden oriole, Lilian's lovebird, Böhm's spinetail and Meve's starling.
---
Price
Total Price 7 Nights: US$ 8446 high season, US$ 6172 low season
Per person sharing
Included in this safari
VICTORIA FALLS HOTEL
• Accommodation in the palatial Premium Suite
• Daily breakfast
LITTLE MAKALOLO CAMP
• Accommodation in a comfortable safari tent, perfectly located for a spectacular view of the waterhole
• All meals and local beverages
• Laundry
• National Park Fees
• Twice daily scheduled camp activities: Morning and evening game drives, Nature walks, Game viewing (within a log hide), Sleeping under the stars, Cultural tours/Village visits
RUCKOMECHI CAMP
• Accommodation in a cool and spacious tented room
• All meals and local beverages
• Laundry
• Mana Pools National Park fees
• Twice daily scheduled camp activities: Game viewing from the hide; Birding safaris, Sleep-out, Catch and release fishing, River cruises, Guided walking safaris; Game drives; Canoeing
TRANSFERS
• All road transfers between lodges/hotels mentioned and airports/airstrips
• All air transfers between Victoria Falls, Hwange, Mana Pools and Harare
Excluded
• Premium imported brands and champagne
• All other meals, activities and transfers not mentioned above
More Travel Information
• Victoria Falls Travel Information
• Victoria Falls Activities
• Hwange National Park Information
• Mana Pools National Park Information
Return from Zimbabwe Safari IP7B page to our home page