Zimbabwe Safari IS9A
Visit three of Zimbabwe's UNESCO World Heritage sites in this 9 night safari through Victoria Falls, Hwange National Park, Matobo Hills and Great Zimbabwe ruins
3 Nights Victoria Falls, Zimbabwe
3 Nights Hwange National Park
2 Nights Matobo National Park
1 Night Great Zimbabwe Ruins
10 Days / 9 Nights
Reference: IS-9A
Starts Victoria Falls / Ends Bulawayo Airport

Total Price 9 nights: US$ 2861 high season, US$ 2616 low season
per person sharing
Based on a minimum of 2 people travelling. The more people travelling (up to a max of 6) the cheaper the cost per person.




Safari Overview
This trip takes you on a tour around the western part of Zimbabwe, starting in Victoria Falls and ending in Bulawayo. You will enjoy the wonderful activities in Victoria Falls; experience some Zimbabwean culture and enjoy great game activities in Hwange; learn some fascinating Zimbabwean history and be captivated by the views of the Matobo Hills; and amazed by historical magnificence of the Great Zimbabwe Ruins - all the while taking in the varying landscape that makes Zimbabwe an irresistible destination. It is a chance to visit three of Zimbabwe's five World Heritage Sites. Getting around to these destinations is ordinarily quite a task but we have teamed up with Travel Africa to provide a vehicle and personal driver and guide to escort you.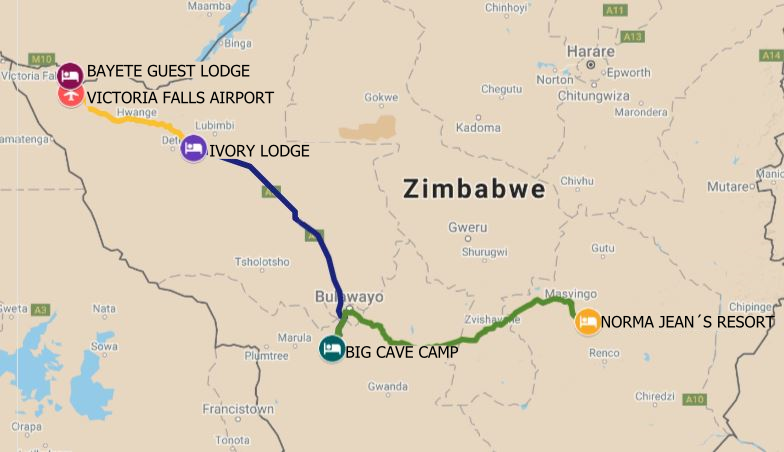 Zimbabwe Safari IS9A Inspired Journey Overview
Accommodation
Nights 1, 2 & 3 - Deluxe room at Bayete Guest Lodge
Nights 4, 5 & 6 - Elevated tree house at Ivory Lodge
Nights 7 & 8 - Standard double room at Big Cave Camp
Night 9 - Standard double room at Norma Jeans
Transfers Included
Day 1 - Road Transfer: Victoria Falls Airport to Bayete Guest Lodge
Day 4 - Road Transfer: Bayete Guest Lodge to Ivory Lodge
Day 7 - Road Transfer: Ivory Lodge to Big Cave Camp
Day 9 - Road Transfer: Big Cave Camp to Norma Jeans
Day 10 - Road Transfer: Norma Jeans to Bulawayo Airport (BUQ)
Highlights
View the spectacular and mighty Victoria Falls
Partake in the multitude of activities available at Victoria Falls from sedate sunset cruises to adrenaline crazy bungee jumping and everything in between (activities not included)
Hide sits, Game drives, Visit Dete Old Age Home or local village in Hwange
Excellent game viewing with qualified professional guides
Rhino tracking, Visit San cave paintings, Visit Rhode's grave/World's View in Matobo Hills (activities not included in package price)
Tour the Great Zimbabwe Ruins while staying at Norma Jeans which overlooks Lake Kyle
---
Notes: Day 1, 2 & 3
DAY 1
Upon arrival at Victoria Falls International Airport, you will be picked up for your transfer to Bayete Guest Lodge in town, a 30-minute ride on tarred road. Check into your room and relax, or get transport into town. From there, you may take part in any of the activities on offer which we can assist you with booking - activities can be found on our activities page.
DAY 2 & 3
You have a full day to soak up the wonderful atmosphere of Victoria Falls, it is the adventure capital of Africa and there are activities on offer to cater for everyone's needs. View the mighty Falls, partake in the many activities on offer or wander around the streets to do a bit of curio shopping, then finish off at a café for refreshments and a bite to eat. Please have a look at the available Victoria Falls Activities and contact us to arrange a suitable itinerary just for you.
Victoria Falls
One of the original natural wonders of the world, the Victoria Falls is a World Heritage Site and an extremely popular tourism attraction. Known locally as 'The Smoke that Thunders', this spectacle is accessible from both Zambia and Zimbabwe and it is an ideal place to combine a game viewing and water sports. There is excellent fishing, a terrifying bungee jump and arguably the best commercial white water rafting in the world.
Overnight: Bayete Guest Lodge
Bayete Guest Lodge offers comfortable and affordable accommodation and is situated in the heart of the Victoria Falls Residential Area. The lodge is 2 km away from the Victoria Falls rainforest and 22 km from the airport. Recently renovated, this family run lodge has 25 rooms which are set in a lush tropical garden. Central to the lodge is the large tear drop pool which is hugged by the Caldecott Boma and Ngwezi Tavern. Breakfast is served in the Caldecott Boma every day. Lunch and dinner are also available on special request and are delicious home cooked meals. Buffets and BBQ's are available for group bookings or by special request.
---
Notes: Day 4, 5 & 6
DAY 4
On this day, you will have your breakfast at Bayete Guest Lodge, and then you will be picked up for your drive out to Hwange. Ivory Lodge is about 180 kilometres from Victoria Falls town, mostly on tarred road up to the highway turnoff which is a few kilometres from the lodge. Check into your room and have lunch. The rest of your afternoon is at your own leisure, but spending some time in the private safari hide overlooking the salt lick and waterhole is highly recommended. Later, you will be taken on a game drive on the 6000-acre concession which will be concluded with sundowner drinks and snacks overlooking the Dete vlei. To follow, you will be driven back to camp after sunset for the opportunity to spot some nocturnal animals. A 3-course dinner will be served at the Captain's Table.
DAY 5
An early wake-up call with tea/coffee starts your day before a full day game drive into Hwange National Park. A packed breakfast will be provided before you head off in an open game drive vehicle. It is an estimated 45-minute drive from Ivory Lodge to the Main park gate. You will be provided with wind breaker, fleece lined ponchos to keep you warm during the drive. You will also be offered teas and coffee's overlooking the waterhole at Nyamandlvou Pan, as well as lunch and snacks later on. In the late afternoon, you will go back to the lodge for some rest, sundowners and snacks in the hide before dinner.
DAY 6
After a full continental breakfast, you will have the opportunity to visit the Dete Old Age home. This will allow you to interact with some of the elderly patrons of the Hwange region. The Local Village tour is a cultural experience for you to get first-hand experience of what life is like in a local African village, or if you prefer you can visit the Painted Dog Conservation centre. On your return to Ivory Lodge, lunch will be served and you have a chance to relax and enjoy your surroundings before a late afternoon game drive on the lodge's concession, which ends with sundowner drinks and snacks overlooking the Dete vlei. You will be driven back to camp after sunset for the opportunity to spot some nocturnal animals. Once at camp, continue with pre-dinner drinks in the hide or at the lodge campfire. A 3-course dinner will be served at the Captain's Table.
Hwange National Park
Hwange National Park is Zimbabwe's biggest reserve, home to a profusion of wildlife, including giraffe, lion, zebra and approximately 40 000 elephants. It provides sanctuary for all the country's endangered species, including a population of wild dogs thought to be among the most sizeable surviving groups on the continent. Terrain ranges from desert dunes and savannah lands to rocky outcrops and sparse forests, and visitors have the choice of game drives, guided walks or horseback safaris as a means of experiencing the park and its creatures.
Overnight: Ivory Lodge
A small intimate lodge featuring 7 luxurious tree houses and 2 Presidential Elephant Suites set on elevated platforms amongst the indigenous flora of Hwange National Park. Deep in the mystical teak forests of Hwange is this unobtrusive camp, bathed in the tales of pioneering hunters and explorers such as Fredrick Courtney Selous. Lumbering giants drift around your stilted platforms, their tusks glinting in salute to the sanctuary of shade offered up by these massive trees.
This is Ivory Lodge – place of elephants. It is here that great herds of elephants are found – sometimes over 100 strong.
Hwange is renowned for its huge tuskers – big old bulls with magnificent tusks. It is also here that the famous Presidential Herd drinks – these elephants' home-range is amongst the dense feeding areas of the Sikumi Vlei and where they find refuge from the scorching heat at Ivory's water hole.
Silently, elegantly, the lodge stands over the waterhole. Watch by flood light under a star spangled African night sky – the elephants in their play-fighting; their display of instinctive rituals; their caressing and murmurings.
Activities at Ivory Lodge
Game Drives
Morning, afternoon & full day game drives can be arranged on the concession and into the National Park. An abundance of game species can be spotted within the concession and National Park including Elephant, Lion, Giraffe, Cheetah, Zebra, Sable, Wild Dog, Leopard and much more! Within the concession, evening game drives can be arranged with a sunset stopover for sundowners and your choice of beverage. Returning to the lodge by spotlight to find those elusive night animals & arriving back in camp in time to freshen up for dinner.
Walking Safari
After a fireside coffee and delicious muffins, journey into the bush on foot with your professional guide on a walking safari. Enjoy the early crisp mornings as you discover the wonders of the African bush and witness its wildlife come to life. Starting time is first light. Walking Safaris are carried out on our private concession of 6000 acres and are weather dependent. Walking Safaris only available upon request during reservation.
Painted Dog Conservation Centre
Zimbabwe boasts one of the largest populations of this endangered species. A visit to the Hwange Research Centre to learn more about these beautiful painted dogs and the rehabilitation, research and conservation efforts surrounding the centre is highly recommended. There is no entry fee charged but the program kindly asks visitors to either buy something from the curio shop with proceeds going to the program or welcomes any donations.
Culture & Community
Zimbabwe offers a rich, dynamic culture and through the support of our non-profit project "The Mother Africa Trust" we offer visits to local clinics, rural schools and the Dete Old Age Home. A fantastic way to get to know the friendly people and culture of Zimbabwe!
Pan Sits
Spend the day, half a day relaxing near the pan with full waiter service and watch the animals as they get up close and personal.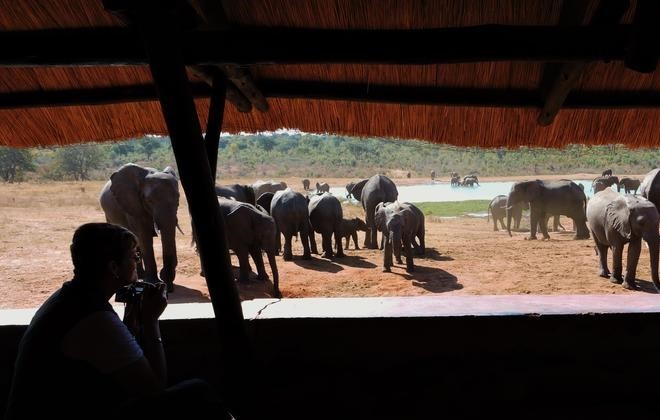 ---
Notes: Day 7 & 8
DAY 7
On this day you will have a Continental or Full English Breakfast at Ivory Lodge. You may want to spend some time in the hide before you check out and depart at 10am. You will be picked up for your transfer out to Matobo Hills, a 4-hour drive through Bulawayo and onto Matobo Hills. You will arrive in the early afternoon, and may decide to do one of the activities on offer or relax and then later have drinks while you chill and watch the sun set over the hills before dinner.
DAY 8
On this full day at Matobo Hills you have a choice from various activities which include game viewing or rhino tracking, a visit to Worlds' View/Rhodes Grave, game walk, sundowner drive, and cultural activities which includes visiting the famous San rock art galleries in the mountain caves. These are the highest concentrations of rock art found anywhere in the world. These activities are not included and best arranged at check-in with your hosts.
Matobo National Park
Idyllically located in the spectacular Matobo Hills, the renowned Matobo National Park is known for its rich human history, its remarkably diverse flora and fauna and its magnificent rugged terrain. This unspoiled natural wilderness features a range of massive red-tinged, granite boulders interspersed with gorgeous wooded valleys making it a dream destination for hikers, climbers and nature lovers alike. The reserve is compact, easily accessible and is home to an impressive range of African wildlife including the highly endangered black and white rhinoceros, zebra, wildebeest, giraffe, cheetah, hippo, warthog and crocodile as well as Africa's largest concentration of leopard and black eagles. This unforgettable national park serves as an ideal stopover for travellers heading to the popular tourist sites of Hwange and the majestic Victoria Falls.
Overnight: Big Cave Camp
Big Cave Camp reposes atop an enormous granite whaleback commanding inspirational views across the famous Matobo National Park. Sophisticated African architecture incorporates colossal boulders into a comfortably appointed thatched lodge positioned amidst ancient Khoisan rock art.
Retire at a day's end to the natural rock-pool and sundeck, the Leopard's Lair lounge and bar, a cave-style boma for pre-dinner drinks or the popular lodge library. The seven thatched A-frame cottages, each with en-suite bathroom and private balcony, resonate African creative flair.
Find solitude within an intimate retreat as secluded as the original Kalanga grain bins that nestle amongst the rocks.
Activities at Big Cave Camp
Game Viewing & Rhino Tracking
View Rhino on foot... Big Cave borders the Matobo National Park, and game viewing is done both on the private property as well as into the Whovi Game Park. The Whovi wilderness area is a specially protected area for both white and black rhino. Matobo Hills has the last significant population of rhino in Zimbabwe, and the best way to view and photograph these rare creatures is on foot, with a professional guide.
Big Cave offers drives into the Whovi Park, with a professional guide-to view not only rhino, but also leopard and a selection of plains game. Guests can enjoy a once in a lifetime opportunity to creep up on these wonderful animals on foot once the correct area has been located by the professional guide.
Activities on the Big Cave 2000-acre private wilderness area include game walks, game drives (approximately 1.5 hours), and the not-to-be-missed sundowner drive to get the Matobo Hills at its very best!
Night drives on the Big Cave wilderness area can be enjoyed on the private property (depending on the time of the year) to view the nocturnal creatures of the Matobo Hills.
Yoga & Wellness
Yoga and meditation on massive, million-year-old granite rocks in this spiritual heartland is a unique experience.
In the glow of the rising sun we start the day in silence in seated meditation, followed by an asana (physical) practice.
Then, find a sunny spot with a view as you enjoy breakfast in silence.
For the rest of the day choose from a range of activities – guided nature walks, game drives, hikes, tours, guided meditation and talks - or simply do nothing but sit back and relax around the lodge.
Meals are taken in silence and in the evenings we enjoy the yang of the campfire followed by a closing meditation.
This is an opportunity to connect with nature and animals on many levels and to enjoy the peace and tranquillity of this beautiful area.
We welcome all those who are curious to learn more about yoga as well as intermediate and advanced practitioners.
Cultural Activities
Famous Rock Art Galleries
Highest concentrations of rock art in the world...
Matobo Hills gained its World Heritage Status principally on the rich cultural diversity of this area. The Matobo Hills boasts one of the highest concentrations of rock art found anywhere in the world. This ancient Khoisan art can be viewed in the both the National Park and even within the immediate vicinity of Big Cave Camp. These famous rock art galleries can be visited on foot or by 4x4.
Nswatugi Cave: One of the more famous sites is Nswatugi Cave, which is normally combined with a trip to Rhodes Grave, World's View which is a beautiful drive through the Recreational Park. View the hidden lady, who can only be seen when shadow is cast over the painting. The small museum at the car park is also very informative.
Bambata Cave: This very large cave combines fantastic rock art with a wonderful 4 km walk through the National park, with incredible views into the Whovi Game Park. The path first winds its way through the natural forest, and then you slowly gain altitude along a large granite ridge that leads up to the cave. Bambata cave was one of the first sites in Zimbabwe to be excavated, and revealed occupation deposits that date back 3000 years. The rock art is estimated at between 300 - 1500 years old, and is a combination of animal species and depictions of people in trance.
Inanke Cave: Inanke is the remotest of the famous rock art galleries, and pre-booking a tour to Inanke is essential, as this is a full day's activity. Guests should also be decently fit, as it is a 7 km walk each way from the car park, with steep inclines and declines. The cave is on the eastern side of the Recreational park, and is also a 1.5-hour drive from camp. The walk is well worth the effort though, as the path is a combination of walking on granite along high ridges, as well as winding ones way through giant whale backs, while walking in superb natural forest. The paintings in my mind have to rate as some of the most incredible rock art on the planet. The paintings are amazing in both diversity and quality, and entering the cave for the first time is just mind blowing.
Tours to the nearby Ndebele Village and Whitewaters Secondary School provides an insight into the lives of the local people. The school in particular has been supported by guests of Big Cave Camp for many years. To date a library has been constructed and school fees, science equipment, desks, chairs, sporting goods and building materials have been donated. In times of real hardship, a guaranteed meal has also been provided for all the school children. In addition, a number of children have had their education sponsored by guests of Big Cave Camp.
Bird Watching
Birds of prey abound!
Matobo Hills boasts one of the highest concentrations of birds of prey anywhere in the world. Big Cave has several nesting sites on and adjacent to the property. The Black Eagle is one of the more majestic birds to grace the area, and other sought after species is the elusive Cape (Mackinder's) Eagle Owl.
Big Cave offers excellent opportunities for the bird watcher.
Rhodes Grave and World's View
Cecil John Rhodes was extremely fond of the Matobo Hills, and he set up a trust, which administered the newly formed "Rhodes Matopos National Park". He also funded a railway line, in his own words "to make a short railway line....So that the people may enjoy the glory of the Matopos from Saturday to Monday". Rhodes died in 1902 in Muizenberg, in the Cape. His body was brought up via rail, and then the body was transported on the back of a gun carriage drawn by a team of oxen. Also buried at Worlds View as it was better known, is Leander Starr Jameson (Rhodes partner in crime in the infamous Jameson raid), as well as Allan Wilson and the 34 men killed on the banks of the Shangani river, while in pursuit of king Lobengula. Worlds view is also the spiritual home for the Ndebele people and so named Malindidzimu. The Ndebele chiefs requested that guns not be fired at the funeral as tradition would have, but rather sent him on his way with the royal salute "Bayete".
---
Notes: Day 9 & 10
DAY 9
On this day, you will have your breakfast early before your 8am departure to Great Zimbabwe, a 5-hour drive on tarred road. After your arrival at Norma Jeane's Resort, enjoy the afternoon touring the Great Zimbabwe Ruins, which are just 10 minutes away from the hotel. You will overnight at Norma Jeane's.
DAY 10
Wake up for you breakfast as you will have an early departure to Bulawayo, or drive through to Victoria Falls for your onward flight.
Great Zimbabwe Ruins
Once Zimbabwe's capital, the ancient city of Great Zimbabwe is the biggest and most significant stone archaeological complex in sub-Saharan Africa. It is also one of its oldest – thought to date back to the 11th century and second only to South Africa's Mapungwe. Composed entirely of rectangular granite blocks stacked on top of one another without the use of mortar, the walls and towers of the city measure up to 12 metres in places, and it is unsurprising that Great Zimbabwe was designated a World Heritage Site in 1986.
Overnight: Norma Jeans
Norma Jeane's Lake View Resort is set in the granite hills and Msasa woodland overlooking Lake Mutirikwe (formerly Lake Kyle) and a short 10 minutes The Great Zimbabwe Ruins, a UNESCO World Heritage Site.
The emphasis is on luxury accommodation for the more discerning visitor, offering fully furnished and equipped self-catering lodges and luxury hotel rooms. The dining room providing breakfast, lunch and dinner with a view over the lake.
Activities Around Norma Jean's
Great Zimbabwe Ruins
Once Zimbabwe's capital, the ancient city of Great Zimbabwe is the biggest and most significant stone archaeological complex in sub-Saharan Africa. It is also one of its oldest – thought to date back to the 11th century and second only to South Africa's Mapungwe. Composed entirely of rectangular granite blocks stacked on top of one another without the use of mortar, the walls and towers of the city measure up to 12 metres in places, and it is unsurprising that Great Zimbabwe was designated a World Heritage Site in 1986.
---
Price
Total Price for 9 Nights: US$ 2861 high season, US$ 2616 low season
Per person sharing
Based on a minimum of 2 people travelling. The more people travelling (up to a max of 6) the cheaper the cost per person.
Included in this safari
BAYETE GUEST LODGE
• Accommodation in a trendy and comfortable room
• Breakfast daily
IVORY LODGE
• Accommodation in an elevated tree house with views of the African bush
• All meals and local beverages
• Two activities per day (Half day game drive; Full day game drive; Visit to the painted dog conservancy; Village tour; Walking safaris (on request); Game Count (on request)
• Laundry
• Conservation fee and National parks fee
BIG CAVE LODGE
• Accommodation in a spacious double room with views of the Matobo Hills
• Breakfast, Lunch and Dinner
• Local beverages
NORMA JEANE'S RESORT
• Accommodation in a hotel room overlooking Lake Mutirikwe in a superb natural woodland surrounding
• Daily breakfast
TRANSFERS
• All road transfers
Excluded
PARK FEES
• National Park fees (except at Ivory Lodge)
• Activities other than at Ivory Lodge
• Meals and drinks other than those stated
More Travel Information
• Victoria Falls Travel Information
• Victoria Falls Activities
• Great Zimbabwe Information
• Hwange National Park Information
Return from Zimbabwe Safari IS9A page to our home page