Zimbabwe Botswana Safari IG10A
10 amazing nights in Botswana's Chobe, and Hwange and Victoria Falls in Zimbabwe
2 Nights Chobe National Park, Botswana
6 Nights Hwange National Park, Zimbabwe
2 Nights Victoria Falls, Zimbabwe
11 Days / 10 Nights
Reference: IG10A
Starts Kasane Airport / Ends Victoria Falls Airport

Total Price 10 Nights: US$ 6117
per person sharing
**This Package is only Available July to End of October with Peak months being August and September**



Safari Overview
Our Ultimate 10-night Safari itinerary starts with two nights at Chobe Safari Lodge, the largest lodge in the itinerary but we feel it is a good place to start because of the sheer profusion of wildlife and birdlife to be found in the Chobe National Park – before moving on to the more personal and smaller camps in Hwange National Park.
From Chobe Safari Lodge you will road transfer by air-conditioned minibus to Dete Siding in Zimbabwe where you will board the Elephant Express, a scenic rail transfer cum safari to Camelthorn Lodge located deep in the Hwange National Park. A unique transfer and whole experience in itself to be enjoyed and savoured.
On arrival at Camelthorn you will discover a small and personalised camp with excellent guides and game viewing opportunities. In Camelthorn you will feel like you are alone in your own small piece of Africa - from individual and up-close experiences in Stoffies Hide to private lunches served under a tree, sometimes only in the company of a herd of elephants and your guide. Nothing seems too much to the staff and guides in Camelthorn as they share with you their private concession and in depth knowledge of the animals found in it.
From Camelthorn you will return on the Elephant Express to Dete where a safari vehicle will transfer you to Nehimba Lodge. No words can describe this camp besides "The Home of Hundreds of Elephants'. This time of the year, when water is limited in the park they arrive from early afternoon to enjoy the fresh water directly from the Camp Swimming Pool, which they finish every night. Sitting on the deck enjoying a sundowner – you are so close you can count the eye lashes and look deep into the wise eyes of these majestic animals. A truly humbling experience that everyone should enjoy at least once in their life time.
With a heavy heart it's time to leave Hwange but with some wonderful pictures and memories you will travel back to Victoria Falls, offering you the chance to view the spectacular Mosi O Tunya – The Smoke That Thunders.
Accommodation for your two nights in Victoria Falls town will be at Victoria Falls Safari Lodge set on a high plateau overlooking an active waterhole. A time to slowly wean yourself of Africa and its special sounds, smells and sightings that you have been privileged to share over your last 10 nights.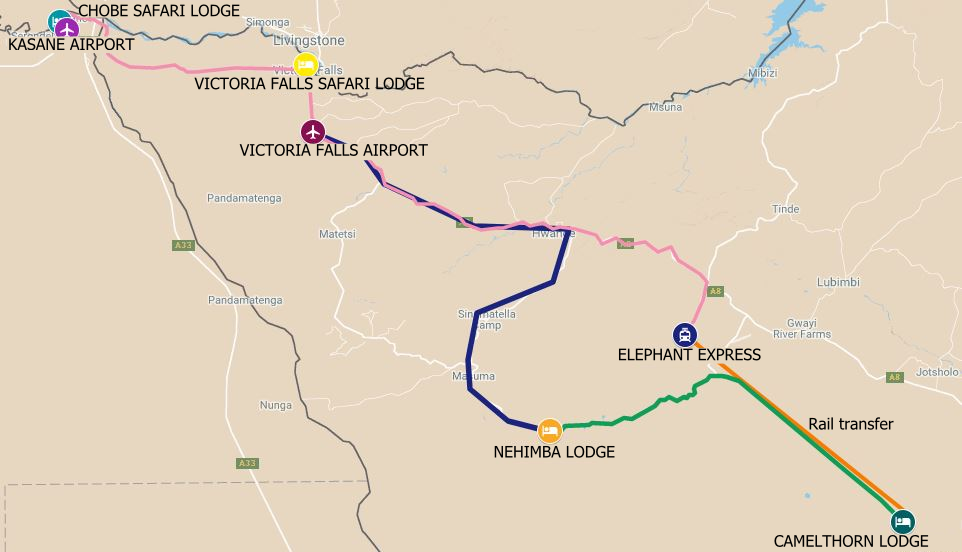 The route map for Zimbabwe Botswana Safari from Chobe to Hwange and then Victoria Falls


Zimbabwe Botswana Safari Inspired Journey Overview
Accommodation
Nights 1 & 2 - Luxury safari room at Chobe Safari Lodge
Nights 3, 4 & 5 - Luxury Forest Villa at Camelthorn Lodge
Nights 6, 7 & 8 - Elevated Thatched chalet at Nehimba Lodge
Nights 9 & 10 - Waterhole-facing room at Victoria Falls Safari Lodge
Transfers Included
Day 1 - Road Transfer: Kasane Airport to Chobe Safari Lodge (15 minutes)
Day 3 - Road Transfer: Chobe Safari Lodge to Dete Siding (3.5 hours)
Day 3 - Rail Safari Transfer: Dete Siding to Camelthorn Lodge (via Elephant Express - 2 hours)
Day 6 - Road Transfer: Camelthorn Lodge to Dete Siding (via Elephant Express - 2 hours)
Day 6 - Rail Safari Transfer: Dete Siding to Nehimba Lodge (2.5 hours)
Day 9 - Road Transfer: Nehimba Lodge to Victoria Falls Safari Lodge (4.5 hours)
Day 11 - Road Transfer: Victoria Falls Safari Lodge to Victoria Falls Airport (30 minutes)
Highlights
Amazing game viewing in Chobe National Park – elephants and hippos in the Chobe River on the cruise and herds of plains game on the flood plain with a good chance of seeing lion and leopard.
The scenic rail transfer cum safari on the Elephant Express in Hwange National Park
Luxury accommodation in a cool, spacious forest villa at Camelthorn Lodge
Game drives, pump runs, walking safaris, visits to the underground blinds, local school and village tours
The up-close and personal experience of the herds of elephants, drinking the water from the swimming pool dry every night, from the deck at Nehimba Safari Lodge
Excellent Game viewing from the lodge at Nehimba's active waterhole.
Highly knowledgeable, professionally licensed Guides that will enhance your overall safari experience at Camelthorn and Nehimba
Partake in the multitude of activities available at Victoria Falls from sedate sunset cruises to adrenaline crazy bungee jumping and everything in between (activities not included)
View the spectacular and mighty Victoria Falls
---
Notes: Day 1 & 2
DAY 1
On arrival at Kasane airport there will be a Chobe Safari vehicle to transfer you to the lodge. After checking in you will be given your personal activities advisor who will explain how the game drives and cruises etc. work and times and places of departure. Lunch, is a delicious buffet spread or you can take a pool snack for the not so hungry.
Freshen up and rest before meeting at the jetty for the Sunset Cruise at 15h00. This is a 3 hour cruise up the Chobe River – you will have a chance to see elephants playing and swimming in the water or simply enjoying the green grass found along the banks. Pods of hippos will be dispersed amongst the elephants and you will find yourself not knowing which way to look.
There is a cash bar on the cruise if you feel you would like to enjoy a cold drink as you watch a magnificent sunset aboard the boat before returning to the lodge in time to freshen up before dinner.
DAY 2
An early morning start to the day with a Safari Game Drive departing from the lodge around about 06h00-06h30. The early mornings are the best time to find the cats as they make their way back into the shade for the heat of the day – often after making a kill in the night. Prides of Lions are very often seen on these early morning game drives.
You will return to the lodge around about 09h00 in time for a Full English breakfast which is normally welcomed by all. The heat of the day can be spent enjoying the swimming pool or relaxing in the cool of your air conditioned room.
Once the day has cooled down and after afternoon tea and coffee you will make your way down to the jetty for another afternoon sunset cruise. No two cruises are the same and the wildlife experiences are always rewarding. The notorious sound of the laughing hippo, never very far away, will add to the overall magical experience.
**Please note that the above activity schedule is a guideline and you can tailor-make your itinerary with the camp managers onsite, to suit your exact needs.

Chobe National Park
The Chobe River forms the northern boundary of the Chobe National Park, renowned for its reliable and diverse game viewing. Safaris are conducted both by boat and on land. This section of the park is best known for its elephant and hippo populations but the waters attract all manner of game including large herds of buffalo and the lions that prey on them.
Overnight: Chobe Safari Lodge
Chobe Safari Lodge is situated in Kasane on the banks of the Chobe River and shares a border with Chobe National Park.
Chobe Safari Lodge has 66 rooms and 8 rondavels. The rooms are large, very comfortable, with air-conditioning and a fan and one soon discovers that the staff are very helpful and the lodge is well organised.
The Chobe Safari Lodge rooms face the river, with wild but habituated to human's warthogs, mongoose and monkeys roaming freely on the lawns providing endless entertainment from the balcony of your room. The variety of birds are a delight.
The Chobe National Park with its abundance of game and hundreds of elephants can tend to get busy in the peak season and one may find that you have to be content with sharing the sightings with a large number of vehicles and/or cruises. However, we feel that the sheer profusion of wildlife and birdlife will make up for this.
You can also hire a small boat and guide by the hour and this is a truly wonderful experience. You can really get up close and personal with the wildlife on such a trip, and concentrate on the wildlife of particular interest to yourself and having the time to get good photos.
Activities at Chobe Safari Lodge
Game Drives
Boat Cruise & Private Boat Cruises
---
Notes: Day 3, 4 & 5
DAY 3
One last chance for an early morning game drive before returning to Chobe Safari Lodge for breakfast. After checking out you will be transferred by air-conditioned minibus to Dete siding in Zimbabwe for your Elephant Express Rail transfer into Camelthorn Lodge. There is a border crossing involved, so make sure that you have your travel documents and visa if you need one. You will arrive in camp around about 16h00, we recommend some time to relax, and settle into your room. The Elephant Express will have given you an opportunity to do some great game viewing – however if you still feel the need you can go for an evening game dive this can be arranged, returning later to freshen up and enjoy a 3 course supper out under the stars.
DAY 4
On this day, head out for a full day trip into the park for our one of a kind 'pump run' with a picnic and siesta under the trees at Mfagazaan Pan. A leisurely afternoon game drive brings you back to the lodge going from Pan to Pan, game viewing along the way. In the evening, your 3 course dinner may be brought to your private villa for a private dining experience, or share the day's stories under the central Camelthorn tree.
DAY 5
On this day, you will be taken to the nearby Ngamo village for a village and school tour where you will able to see some of Imvelo's community initiative projects. After a fun packed morning at the village, a splendid lunch will be enjoyed at the 'Look up blind'. In the evening, a 3 course dinner will be served in the main lodge area under the African sky.
**Please note that the above activity schedule is a guideline and you can tailor-make your itinerary with the camp managers onsite, to suit your exact needs.
Hwange National Park
Hwange National Park is Zimbabwe's biggest reserve, home to a profusion of wildlife, including giraffe, lion, zebra and approximately 40 000 elephants. It provides sanctuary for all the country's endangered species, including a population of wild dogs thought to be among the most sizeable surviving groups on the continent. Terrain ranges from desert dunes and savannah lands to rocky outcrops and sparse forests.
Overnight: Camelthorn Lodge
This flag ship lodge is nestled in a patch of pristine woodland just west of Ngamo on the edge of the South Eastern corner of Hwange National Park. The lodge is unique in its style and design and has as its centre piece a huge ancient Camelthorn tree.
On the edge of the Ngamo Plain, and strategically placed to explore the remote and unspoilt south eastern portion of the park, Camelthorn will also provide a spectacular wilderness experience. Less than a kilometre away from the lodge is an underground blind in front of a beautifully located waterhole in the park. Camouflaged as a termite heap and buried under an ancient Mitswiri tree - the photographic opportunities from it are dramatic. Elephants can be photographed from toe level silhouetted against the sky at a distance of 25 feet - and such close proximity to Hwange's huge bulls is honestly breath-taking
Activities at Camelthorn
The Elephant Express
A unique safari experience The Elephant Express is a rail transfer option which takes you on an exciting journey into the wilderness between the Ngamo and Dete sidings. The refurbished railcar can accommodate 22 passengers on individual coach seats, with teak tables in between. An engine and gearbox on either side of the railcar mean that it is able to move in both directions of the track. It has plenty of room for luggage and a wide isle allowing guests to view game freely. It also includes a chemical toilet for convenience.
Guests to Camelthorn will take a normal road transfer to Dete Siding near the entrance to Hwange National Park, and then enjoy a 70km scenic rail transfer aboard the railcar. Game such as elephant, kudu, and wildebeest (to name a few), and various bird species can be spotted along the 2-hour journey either to or from Ngamo siding. Lunch will be served on the Elephant Express with cold beers or gin and tonic for the trip in.
Once at Ngamo, a 10 to 15-minute drive in a game vehicle will take you to Camelthorn Lodge.
Game Drives
Traditional open safari vehicles are driven by licensed experienced guides. Morning drives come with tea, coffee and biscuits and afternoon drives with drinks and cooked snacks. The Imvelo Land Cruisers seat up to 9 guests and Land Rovers seat up to 7 guests.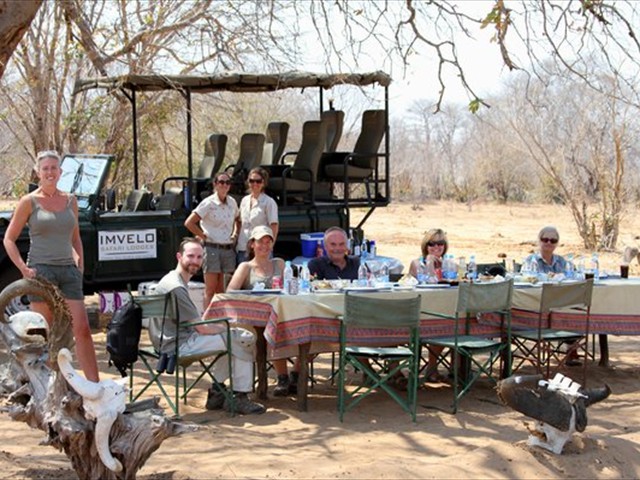 Game Walks
Conducted by a fully licensed and highly experienced professional guide. Walks are usually undertaken in the mornings. They are quite ideal for photography of big game.
Night Drives
Night drives are conducted within the lodge's private concession to view the array of wildlife, particularly nocturnal creatures. Usually, they happen on return from the afternoon activity, and sometimes after supper, particularly when lion are heard calling nearby.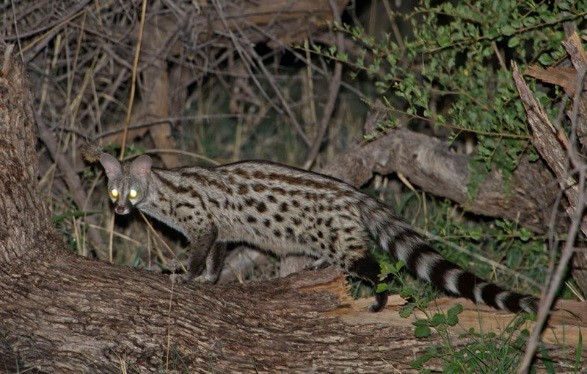 Game viewing blinds
A feature of Camelthorn is the 6m long underground blind with en-suite flush toilet. Strategically positioned in the shade of a Leadwood tree, disguised as an ant-heap and aligned to take advantage of both the sunsets and the evening light at elephant toe level - this blind will have novices taking National Geographic pictures.
Pump runs
Imvelo Safari Lodges operate 8 waterholes for the wildlife in this region of the National Park, the furthest of which is 55 km away. A popular activity is to take an all day trip into the Park to visit the waterholes to drop off fuel and oil for the motors as well as rations and supplies for the pump attendants. A picnic lunch is then enjoyed near one of the waterholes followed by a leisurely game drive back to lodge in the afternoon.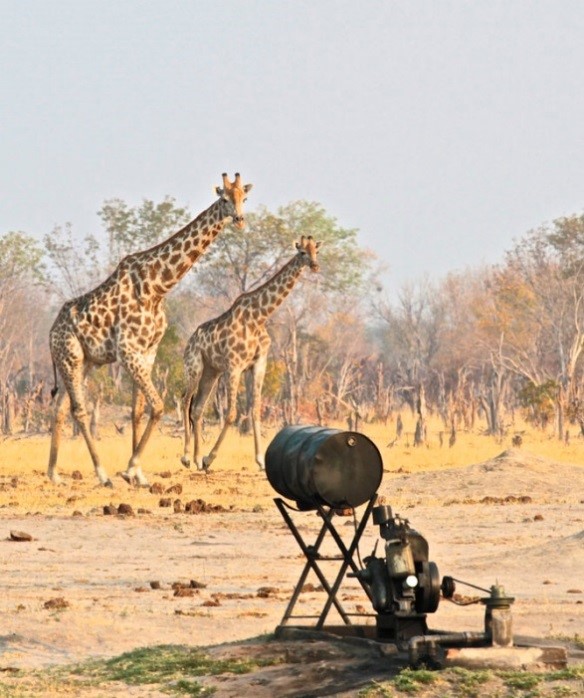 School tours and village visits
Fifteen minutes' drive from the lodge our guests have the opportunity to enjoy a real life look at village life in rural Matabeleland. A fascinating experience of a variety of typical daily village activities is followed by a tour of one of the nearby schools conducted by the Headmaster where guests are given the opportunity to hear traditional songs sung by the children and enjoy a 'class interaction'.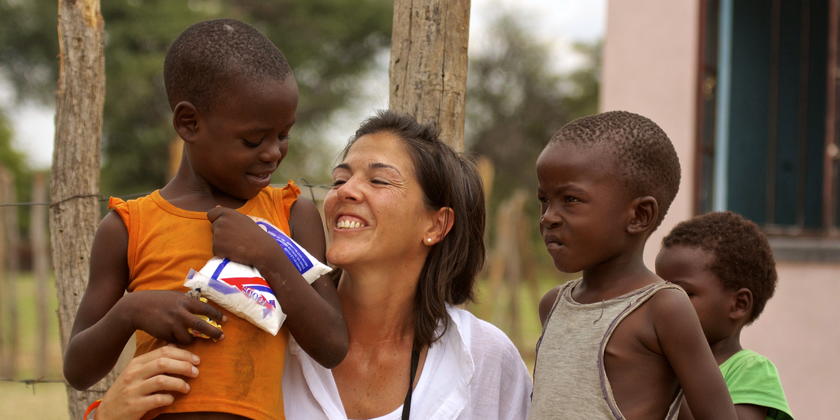 ---
Notes: Day 6, 7 & 8
DAY 6
If you feel like a last game drive before breakfast on the Camelthorn estate, the guides will be more than willing to accommodate you. Otherwise enjoy a late morning breakfast before transferring back on the Elephant Express to Dete Siding.
On arrival at Dete siding you will be met by a guide from Nehimba lodge and transferred through the Hwange National Park, by game drive vehicle to Nehimba Safari Lodge. This can be a hot and dry and clients are advised to dress accordingly. Cold drinks and lunch will be served at one of the many waterholes along the way.
On arrival at Nehimba Lodge, take some time to familiarise yourself with the lodge and meet the staff. After what can seem like a long day enjoy the cool of the evening sitting on the deck and watch whilst the "Elephant Show" unfolds in front of you.
Dinner is served on the viewing deck allowing one to continue watching the elephants whilst enjoying a delicious dinner. After dinner and drinks you will be walked back to your room by a guide, as the elephants continue to wander around the camp.
DAY 7
No two days are the same at Nehimba and game viewing experiences are tailor-made to guest's preferences, including game drives, walking safaris and night game drives on the private concession in search of nocturnal species of wildlife. Whether you choose to track a herd of elephant on foot with your highly trained guide at dawn or spend the afternoon relaxing overlooking the waterhole on the deck by the pool, this wild and unspoilt bush paradise will guarantee you leave with memories to last a lifetime!
DAY 8
More game viewing activities at Nehimba, tailor made to suit your needs and influenced by what the wildlife at the time of your visit are doing.
Overnight: Nehimba Lodge
Nehimba is a luxury safari Lodge remotely nestled away in one of the largest private concessions in the renowned Hwange National Park. Ideally situated in the central game rich section of the park, offering an all-inclusive, privately guided authentic African Safari, which will be hard to better anywhere in Africa. A lodge where one's experiences in camp can be life changing - dining with the elephants every night and usually also at breakfast and/or lunch time. In the height of the dry season they can drain the swimming pool in a night.
Seeing these huge animals interact with each other just a few metres away, in fact so close that you can count the eye lashes and look into the wise eyes of these magnificent animals, is a truly humbling experience.
The staff and guides of Nehimba make it a special experience – clients are made to feel that it is their home for the next couple of days. Meals are eaten with the management and guides, where you can enjoy and share their knowledge around the table – encounters of the day being discussed and plans made for the next day.
The lodge boasts seven luxurious raised chalets under traditional thatch unobtrusively positioned around a waterhole. Each chalet has its own en-suite slipper bath and adjoining outside shower. Decor is subtle yet elegant, furnishings are soft, cosy and tasteful. The rooms are designed to be spacious, airy, intimate and safe. Each chalet has its own private balcony that allows an un-obscured view of the waterhole and its thirsty visitors. One can view herds of elephant, buffalo, hyenas, kudu, lion and even wild dog if you are lucky enough.
Nehimba has its own private concession which ensures that you have an intimate and personal drive because you are the only vehicle in sight, so when you do meet up with the lions, it is just you and them!
Activities at Nehimba Lodge
At the Lodge
Nehimba is situated on its own private concession in the Northern area of the national park where many of Hwange's wild residents enjoy wandering freely through the area. You may choose to relax on your private balcony with an early morning cup of coffee, or whittle away the last of the daylight hours on the main lodge deck with sundowners, where the animals amble by and pause at the nearby waterhole to quench their thirst.
Game Drives
Nehimba is situated right on the edge of the mopane woodlands of northern Hwange and the Kalahari sandveld of the west, and so offers the full spectrum and diversity of fauna that Hwange has to offer. The elephant hunting Lions of this area are famous. The area is well watered so is host to large numbers of animals throughout the year but particularly during the dry season. Game drives are conducted in specially modified Land rovers designed to provide wildlife enthusiasts with ideal opportunities for photography. During drives, our expert guides enjoy sharing their extensive knowledge with you - be it while watching the African bush come to life as the sun starts to rise, or whilst marvelling at a large elephant herd drinking at a waterhole as the sun slips behind the horizon.
Game Walks
For an entirely different perspective, join one of our armed professional guides and get close to nature. During a game walk you can experience the thrill of approaching wildlife on foot. Your guide will also teach you the basics of how to track wildlife from the ground as well as interesting facts about the surrounding vegetation and ecology.
Night Drives
For those who would like to view Hwange in a different 'light', we offer our guests the opportunity to accompany one of our guides on a night drive through our concession. Filtered spotlights are used to pick out the various nocturnal species that can be found such as hyena, porcupines, civets, genet cats, and if you're lucky, perhaps even a leopard on hunt!
The Nehimba Hide
Situated close to camp, this lovely platform is the perfect spot to marvel at the splendour of an African sunset, providing the perfect backdrop to the abundance of wildlife that sip and slurp at the nearby water hole.
Visit The Nehimba Seep
This special designated conservation area is one of the only year-round, naturally occurring water supplies in the massive Hwange National Park. The seep is an ancient source of surface water that was once used by the San Bushmen. Today the area is frequented by elephant, who can be found digging for minerals as well as enjoying the water.
Visit Mandavu Dam
Situated in a scenic hilly spot only 15-kilometres from Sinamatella Camp, the Mandavu Dam is a wonderful location for both bird watching and game viewing. Take a leisurely morning drive to the dam before joining a variety of wildlife for a picturesque picnic brunch at the water's edge.
Visit Mtoa Ruins
Mtoa Ruins are approximately a 2-hour drive from camp, and are well worth the journey! These ancient ruins are located on top of a low granite kopje and offer excellent views of the surrounding countryside. Enjoy a packed lunch at this ancient site before a meandering afternoon game drive from waterhole to waterhole back to Camp.
---
Notes: Day 9, 10 & 11
DAY 9
On your last day at Nehimba Lodge and Hwange National Park, wake up to a hearty breakfast and prepare for an early transfer in the cool of the day to Victoria Falls. On arrival at Victoria Falls Safari Lodge take some time to settle in and relax, enjoy the view from your room or the main lodge deck.
Alternatively, we recommend a sunset cruise or helicopter flight on this first afternoon. Dinner can either be at the hotel or we can recommend other options in and around town. Although activities are not included in the package price, please let us help you to arrange an itinerary of activities suitable for you. Have a look at these Victoria Falls activities to see what is on offer.
DAY 10
You have a full day to soak up the wonderful atmosphere of Victoria Falls, it is the adventure capital of Africa and there are activities on offer to cater for everyone's needs. View the mighty Falls, partake in the many activities on offer or wander around the streets to do a bit of curio shopping, then finish off at a café for refreshments and a bite to eat. Please have a look at the available Victoria Falls Activities and contact us to arrange a suitable itinerary just for you. Victoria Falls Safari Lodge has a magical Boma Dinner Experience right on the premises.
DAY 11
Most international flights depart around lunchtime, so there is time on your final morning to do another activity if you wish. Your airport transfer will collect you from Victoria Falls Safari Lodge and take you to Victoria Falls Airport for your departure flight.
Victoria Falls
One of the original natural wonders of the world, the Victoria Falls is a World Heritage Site and an extremely popular tourism attraction. Known locally as 'The Smoke that Thunders', this spectacle is accessible from both Zambia and Zimbabwe and it is an ideal place to combine a game viewing and water sports. There is excellent fishing, a terrifying bungee jump and arguably the best commercial white water rafting in the world.
Overnight: Victoria Falls Safari Lodge
Victoria Falls Safari Lodge is without doubt one of the most popular places to stay in Victoria Falls, Zimbabwe. The Lodge is situated on a high plateau overlooking the vastness of the Zambezi National Park, giving you the superb feeling of being out in the remote African wilderness, yet a short 15 minute drive takes you into the town centre and the Victoria Falls entrance.
A waterhole, well frequented by wildlife is situated directly below the lodge which can been viewed from most of the bedrooms, the bars, the pool deck, restaurants and lounges. A constant stream of animals coming down to drink provides 24hr entertainment (the waterhole is floodlit at night).
The 72-room Lodge is rich in ambience and offers sublime hospitality. All the bedrooms at Victoria Falls Safari Lodge are en-suite and the sliding glass doors open onto balconies with uninterrupted views of the National park, some rooms overlooking the waterhole. The rooms all have soft natural fabrics and brightly coloured African paintings giving them a wonderful contemporary safari lodge feeling. The staff are warm and personable providing faultless delivery to guests during their stay.
Activities at Victoria Falls Safari Lodge
Boma Experience
Described as an unforgettable African experience infused with Zimbabwean cuisine, spirited performances and traditional storytelling, The Boma – Place of Eating has firmly established itself as a Victoria Falls highlight. Partially open to the skies, The Boma specialises in a superb selection of Zimbabwean dishes. A four-course meal combines a choice of starters with a barbecue buffet. The adventurous are enticed with local delicacies such as mopani worms and potjiekos (hunter's game stew), whilst those wishing to enjoy beef, pork, fish and chicken or a variety of vegetarian meals are welcome to do so. The sights and sounds of the evening are accentuated by a feast of nightly entertainment, incorporating traditional dancers, who captivate guests with their vibrant songs and dance. The acclaimed Zambezi Drumbeat provides a wonderful interactive drumming experience.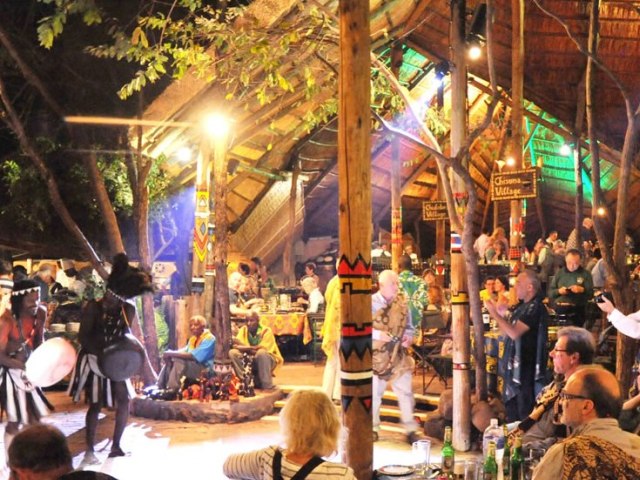 ---
Price
Total Price 10 Nights: US$ 6117
per person sharing
Included in this safari
CHOBE SAFARI LODGE
• Accommodation in a luxury room with garden views of the lodge
• Breakfast, Lunch and Dinner
• Activities: 2 game drives, 2 boat cruises
• Chobe National Park fees
CAMELTHORN LODGE
• Accommodation in a luxurious and spacious forest villa nestled in the Hwange bush
• All meals, soft drinks, beers, wines & local spirits
• Laundry
• Game activities: walks, drives, all day excursions, hide sits and night drives; visit to the local village, tour of the village school and service of a licensed guide on safari
• National Park entry fees per night
NEHIMBA LODGE
• Accommodation
• All meals, soft drinks, beers, wines & local spirits
• Laundry
• Activities: Game walks, drives, all day excursions, hide sits and night drives, and service of a licensed guide on safari
• National Park entry fees per night
VICTORIA FALLS SAFARI LODGE
• Accommodation in a comfortable standard room with uninterrupted views of the National park
• Daily breakfast
• Access to the Vulture Culture experience
TRANSFERS
• All road transfers from Kasane Airport to Chobe Safari Lodge, Dete Siding, Nehimba Lodge, Victoria Falls Safari Lodge and Victoria Falls airport
• Rail transfer on the Elephant Express between Dete and Ngamo (Camelthorn)
Excluded
CAMELTHORN LODGE & NEHIMBA LODGE
• Premium imported beverages
• Gratuities and items of a personal nature
VICTORIA FALLS SAFARI LODGE
• All other meals and drinks
• Activities in Victoria Falls
More Travel Information
• Victoria Falls Travel Information
• Victoria Falls Activities
• Hwange National Park Information
• Chobe National Park Information
Return from this Zimbabwe Botswana Safari IG10A page to our home page