Zimbabwe Botswana Safari IG7E
Top quality safari experience staying at high-end lodges in Chobe, Hwange and Victoria Falls
2 Nights Chobe, Botswana
2 Nights Victoria Falls, Zimbabwe
3 Nights Hwange National Park
8 Days / 7 Nights
Reference: IG-7E
Starts Kasane Airport / Ends Victoria Falls Airport

Total Price 7 Nights: US$ 3601 (low season) | US$ 4876 (high season)
per person sharing



Safari Overview
We have designed this nicely balanced safari for our clients who are on a generous budget and are wanting to experience the large concentrations of game in Chobe, the raw authenticity of African wildlife in Hwange and the magnificence of the mighty Victoria Falls. It combines top quality accommodation, all in prime locations that will guarantee an absolutely perfect and unforgettable safari holiday.
Starting at Elephant Valley, one of our favourite lodges in Chobe, with easy access to the Chobe National park and away from the hustle and bustle of Kasane town. This lodge in its peaceful location overlooking a busy waterhole works perfectly for experiencing this part of Botswana. Followed by 2 nights at Ilala lodge in Victoria Falls, everything about this small boutique and upmarket hotel is just perfect.
The last 3 nights are spent at Davison's Camp, situated in a remote, private corner of Hwange National Park on probably one of the best wildlife concessions in Zimbabwe. Owned and run by Wilderness Safaris, this lodge like all their others is in a prime location with excellent guides and high standards throughout. Safari experiences don't get much better than this!
Inspired Journey Overview
Accommodation
Nights 1 & 2 - Valley tent at Elephant Valley Lodge - Chobe
Nights 3 & 4 - Deluxe room at Ilala Lodge - Victoria Falls
Nights 5, 6 & 7 - Tented safari room at Davisons Camp - Hwange National Park
Transfers Included
Day 1 - Road Transfer: Kasane Airport to Elephant Valley Lodge (20 mins)
Day 3 - Road Transfer: Elephant Valley Lodge to Ilala Lodge - ( +/- 1.5hrs)
Day 5 - Road Transfer: Ilala Lodge to Victoria Falls Airport - (30 mins)
Flights Included
Day 5 - Flight: Victoria Falls Airport to Wilderness Airstrip (Davisons) (+/- 45mins)
Day 8 - Flight: Wilderness Airstrip to Victoria Falls Airport (+/- 45 mins)
Highlights
Tranquil location of Elephant Valley Lodge in the Chobe wilderness reserve
Incredible game-viewing in Chobe national park and on the Chobe River
Be pampered at the romantic Ilala Lodge, within walking distance of the Victoria Falls entrance
View the spectacular and mighty Victoria Falls
Partake in the multitude of activities available at Victoria Falls from sedate sunset cruises to adrenaline crazy bungee jumping and everything in between (activities not included)
The Wilderness private concession in southeast Hwange is one of the best wildlife concessions in the country and is sure to provide an amazing and intimate game viewing experience
Excellent guides and general standards of service at Davisons camp
Return air charters from Victoria Falls airport to Davisons camp
---

Notes: Day 1 & 2
DAY 1
On arrival at Kasane Airport, you will be met by a representative of Elephant Valley Lodge and transferred the short distance to the lodge. You will arrive at the lodge in time to enjoy lunch and relax in the luxury tented rooms or even freshen up with a swim in the infinity pool whilst watching any of the animals that come to cool themselves at the water hole in front of the lodge.
In the afternoon you can choose from a game drive into the Chobe National Park or a Boat Cruise up the Chobe River. Chobe is renowned for its phenomenal game viewing and whether you choose a cruise or a drive you will be overwhelmed the sheer volume of wildlife. A great start to your African safari! Return to the lodge for dinner, in the boma area under the stars.
DAY 2
An early morning starts with a Safari Game Drive departing from the lodge around about 06h00-06h30. The early mornings are the best time to find the cats as they make their way back into the shade for the heat of the day – often after making a kill during the night. Prides of lions and leopards are very often seen on these early morning game drives.
You will return to the lodge around mid-morning in time for a full English breakfast which is generally welcomed by all. The heat of the day can be spent enjoying the swimming pool or relaxing in your room.
In the afternoon you can once again choose from a cruise or a drive, the decision often depends on what you have already seen and encountered and are still looking to see. Activities are tailored to suit your requirements and determined by the animal movements during your visit.
Chobe National Park
The Chobe River forms the northern boundary of the Chobe National Park, renowned for its reliable and diverse game viewing. Safaris are conducted both by boat and on land. This section of the park is best known for its elephant and hippo populations but the waters attract all manner of game including large herds of buffalo and the lions that prey on them.
Overnight: Elephant Valley Lodge
Elephant Valley Lodge is surrounded by the peaceful wilderness of the African bush well away from the hustle and bustle of Kasane town, where many of the other lodges accessing the Chobe National Park are located. It lies in a unique position over-looking the Lesoma Valley, only a short drive from the entrance to the Chobe National park, which is home to the largest population of African elephant in the world. The animals and birds move freely in the valley between the game-rich conservation areas of the neighbouring Chobe Game Reserve and the National Parks of Zimbabwe. From the comfort and tranquillity of the Lodge you can watch creatures great and small, dropping by for a thirst quenching drink at the Lodge's waterhole.
At Elephant Valley Lodge guests will enjoy activities including daily 4 x 4 game viewing safaris and boat cruises along the Chobe River in Chobe National Park.
The Lodge has 20 spacious accommodation tents with tea and coffee making facilities, fan, electric blankets in winter, hair dryers, charging points plus en-suite shower and toilet. Eight tents have views over the valley towards the water hole and twelve tents are nestled around the lush forest lawns and swimming pool.
Sturdy acacia trees form large canopies of shade over the main communal areas and forest tents. The new rim-flow pool is perfect for a refreshing dip and relaxation on the sun loungers. A traditional out-door 'boma' serves evening meals and a game viewing platform brings you closer to the valley's wildlife. An attractive open lounge with bar and upper viewing deck is connected to the dining areas. All these facilities have magnificent views over-looking the valley and water-hole. The waterhole attracts a wide variety of game, particularly elephant, but also giraffe, buffalo, antelope such as waterbuck and kudu, warthogs, honey badgers, jackal, mongoose, predators including leopard, lion, hyena, wild dogs and many more species.
Enjoy a cacophony of night sounds, including the eerie hyenas, jackals barking and sometimes lion roaring in the valley, as you drift off to sleep after an exhilarating day of game viewing at Elephant Valley Lodge.
Activities at Elephant Valley
4 x 4 Safaris
Game drives offer opportunities to see and photograph the stunning range and concentration of wild life that the Chobe National Park and is famous for. As you drive along the river bank looking for fresh tracks, the experienced guides are able to interpret the bush signs and track the animals that left them. Being the first observers at a special sighting is very exciting. The thrill of finding spoor and tracking game must be experienced to be appreciated. The diversity of wildlife seen along the Chobe riverfront is incredible.
Safari Boat Cruise
Boat Safaris along the Chobe River are a wonderful way to experience close encounters with an abundance of riverine birds and animals. The game viewing while cruising the Chobe River is epic. You can enjoy watching elephants playing in the river or going for a swim. Hippos can be viewed wallowing in the shallow waters or munching grass on the lush islands. Giraffe and antelope make their way to the water edge and sightings of predators along the river bank are common.
A Chobe safari cruise is perfect for photography. The small boat acts as a mobile hide that allows you to get close to the animals without disturbing them. This has enabled wildlife photographers to capture countless stunning images.
---

Notes: Day 3 & 4
DAY 3
Your final morning at Elephant valley can either be spent relaxing and watching the animals come down to the waterhole or you can choose to do another morning game drive into the Chobe National park. After breakfast and checking out you will be collected and transferred by air-conditioned minibus to Ilala Lodge in Zimbabwe. This 80km road transfer is mostly through national park so there's a good chance of spotting more game along the way. There is a border crossing involved, so make sure that you have your travel documents and visa if you need one. On arrival at Ilala Lodge, take some time to settle in and relax. Enjoy lunch at the lodge, or go into town to sample other lunch options. We recommend an afternoon helicopter flight or a sunset cruise on the Zambezi River. Although activities are not included in the package price, please let us help you to arrange an itinerary of activities suitable for you. Have a look at these Victoria Falls activities and these discounted packages to see what is on offer.
DAY 4
You have a full day to soak up the wonderful atmosphere of Victoria Falls, it is the adventure capital of Africa and there are activities on offer to cater for everyone's needs. View the mighty Falls, partake in the many activities on offer or wander around the streets to do a bit of curio shopping, then finish off at a café for refreshments and a bite to eat. Please have a look at the available Victoria Falls Activities and contact us to arrange a suitable itinerary just for you.
Victoria Falls
One of the original natural wonders of the world, the Victoria Falls is a World Heritage Site and an extremely popular tourism attraction. Known locally as 'The Smoke that Thunders', this spectacle is accessible from both Zambia and Zimbabwe and it is an ideal place to combine a game viewing and water sports. There is excellent fishing, a terrifying bungee jump and arguably the best commercial white water rafting in the world.
Overnight: Ilala Lodge
The warmest of welcomes awaits you at Ilala Lodge Hotel. A gracefully distinguished ambiance. Attentive yet discrete service that always comes with a smile. The sublime surroundings of this boutique hotel will reawaken your senses while the power of the majestic Victoria Falls renews your spirit.
Relax in luxurious style. Listen to the meditative rhythm of the great Zambezi as you drift off to sleep. As morning comes, gently awake and lift your head to see the spray of the impressive Victoria Falls across the unspoiled horizon – and let your soul sigh.
Feel at ease in the elegant and spacious rooms with African Teak furniture, soft, crisp linen – all en-suite facilities, bathroom with separate shower, air conditioning, overhead fan, satellite TV, hair dryer, tea & coffee making facilities, free Wi-Fi and a safe. The view from your room looks across the lawns to the National Parks where elephant, warthog, impala or the occasional buffalo might be passing by or simply grazing on the lawn or in the tree line.
Experience new tastes, indulge in unusual flavours and enjoy delectable dishes at the award winning restaurant "The Palm"; dine in view of the spray of the majestic Victoria Falls! Lodge also has a spa, where you can spoil yourself after that long safari!
---

Notes: Day 5, 6, 7 & 8
DAY 5
You have time for one more activity this morning if you so wish before heading off to Hwange National Park for the final section of your safari. Transfer to Victoria Falls Airport (+/-30 mins) where you will catch a short 45-minute charter flight to Wilderness airstrip in Hwange. On arrival, you will be transferred by game vehicle to Davison's Camp – a game drive in itself. Arriving in camp by early afternoon, you can enjoy the rest of the day relaxing and watching game that frequents the waterhole in front of the lodge or choose to go out on an afternoon game activity. A perfect start to your African Safari!
DAY 6
No two days are the same at Davisons Camp, game viewing and cultural experiences are tailor-made to guest's preferences, please see details below of the activities available and arrange these with the lodge managers onsite to suit your individual needs. Whether you choose to track a herd of elephant on foot with your highly trained guide at dawn or spend the afternoon relaxing overlooking the waterhole on the deck by the pool, this wild and unspoilt bush paradise will guarantee you leave with memories to last a lifetime!
DAY 7
Another day of game viewing activities, tailor-made to suit your needs and influenced by what the wildlife at the time of your visit is doing. Hwange offers some of the best wildlife sightings available in Africa without the congestion of numerous tourists.
DAY 8
It's a good idea, although not compulsory to wake up early and go for another early morning game drive or walk on the private concession. Predators like lions are the most active in the early mornings and you have a good chance of spotting them. Return to the lodge for breakfast and then transfer to the airstrip for your charter flight back to Victoria Falls Airport. This scenic flight over Hwange National park is a great way to end your safari.
Hwange National Park
Hwange National Park is Zimbabwe's biggest reserve, home to a profusion of wildlife, including giraffe, lion, zebra and approximately 40 000 elephants. It provides sanctuary for all the country's endangered species, including a population of wild dogs thought to be among the most sizeable surviving groups on the continent. Terrain ranges from desert dunes and savannah lands to rocky outcrops and sparse forests.
Overnight: Davisons Camp
Nestled under a grove of ancient false mopane trees, Davison's Camp is situated in a remote, private corner of Hwange National Park on probably one of the best wildlife concessions in Zimbabwe. Owned and run by Wilderness Safaris, this lodge like all their others is in a prime location with excellent guides and high standards throughout.
Named after the founder of Hwange National Park and its first warden, Ted Davison, the camp overlooks an extremely productive waterhole that attracts a variety of plains game and predators. Eight comfortable en-suite tents and one family unit, along with a viewing deck, lounge and dining area stretching out onto an open deck with a fire pit, together offer the quintessential Hwange experience.
Game activities include game drives in open 4x4 vehicles in the early mornings and evenings, while during the siesta hours, guests can view game from their tent verandas, as thirsty wildlife comes down to the waterhole to drink. Guests can also enjoy a guided morning walk and a visit to the local village which often includes a guided tour of the school, meeting the headman or participating in community projects.
Activities at Davisons
Game Drives
Game drives take place in open Land Rovers and are led by highly experienced guides through the lodge's private concession, situated in the most productive area of Hwange National Park. The varied habitats and vegetation types as well as countless waterholes mean that drives are exciting with diverse species to be seen.
Morning Walking Safaris
Hwange was proclaimed a national park over 80 years ago, and has served as a haven for one of the densest concentrations of game in Africa. There is no better way to experience this park than on foot with an experienced, qualified walking safari guide!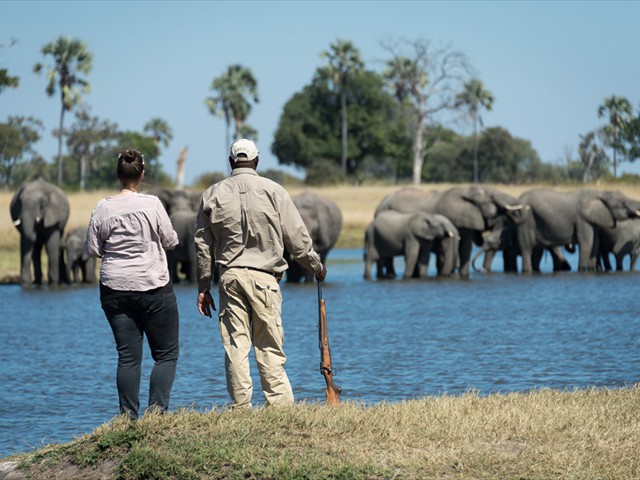 Night Drives
The Hwange 'night act' includes nocturnal species such as lesser bush baby, spotted hyena, leopard, lion, Selous mongoose, pangolin, caracal, porcupine, scrub hare, springhare and even honey badge.
Village Visits
An authentic village experience takes place in a manner that is respectful to all parties. It usually takes around four hours and guided by one of the local villagers or a guide. It includes a guided tour of the school, meeting the headman or headwoman and enjoying cultural exchanges with the villagers.
---
Price
Total Price 7 Nights: US$ 3601 (low season) | US$ 4876 (high season)
Per person sharing
Included in this safari
ELEPHANT VALLEY LODGE
• Accommodation in a Valley tent overlooking the waterhole
• All meals
• Drinks on activities
• Two daily safaris activities
ILALA LODGE
• Accommodation in a Deluxe room
• Daily breakfast
DAVISONS CAMP
• Accommodation
• All meals and local drinks
• Twice daily scheduled camp activities: Morning and evening game drives in Hwange National Park; Nature walks; Village Visits; Bird watching
• Laundry
• National Park Fees
TRANSFERS
• All road transfers between Kasane Airport, Elephant Valley Lodge, Ilala Lodge, Victoria Falls Airport and Davisons Camp
• Return air transfers between Wilderness Airstrip and Victoria Falls Airport
Excluded
ELEPHANT VALLEY LODGE
• Drinks
• Park entrance fees
• Purchases of a personal nature
ILALA LODGE
• Other meals and drinks
• Activities in Victoria Falls
DAVISONS CAMP
• Premium imported brands and champagne
More Travel Information
• Victoria Falls Travel Information
• Victoria Falls Activities
• Hwange National Park Information
• Chobe National Park Information
THE VIC FALLS BUSH TELEGRAPH
our Bi-Monthly E-Newsletter

Each issue has a destination update, loads of information about conservation and wildlife, specials offers, traveller tips, community projects, website highlights and tons more...

Find out more about our Bush Telegraph

"Your newsletter keeps me informed about new and old and is the best I've seen in a long while - informative, not commercial, just plain perfect!" - I.Skliros

Don't worry. Your e-mail address is totally secure. I promise to use it only to send you The Vic Falls Bush Telegraph.
Return from Zimbabwe Botswana Safari IG7E page to our home page