Zimbabwe News and Views
Zimbabwe News Items ~ Submit News Story ~ Highlights and Opinions
Zimbabwe is always in the news and sadly on the whole it doesn't make pleasant reading.
However that's a fact of life and our aim here is to provide you with as much up to date information on Zimbabwe as possible, especially for those who are planning on visiting our beautiful country.
So we have included a Zimbabwe local news feed below which is powered by Google.
Google searches millions of news sites every hour to bring the most relevant news directly into this feed.
Why not click on the RSS buttons (what's RSS) in the right hand column to stay up-to-date.
As you know not every report is true, but at least here you can comment on add your opinion and rate the news stories that have been posted... lets get the debates going!!! (click here to view).
We have also included an invitation form where you can add any topical news story that you have come across and think might be relevant to our readers. (Click here to view)
Live Zimbabwe News Feed
News Reporters Wanted
We are looking for good quality News Reports on Zimbabwe. Do you have one?

Is there a topic that you feel passionate about which you would like to express. If so enter it into the invitation below. Others can then add their point of view and get the discussion rolling!!!


Scroll down too see previous entries
News Reports From Our Readers
Click on the News Items below, they will open in a new page, you can then rate and add YOUR opinion ...

---
Below this line is how we used to present the news before we introduced the Google news feed and the invitation form.
Old Zimbabwe News
28th October 2009
Zimbabwe shooting dead chauvinistic baboons
A local Board in Zimbabwe's mining town of Hwange has hired a professional hunter to track down and kill baboons for reportedly causing havoc in residential suburbs, the board's technical committee chairman, Councillor Andrew Mupande, has said.

In an interview with our correspondent in Hwange, south-west Zimbabwe, he said following complaints from residents that baboons were now a menace, as they break into houses to steal food, the board approached the Parks and Wildlife Management Authority to deal with the problem.

"We spoke to national parks and they said we should look for a hunter. We looked for a licensed hunter," he said.
However, since the hunter started tracking them down, no baboon has been killed and Mr Mupande said this could be due to their survival instincts. "The problem is he can't locate them. None has been shot so far," he said.
Residents said last year there was no problem with baboons, as most households did not have food.

However, with the improving economy and the ready availability of food, troops of baboons have descended in the Hwange Local Board's residential suburbs of Baobab, Empumalanga and Chibondo scavenging for food.

"The baboons are coming into houses, breaking windows and stealing food," he said.
Clr Mupande said the animals had no respect for women and children from whom they sometimes snatch food. "They look down on women and children. Sometimes they snatch food from them," he said.

During a drive in Empumalanga, our correspondent witnessed baboons jumping over brick and precast walls into houses.

According to notices in the town, residents were advised not to panic should they hear sounds of gunfire, as a hunter would be hunting down baboons. Hwange town is surrounded by a national park teeming with wildlife.
---
Monday 24th August 2009
Toll Gates Go Up On Zimbabwe Highways to Fund Improvements, Safety

By Thomas Chiripasi and Patience Rusere
Harare, Washington
18 August 2009


Motorists on Zimbabwe's major highways suddenly faced new tolls along the road Tuesday as well as long delays and much confusion as the government introduced a revenue measure intended to fund improvements to the country's often deadly road system.

Correspondent Thomas Chiripasi of VOA's Studio 7 for Zimbabwe reported from some new toll stations along the dangerously dilapidated Harare-Masvingo highway.

The introduction of tolls came on the heels of yet another multi-fatality crash, the latest involving a private vehicle and a bus operated by the state-run Zimbabwe United Passenger Co. Ltd. The collision Monday between Harare and Chinhoyi, to the north, claimed 11 lives.

Pointing to such tragedies and others in the recent past including bus accidents on the Harare-Masvingo road and in Mount Darwin in which 56 people died, the Consumer Council of Zimbabwe welcomed the introduction of tolls to fund highway safety improvements.

In one high-profile case, Prime Minister Morgan Tsvangirai's wife Susan was killed in March when a truck veered out of its lane on the Masvingo road and sideswiped their vehicle.

Consumer Council Matabeleland Regional Officer Comfort Muchekeza said that despite the short-term chaos and higher cost, tolls over the long run will save Zimbabwean lives
---
Tuesday 4th August 2009
Kirsty Coventry Zimbabwe Swimmer Breaks World Record
Harare — KIRSTY COVENTRY once again cemented her place among the world's swimming immortals when she emerged from the just-ended 13th Final World Championships in Rome, Italy, with two medals - one gold and a silver.
The United States-based Zimbabwean swimming sensation, who turns 26 next month, also consolidated her place as the best female swimmer in the 200m backstroke after setting a new world record time of 2 minutes 04.81 seconds on Saturday night.
This was her third 200m backstroke world title.
Coventry then followed up her record-breaking feat on Saturday by winning a silver medal in the 400m individual medley event on the last day of the championships on Sunday night.
---
Tuesday 7th July 2009
Kingsley Holgate Visits Zimbabwe

THE Zimbabwe Government signed a Memorandum of Understanding (MoU) to manage and develop Transfrontier Conservation Areas (TFCA) with nine Southern African countries and a team lead by world-renowned explorer Mr Kinglsey Holgate (KH), who is currently touring the TFCA.

Reporter Kudakwashe Mutandi (KM) caught up with Mr Holgate in Victoria Falls to highlight the expedition where they are currently exploring the Okavango Zambezi TFCA. ......

---
Monday 8th June 2009
Recently worrying reports have popped up in the press that the Zambezi Seaway Scheme, first mooted in the 1950's by the Portuguese to reduce freight costs for landlocked countries in Southern Africa, by opening up the Zambezi as a seaway, is back on the cards.
Action needs to be taken to stop this from happening...
Read the full story and leave your comments here
---
Tuesday 26th May 2009-Zimbabwe News
Zimbabwean takes South Africa's Comrades Marathon
Stephen Muzhingi of Zimbabwe has won the 2009 Comrades Marathon, from Pietermartizburg to Durban on Sunday in a time of 05;23;26.
Leonid Shvetsov, defending champion and record holder of both the up and down runs, was second in 05;33;05 and CHARLES Tjiane, the first South African home, came third in 05;34;18,
"It was a good race, I was focused and reacted very well to moves by my challengers. I did not experience any pain or cramps," said Muzhingi after the race.
Muzhingi, who finished third in the 2008 and seventh the year before that, will pocket prized money of R 220 000 and a gold medal for winning this years event, which was first staged in 1921.
To read more about the Victoria Falls Marathon...
---
Friday 17th April 2009-Zimbabwe News
Great News for tourism in Zimbabwe
by Andrew Moyo Friday 17 April 2009-Zimbabwe News
HARARE - The United States (US) has lifted crippling travel warnings slapped
on Zimbabwe nine years ago, Harare tourism officials said Thursday.
Zimbabwe Tourism Authority (ZTA) chief executive Karikoga Kaseke told
reporters that travel warnings officially lifted on April 8 2009.
Kaseke said the decision to lift the warnings followed months of months of
discussions between the ZTA and US embassy officials in Harare who in turn
advised President Barrack Obama's administration to give the all clear to US
nationals wishing to visit the southern African country.
"It is the best thing that has happened to us," said Kaseke, who spoke told
reporters after a meeting at the ZTA offices with US consul in Harare, James
Jimenez.
There was no immediate confirmation by the US mission the claims by Kaseke
that would represent a small but positive shift in relations between
Washington and Harare.
In addition to regular travel warnings, the US and its Western allies also
cut direct support to the Harare and imposed visa and financial sanctions
against President Robert Mugabe and his inner circle as punishment for
failure to uphold democracy, the rule of law and human rights.
The sanctions against Mugabe and his top lieutenants remain in place and
direct financial aid also stays blocked.
The US and the European Union have said they want a unity government formed
by Mugabe and longtime opposition leader Morgan Tsvangirai last February to
implement genuine and comprehensive political and economic reforms before
they can lift sanctions and provide direct support to Harare
But the lifting of travel warnings to Zimbabwe will assist the country's
once vibrant tourism sector rebound after years of decline due to political
violence and humanitarian crisis that scared away visitors.
The US and rich Western countries have been the traditional source market
for Zimbabwe's tourism sector even after Mugabe's government promoted a new
'Look East' policy after his quarrel with America and Europe.
Kaseke expressed hope that the lifting of US travel warnings would influence
other Western nations to follow suit.
"There will be no more warnings against US citizens travelling to Zimbabwe
but just guidance .. and we hope we will see more of these warnings being
lifted," he said.
Zimbabwe's new unity government between President Robert Mugabe and Prime
Minister Morgan Tsvangirai has placed the tourism industry at the core of
its efforts to turnaround the economy after years of a political stalemate
and economic decline affected arrivals from Western countries.
However, the country faces major challenges in refurbishing airports, roads,
telecommunications, hotels and other related infrastructure, as well as
repairing the tainted image before arrivals can hit South Africa's levels of
11 million. - ZimOnline
---
Thursday 9th April 2009-Zimbabwe News
The opposition newspaper of Zimbabwe held a unique advertising campaign. All promotional materials were made of money.
In Zimbabwe it is not difficult.
These are all Zimbabwean Dollars Notes -which are now useless and have been scraped in favour of a US$ currency. Unique Don't You Think!!!!
---
Monday 30th March 2009-Zimbabwe News
In April 2009 an intrepid band led by well-known guide Gordon Putterill and including top photographer Chris Weston, will attempt to be the first to walk the full breadth of Hwange National Park from west to east unsupported.
In excess of 100km and over six days, the harsh semi-Kalahari terrain and densely populated elephant population will provide numerous challenges.
The goal is to raise desperately-needed funds and awareness for Hwange, one of Africa's oldest and most legendary parks which is celebrating its 80th Anniversary!
Funds raised will be distributed equally between the Friends of Hwange Trust (www.hwangetrust.com) and impoverished Mambanje Primary School which resides on Hwange's eastern border. Sponsorship and support are requested in the way of cash, per km walked, school books and stationery for the school, solar pump and windmill sponsorship, and fuel for water pumps.
Please contact us if you would like a sponsorship form should you be kind enough to sponsor.
Friends of Hwange is a private trust dedicated to looking after 10 major waterholes in Hwange, and employs a full-time maintenance manager in the Park and has installed five hi-tech windmills as a long-term solution to Hwange's water supply problems.
Hwange, half the size of Belgium at 14,500 sq. km, is totally reliant in the dry season on diesel driven boreholes, of which there are over 60 in the Park. Although the windmills have helped significantly, they cannot output the volumes of water required for Hwange's 30,000 elephants.
The trustees of FOH are committed to the long-term prosperity of Hwange and are embarking on using solar power for some waterholes. At its peak Hwange NP supported over 1500 families by way of employment in and around the Park. It is a priceless asset waiting to once more take its place when momentous tourism resumes. Hwange is also an integral part of the new Kavango-Zambezi Transfrontier Park.
Mambanje Primary School hold the next generation who currently receive important conservation education from organizations in Hwange NP. However their major challenges are shortages of school books and stationery, decent salaries for teachers, and other basic infrastructure needs. Funds raised for Mambanje will be carefully distributed to ensure the children receive the most effective conservation education and their highest priority needs are met.
Many thanks for your support!
---
Zimbabwe News Updates


Matt Damon visits with Zimbabwe refugees
Thursday, 5th March 2009 11.15-Zimbabwe News
Musina -An emotional Matt Damon listened to a Zimbabwean woman describe how she was raped while pregnant on a perilous journey across the border into South Africa.
The Hollywood actor visited refugee centres in Musina on the South African border with Zimbabwe as part of his work with the human rights organization he started with a number of other celebrities.
An estimated 3 million Zimbabweans have fled the economic collapse and dire humanitarian conditions in their country for South Africa.
Damon, who is in South Africa shooting a movie, said in an exclusive interview with the AP Tuesday that he was "shocked and saddened" by the plight of the people he had spoken to. He said conditions were "untenable" and called on international and regional leaders to take action.
---
Zimbabwe News
PM Tsvangirai says Zimbabwe safe tourist destination
Wednesday, 24th February 2009 12.45 HARARE - The newly sworn-in Zimbabwe Prime Minister Morgan Tsvangirai has said the west and the rest of the international community are encouraged to come to Zimbabwe without any security fears as the nation is a safe tourist destination, ZBC News reported on Tuesday.
Tsvangirai said this during a business meeting in central Zimbabwe city Gweru. He said the government is committed to revitalizing the country's lucrative tourism sector, saying they are already persuading the west to lift travel warnings issued against Zimbabwe.
Tsvangirai said Zimbabwe is not at war, therefore there is no reason for the country to be described as an unsafe destination.
The west, especially Britain and Australia, have described Zimbabwe as an unsafe tourist destination, in some instances banning their cricket teams from touring the country.
---
Zimbabwe News Updates
Zimbabwe back on the travel itinerary
Tuesday, 20 Jan 2009 11:15 -Zimbabwe News
Tour operators are to return to Zimbabwe this March after a revision of Foreign and Commonwealth Office (FCO) travel advice.
From April 2008 routes were diverted into neighbouring Zambia while the FCO advised against all but essential travel to the troubled country. The closure of campsites and other facilities also hindered any plans to re-instate overland routes.
Facilities are now available and so, along with the amended FCO advice, operators are beginning to return to Zimbabwe.
Chris Wrede, one of tour operator Oasis Overland's directors, travelled to Zimbabwe last month, and commented: "The slow erosion of facilities and the poverty is very saddening when compared to the thriving Zimbabwe of seven years ago.
"However, the welcome from local people was warmer than ever and I was surprised at the openness and honesty in which they discuss their country's economic and political problems.
"Many people feel rather abandoned by the west and in particular those who work in tourism are desperate for income. Victoria Falls was like a ghost town as far as tourists were concerned, but security was never an issue."
Oasis Overland's trips starting in Kenya this month will travel south through Tanzania, Malawi and Mozambique to Zimbabwe, continuing to Botswana, Namibia and South Africa. Whilst in Zimbabwe, the itinerary includes the Great Zimbabwe Ruins, a private game ranch, Matobo National Park and Victoria Falls.
The FCO advice remains against travel to high density – low income suburban areas.
Chris O'Toole
---
4th December 2008-Zimbabwe News
Zimbabwe News – Cholera Outbreaks
As reported in the latest news reports, the Cholera outbreak as been declared a national emergency in Zimbabwe. Aid organizations from around the world are once again coming to our assistance to get control of the situation.
From the map below you will see that there have been no reported cases in the Victoria Falls region to date.
Many of the tour operators and the private sector in Victoria Falls are involved in supporting and supplying funds for the maintenance and infrastructure of the water treatment system – this ensures the health and safety of all visitors and local residents.
However we do recommend that standard precautions should be taken
• Washing hands before eating and after using the bathroom
• Cleaning and washing all vegetables and fruit before eating them – try to avoid buying fruit from local vendors – rather buy from shops or hotels.
• Buy bottled water from reliable sources.
• Travellers visiting villages and out of town places are highly recommend not to drink the water from any rivers or streams – and we also would advise not to eat any meat that has not be brought from a shop or hotel.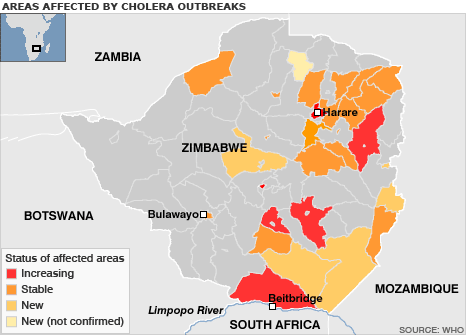 Look at these links for a more detailed information.
World Health Organisation Report
Yahoo Health cholera
---
Return from Zimbabwe News to our home page
THE VIC FALLS BUSH TELEGRAPH
our Bi-Monthly E-Newsletter

Each issue has a destination update, loads of information about conservation and wildlife, specials offers, traveller tips, community projects, website highlights and tons more...

Find out more about our Bush Telegraph

"Your newsletter keeps me informed about new and old and is the best I've seen in a long while - informative, not commercial, just plain perfect!" - I.Skliros

Don't worry. Your e-mail address is totally secure. I promise to use it only to send you The Vic Falls Bush Telegraph.